"This is the gift—to have the wonderful capacity to appreciate again and again, freshly and naively, the basic goods of life, with awe, pleasure, wonder, and even ecstasy."
—Abraham Maslow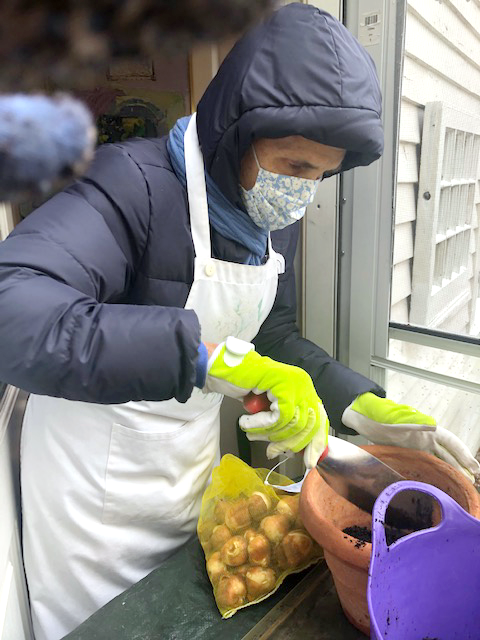 Dear Friends,
I love you.
Thank you.
I'm bursting with joy at all the hearts and kisses I felt and received in the wondrous month of love. Mother Teresa became a saint because she loved us. Because of her genuine love for humanity, she was a natural healer. Healers are lovers. Lovers are saints. We are all healers when we are lovers. "Love," taught our Mother saint, "is a fruit in season at all times, and within the reach of every hand."
Happiness, the aim and purpose of life, is achieved as a direct result of our ability to love. What is always in our hands is at all times within the power of our mind and heart to be loving. We have the ability to improve our sacred principles when we turn our words into loving actions. We will be known, remembered and loved by how kind, gracious and compassionate we are.
The more loving spirit energy I feel, the greater my ability to be useful to others. We all give of ourselves in our own unique ways. When my intentions are pure, I don't feel tension in my choices; I feel a sense of release. I relieve myself of any stress or strain when I'm acting from my own core beliefs, grounded by sacred, timeless truths that guide my path to higher ground.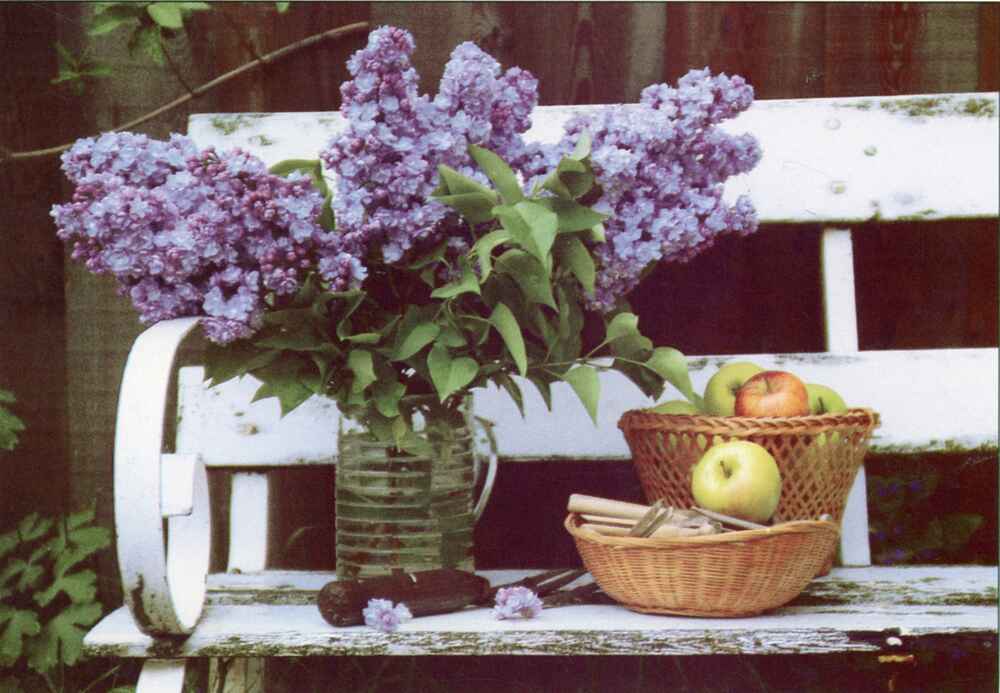 Our ability to wisely exercise our free will requires rigorous self-examination. Aristotle's teachings are continuously ringing in my ears when he explains that the highest form of happiness is when we are contemplating truths that are pleasing to the gods.
When we're humble as we grow through the toughest year of our lives so far, we'll feel the deepest sense of appreciation for all our blessings. When our heart is loving, we experience the gift of grace. The reason grace is so amazing is that no matter how blind we've been, grace leads us to the light of truth. And then, and only then, we see.
We're intimately aware of the devastation this pandemic has inflicted on the lives of millions and the deaths of more than a half million Americans this past year. Tragically, innocent men, women and children's lives have been stolen from them forever. As we move forward, each of us owes a responsibility to ourselves to do whatever is required to stay safe and not cause any harm to others.
I'm thrilled to report that I got my second vaccine on February 19 at a drive-through field in East Hartford. In the snow, Rachael came out of the place that stores the vaccines, needle in hand. She was the same wonderful person who gave me my first shot—what are the odds? I cried out, "Rachael, it's Alexandra. I'm with both my daughters to celebrate this exciting event." My enthusiasm couldn't be contained. I turned my head from Rachael to look at Alexandra and Brooke.
The realization that all of us will have access to be vaccinated in the days, weeks and months ahead brings such hope. Being supported by my family in all their tireless efforts to see that everything worked out put me on a high that seems to be my current state of being. Love is powerful indeed. I'm so grateful to all the people who are responsible for the vaccine rollout's success.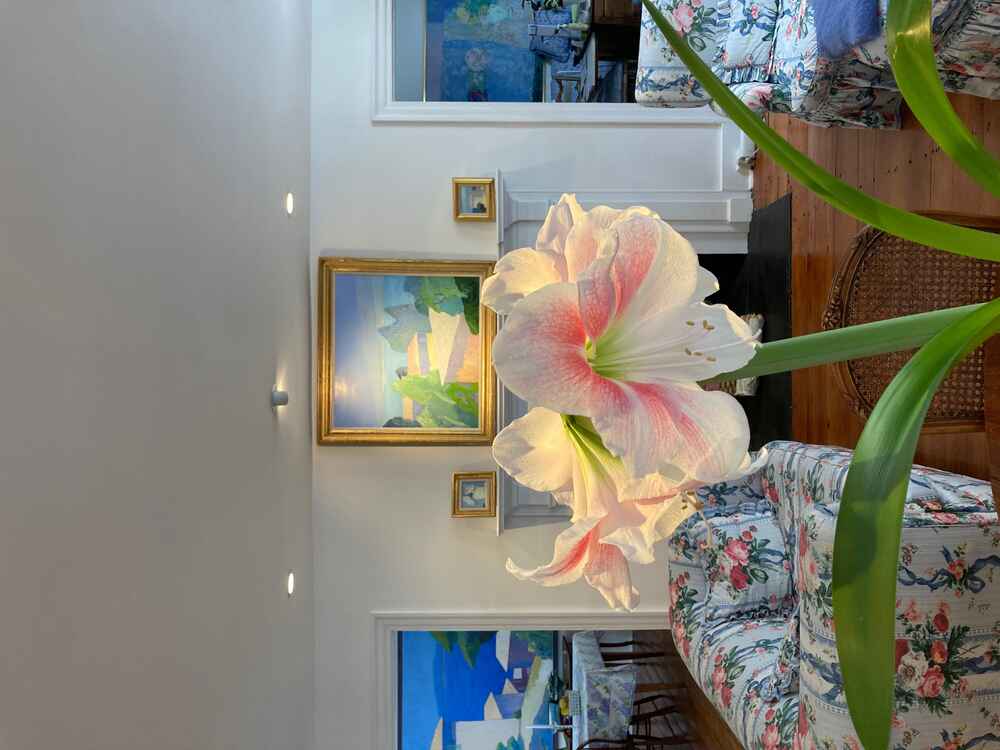 One Miraculous Bulb
Early in December in the freezing, bitter cold, a UPS package arrived. Each year, my daughter Alexandra sends me an amaryllis plant during the holiday season that is to grow from a bulb to a colorful, tropical bloom and blossom in February. This year's variety is "pink blush" from White Flowers Farm. I had no idea how extraordinarily magnificent this year's gift would become. Throughout December and January, the only colors were the green leaves and two stalks.
Suddenly, as if an orchestra began a favorite Bach symphony, the buds burst open. In the precious loving days of February, I became obsessed. I love the majesty, the grace, the elegance and the sheer splendor of the natural evolution from brown bulb in soil to beautiful blossom. The first stalk grew in stature to twenty-nine inches tall, with four gloriously large blossoms nine inches in diameter. The large, showy white and pink variegated design of the funnel-shaped blossoms with chartreuse centers is perfection. Amaryllises are grown because they are spectacularly "ornamental."
As I follow the light in the cottage from room to room, I've been bringing this treasure of nature's gifts with me. We have grown accustomed to each other. We are constant companions. The second stalk grew mightily, catching up with the first and growing taller, now measuring thirty-three inches in height. As we move into March, I have two remaining blossoms. When they are reflected in two adjacent windowpane mirrors in my writing room, there are six to admire from different angles. Ta-da, ta-da.
My admiration has no bounds. Rather than receiving this exuberantly, astonishingly beautiful present on Valentine's Day in its fullness of being, I'm glad I was part of the process of nurturing this bulb to its glory. As I told you, I kiss my buds and "love them up." This love, like prayer, may not be scientific, but it's proof in the pudding from my experience. Whatever I "love up" increases my delight and feeling of interdependence. I'm certainly keeping good company.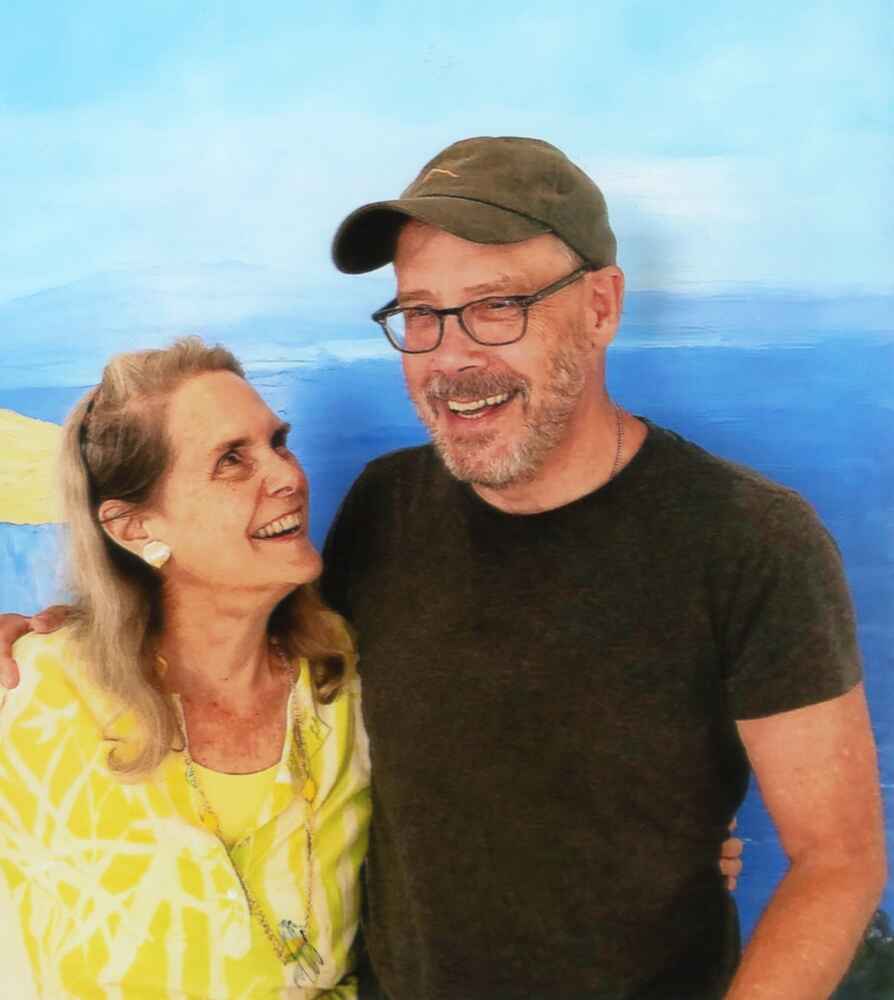 A Letter to My Neighbor
This is a love letter never mailed for my neighbor Charlie.
I love you, Charlie.
"Thank you for being my neighbor." We are close in our real estate. Our sweet old houses are just barely socially distanced. Your friendship over several decades sweetens my days.
I will never forget the morning after Peter died, when you delivered my copy of The New York Times with an envelope addressed to me. When I opened it, there, in the center of the folded stationery, was a small heart. No words could have conveyed more on that tender Friday morning, with love that radiated from your heart to mine.
At Christmas this year, you reminded me that when we love others, we are "alone, together." You understand love on a transcendent, eternal level. How truly blessed I am to love my neighbor as I love myself.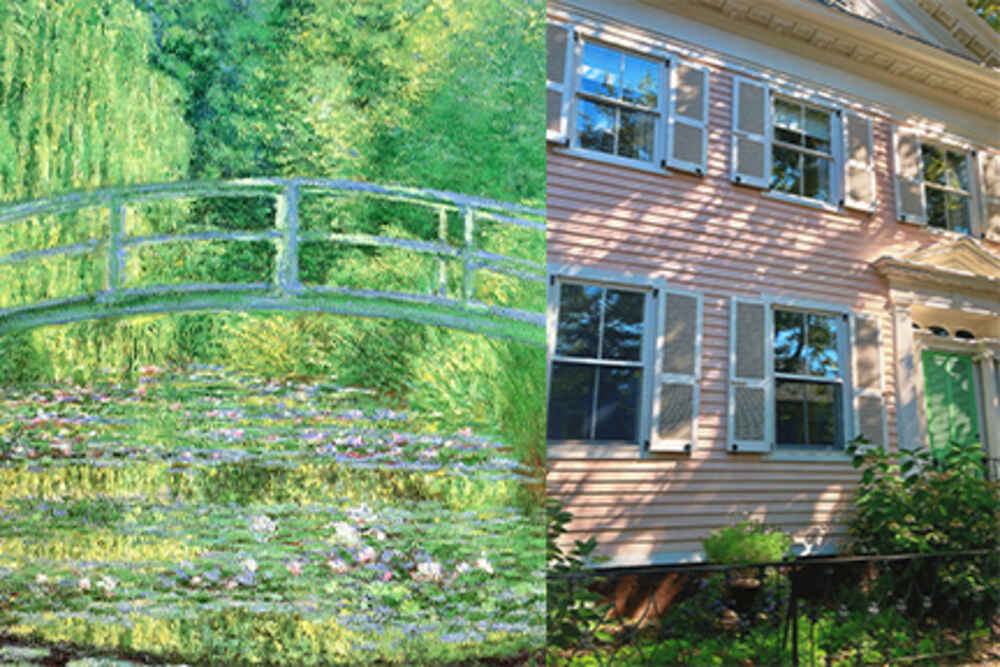 Who else in the world would paint their taupe house pink but you, Charlie? After Peter died, I didn't want to have my desk chair face his empty desk. However, turning my desk around to face a taupe-colored house as my "view" was definitely not part of my healing and celebrating after Peter went to "his reward." You told me you'd always wanted to live in a pink house. How splendid I feel envisioning Claude Monet's pink house in Giverny, where Peter and I have spent many happy times over the years.
My friends know you stole the show at my Zoom talk, when you announced, "I'll only be a few minutes." You raked and raked the leaves an elbow away from me on your bluestone side of our shared picket fence. I showed off your pink house to friends because it is so perfectly beautiful in the dappled light of day.
I love you, Charlie!
Thank you for you!
I'm forever grateful that you are my neighbor and good friend.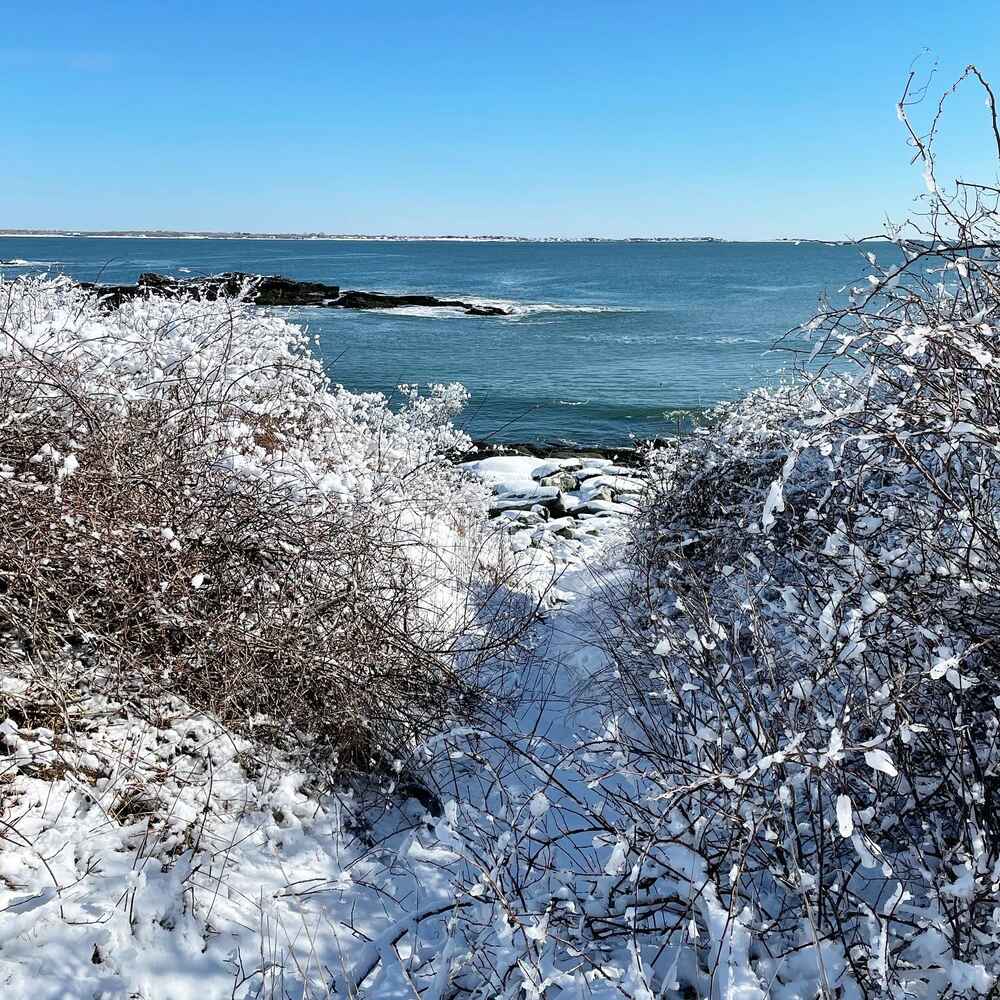 Buried Treasures
During the past weeks when it was snowing or there was freezing rain, I tore the cottage up in an attempt to get more organized. As some of you may recall, the subtitle of Living a Beautiful Life is 500 Ways to Add Elegance, Order, Beauty and Joy to Every Day of Your Life. Sometimes I need to remind myself of my good intentions. As I promised you last month, I wanted to wait until now to tell you the story behind my beloved Greek dolls.
Recently I was looking for some mailing envelopes that I'd seen several years ago in the basement (renamed "Zero"!). The laundry room is a bright, light, clean, happy, useful enclosed space; an oasis of calm. The rest of this foundational space needs to be "loved up." With mask, gloves and Purell, I moved around a labyrinth of boxes, bikes and bags to clear a path to some brown boxes that had been randomly plunked next to the greasy black furnace by the movers when we left our large New York City apartment in 2008.
Because these boxes were out of sight, they were also out of mind. In an unlit corner, I wiped a dirty cardboard carton, opened it and discovered treasures. Yes, there were some padded mailing envelopes, protecting some favorite books I apparently wanted here with me at the cottage, not in a New York City storage unit. When we moved, we put many of our possessions in storage, thinking we'd rent a small apartment in the city.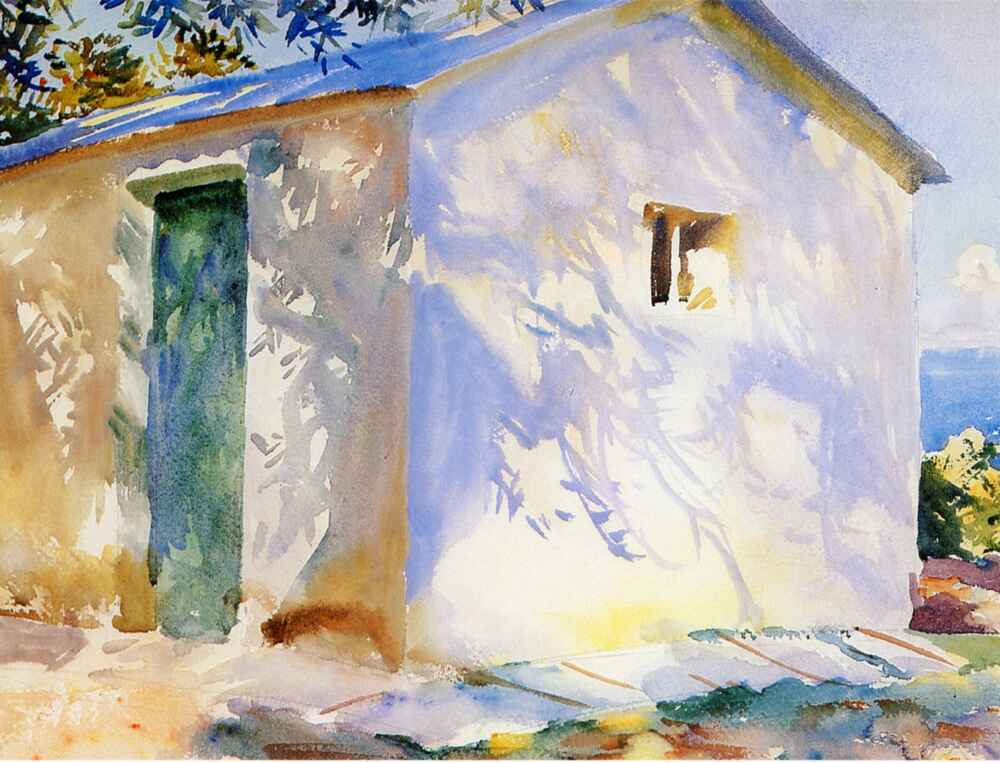 Oh, let joy be unrestrained! Excited, I took an armful of books from the dark into the light and cheer of the laundry room. The pale blue floor I'd freshly painted a few months ago seemed to be smiling at me as I entered a room I so enjoy. Rapt in "one-focus attention," I examined each book as I carefully wiped it clean. In a timeless moment, spellbound, I discovered among other windfalls The Colossus of Maroussi by Henry Miller.
Inscribed on page one of this Penguin paperback is my handwriting: "Bought in Athens, October, 1972." I had finished The Alexandria Quartet by Lawrence Durrell on a Yugoslavian boat trip. My Greek friend Anthony George Lykiardopulos encouraged me to read The Colossus of Maroussi because we were headed there and it speaks to the spirit of his good friend Durrell's love of Greece. One thing leads to another. As my friend and mentor once reminded me, "Sandie, living takes time." Rereading this book, I relived the powerful impact Henry Miller's love of Greece ("a world of light") had on me when I was thirty-one years young. My heart pounded with joy as I sat still, acutely aware what I was holding so sacredly between my hands.

The blurb on the back reads, "The uninhibited, pagan spirit of Greece. When Henry Miller went to Greece to visit with his friend Lawrence Durrell at his villa in Corfu, his experiences amounted to a complete rebirth. In this intensely personal account, he pays homage to the idea of Greece, the poetry of its light and landscape and the humanity of its people." Edmund Wilson wrote of Miller's book, "Unlike anything else ever written about Greece." In Miller's final sentences he declared himself a citizen of the world: "My life was dedicated to the recovery of the divinity of man. Peace to all men, I say, and life more abundant!"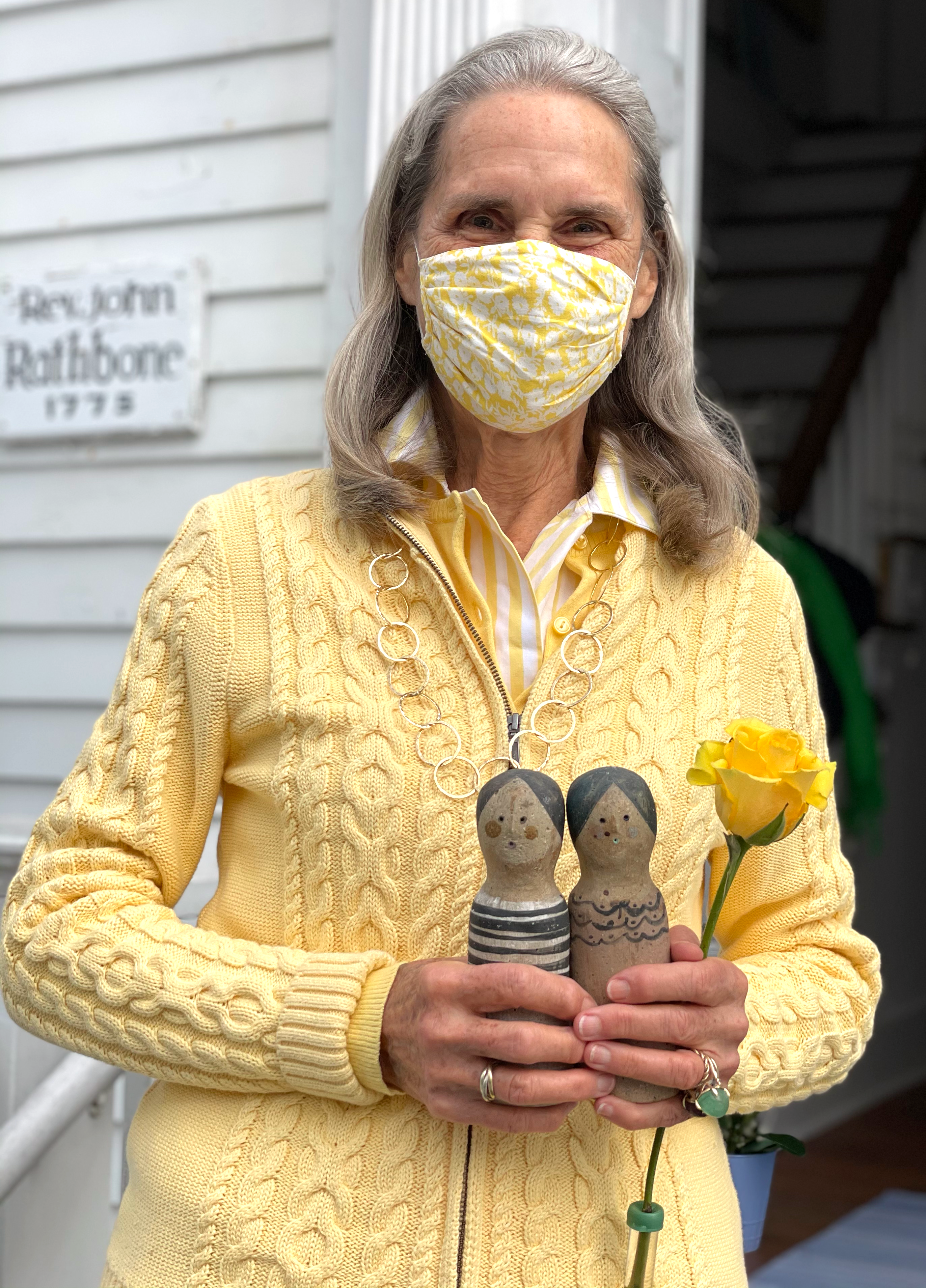 My friend Anthony (Tony) felt my pang of longing when we were in a pottery shop in Maroussi. There were these primitive stick-figure clay dolls I was drawn to. Every time I held them in my hands, I'd gently put them back on the shelf. I walked around and returned to this pair of figures with pinprick eyes and mouths. Cheeks were circles of brown for the male and green for the female. No arms or legs. Attire was felt with wiggly, wavy lines and dots for her and black and white horizontal stripes for him. Each has severe black hair parted in the center. I am, to this day, inexplicably drawn to this Greek couple. Because Tony is Greek and has an innate understanding of these objects, I was blessed. All caution to the wind, he secretly bought these for me as an $8 purchase.
These clay dolls from the island of Maroussi are unlike anything else in my life. They opened a dimension in my soul that has no boundaries, no limitations. I savored rereading Miller's autobiographical travel book about a friend he met through Lawrence Durrell. I took a deep dive into the hindsight view of my life these fleeting forty-eight subsequent years. When my first book was published two years later, in the opening chapter of Style for Living: How to Make Where You Live You, Bill Goldsmith, the illustrator, drew the dolls as bookends holding up a leather-bound diary.
Our present moments are only experienced in the past. Each nanosecond is lived in the ticktock of a clock, in the alive breath we inhale. We can't accomplish this moment in the past. We're only able to live life now. Most of us yearn to feel the joy of fully living with passion in the fleeting flashes of the present moment. I feel refreshed anew by Miller making a colossus of Katsimbalis, a friend of Durrell's whom Miller had met in Maroussi. Exaggeration is part of the Greeks' enthusiasm, their curious minds and their passionately exuberant people.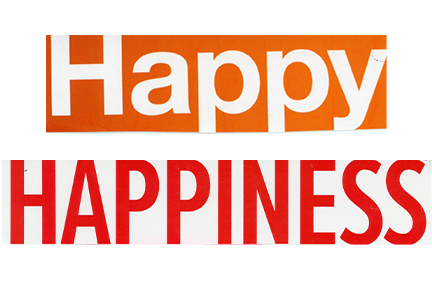 In his words, "There is something colossal about any human figure when that individual becomes truly and thoroughly human. A more human individual than Katsimbalis I have never met. … Walking with him … I had the feeling that I was walking the earth in a totally new way. The earth became more intimate, more alive, more promising. He spoke of little and of great with equal reverence; he was never too busy to pause and dwell on the things which moved him; he had endless time on his hands … the mark of a great soul."
Katsimbalis's enthusiasm was the cause of Miller's rebirth. Of his transformation, he wrote, "Nobody can enjoy the experience he desires until he is ready for it." The question we ask ourselves is "Are we ready?"
"People seldom mean what they say," Miller teaches. "Anyone who says he is burning to do something other than he is doing or to be somewhere else than he is is lying to himself." (My emphasis.)
In Miller's rebirth, he accepts his lot and is prepared to give of all that "I have received." We all have been given unique gifts. In the case of Katsimbalis, the reality of his life was "relatively quiet and unadventurous." What was remarkable was his gift of making "the most trivial incident, if it happened to Katsimbalis … a great event."
If he picked a friendly flower along the road, his storytelling ability made a humble flower immortalized because he noticed it. "He had put into that flower all that he thought and felt about flowers, which is like saying—a universe."
Miller understood that "there are men who are so full, so rich, who give themselves so completely that each time you take leave of them you feel that it is absolutely of no consequence whether the parting is for a day or forever. They come to you brimming over and they fill you to overflowing. They ask nothing of you except that you participate in their superabundant joy in living. They never imagine which side of the fence you are on because the world they inhabit has no fences."
We don't have to go far to know and make friends with people who are so in love with life, they have the ability to inspire us to join in their fun. As children teach us, their playfulness is deeply serious. As we move toward the light, we lighten up! When we're enjoying ourselves in the moment, we are most alive. This is how most happiness simply happens.
This is the end of the story of my mysterious love of my Greek dolls!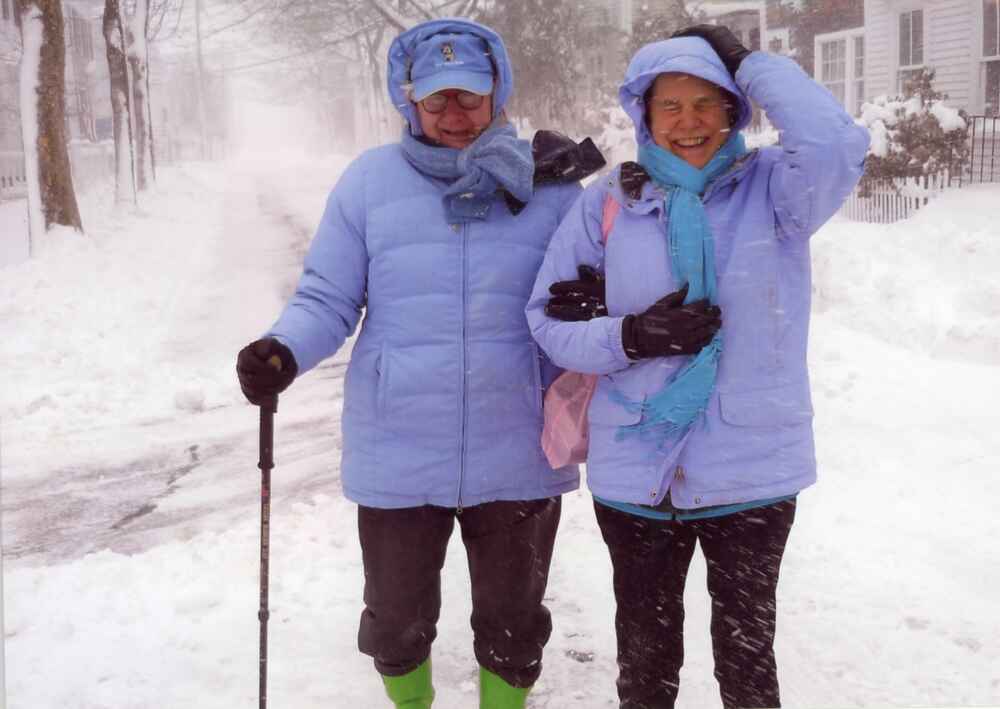 As I sat at my desk in my writing room to close this letter to you, I look out onto the Japanese dogwood tree Charlie had planted in our garden. He wanted me to cut down an oak tree that was going to rot our old, precious houses. Twenty-odd years later, at eye level on the second floor of the cottage, a red cardinal flies into our garden and perches on a branch of Charlie's tree. My heart is leaping for joy. Peter, the bird man, was able to bring cardinals into our yard with his bird calls. Now he is the cardinal.
It's raining outside. I'm cozy in my sanctuary. Surrounded by flowering jasmine, budding gardenias, leafy stephanotis and white cyclamens, I pause. Alexandra's miraculous tropical blossoms have reached the end of their blooming cycle. Their three large leaves are spreading their wings. In the mirrors there are nine. Patiently, I will await this bulb to spring forth again in all her glory.
Please toast Peter on his birthday—March 15, the Ides of March. Born in 1922, ninety-nine years ago. This year, November 8, I become eighty. Four months later, I will celebrate Peter's 100th birth date. Life simply becomes sweeter with every precious hour.
Thank you.
I love you.

"You have to accept whatever comes and the only important thing is that you meet it with the best you have to give."
—Eleanor Roosevelt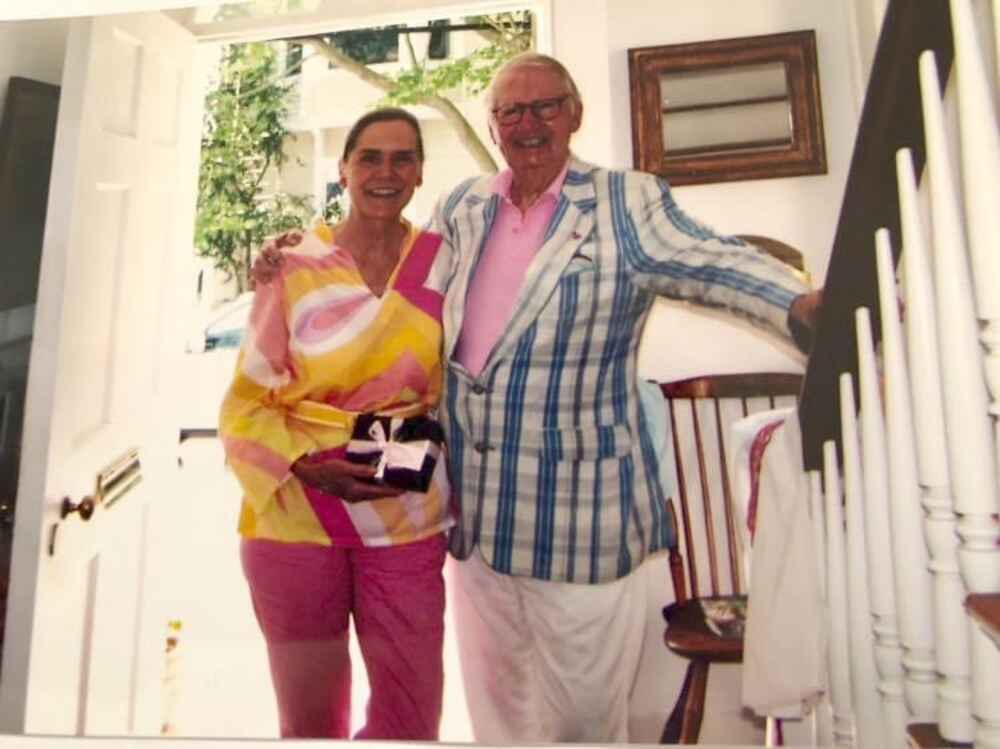 Thank you, Kimberly, for sending me pictures of happy times shared with Peter.
"We are most alive in these moments when our hearts are conscious of our treasures."
—Thornton Wilder
Book of the Month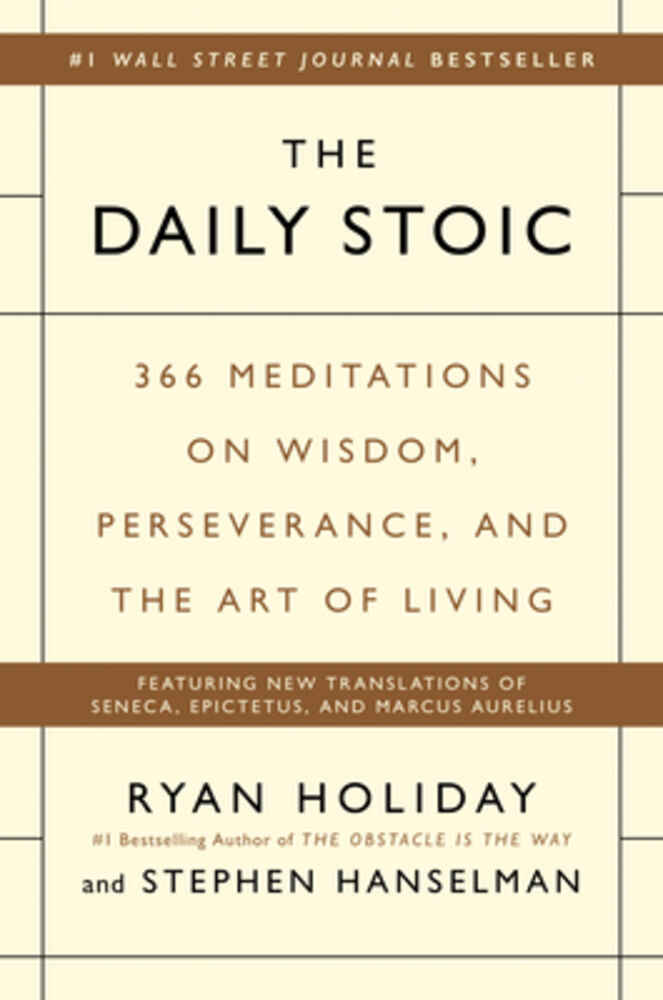 The Daily Stoic: 366 Meditations on Wisdom, Perseverance, and the Art of Living, by Ryan Holiday and Stephen Hanselman
This book was recommended to me by my good friend Amy, who is using this pandemic time to dig deeper into philosophy. Thank you, Amy. We parted at the Happiness Retreat one year ago on Friday, March 13, 2020. Amy is a college law professor and lifelong learner, and those traits make me feel Peter is with us in our happy conversations and communications. I love you. I am giving The Daily Stoic to our mutual friend Norma, my daughter and my friends. As you know, Marcus Aurelius's Meditations always uplifts me, reminding me to stay focused on the good, eliminate all unnecessary work, and whatever you choose to do, do it well.