Dear Friend
The entire month of November was made up of days as big as years. Peter and I flew back from San Francisco (where I gave a talk on the use of mirrors in interior design) to host a "happiness weekend" in Stonington Village on November 1st and 2nd, sponsored by The Inn at Stonington.
For all of you who came, I want you to know what fun it was for Peter and me. We couldn't have had a better weekend. The Indian summer weather, the relaxed visits at the cottage, the delicious dinner Saturday night – everything was wonderful. I'll never forget the sunset on the harbor when we all took a break from my seminar and went out on the terrace at the inn and silently watched the glorious sunset. A friend who comes to Stonington on his boat whispered to me, "Everyone probably thinks it's always like this. Perfect." We chuckled. The weather was "perfect." When we went back inside the inn, we were served tea and cookies. What an amazing setting to be talking about happiness.
Sunday morning when we gathered at the cottage I felt a warmth and intimacy that sweetened the air. Everyone left the weekend feeling refreshed, relaxed and invigorated. Friendships were made; happiness was lived, discussed and experienced firsthand.
Because it was such a pleasant event, the gracious innkeeper, Bill Griffin, is having another happiness weekend the end of January. This Alexandra Stoddard Winter Happiness Weekend will have its magic. We're looking forward to another fun time together. So plan now to come!
Southern Lady magazine had their first expo in Destin, Florida. I gave a talk, Choosing Happiness to 300 people. Peter announced to the audience that it was my birthday. Everyone sang, with whopping enthusiasm, happy birthday. I was touched. I disclosed that Delta Airlines now considers me a senior citizen. "I can now fly to Washington to see our grandchildren half-price." Everyone laughed. When we made our reservations for Thanksgiving, however, we were told there are "no more senior discounts." Oh well … I still like being a senior. We later took an Amtrak train ride to the cottage and held hands as we gave the conductor two senior discounted tickets – my first senior moment.
Following our trip to Florida, we traveled to Little Rock, Arkansas, where I spoke at their art center. I was there in 1990 and people say they remember the event well. It was a good reunion. Lots of money was raised for their elegant art center and we all enjoyed the sell-out luncheon and seminar interchange in the attractive Art Center theatre. Little Rock is a great place to be.
The last talk I gave just before Thanksgiving was in Utica, New York, where we were raising money to build a hospice residence. There was a beautiful tea at the historic Utica Hotel. The sun was shining and the weather was pleasant for our three-day visit. I announced that I'm coming back for the new hospice facility's ribbon-cutting ceremony next year. Everyone clapped. I felt a tingle in my arms and legs. How fitting to be talking about living happily, raising funds so that people can die peacefully at the end of a happy life.
Thanksgiving is my favorite holiday. I remember as a little girl singing in the choir at church in Westport, Connecticut: "We gather together to ask the Lord's blessings." I love that this holiday is recognizing our blessings and counting them. We can wish everyone a happy Thanksgiving inclusively. We don't exchange presents; we simply are present, sharing in a feast, appreciating each other, grateful for the rich blessings we've been given.
Our Thanksgiving Day was perfect. We had lunch at the kitchen table with the twins, Nicholas and Anna, and baby Lily. Peter Scott made his famous omelets, each of us choosing what we wanted inside. We ate off octagonal-shaped blue hydrangea paper plates. Sunlight poured into the windows and through the skylight. This is it. We are at the banquet. This is life at its best.
That evening, after a full day, we put the children to bed. At nine, we dined by soft candlelight in the dining room. The children above us were asleep. The table gleamed with silver, china and crystal. The pink roses, the starched white embroidered linens all enhanced the pleasure of the traditional celebration. We truly gathered together in great thanksgiving.
I'm thankful for my health, for my family, for my friends near and far. I'm thankful for my readers who have let me know that my writing is making a difference in their lives. I'm grateful I am experiencing true, lasting happiness.
In November, Choosing Happiness went into an eleventh printing! I am overjoyed. Please keep this book in mind for your holiday gifts. We need to keep the happiness movement changing attitudes and turning lives around for the greater good for us all. Also, in November, I completed, Things I Want My Daughters to Know – A Small Book about the Big Issues in Life. My literary agent and publisher both love the book. It is exciting to have this book complete and in production. Publication date is scheduled for late August 2004.
Just before Thanksgiving, the health writer for the New York Times, Jane E. Brody, wrote an illuminating article, Give More Joy to Your World. Cut Holiday Stress. As we approach this holiday season it is important to remember to choose happiness for ourselves and others. We should not have unrealistic expectations. There are limits on our time, energy and resources. Jane Brody reminds us that the mind and body are integrated parts of the human organism and constantly "talk" to each other. What affects one affects the other, positively and negatively. Many people get sick "while struggling to cope with the stress-inducing demands of the holiday season". She believes that all too often when we are very busy, we tend to put ourselves last. "Failing to allow for some downtime can take the biggest toll of all."
Do what makes you happy. Don't do what causes you to feel unhappy. Use this year-end month for self-reflection, self-awareness and greater understanding about the meaning of your life. Use this month to grow closer to the truth, to look realistically at what you can do and what pressures you willingly decline.
We are having a family gathering in the apartment to celebrate the lighting of the Christmas trees on Park Avenue. We will have candlelight, a cozy fire, good food and cool drinks. There will be flowers but no Christmas decorations because we are going to Washington to be with the grandchildren for the holiday. Our presents at that time will mostly focus on the grandchildren.
I intend to see friends for tea, for drinks and dinner. I will maintain my normal discipline of daily reading and writing. I will be doing some interior decorating for a favorite client. I have every intension of choosing happiness. I want to truly feel merry. I want to feel great abundant love. I believe we should balance our time with others with time spent alone in order to be able to enjoy ourselves completely as we spread joy to others.
Merry Christmas. Let the happiness in your soul be full of light and love so you can share this brilliance with the world.
Love & Live Happy,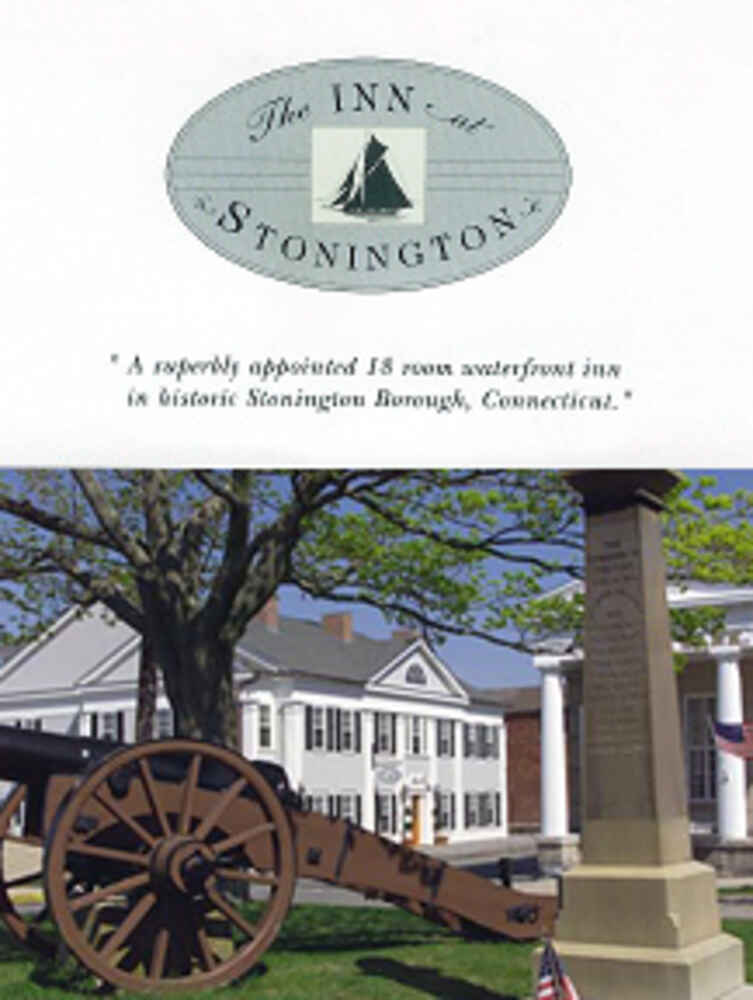 A Weekend with Alexandra in Stonington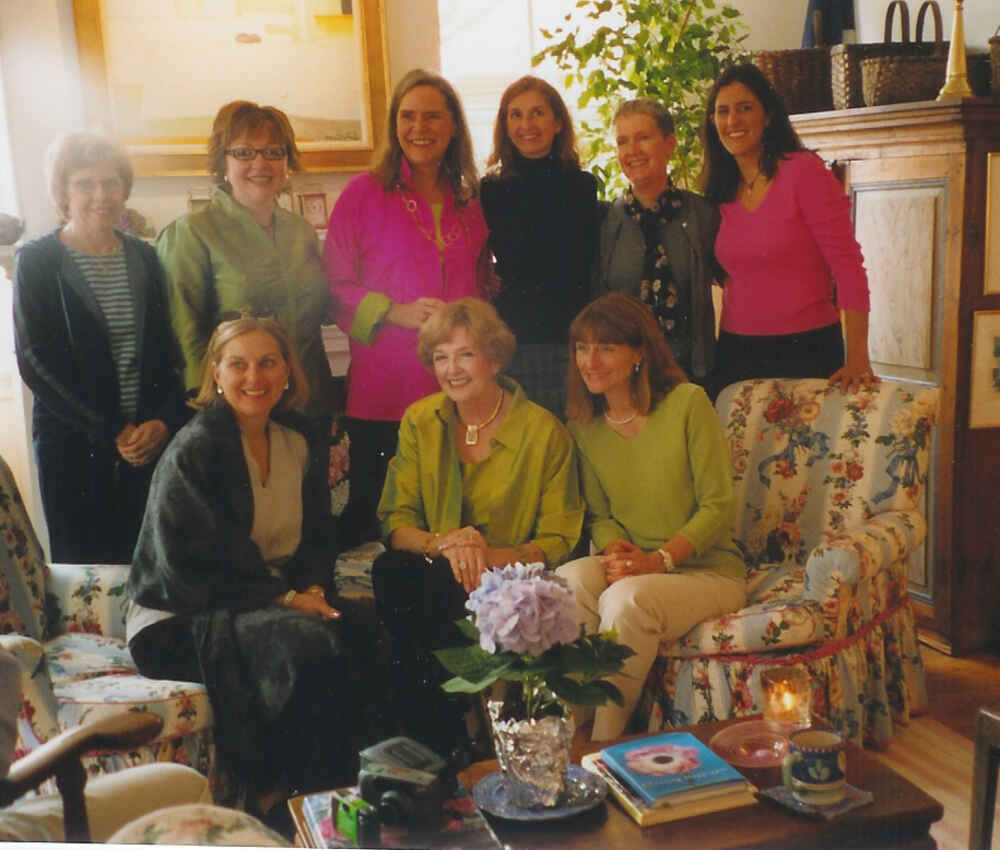 Dear Alexandra and Peter,
Thank you for a wonderful weekend in Stonington. Everything was perfect; the weather, the food, our fabulous deluxe room at the Inn and most of all the new friends that I made.
Your gracious hospitality made me feel truly welcome; I will always remember it. I'm sorry we were unable to stop in Sunday morning; we had to leave at 10:30 AM.
I was very inspired by your talk. Thank you. I'm hoping we will all meet again some day soon.
Happy, happy birthday to you.
Love, Ginny

 
Pretty in Pink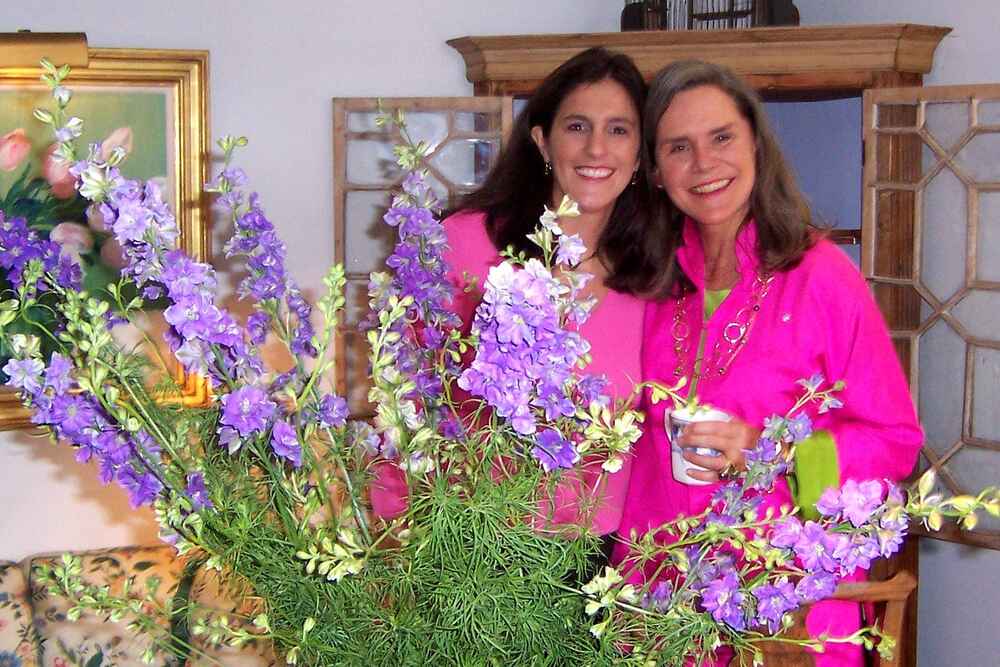 Grace and Alexandra in Stonington, November 1, 2003
A Weekend with Alexandra, November 2003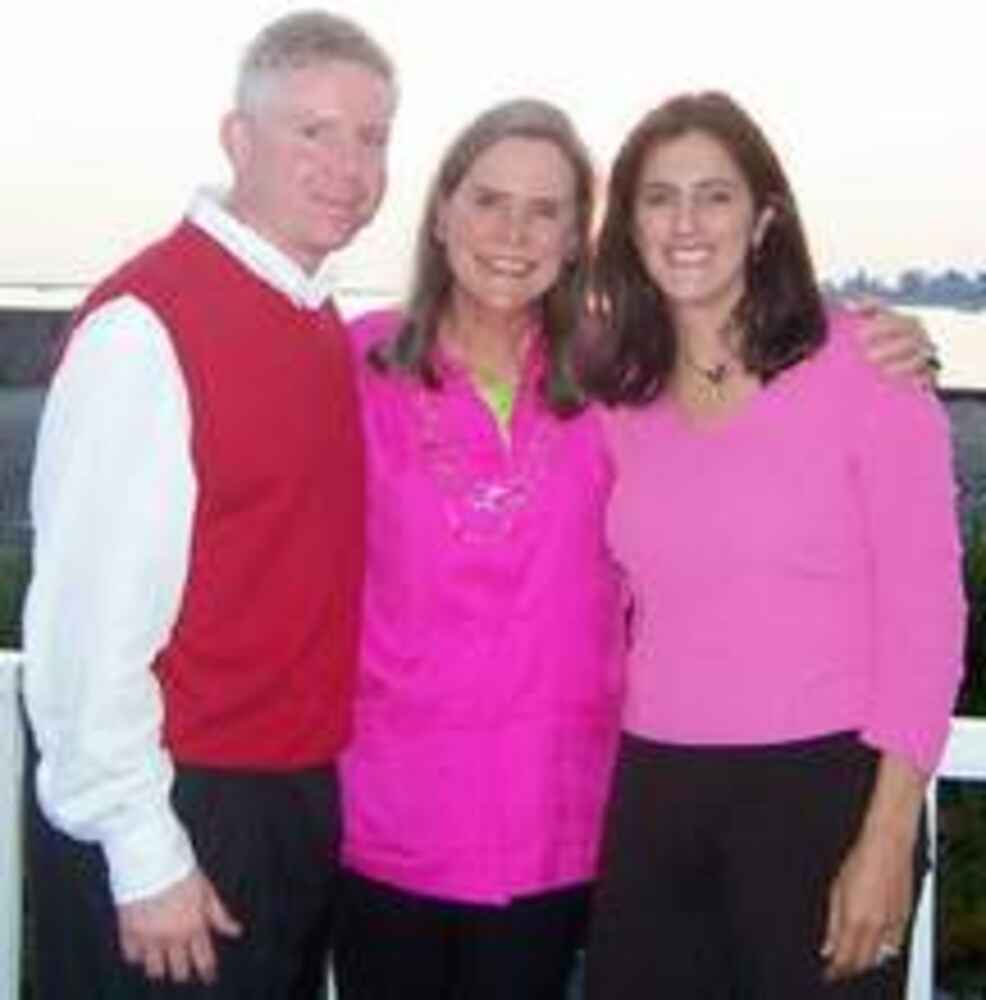 Alexandra with Woody and Grace Belangia at The Inn at Stonington.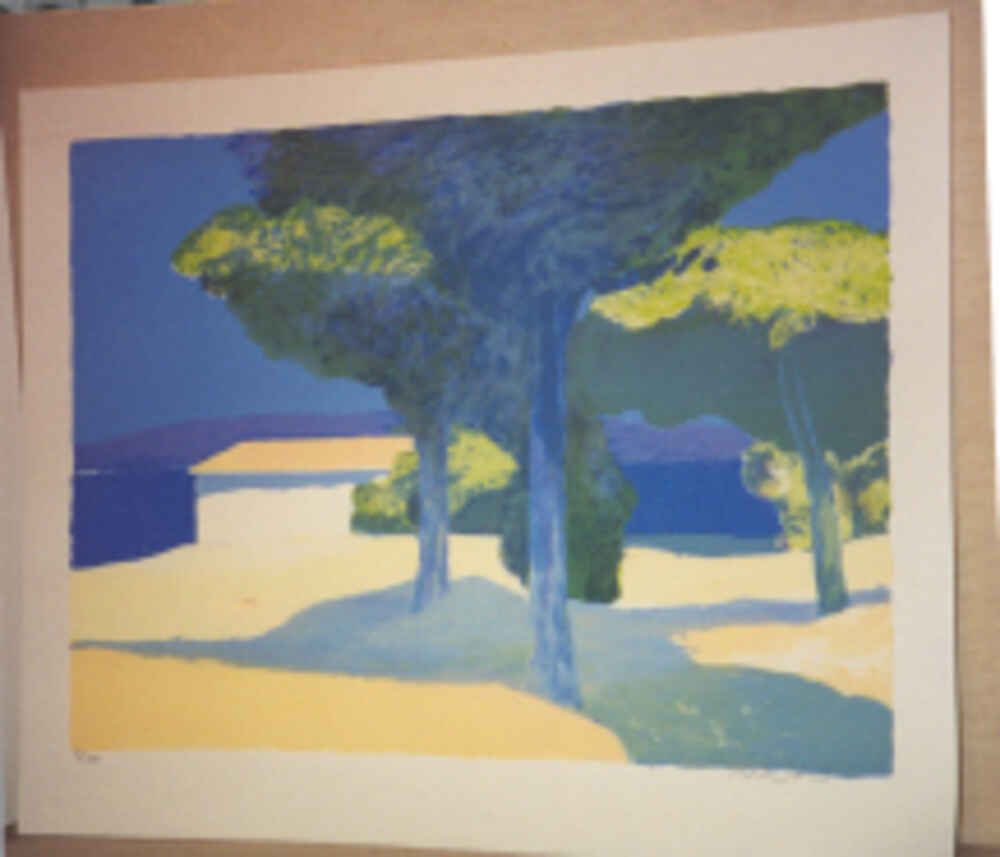 A Note about Roger Muhl,
My Favorite Artist.
Many of you have expressed an interest in this great artist's work. I've been collecting Muhl paintings for 42 years. If you are interested in becoming a proud owner, please let me know. The prices range from lithographs to oils. Fax me at (212) 996-4625. Tell me your price range (lithographs are $1,400 and oils are $6,000 to $36,000). This one artist has brought great joy to the lives of hundred of collectors.


A New Look!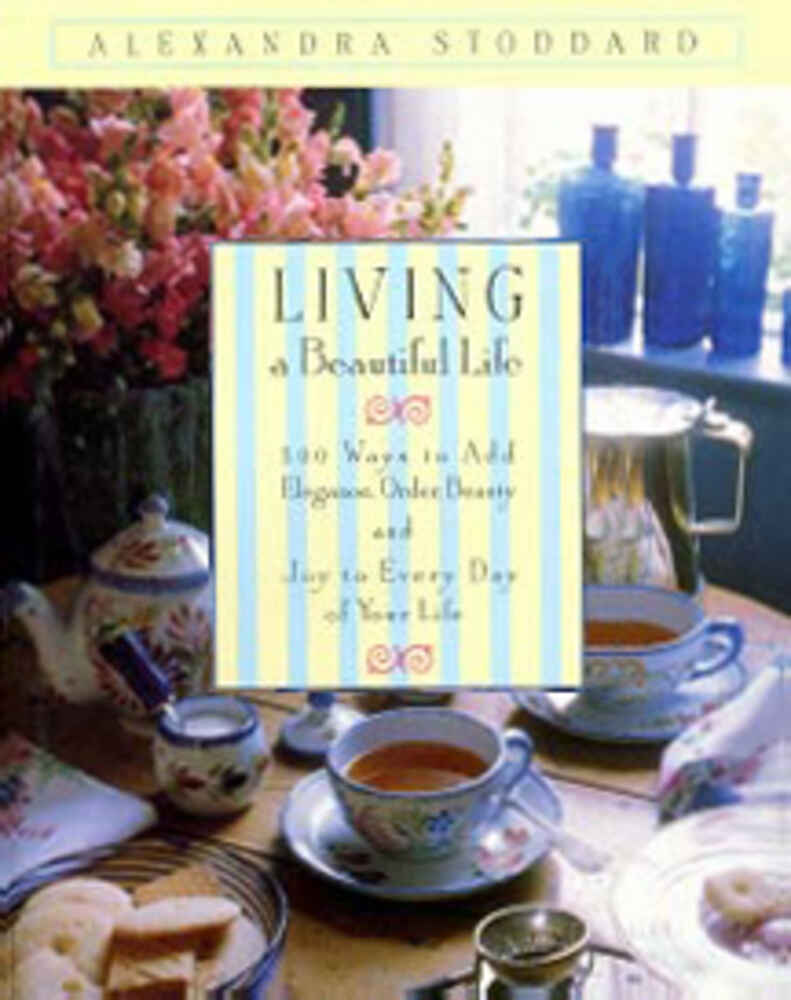 Living a Beautiful Life has a new cover. A memorable book to read, to have and to hold. This book has sold a million copies in hardcover. Now available, The new cover shows a tea celebration in Alexandra's charming cottage kitchen. Hardback $25.00 plus $5.00 s/h. Please send book orders and checks for this book to 87 Water Street, Stonington, CT 06378.

 
Grace Note
You are a light bearer. Remember that the light from one candle can light a thousand candles without diminishing the flame.