Dear Friend
November began in Decatur, Alabama, where I spoke at an upbeat Junior League event about Time Alive. I never expected that I would feel this book is my favorite, but, without exception, Time Alive and its message are most important to me. I love being given the opportunity to talk about Time Alive as we move around the country. This book and book tour have been the happiest time imaginable for Peter and me.
Everywhere we've gone has been joyful. We were on book tour in the Deep South last fall with Things I Want My Daughters to Know so we weren't able to have a Happiness Weekend in Stonington Village. What a mistake! This year we put this fun event on our book tour and it was magical. We flew up from Alabama for the event, arriving Friday, November 3rd, and then flew to Atlanta on Sunday afternoon, on the 6th.
We had perfect weather – warm and sunny with the fall foliage at its peak. A dozen of us sat out on a dock and enjoyed fish and chips and lobster salad, sunbathing in the 78-degree weather before the afternoon happiness seminar at the Inn at Stonington.
We took a break to watch the sunset on the terrace of the Inn. The sky was dramatic in shades of pink and the water was sparkling in the reflected light. People came from New Orleans, Oregon, Florida, California, Georgia, Massachusetts, Kentucky, Utah, Pennsylvania, and Long Island. What an interesting, fun, intelligent group of accomplished people. Ginny, from Lake Worth, Florida, came back for the second time, bringing her husband. Peter and Sharon came for the third time from Woodbury, Connecticut. Sharon is a nurse and Peter is a doctor, both are great believers in this happiness movement. Peter is writing a book on his medical secrets that he wants to pass on to us. He was wonderfully participatory about the medical benefits of happiness on our health at the seminar. There is so much fresh research on happiness now, and every one of us is paying more attention. We had a book signing after the seminar and then took a break – in order not to violate the "5-Hour Rule." Everyone went to their rooms, bathed and changed for our fun evening. After cocktails at the Inn, we went to the Up River Café to a private dining room on the river, sat by a cozy fire, and enjoyed our banquet together.
What's fascinating is the way we all come together as strangers and leave as friends, as a community. Thanks to an angel, Monica, she recorded everyone's history and had people make comments so we know more about each other as we'll try to stay in touch. When everyone came to the cottage on Sunday, we enjoyed cozy fires and all said our goodbyes. It seemed as though our time alive was timeless. We really experienced such happiness as a group.
I can't single out any one place that was over-the-top wonderful in November while on tour, because each place had its own magic and charm. Atlanta was special because friends came to celebrate my birthday with me, many drove for hours to be present. It was really great. Robyn, Grace and Jane, bless you. Goddaughter Camryn, Mysty and Bruce, we love you. Kathy and Marbury, thank you for having us to your lovely home for a perfect glass of wine. Courtney, who came to the happiness weekend, ended up being another angel, driving us around, seeing that our every wish came true.
The famous Third Southern Lady Conference in Nashville, Tennessee was a huge success and great fun for many reasons: We stayed at the most amazing hotel, Opreyland, a crystal palace. There were 750 people at the conference and there were eight of us there from different Happiness Weekends. Kimberly and Sharon met last May at a Happiness Weekend and are now good friends. Kimberly lives in Nashville and Sharon stayed with her. Nothing could make Peter and me happier than to think that these friendships are forming because of these weekends. We ran out of books! There were hours and hours of book signings. Saturday night we ran out of all the books – every title!
We left Nashville to go to Dallas where 420 people came to a luncheon to raise money for children who are abused and need legal advice to surmount obstacles to assure their legal rights to justice. Lots of money was raised. I was thrilled to sit at the same table as Charlene, who brought me to Dallas in the early sixties to do some decorating. We had dinner together that evening, making more wonderful memories.
Everywhere we'd been on tour the weather was sunny and warm. We flew off to the windy city of Chicago with our raincoats, only to discover it was 23 degrees, cold, windy and snowy. We immediately bought hats, gloves, and scarves. We luxuriated in our suite at the Ritz Carlton, where Susan generously puts us up. This magnificent hotel is like our Chicago "home away from home" since book tour in 1988 with Living Beautifully Together. This great hotel holds great memories for us, happy and poignant, all making Time Alive more meaningful. My brother Powell died at age 57, while having open-heart surgery in Chicago, almost eleven years ago. We were there and returned the next week for his memorial service. Each visit to Chicago is a reminder of how precious our time alive is, and how blessed we are to be alive.
Susan arranged a three-course luncheon in the Ritz Carlton's main dining room, where I gave a talk and had a book singing. A doctor from the Mayo Clinic and his wife came from Rochester, Minnesota, and we had a good talk about the importance of happiness on healing. I hope to go to the Mayo Clinic one day to share my views with some doctors.
Our friend Heather came with several friends. Many came who had attended a happiness weekend. It was a celebration of love and life and couldn't have been more beautiful. We're trying to work it out so that when I go to Illinois to talk for a hospital group, I'll be able to go back to the Ritz to give a talk at a tea in the Green Room lounge.
While we were in Atlanta, a producer for Warner Brother's Channel 2 television newscast in Denver called me to say they were doing a "Be Happy" week and wanted me to be the happiness expert for the series, Monday through Friday. I hung up the telephone in our glorious room and told Peter about this opportunity and he said, "We're going." And we did. Thanks to my publisher, HarperCollins, who embraced this breakthrough, we told the talented producer, Gina Selby, "Yes." I worked out with her the five different domains of happiness. Each day we gave the viewer five tips. I congratulate Gina for her broad research and hard work to produce such an important, informative series on happiness for a large television audience.
During the "Be Happy" week, I gave 25 tips I'd like to share with you:
Monday – General Happiness (1) Live in the Moment; (2) Take Responsibility for your personal happiness, (3) Identify what you love, (4) Never feel guilty, (5) Choose Happiness
Tuesday – Happiness with Yourself (6) Know yourself, (7) The past is past, (8) Count your blessings, (9) Try activities that are enriching or challenging, (10) Keep friendships
Wednesday – Happiness with Work (11) Do what you have a natural ability for, (12) Be patient with yourself and with others, (13) Learn by listening, (14) Be open to changing circumstances, (15) Be a constant student of truth
Thursday – Happiness with Family (16) You do make a difference in your family, (17) Try not to waste precious energy, (18) Say "I'm sorry," (19) Say, "Thank you," (20) Stay connected
Friday – Happiness with Others (21) Practice and express kindness, (22) Find ways to serve others, (23) Extend compassion and empathy to everyone, (24) Live with gratitude and appreciation, (25) Celebrate life fully with laughter and fun.
Being the happiness expert on this week long "Be Happy" series was thrilling. I often say we have to Choose Happiness – the name of my book that is now in a 13th printing! But I also recognize how fortunate I am. I'm appreciative for this tremendous opportunity. I had a lot of fun and it feels so good, so right, to be in the position of guiding people to choose and find ways to be happy.
WB Channel 2 in Denver was recently voted, "Colorado's Best Newscast by Associated Press." The "Be Happy" week, I was told, outdid the CBS Early Show ratings and was close to NBC Good Morning America's ratings. I did Monday and Tuesday live and taped the last three shows in order to fly to New York City to greet our family for Thanksgiving.
Alexandra and her husband Peter Scott drove up from Washington with our grandchildren, Nicholas, Anna and Lily. Thanksgiving was joyful. Wednesday night we put the children to bed and had dinner with Brooke and her husband Anthony, Alexandra and Peter Scott. The twins slept in Alexandra and Brooke's former bedroom; Lily slept in with her parents. Thanksgiving morning Brooke and Anthony hosted an elegant brunch, where we watched a little bit of the Macy's parade on a flat screen television, glad to be cozy inside.
I couldn't have asked for a happier, more productive, fun, exhilarating month of November. I'm looking forward to a joyful December, seeing loved ones and feeling grateful for the great feeling of abundance, blessings, and grace.
I wish you great happiness during this holiday season of thanks and love. I will be with you in spirit as we all celebrate our time alive.
Thank you for showing up, for your gifts, for your notes, and for letting Peter and me know how much you like Time Alive. Remember to call Jeannine at Lenox Hill Bookshop if you want me to personalize copies of any of my books. The number is (212) 472-7170. They will gift wrap and ship the books directly to the recipients if you wish.
In closing, I want you to know how much I appreciate our friendships. I enjoy sharing our time alive together.
Happy Holidays and great love to you.
CLM: How do you deal with stess?
AS: Meditate, read write, walk and swim


Time Alive Stamp!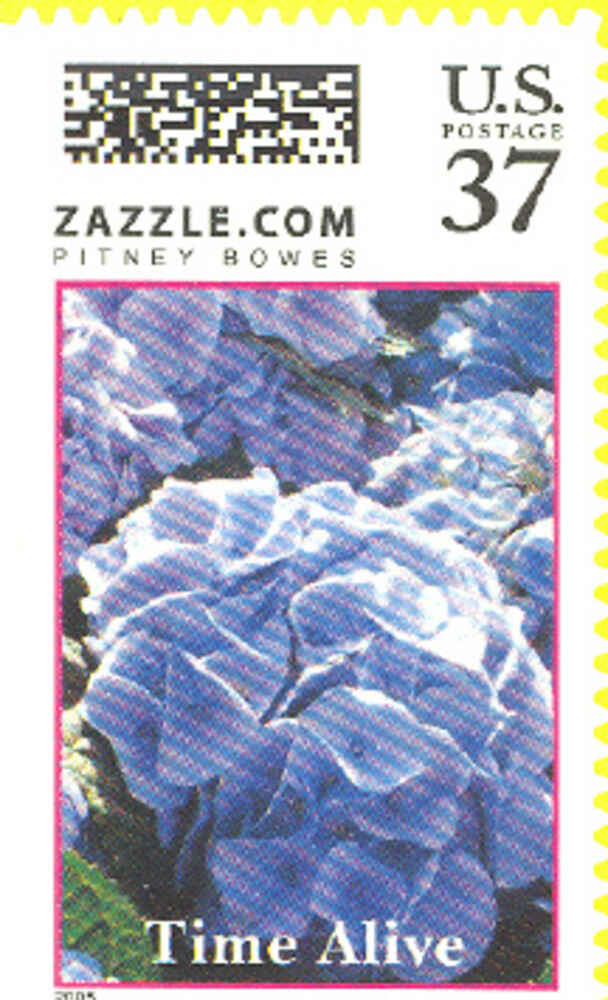 Brooke took this lovely picture of Nikko Blue Hydrangeas and had a stamp made for Alexandra as a birthday present.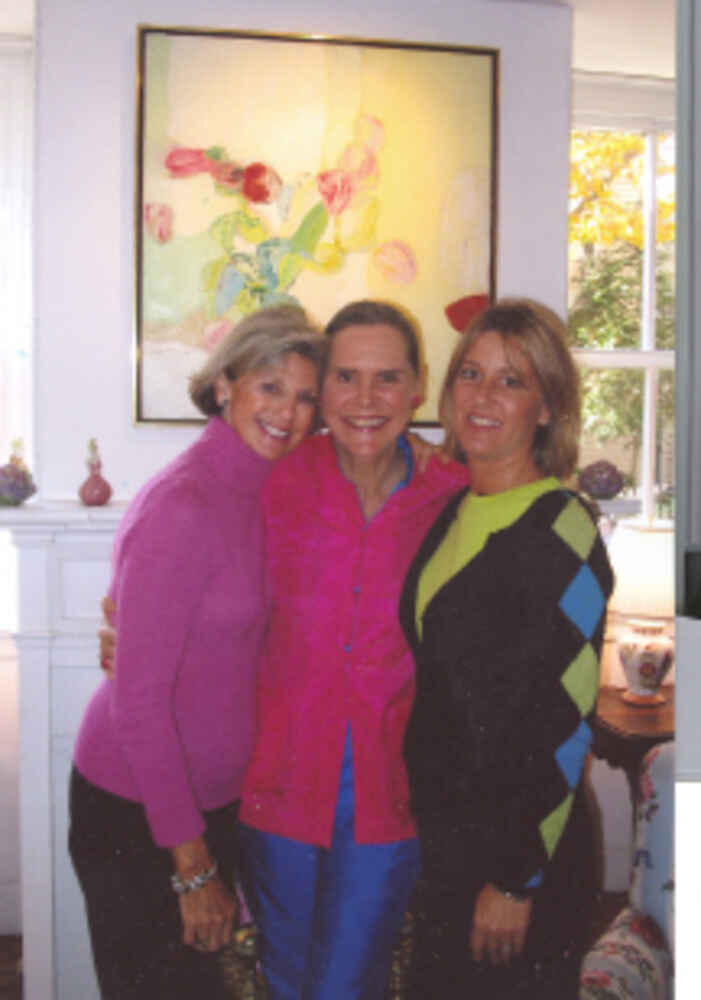 Dianne and her daughter Dana at the Stonington Village cottage wtih Alexandra on the Fifth Happiness Weekend. The painting is by ROger Muhl, a favorite artist.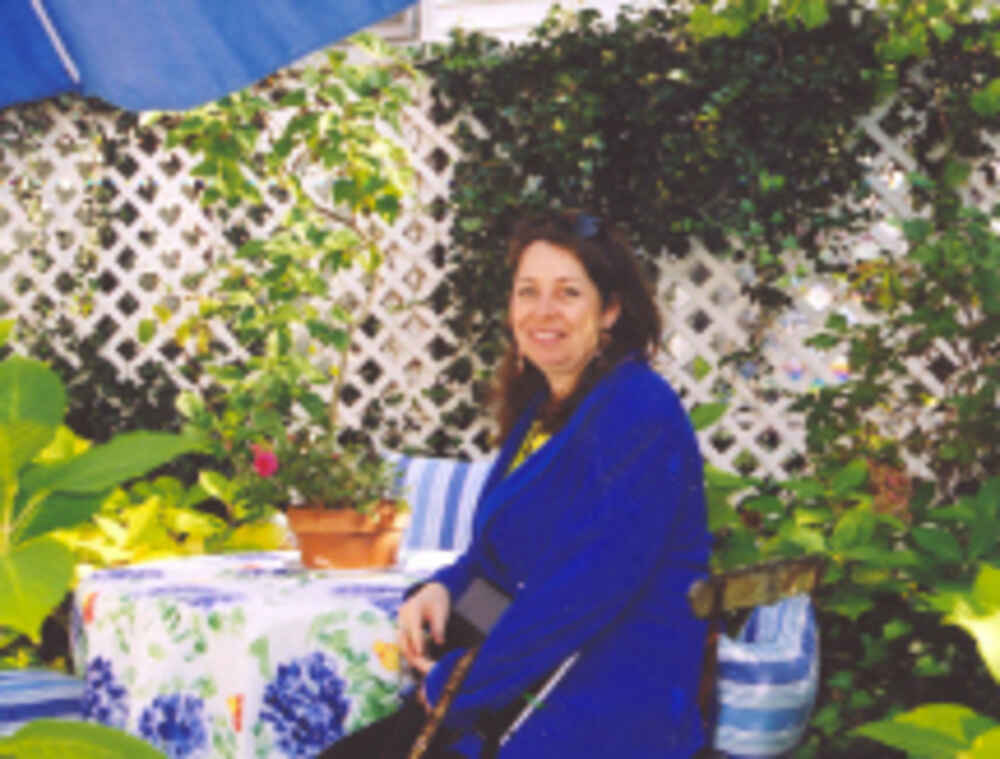 Monica having a quiet time in the tiny garden of the cottage at the Fifth Happiness Weekend. She recorded every attendee, their comments about the weekend and what Alexandra's book mean to them.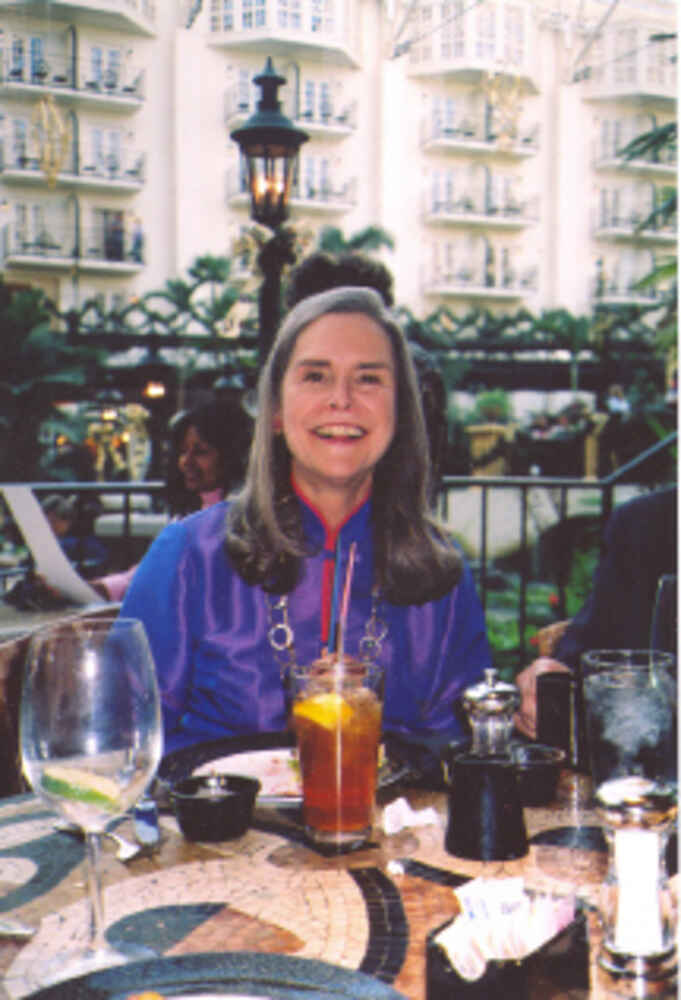 Alexandra relaxes after addressing 750 at the 3rd Southern Lady Conference in Nashville -- a huge, gala event presented with great flair by Phyllis Hoffman, Media Impresario.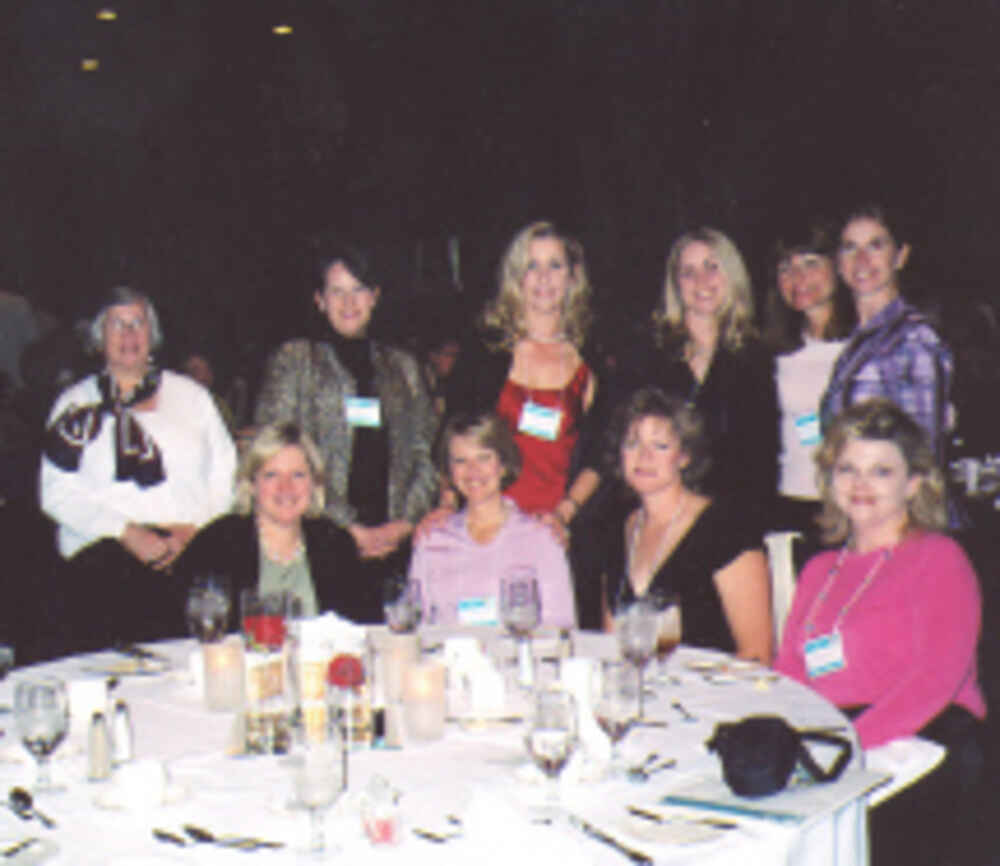 Southern Lady Conference in November 2005 at Opreyland (Crystal Palace) Hotel Complex in Nashville, Tennessee. Some of the gang are from Happiness Weekends!
Kimberly Marlin Bean is a star of the Southern Lady extravaganza at Opreyland - with Alexandra and Peter.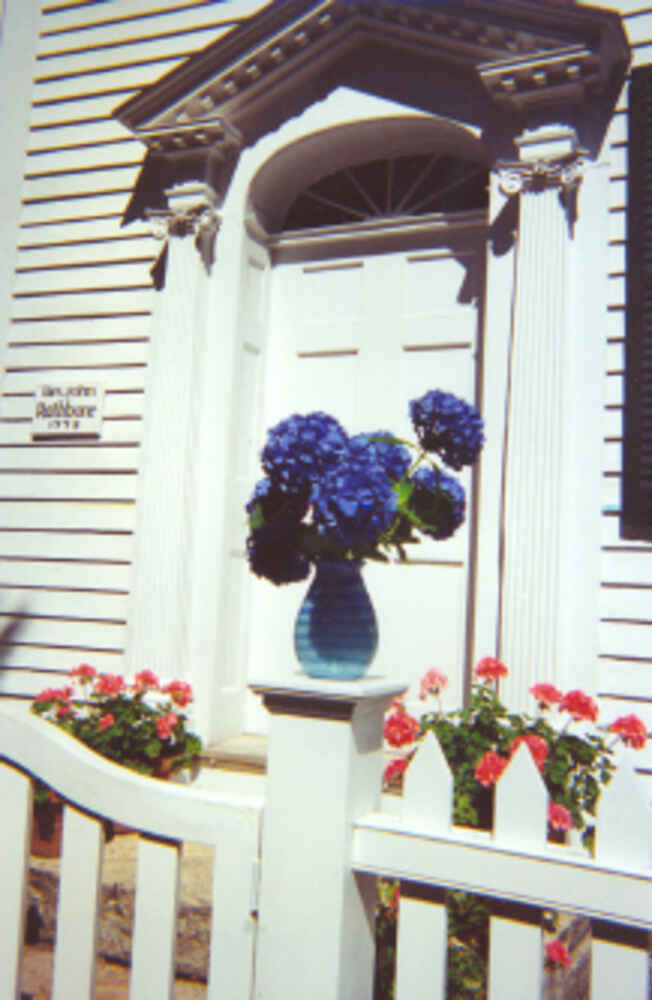 Nikko Blue Hydrangeas on the picket fence against the 18th Century doorframe of the cottage.
The beautiful artwork of Ruger Muhl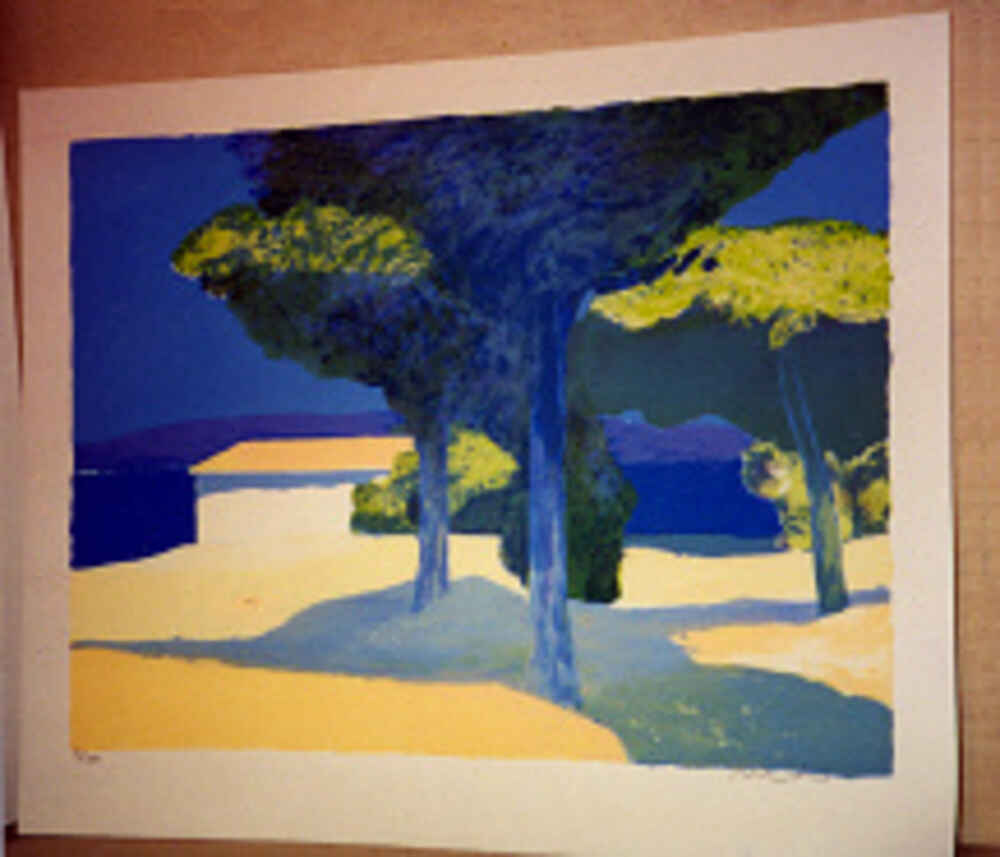 Many of you have expressed an interest in this great artist's work. I've been collecting Muhl paintings for 42 years. If you are interested in becoming a proud owner, please let me know. The prices range from lithographs to oils. Fax me at (212) 996-4625. Tell me your price range (lithographs are $1,400 and oils are $6,000 to $36,000). This one artist has brought great joy to the lives of hundred of collectors.

The Inn at Stonington in charming Stonington Village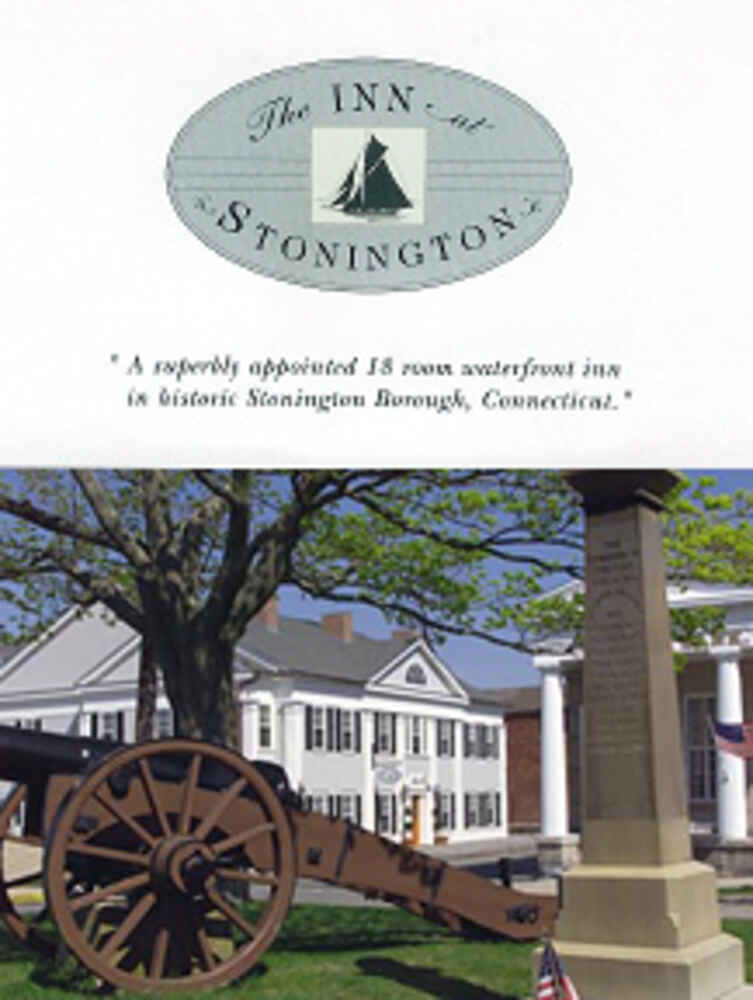 Mrs. Brown's Table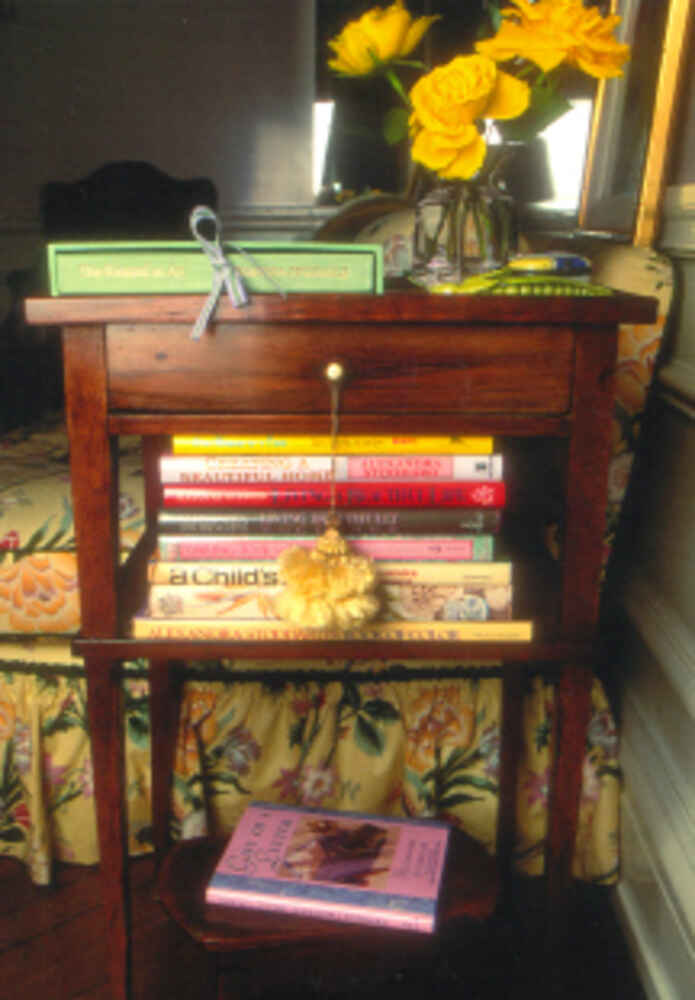 Good News! Levenger has brought the Mrs. Brown table back. Call toll free (800) 544-0880 to get their gorgeous complimentary catalogue.

Grace Note
What we're really seeking is an experience of being alive, so that our life experiences on the purely physical plane will have resonance within our inner most being and reality, so that we can actually feel the rapture of being alive.
Joseph Campbell