Dear Friend

I feel on top of the world. Since our return from Paris in September we have savored the magnificent autumn in our beloved village of Stonington. We've met people from all around America who come here to experience the splendor of the fall foliage, the changing of the seasons and the celebration of nature's beauty and bounty.
As you know, I am going through the blissful grandmother stage. Just before Cooper turned two she lost her favorite bear and miraculously we found a pink replacement she now calls "Pinky Bear." The colored crocs continue to be a huge hit: all is well and happy. To our great blessing, Cooper and her mom and Dad came to Stonington to our cottage to celebrate her second birthday. Now that the cottage is child-proof, it was especially joyful to experience her running around, knowing her own way, and feeling the energy that speaks for itself. Before they returned to New York City, the crib was replaced with a big-girl bed. The nursery now looks large and open, and somehow grown up …
I went on television on our local Channel 8 station to talk about Things Good Mothers Know and to mention my giving a talk at Inspiring Interiors, an event to raise money for The Family and Child Agency of Southeastern Connecticut. I am a non-voting member of the board and was happy to be invited to give a talk, "Creating An Inspiring Home." It was a wonderful opportunity for me to go back to my roots, to discuss why I began writing books, and to talk about the 45 plus years I've been involved in the design world, starting in 1959 at the New York School of Interior Design.
What fun to have the opportunity to have this backward glance into the seeds that have led the way to where I am now. I spoke of how our home (wherever that may be) is an autobiography. Our environment should change as our life evolves and unfolds. I told my story of how I lived in New York City as an international interior designer and how we live now in a private, simple, safe cottage full time as a former interior designer. I confessed that our favorite space in the cottage is the third floor, completely off limits to everyone except grandchildren and Peter and me.
I was enormously touched that so many people came to share this experience. Sharon, a friend, loved hearing me because she first enjoyed my decorating books, and while she appreciates my happiness books and the direction of my writing, this retrospective moment was as satisfying for her at it was for me.
And Amy, her sister Samantha, and mother Patti came all the way from Charlotte, North Carolina. Peter couldn't have had a more meaningful, memorable, nostalgic time. Somehow, even though I no longer am a practicing interior designer, my passion for beauty, color, light and energy, and my belief in the home as a private haven filled with love, laughter, and intimacy is stronger now than ever.
We came to Stonington Village full time three years ago July 4th, and have never looked back. We feel great inner peace and the joy that serenity brings. It is not just a feeling of contentment, it is an intense appreciation for the hourly pleasure of the natural beauty that surrounds us. Because we're blessed to live in this enchanted walking village, and have no car, we continuously experience the changing light, the movement on the water from the wind, the boats in the harbor, and the charm of being a part of a community of caring people.
The Stonington Free Library had a lovely reception honoring Peter, who raised more than $13,000 for the Children's Room after they experienced flood damage from a bad storm last spring. His donation of 1,000 copies of Figure It Out gives him great happiness and we're looking forward to having his new book continue to bring funds to the library through the year.
One of our favorite places to spend the afternoon is on the third floor at a table in front of our large fan window where we have the best view of the harbor from the cottage. Side by side we read, research, reminisce, write, work on projects and feel the presence of sweet wonders of being alive and able to appreciate all the extraordinary memories of our lives together for most of my adult life. Peter appreciates going to the third floor to explore. When we put our treasured objects, books and memorabilia in storage, nothing was labeled. It is exciting to take the lid off a box and look inside. Hours later, we are still enthralled …
In one of my books I wrote an essay, Open Presents Slowly. Everything in this sanctuary is sacred. There is nothing that is unimportant. We don't know what will inspire us next. All we feel is love and a feeling of awe at the glory of living here, loving the rhythms of the days as they unfold. I never thought a dark old attic would become my favorite place to come to dream, muse and play. As my spiritual advisor, John Bower Coburn, (who died last spring) always believed, "You Never Know."
I'd love to know what my next book will be about and be published, but I don't have any idea. I am patient as I continue to work and hope something beautiful will transpire. As I work, Peter is focused, writing a new book. My literary agent, Carl, came up with a title for his memoirs, Keep Figuring It Out. It is a perfect title for his next book because we never arrive at a time or place when we have completely figured it out. Wisdom is a process, and is cumulative. Peter has invited me to write the foreword and I am, indeed, honored.
Peter told me 36 ½ plus years ago, "There will be many surprises." We are continuously surprised by joy at this stage in our lives together. One promise Peter made to me -- He prides himself on being true to his word in that we will always have fresh flowers in the cottage. There are several local gardeners and friends that make that commitment enjoyable. Every week we are delivered flowers – some roses these past few weeks, "crème de la crème" soft white with peach centers that are utterly enchanting… And yes, we have a bouquet of roses on our writing table in front of the window.
We are going to New York City for my birthday in early November. We'll go to Cooper's music class and go to the Matisse exhibition at the Museum of Modern Art, go to the most romantic restaurant in the world, La Grenouville, and celebrate our time together. For Thanksgiving, we'll be with the "grands" in Chevy Chase, Maryland. Thanksgiving is a most special holiday because it is all about gathering together to be grateful for all our blessings. I wish you a most Happy Thanksgiving. Let the month of November fill you with gratitude as we appreciate all the loving, kind, gentle, generous people in our lives who support our journey, who care about our well-being and who inspire us to live up to our highest powers of self-transcendence.
I send great love to you and those you love.

Have you taken photos at one of Alexandra's events that you'd like to share? If so, you can email them to AStoddardInc@aol.com. Please be sure to include the names of those in the photo and where and when it was taken! We will try to include them on the website in the future.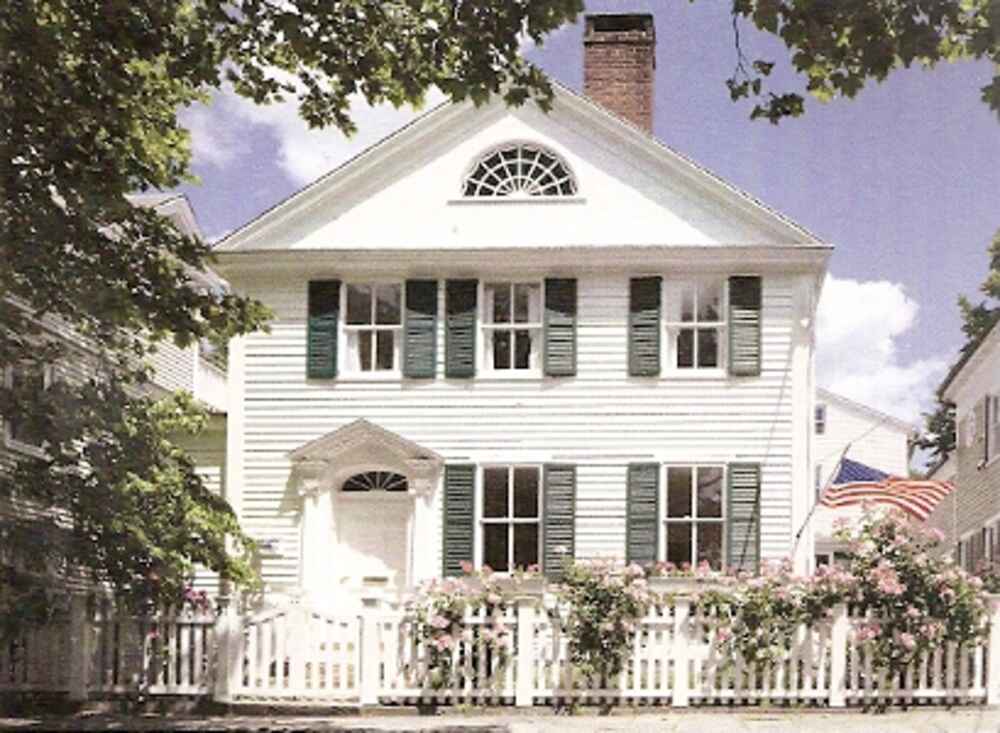 A photograph of our cottage taken by a friend.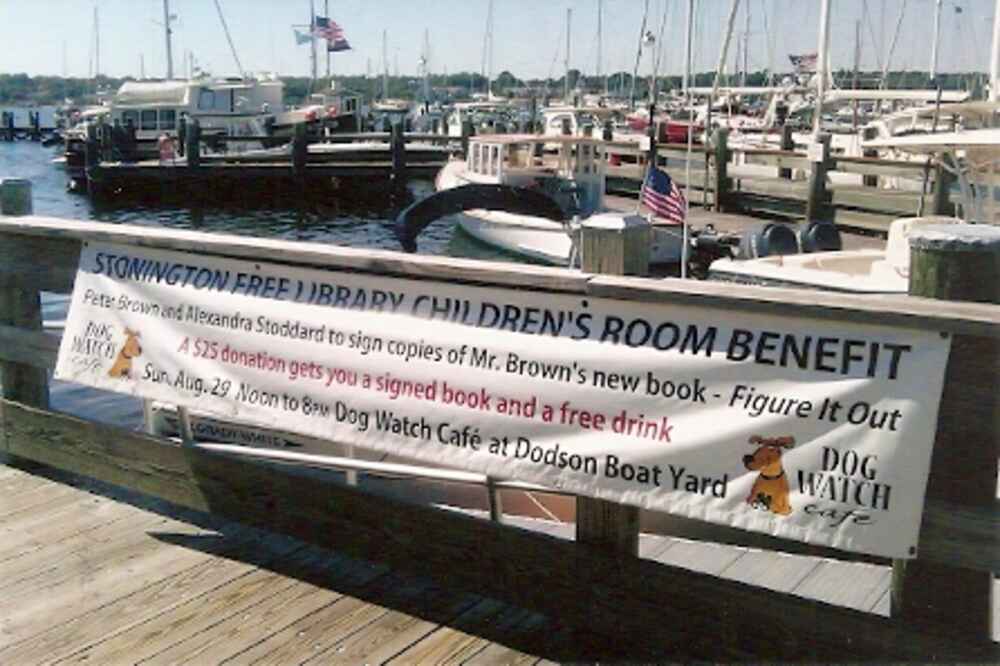 A great memory of Peter's book event.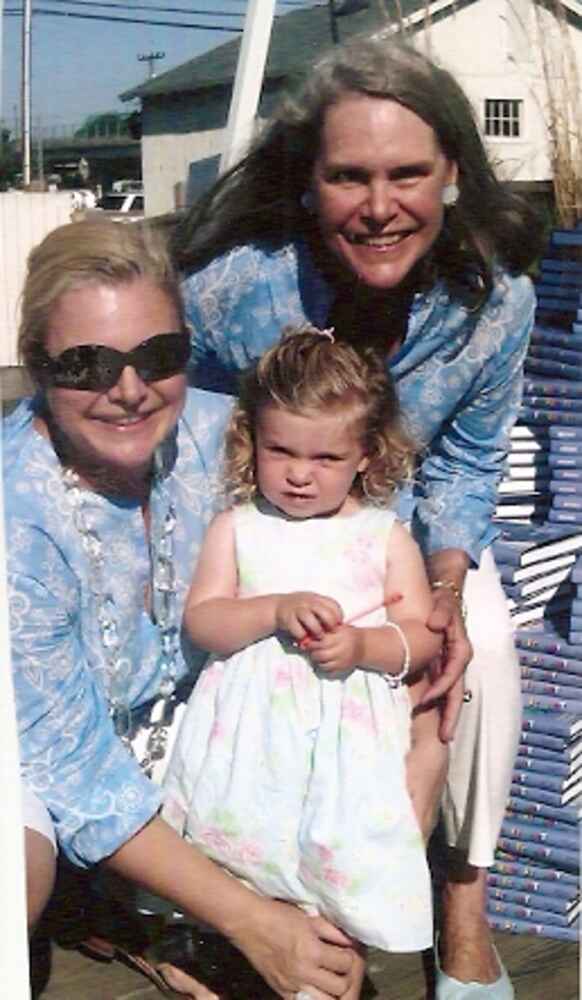 Mother, daughter, and granddaughter at Dog Watch Cafe'.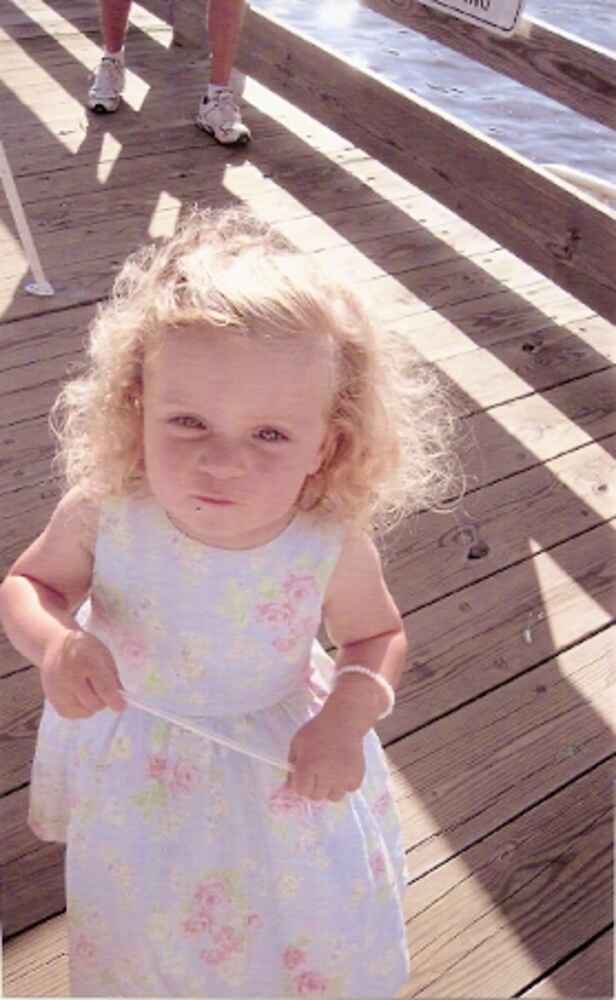 Cooper at Peter Rabbit's book party.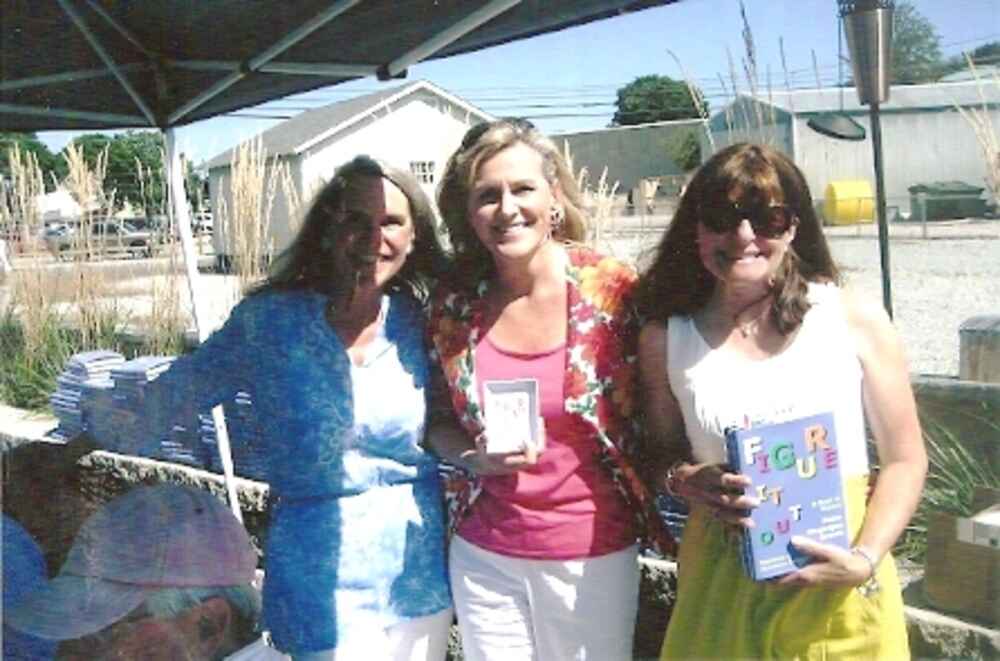 Alexandra with dear friends Kerri and Sharon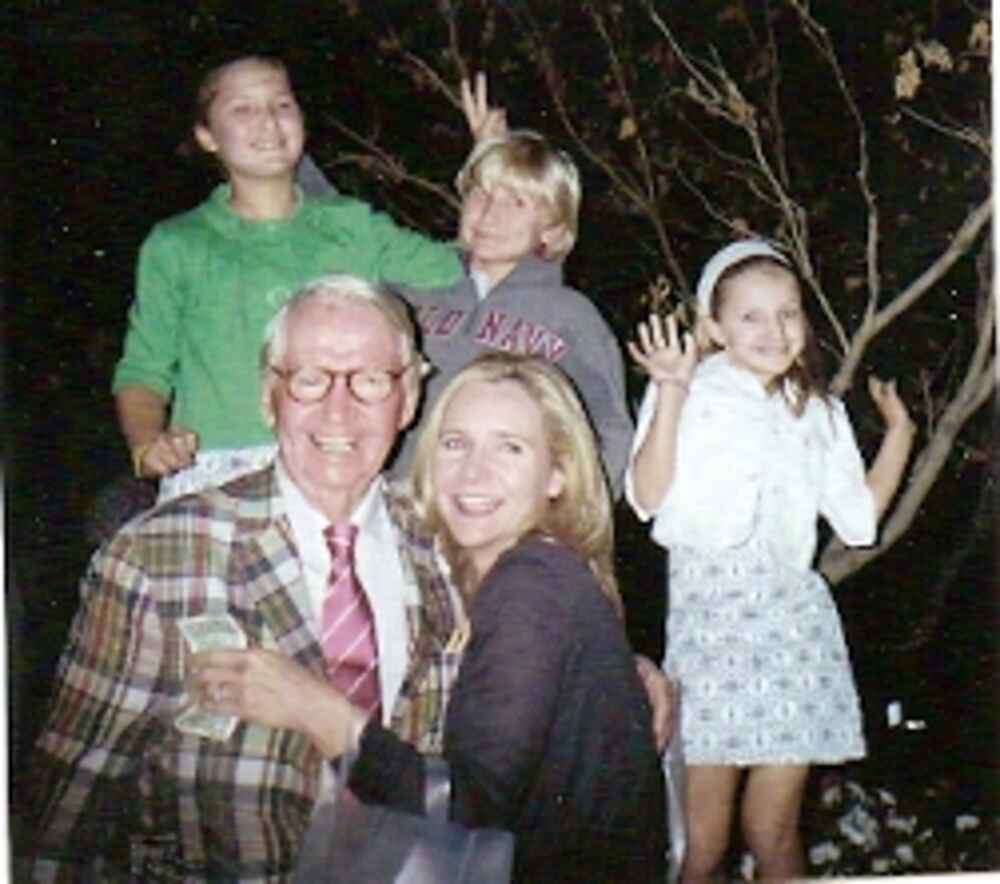 After dinner with the "grands" from Maryland.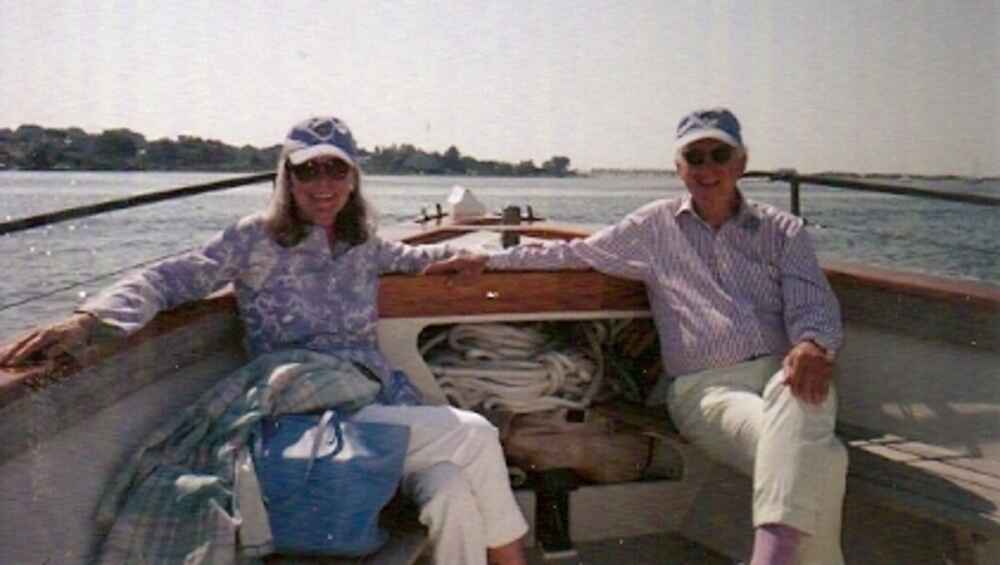 Our last trip on the Gansett from Stonington Harbor to Watch Hill, Rhode Island
Figure It Out: A Guide to Wisdom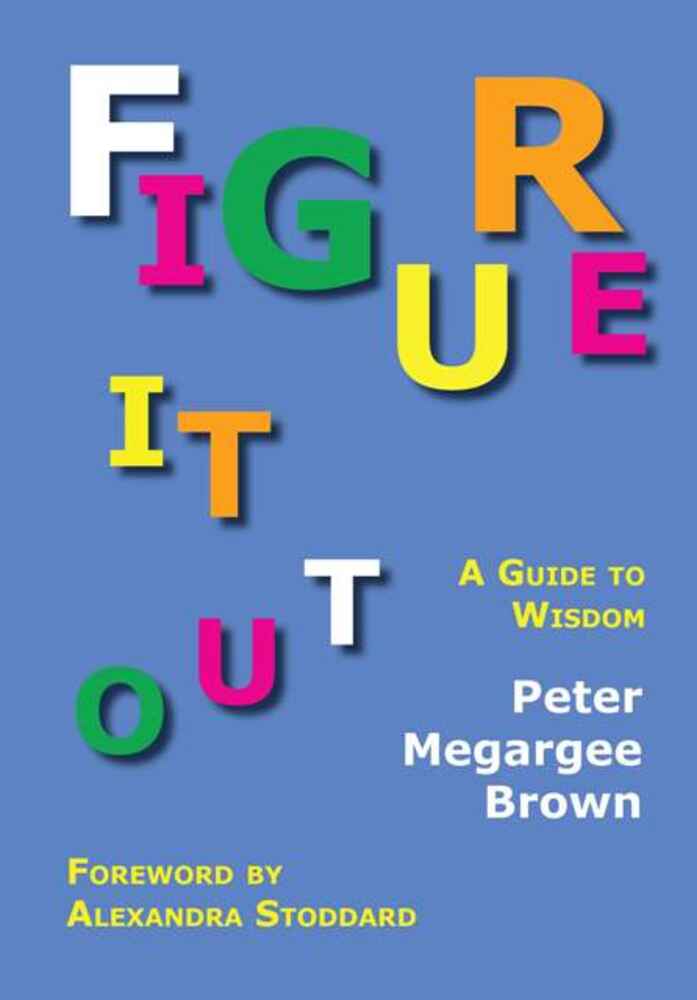 Please consider giving Peter's new book to family and friends for the holidays. Make checks for $25.00 per book to:
The Stonington Free Library
Send to:
Peter Megargee Brown
87 Water Street
Stonington, CT 06378
Peter will pay shipping. Your contribution is 100% tax deductible.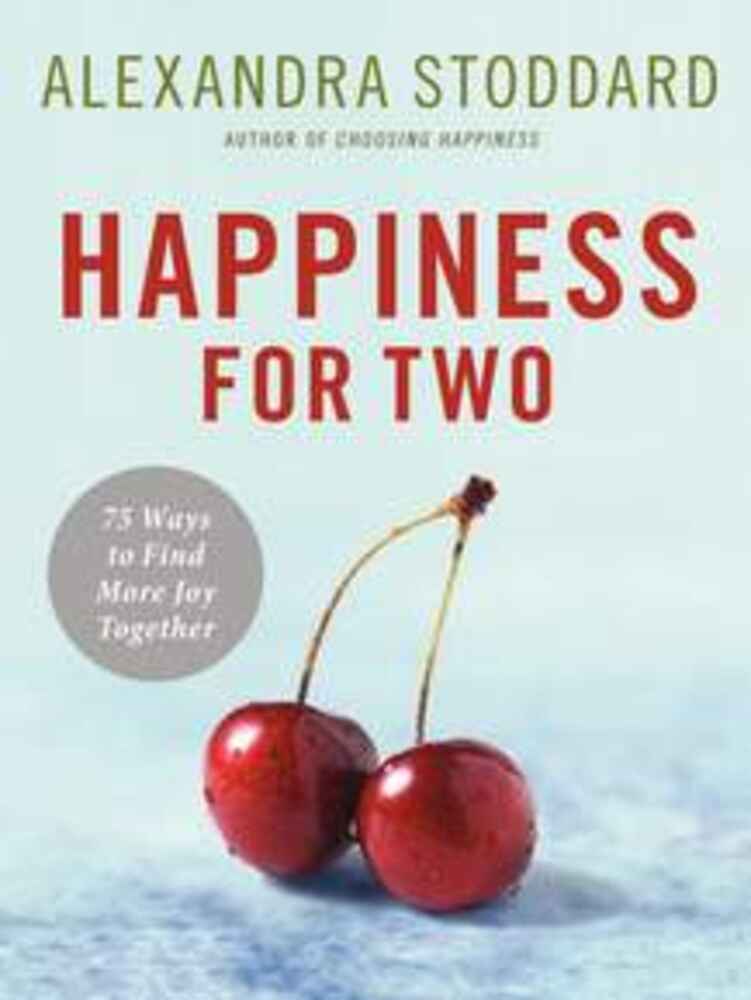 If you would like to get an autographed copy of Alexandra's book, please send your order (including inscription information) to:
Jane Hannon
Bank Square Books
53 West Main Street
Mystic, CT 06355
(860) 536-3795
banksquarebks@msn.com
Grace Note
Waste no more time arguing what a good man should be. Be one.
Marcus Aurelius