Dear Friends,
I've experienced several joyful months, giving talks and retreats, visiting friends and spending time with their children. Spring and early summer opened her generous arms to me; I felt the lightness of being, the happiness that springs from the gifts of a compassionate heart and love.
Returning to my focus on the theme of happiness literally lifts me up, making me acutely aware how vitally important it is to cultivate all the qualities in ourselves that increase our love of life and our gratitude for our increasing interconnectness and reliance on each other's kindness and understanding.
July was a banner month for me. While Peter is not physically here in his body, his chi, his spirit energy, is present everywhere and has never been felt more tenderly than this summer when our family was here to celebrate. All four grandchildren were at NESS (New England Science and Sailing) camp a few hundred yards from our cottage. How fortunate that our grandchildren love Stonington Village, our seaside walking village. They all came to visit their grandmother. Me!
July fourth has special meaning and memories, celebrating the birthday of our country and also the anniversary of our coming to live in our cottage full time. I'm absolutely certain that Peter wouldn't have lived such an extraordinary happy, long accomplished life if we hadn't decided to spend our last years together in this enchanting village. Peter was the oldest man in Stonington, the village elder. What a gift he gave us, his family, of his radiant smile, his gentle manner and his love of life as he moved around Stonington, lightening the hearts of everyone who was blessed to be in his life.
Nicholas, Anna, Lily, and Cooper fully enjoyed their summer camp where they swam and sailed and did all sorts of water activities. I loved going to the end of the dock at Breakwater Restaurant, next to NESS, watching Nicholas, Anna, and Lily sail back from the mouth of the harbor. Brooke and I saw Cooper and a friend Stella sail – on their own. My enthusiasm actually having them here, in real time, present, in my midst, brought me great moments of pure joy. Everyone gathered at our kitchen table for lunch before going back to camp. Friends joined them. Our friend's children and their friends became our grandchildren's friends.
There were bike rides, sunset suppers on the Breakwater dock, and on July fourth our daughter Alexandra's husband Peter grilled a banquet for sixteen of us. The children were in the kitchen and the parents ate in the dining room. In our buttery off the kitchen Brooke set up an incredibly enticing snack bar with the theme of red-white and blue, even the cobalt blue Saratoga water bottles added to the festive patriotic spirit. After the parade, where all the "grands" and their friends marched, they had a lemonade stand to raise more money for the Children's Room at the Stonington Free Library. All the days were magical, but July fourth stands out as being over the top.
We celebrated Peter Scott's birthday over dinner at the Ocean House July 5th, and everyone was spirited, feeling the beauty of the seaside environment in Watch Hill, Rhode Island. Alexandra's golden retriever Homer came for their family vacation, adding so much pleasure to all our activities. Nicholas and his father managed to play golf several times while Alexandra, Anna, Lily and I did some shopping for clothes for the girls and had girl's lunch at a favorite restaurant, Olympia's Tea Room one lazy sunny Saturday.
I got the big idea to all go to New York City to see King & I, but there was no way to pry everyone away from the fun of being in Stonington Village. I agree. When in paradise, why not savor every precious second. Now that July has come and has morphed into grand memories, whenever I see the little sail boats coming and going in front of the cottage, I can envision the grands and their friends in the boats. Their vacation here has expanded the far reaches of my imaginations, and while the bikes are now stored back in the basement, I can see the front garden path of all the bikes and helmets. Friends would leave their bikes behind the gate when wanting to walk in the village to get an ice cream cone in the tent at Dog Watch Café.
Brooke, Tony and Cooper also vacationed for a week at the Star Fish cottage a few minutes walk from 87 Water Street. This gave them a chance to have friends and Cooper's friends have sleepovers, grill suppers on the deck, and Cooper could still enjoy another week of camp. Cooper loved checking on her garden. The grandchildren's garden was in full swing when everyone was here, with lilies, zinnias and snapdragons, and more things have been planted by Cooper and friends that I have promised to faithfully water.
The outdoor shower has a close-up view of the children's garden and the forest of hydrangea. One of my pleasant rituals is watering the roses and gardenias in their clay pots on the deck before indulging in a sensuous treat of showering under the infinite blue sky with the warm sunlight on my back. This summer I added some Mediterranean blue Sunbrella cushions to the garden loveseat, making my summer writing space cozy and sumptuously comfortable as I look out onto the harbor in the shimmering light. Village life is in front of me, but the two garden gates give me the necessary privacy I need to write, inspired by the surrounding beauty. The blue hydrangea being toward me as I sit on the loveseat, knowing, sensing how much I appreciate their awesome magnificence.
Of my eight gardenia plants I'm glad to report that several have buds and have blossomed where, at the end of July, I have eleven blooms. I move them inside when in bloom because I treasure every sniff, and move them to the bedroom at night in order to sleep under the stars with their perfume scenting the night air. I was touched when Anna wrote me to tell me she misses the flowers and the garden. Beauty in nature has a powerful draw on our memory – we're able to carry the images of the rambling pink roses on the picket fence and the hydrangea in our mind's eye wherever we are. I do believe what we love we become, and the more lovingly I tend my garden, the more the beauty reaches out to me. One night before I went to bed, before I turned off the lights, I told a gardenia bud to please bloom, and miraculously, upon awakening, there was a fresh, new bright white blossom. Voltaire suggests we cultivate our own garden. The time I spend nurturing the garden gives me back a hundred-fold the care I put in. Emerson understood it isn't having a garden that is the most meaningful – although it is quite wonderful – but he understood the quintessential joy is being a gardener. We can think of every bud and blossom as a friend. Certain flowers remind us of loved ones who share our exuberance. I enjoy thinking of these lovely earth angels who grace my life with such thoughtful affection when I water, prune and weed.

His Holiness the Dalai Lama believes that if we want to be happy, be compassionate. If we want to make others happy, be compassionate. I agree. Not everyone, known or unknown, is privileged to enjoy and engage in the fruits of summer. I have some friends who are going through some rough patches. I'm comforted to share my joy with them in my heart and hope the strength of friends and loved ones can help them maintain their faith, hope and understanding.

I wish you, your family and friends a happy August. Savor the spray of salt air, the wind on your cheeks, the dappling sunlight, the farmer's market, grilled corn on the cob, organic tomatoes, basil and watermelon. The season is here, now, this very moment. Take deep breaths to fill your lungs and heart with these seasoned gifts of grace – amazing grace indeed.

Upcoming Events!
Alexandra will be doing another happiness retreat at the Inn at Stonington in November!! We will be sure to post the date as soon as it is scheduled, so keep checking in!!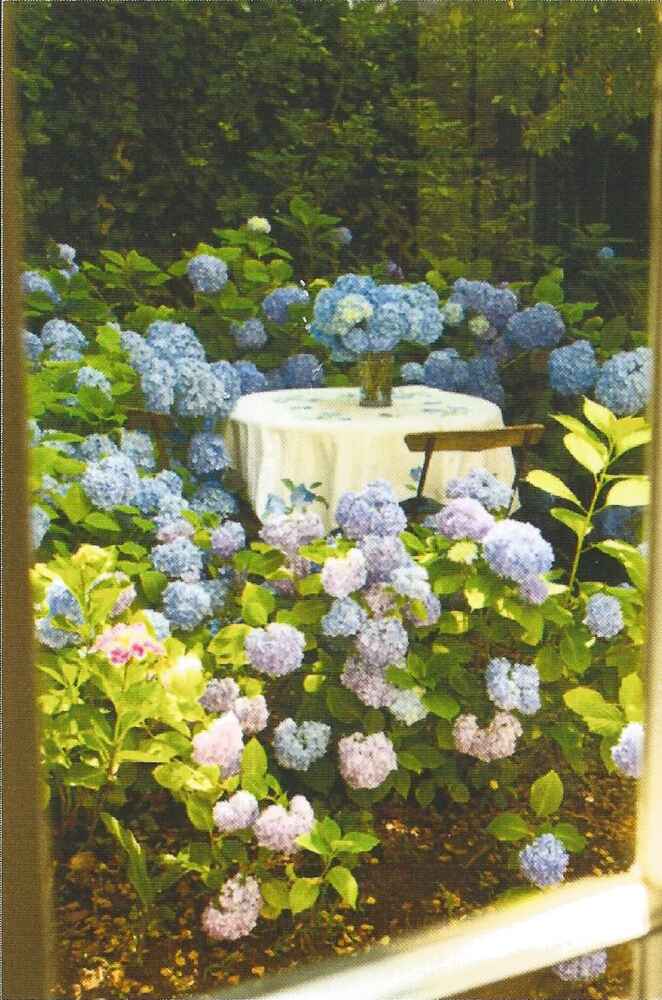 From the kitchen window ...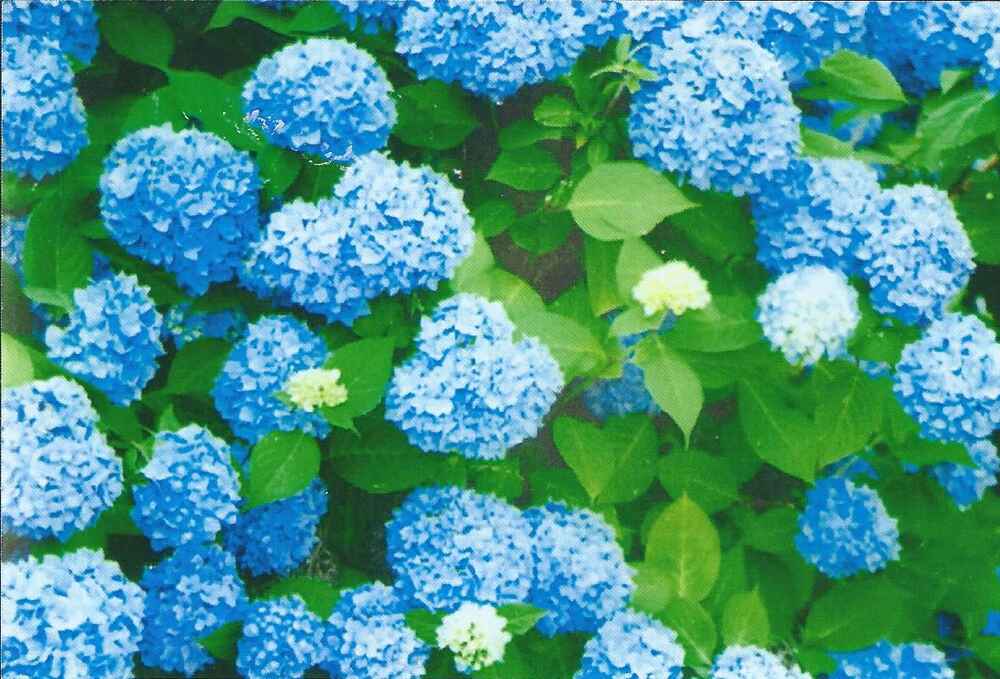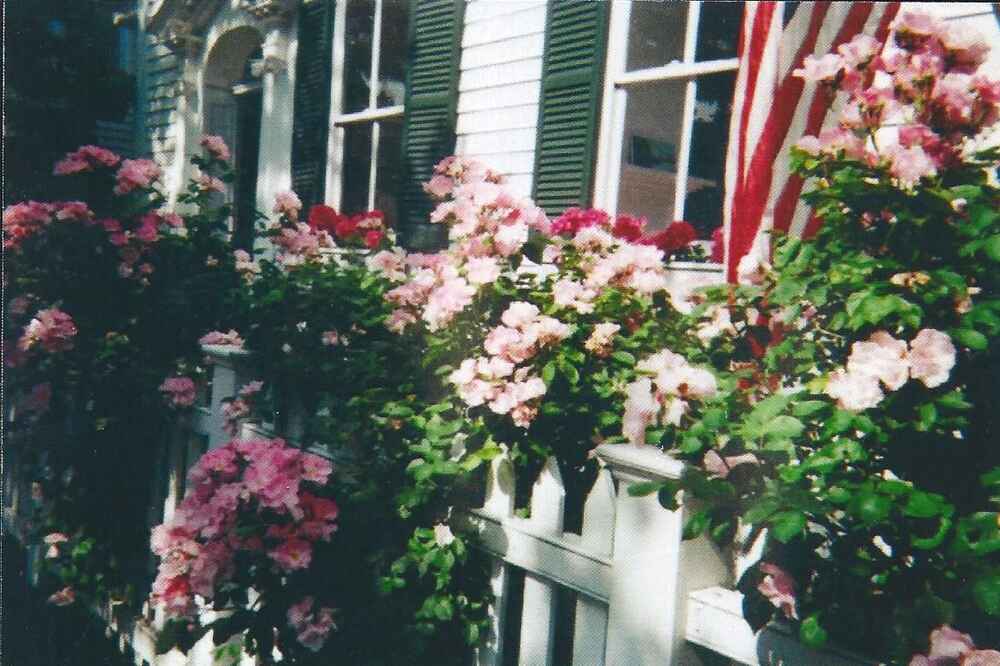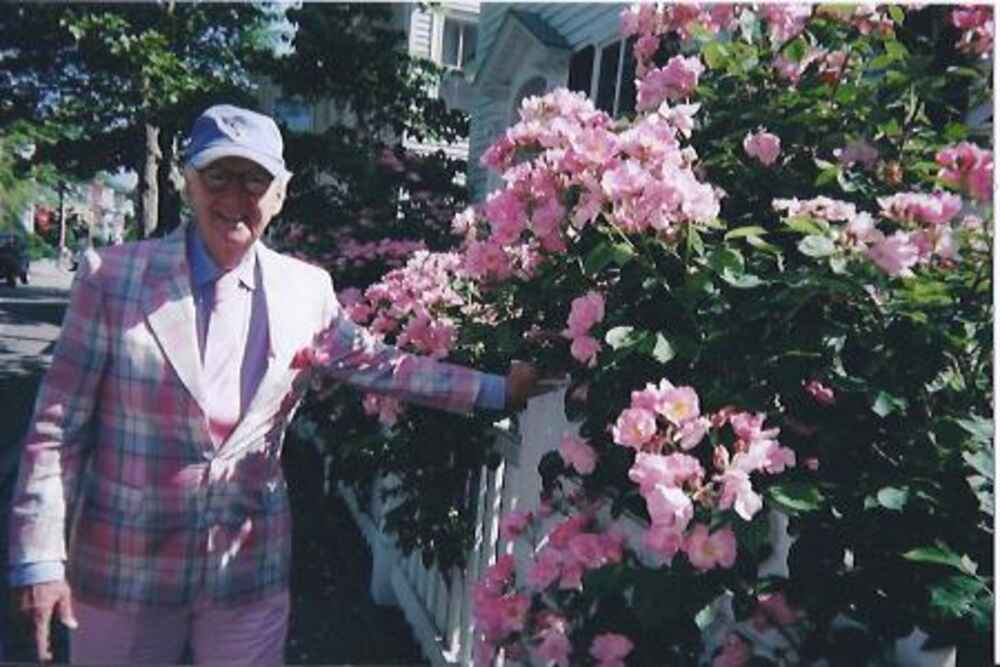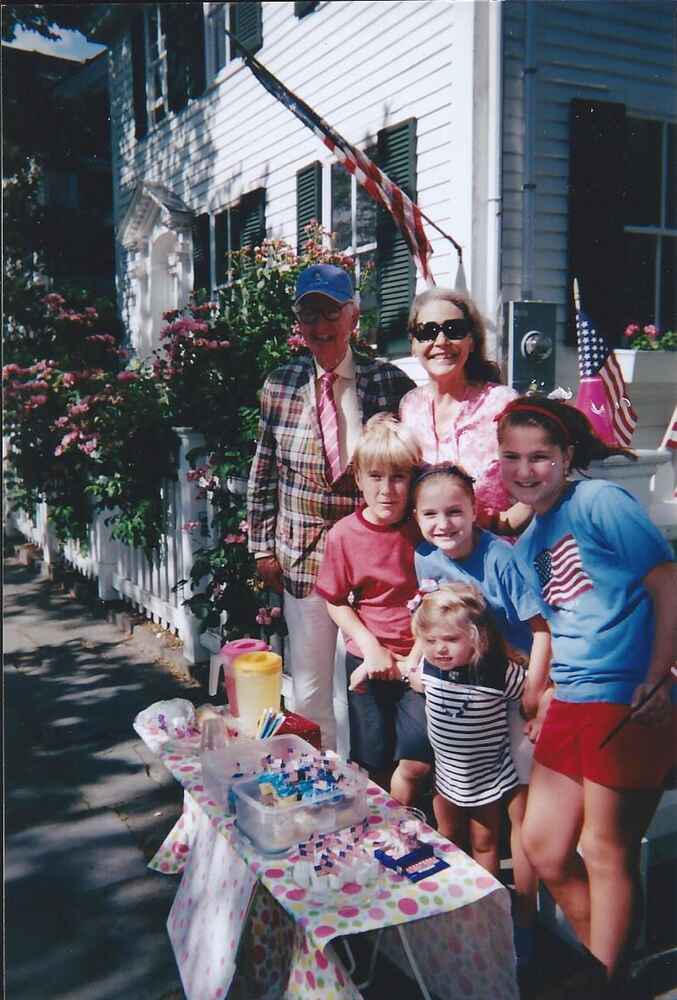 July 4th lemonade stand memories
Peter and our abundant roses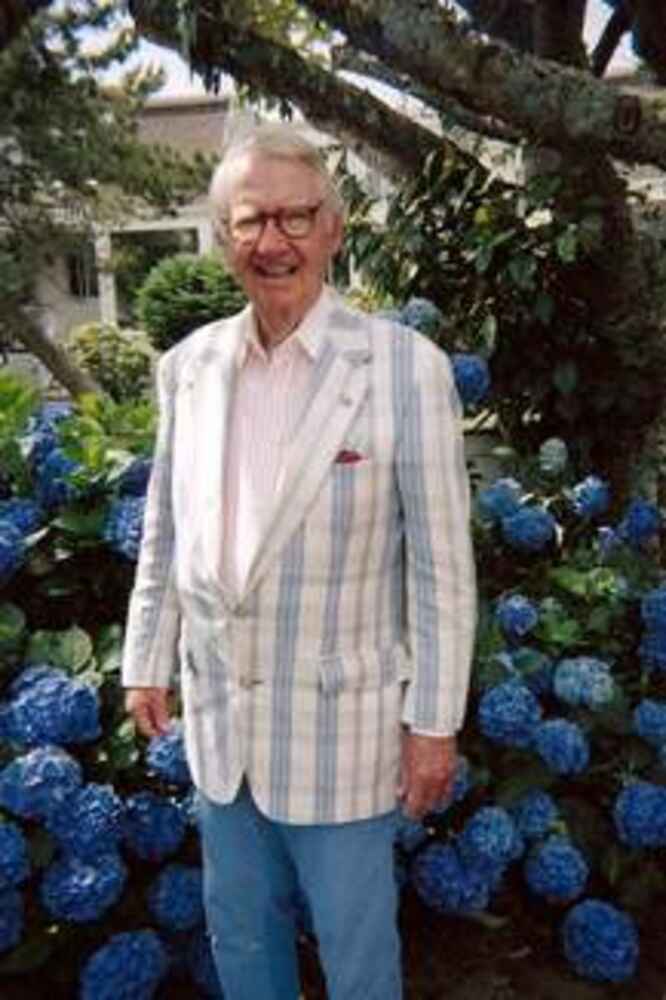 My two loves ~~ Peter and hydrangeas!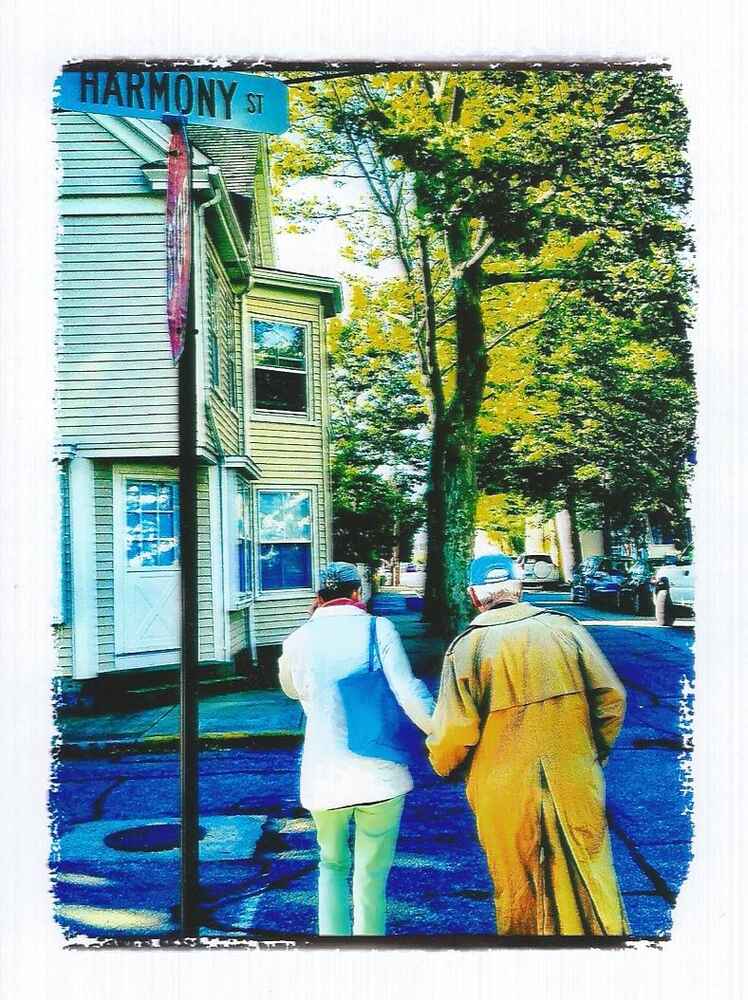 A stranger dropped this photo off at the cottage .... on Harmony Street.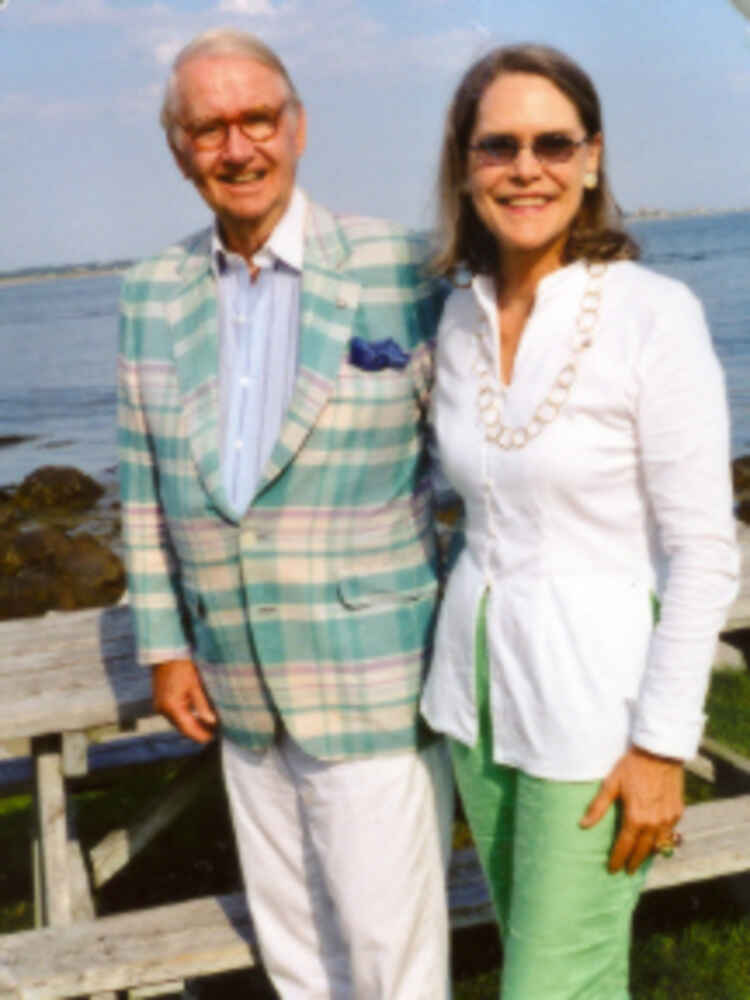 Grace Note
"Right now, this very minute, we are at the banquet of life. Catch the wave."
~~ Alexandra Stoddard