Dear Friends,
Last year I was in New York City celebrating my 75th birthday. Many of you remember my birthday was on the presidential election day. At 7 AM when I walked into Quotidian restaurant to greet daughter Brooke and granddaughter Cooper for a birthday breakfast before school, I thought I was seeing a mirage—my daughter Alexandra walked toward me.
This year the Inn at Stonington invited me to have another Happiness Retreat on my birthday, the first day of the lower winter rates. Wow, what a splendid invitation to have a birthday celebration. I accepted, and had several months to anticipate the fun event. Before Peter died we celebrated alone, together, in Paris, the city I introduced him to when we went for our anniversary after our wedding May 18, 1974. There was a special magic about being able to introduce Peter to the most romantic, enchanting city in the world, starting our magical lives as married partners.
Now being 76 and creating a ritual of celebrating the entire month of November, I became quite excited greeting friends who came to meet me here in Stonington Village in 2002 when Peter and I put our cottage on a kitchen tour to raise money for Family and Child Agency of Southeastern Connecticut. I'm a non-voting member of this helping organization, and we enjoyed opening our house for their kitchen town fundraiser over the years. It was in 2003 that the Inn hosted the Happiness Retreats, and I've met wonderfully interesting people who have attended, who have fallen in love with our sweet seaside coastal village, the last one in Connecticut before Rhode Island.
I don't know whether it was the excitement of this retreat being one giant birthday party celebration or the fact that I invited my dear friend Kerri to come from New Hampshire to help me with the different party and seminar preparations. Her husband Matt is deployed in Kuwait, and although I knew it would be logistically difficult for her to get away while holding down the fort in his absence, Kerri accepted my invitation to assist me with this celebration happiness retreat. Kerri, Matt, family members and friends have made these retreats and stays at the Inn most happy occasions and timeless memories over many, many happy years. As a result, Kerri and Matt became close, dear friends of Peter's and mine. I always feel Peter's strong presence whenever I am with our good friends, the Kennedy family, with their exceptionally fine children, Matthew, Kathleen, Colleen and Michael.
The day before Kerri drove down from Londonderry, the guests came, arriving in time for us to go to a favorite restaurant of Peter's and Matt's, where we sat at a table for four, sat in front of a warm fire, ate comfort food, smiled, and exhaled, "ah." Little did she know all the manual labor that would greet her to create party bags to put in the guests' rooms and help me arrange tin flower bouquets for the rooms, pose flowers for the public rooms at the Inn, for the four lounge tables at the restaurant behind the Inn, Breakwater, and to sprinkle around the cottage. We used the visit as a calm before the fury of activity and excitement ahead.
Kerri's calligraphy is most beautiful and she brought a set of new pens in a rainbow of colors to put on the pastel party bags for twenty-eight people. I wrote welcome notes. Kerri was stationed at Peter's desk in the downstairs study, while I was seated at my desk that butts up against his. We were giddy happy to "be" together. Every time one of us would open our mouth to talk, we laughed. We were writing, and the only way to be in the moment is to focus, concentrating intensely on what we're doing. Our brains are linear, and are capable of doing one thing at a time. If you've ever tried to write and talk, you quickly realize you make mistakes and along with the distractions come a sense of anxiety.
We were in a trance, silently doing our respective projects, listening to classical music, enjoying the geraniums in full bloom in the outdoor window boxes as we enjoyed looking up and out at the harbor. Kerri and Matt have a dream to live in Stonington in their years enjoying aging gracefully. Peter's wonderful heart doctor believed he lived ten happy years at the end of his long, fulfilling life because he loved this private, enchanted walking village in paradise, adding "with your mutual love."
On our trips to deliver flowers and goodies to the Inn, we met several of the guests as they arrived on Wednesday. My birthday morning I awoke early, as usual, and brought my breakfast back to bed, on a tray Kerri had given to Peter so he could read more comfortably in an upholstered chair. I enjoy feeling all the loving-energy living amongst objects that are useful and hold to many soulful memories. When I heard Kerri stir, I made her breakfast in bed on a tray—French press coffee and hot crispy pain-au-chocolat; I slice the croissant horizontally and broil it until the flaky pastry crust turns golden brown. Seeing her propped up in bed on a sea of pillows, with blue hydrangea on her end table, beaming with joy after a sound sleep in utter quiet was quite a vision. I know we had to rock and roll, but she insisted I watch something on her phone. As much as I tried to demure, she told me what I would see would make me extremely happy. Seconds later, I was dissolved in tears. She'd found a television interview of "Happiness for Two" with Peter and me on the set, holding hands, on Valentine's Day years ago, when I was about to go give a talk. Hearing Peter's voice, listening to his words about love, made me dissolve into enduring, everlasting love. We always contemplated our being together in our never-ending, always-present love. I can't imagine a more thoughtful, tender, sweet birthday present than making Peter ever so present with us. Kerri and I discussed how Peter's body served its usefulness, but his soul, or spirit, is so much with me as long as I am in a loving, receptive consciousness. Matt is far away and in harm's way, but he is present with Kerri wherever she is, and she is grateful for the technology that keeps them informed on a regular basis. Peter's no-tech signals are more nuanced, but I feel them with tingles and lots of triggers that keep us in communication.
At the wine and cheese reception at the Inn Wednesday night I gave everyone a votive candle, asking everyone to bring a light to Water Street Café where Ray, a favorite waiter and friend, had set up one long table for 28 of us to dine and have a birthday celebration. When a chocolate lava cake arrived with two silver candles, one for Peter, and one for me, a host of people gathered from around the restaurant to sing happy birthday. I felt touched with fairy dust, enveloped by loving energy. A favorite teenage waiter years ago, Andrew, had a special bond with Peter and as he sang, looking into my wet eyes, I felt his deep love and gratitude for the years he shared being Peter's friend. Happy birthday indeed.
Thursday I went to the Inn to have coffee. Kerri stayed in Room 4 for the night. One of our friends, who'd booked that room was in the hospital so we decided to seize the opportunity to luxuriate in one night each at the Inn. This is the room with its own private door, a handicapped room where we spent the better part of a year after Peter's knee surgery when we renovated the cottage to make it safe in 2008. Kerri had to leave before the seminar in order not to drive too long in the dark, so I spent the night there after out banquet at Breakwater restaurant.
Friends who own the coffee shop Indulge, where I went every day and wrote, donated La Croix and had an adorable framed sign "Alexandra Stoddard's La Croix Club." They also found some pink wine the color of a good rose' that had pink caps, and put "Choosing Happiness" labels on them. I didn't recommend anyone actually drinking the wine, but the bottle is adorable, and it is a wonderful souvenir for all of us. The seminar was great fun, held in the living room at the Inn, where I stood in front of a warm fire. We played Josh Groban until three-minute meditation where I had a friend Janice loan me an anniversary edition of the Gregorian Chant, a powerful way for us to elevate our energy and prepare ourselves to be open to experience our higher angels. Boiling my message down to two hours, wanting the talk to be a warm dialogue, I made an outline of five points, or parts. Having five fingers I could remember them but I wrote them down on a note pad with strips of different colored paper, just in case I had a black out.
The first was Choose Happiness. This is the aim and purpose of life and our wisest choice. Happiness is not automatic. We will it and cultivate it through our every thought and action. The second point I made was titled "Then and Now." After Peter died I went inward and wrote for several years to try to better understand what I was experiencing, and I later decided it was too raw, too personal, and felt Carl would agree to keep it safe in manuscript boxes, to be re-evaluated at a later, more appropriate time. How wise the waiting, because every day I'm, receiving more insights into life and love after the death of the body.
The third section was "Joy" and I discussed how the four basic human emotions are "Fear, Anger, Sadness and Joy." Because we are animals, our brains are hardwired to survive and we have to be fit and strong. When we understand that we are meant to evolve into higher, more intellectually refined, more conscious, loving souls, we make a daily practice of loving kindness, and deliberately elevate our thoughts to cultivate joy. I recommended "The Book of Joy," Lasting Happiness in a Changing World—His Holiness the Dalai Lama & the Archbishop Desmond Tuto with Douglas Abrams.
As we enter this holiday season, I highly recommend your reading this book about a deep, abiding friendship of excellence, where their message of love is demonstrated in every gesture, every twinkle, the jovial spirit of two men from different planets found each other in the higher realm of love and compassion. Set a kitchen timer for twenty minutes, and find a quiet place to read. Set the alarm for an earlier awakening in order to give yourself the treat of quietude, medication and grace pre-dawn. John Francisconi, the adorable bookseller who manages Bank Square Books ordered 24 copies and sold out. I'm delighted all of us at our reunion will have this life-changing book as a frame of reference for our continuing friendship made in good faith and cultivated by mutual yearnings to find pure joy and lasting happiness through my 4th point: Acceptance. Do what you can to make whatever situation you're in better, not for you, but for all of us. We are united, we are one, we are all in this quest together. Through love and light, we can make all the difference in the world. My final thought was "transcendence." We have all it takes to do the right thing, at the right time, for the right reason at the right time.
"Wine and cheese" was great fun before going down the driveway behind the Inn to the dining room with eleven windows overlooking the harbor. There were tables Happiness, Joy and Love. I brought floral, pastel napkins from home, wide rainbow ribbons to add color and punch to the tables, and lots of flower vases with hydrangea in blues and pinks. I don't love birthday cake. Everyone had their own yummy dessert. Mine was key lime pie, with a lit candle to add to the hundred votive candles—Marcia read a quote of mine in the current 10th anniversary edition of Victoria magazine—the November-December edition—"We can live closer to our dreams if we are willing to dream them." Alexandra Stoddard. I was a writer in residence the years Peter and I lived at the Inn.
Sleeping in Room 4 was most lovely. The small cozy room was flowing with flowers and memories. John Francisconi gave a brief talk at breakfast at the Inn before coming to the cottage to set up the books in the dining room. While I was meant to autograph books, I got swept up in the moment, realizing everyone was leaving soon to return home. We all gathered in the living room and continued our discussion from the seminar. I felt we all were touched by the several days shared.
After the Happiness Retreat I was interviewed by a wonderful reporter and over tea we had an intimate chat. A photographer came to take a few pictures of me writing on pastel paper. I'll let you know when the article appears in The Day newspaper.
Just before Thanksgiving break my good friend Lily Fowler had me to grand-parents day at the Williams School on the Connecticut College Campus. What a treat to go to her 8th grade classes, meet some of her good friends, and spend this special time together.
To all my friends who came from near and far to celebrate my birthday with me, I'm deeply grateful. Please remember how much happiness you spread by your presence and participation. I'm looking forward to staying in touch.
February 28th, Wednesday, the last day of the month, I'm giving a talk at La Grua's, (our cultural center in Stonington Village) at 5pm, followed by a book-signing—Living In Love. There will be a lovely intimate dinner at Breakwater Restaurant. If you can possibly plan an exciting evening, you can also arrange to stay at the Inn. It sounds magical. I hope you'll be able to come celebrate love. Please call La Grua Center 860-535-2300 for more information.
Happy month of December. Enjoy the holiday festivities and enjoy spreading light and love to one and all.
Great love to you.
Alexandra Stoddard

A stack of Alexandra's books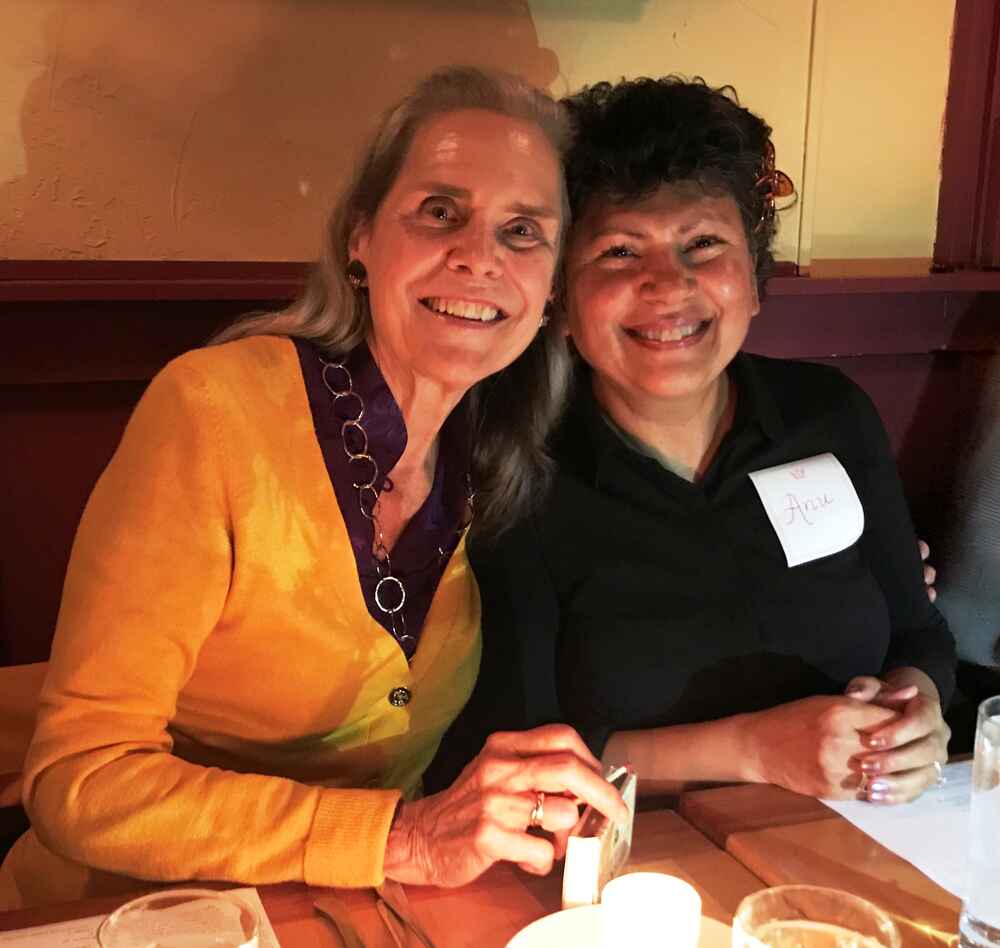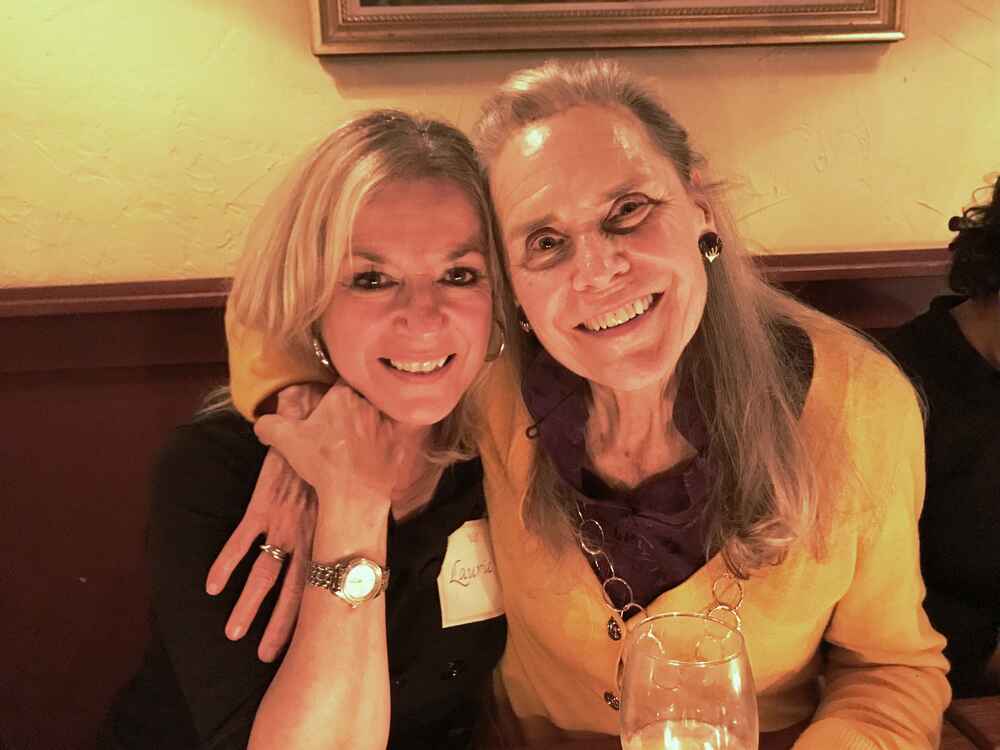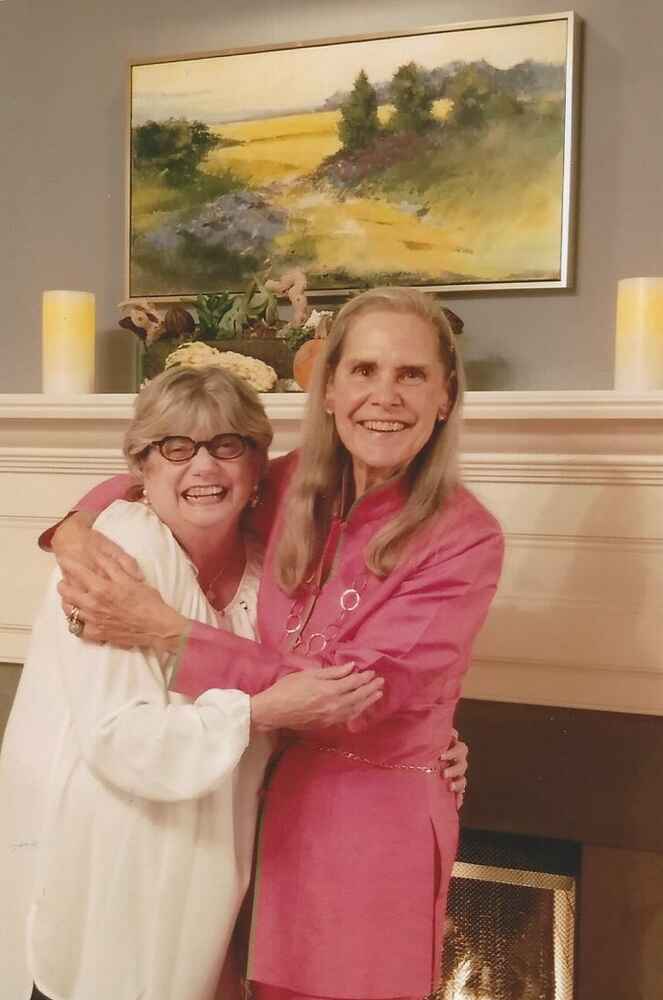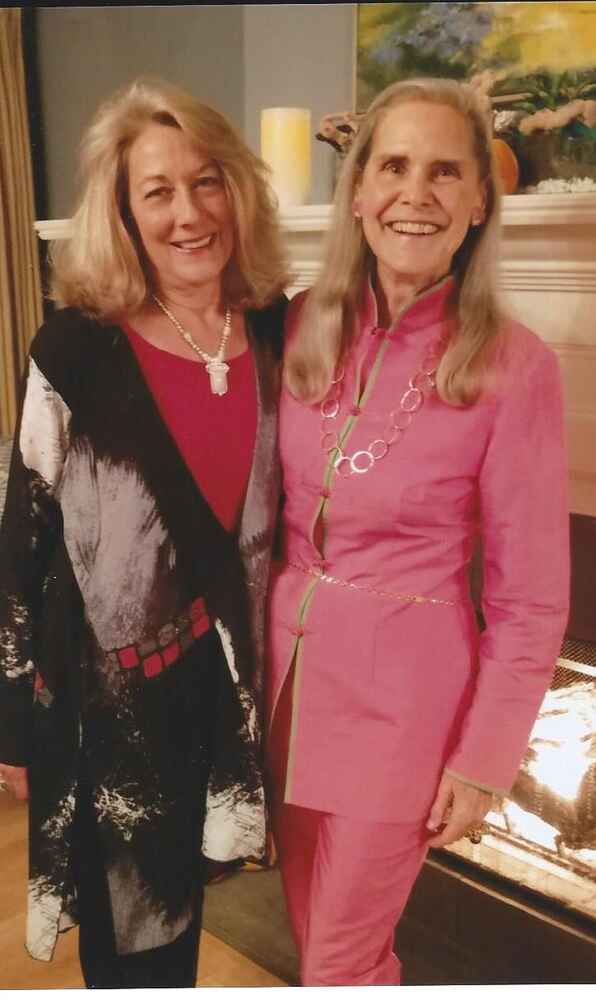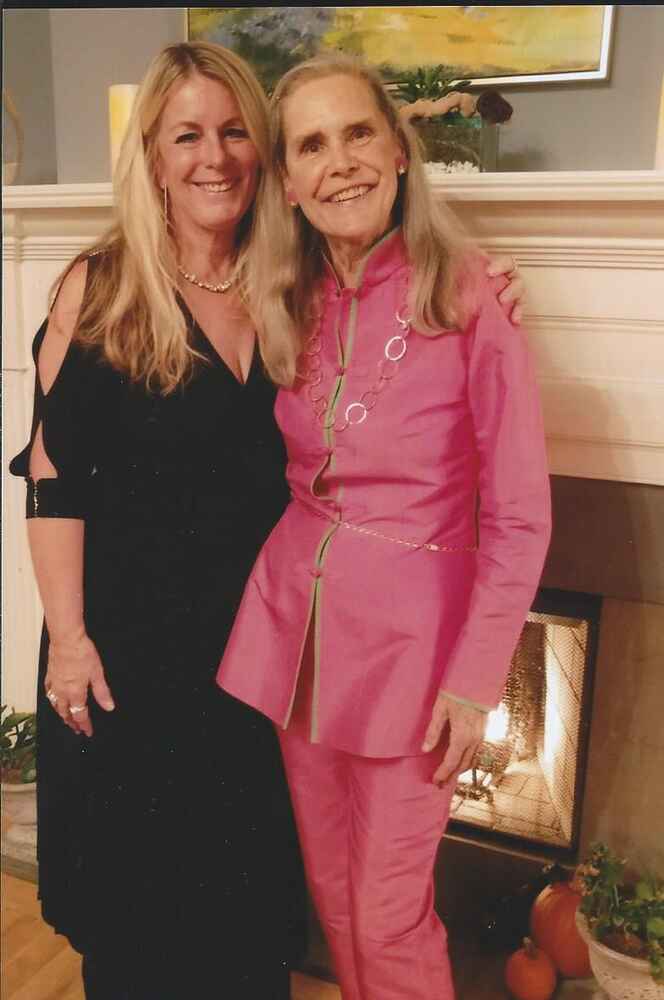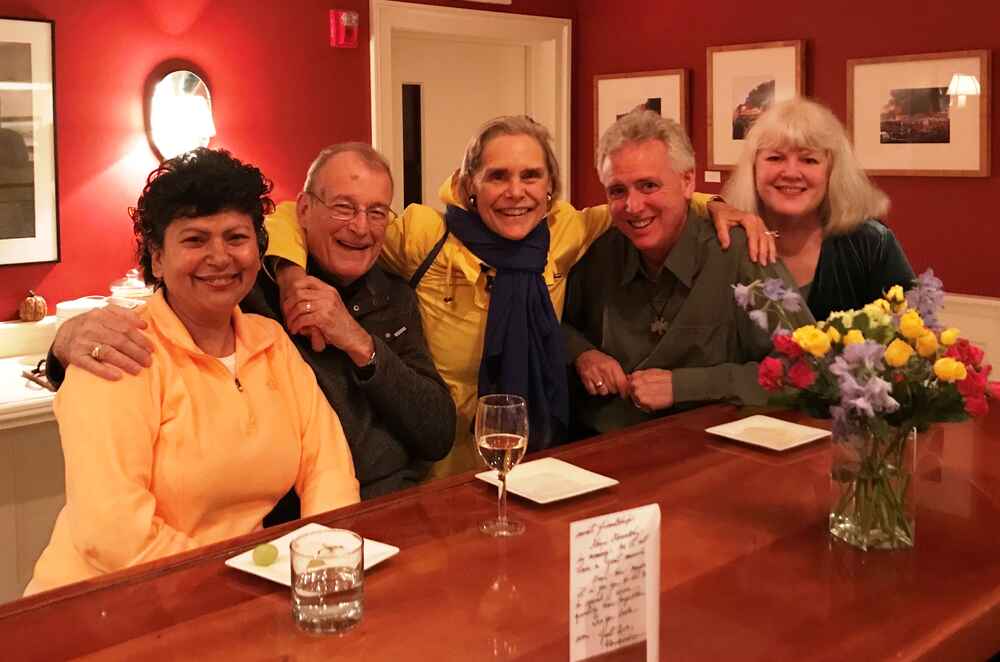 With new friends Anu, Roger, Clyde and Vonnie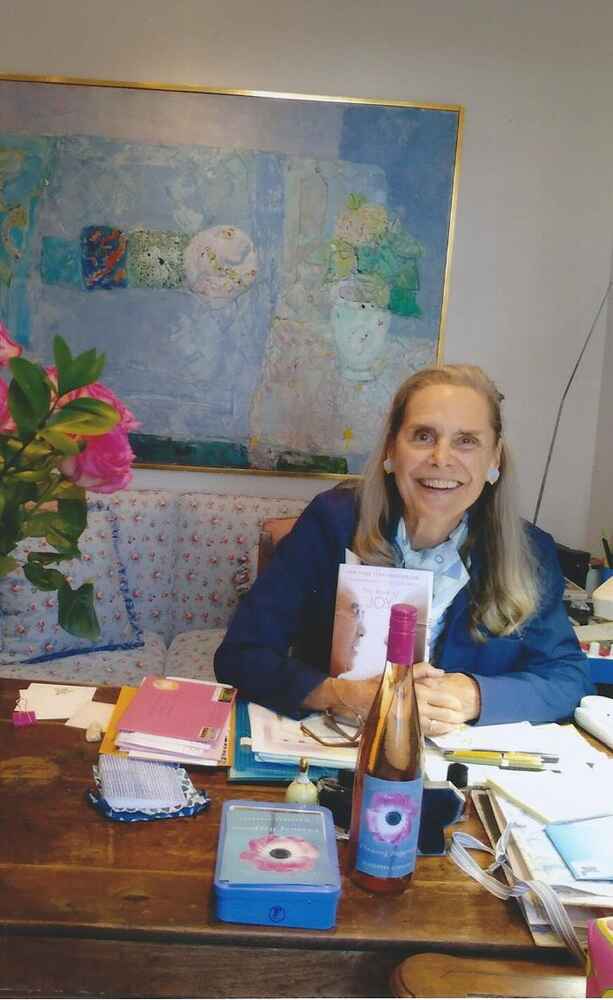 Alexandra holding her Book of Joy!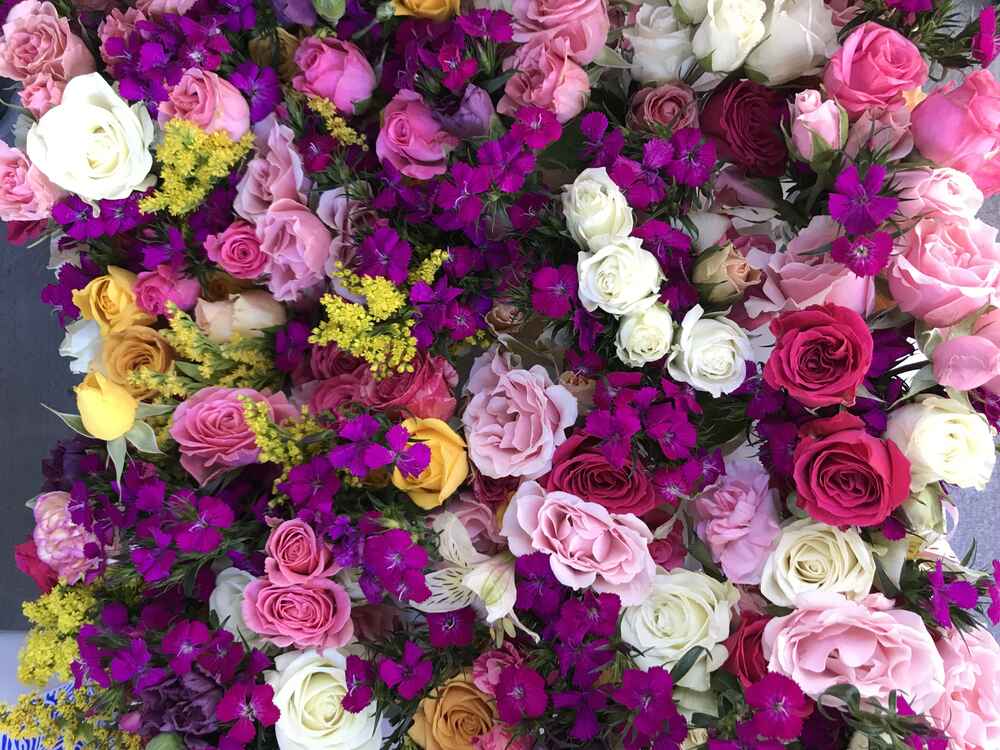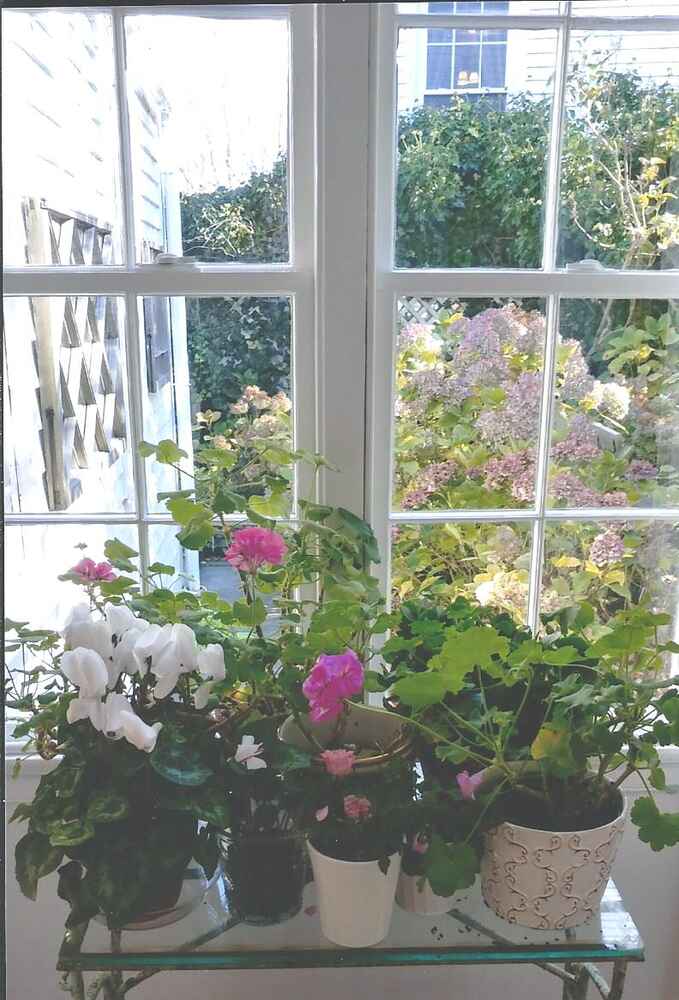 View of the garden in November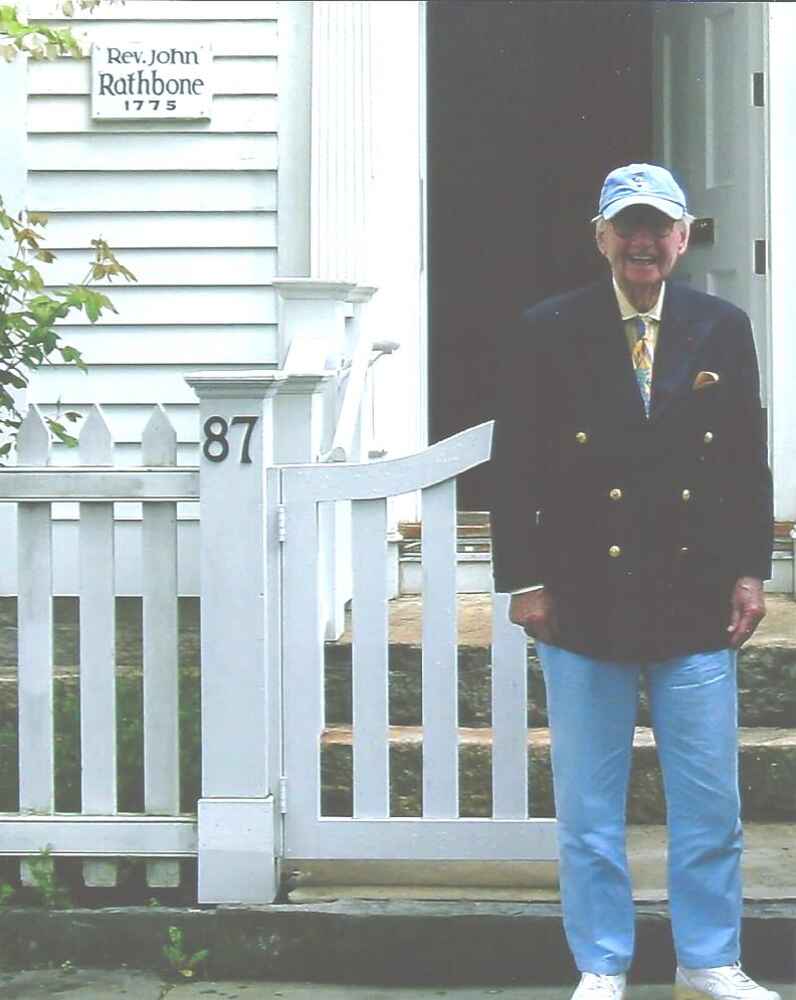 An absolutely adorable photo of Peter. Thank you Carol for sharing it!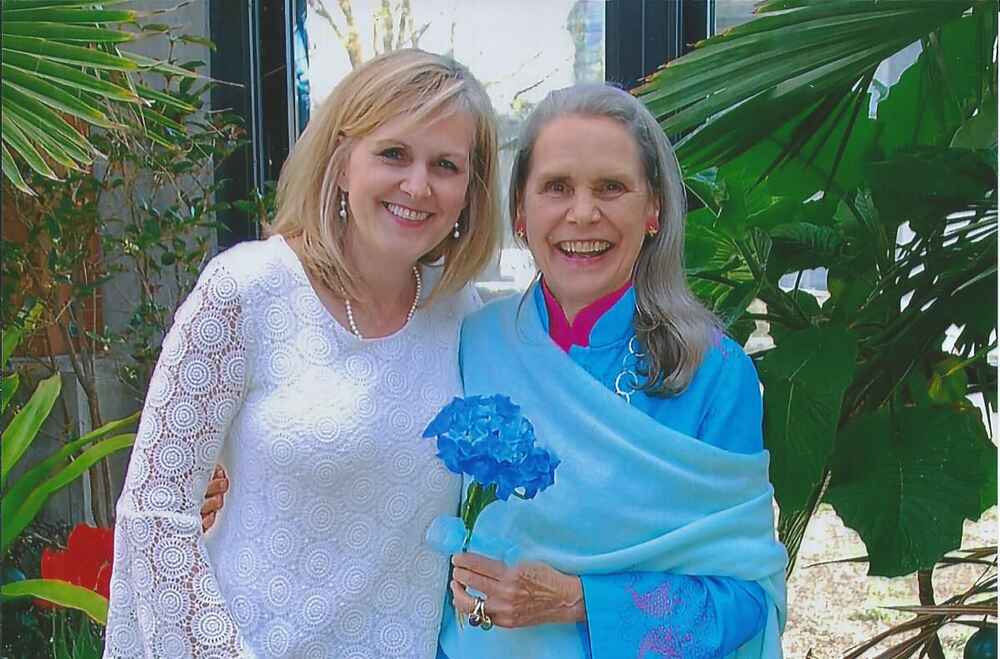 Thank you Kerri for all you do. Your friendship is truly a treasure.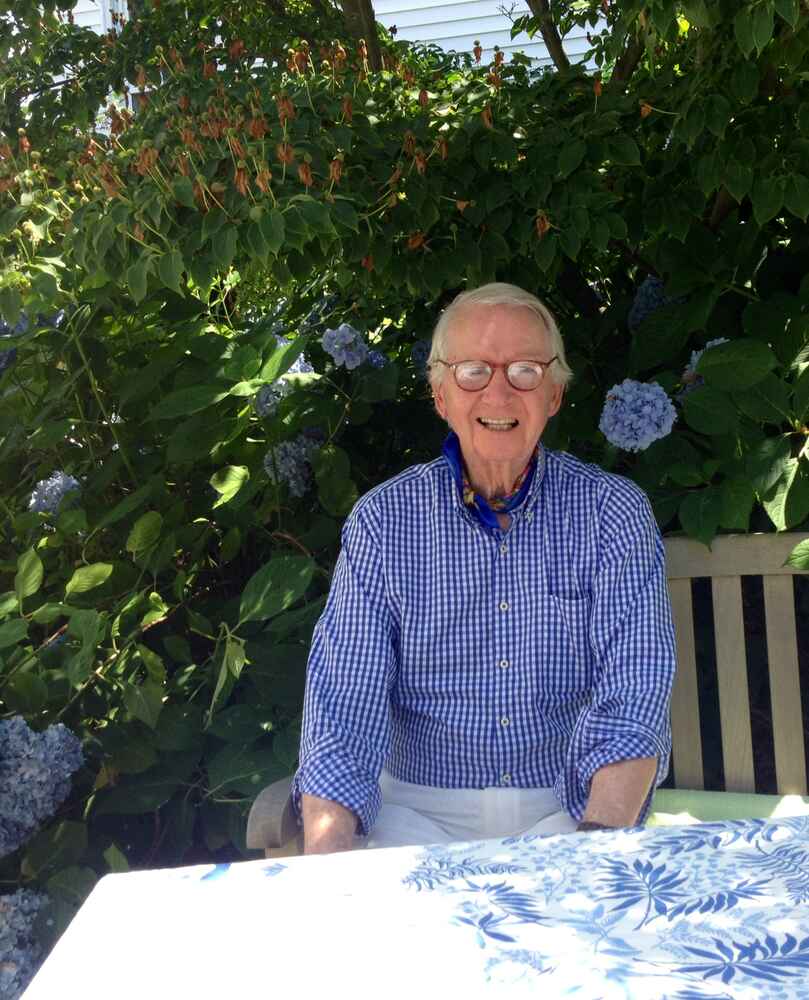 Another absolutely adorable photo of Peter!
Bank Square Books and La Grua Center present an evening with Alexandra Stoddard, who will discuss the concept of Living in Love. Alexandra's Living in Love presentation will take place at La Grua Center, and general admission is a $20 donation to La Grua. Books will be available for purchase through Bank Square Books. VIP tickets are also available, which include admission to the La Grua Center presentation plus a three-course dinner at Breakwater following the talk and a copy of one of Alexandra's books. These tickets are limited and cost $99.
The intimate Living in Love dinner will begin at Breakwater at 8 p.m., after Alexandra's presentation. This dinner will feature three courses plus a complimentary drink, and will include a copy of one of Alexandra's books: Choosing Happiness; Happiness for Two; or You Are Your Choices. You can select your book when purchasing a ticket.
Grace Note
"Thank you. I love you."
~~ Last words, Peter Megargee Brown