Dear Friends,
I love you! Happy September! I am fully savoring living in mindful awareness of the present moment. Deep breath. The entire expanse of August's splendor is still alive, right now, as I put pen to paper. The greater our appreciation of the delicious ripeness of nature's end-of-summer bounty, the more we will embrace the new, fresh fall month of September. I've fully relished ripe peaches, raspberries, cantaloupe, honeydew, muskmelon and watermelon at the sweet spot of their aroma, taste and juiciness. When we create mini rituals over our abundance from the good earth, we turn our farmstand fruits and vegetables into quiet Thanksgiving feasts.
Throughout the month of August, various friends and family have explored with me uncrowded rural country roads in Connecticut and Rhode Island, discovering bountiful farm stands and tiny, quaint villages. I've spent long, happy, relaxed days in the sunlight.
Last month, I shared with you my awe at how artists, through their unique vision, help us to see, feel and embrace more beauty every day. Spending relaxed, unhurried hours with people I love, popping out of the car at each and every opportunity to check things out, has been a lesson in staying in my breath. I've been quite literally nearly breathless at the spectacular displays of all the beauty my senses have absorbed.
I've become so stimulated and inspired by all the varied experiences I've shared with friends who equally enjoy the adventure. Being open to explore all types of shops and stands is so much fun. Everything is authentic and real. I live in this specific spot in the universe that is surrounded by farms, boulders, rock fences, 18th and 19th century houses, vineyards, flower gardens, ocean, bays, rivers, waterfalls, bridges and barns. The road less traveled is where the spontaneous joys are found. We stop to see a bubbling brook. The light is evanescent. We want to capture it before it fades away like vapor.
One gloriously ideal summer day, my friends and I had a long, lavishly delicious lunch before going to eight different farm stands in two different states! In my wildest dreams, I never imagined I'd be so fulfilled and sustainably happy in my ripe old age. I'm turning into a country bumpkin! I'm becoming unsophisticated, slightly awkward, and I'm loving the freedom of being old. I'm enjoying feeling frisky and energetic.
My enthusiasm for life isn't complex; it's simple. Having been exposed to great works of art in all forms throughout my life, I see and feel the art spirit right here, right now, whenever I am awake and aware to recognize the beauty of individual personal expression.
I embrace the slow pace of a more peaceful, simple life in the country at this stage of my life. I feel in harmony with the rhythmic pace of the hours as they mysteriously unfold in a relaxed state of equilibrium. I feel whole, complete and joyous. I'm free to be receptive, to embrace everything I feel is good for me as well as good for others.
Every living, breathing moment we are alive in form is bursting with possibility. Our best ideas and feelings that inform our inner knowledge come to us in the most mysterious ways when we pay attention. Mindful of our deliberate, conscious intention to let go, we can flow into the unknown with grace and ease. We don't just let go of material possessions that weigh us down. We let go of labels, of judgments and expectations. The knowing comes from our own true feelings about the experiences as they unfold before us. By letting go, we open up to all kinds of new, fun, unexpected, unrelated happenings.
A Magical Day
A garden is paradise. The French philosopher and writer Voltaire believed we should cultivate our own garden. For those of us who love to garden, who are fortunate enough to have our own plot of soil, we are the rich inheritors of nature's awesome magic. Even when I lived in a sixth-floor apartment in New York City, we had indoor window boxes in order to be able to create a garden atmosphere and tend to nature's color, beauty and wonder.
"Gardens," a master gardener once told me when I invited her to visit my own tiny backyard, "are where things grow." Within our reach, we can all garden—somewhere, somehow. My first memory at age three, when I became conscious, was in my mother's cutting garden. The beauty and majesty of the explosion of colorful, pretty flowers stays in my mind's eye all these years later because I remember it so vividly. As a little girl, I thought the flowers seemed as tall as trees.
This awakening in a garden was transformative. I have kept my initial exposure to nature's beauty a priority, and it is an essential component of my happiness. I thrive with colorful, fragrant flowers in the garden as well as in the rooms I occupy.
My mother loved cultivating her flower garden! She was relaxed and happy when she worked her magic with flowers throughout the spring, summer and fall season. I'm grateful I've inherited a love for flowers in all forms, shapes and varieties.
Our Enchanted Field Trip
My friend Tony had arranged for two close friends of his to go to an amazing garden that was open to the public and recommended to him by an avid gardener friend. Out of the kindness of his heart, he asked me to join them on this exciting adventure. At 7:30 sharp, we left for Little Compton, Rhode Island, for our 9:30 a.m. reservation. We arrived a half hour early in the adjoining town of Tiverton, at Four Corners. There, we happened upon Groundswell, a café and bakery that transported us to the South of France. We spread out at a large marble-top common table, tasting warm croissants, almond croissants and blueberry scones and sipping good French-roast coffee. The fragrance of a mélange of little vases of colorful field flowers graced the table, adding to our anticipation of our garden adventures.
So enamored by our glorious café experience, just a few minutes from our destination, we decided to return for lunch. We also wanted to check out their garden and home shop as well as their little "table and provisions" store, on both sides of the café's bakery.
Refreshed by our serendipitous pit stop, Tony pulled up at the driveway exactly on time to enter into Sakonnet Garden. Nothing in my wildest imagination could have prepared me for these intimate spaces of natural beauty, carved organically out of the original thicket from the mid-1970s. We could choose between "multiple paths leading one onward to unexpected experiences," as the garden's website says. Towering trees had been pruned to allow the deep summer-blue sky to shine down on the flowering plants, spotlighting the specific shapes, shades of green and designs of their uniquely characteristic leaves.
Entering an acre of such natural splendor, I felt uplifted into a transcendental state of being. I felt exalted into a higher, more mystical presence. This exposure not only surprised me with joy, but I felt I entered a realm of nature's spectacular beauty that is inexpressible. I felt a fusion, a deep spiritual connection, and flashes of awe. Because of my lifelong love of a garden's beauty, my eyes were on fire. I absorbed the quiet, subtle details of the master gardeners' vision and dedication over four decades of cultivation. This labor of love that they open to the public is their gift to humanity.
The garden's website says the owners John and Mikel's experiments with the outdoor rooms reflect their feelings about light, space, color scheming and collecting, as well as growing beautiful plants, trees and flowers.
By their reverence for our planet earth, Sakonnet Garden is a retreat, a sanctuary and a place of worship and praise. While the garden is a most happy place, these artists have created an inspired, sacred place of divine loveliness that exudes loving kindness and tenderness. I'm still in awe.
Musical Theater Delights Me
I continued going to matinee musicals at Theatre by the Sea in scenic Warwick, Rhode Island. A friend and I had lunch at Matunuck Oyster Bar, overlooking a pretty inlet of water. We watched the oyster workers while enjoying a delicious summer lunch. The restaurant grows their own flowers and vegetables, making the whole experience so scrumptious and fun. After a sweet treat of berry shortcake, we went to The Bodyguard to hear Whitney Houston's songs we all have grown to know and love. While I melted at each and every song, "I Will Always Love You"—Dolly Parton's version in Act I and the Whitney Houston version in Act II—made me cry happy tears of pure joy.
Because we'd gone to see the Dolly Parton play last month, it made this performance more nuanced and special. A week later, another friend and I went to the last musical of the season, Jersey Boys. The sell-out audience was enraptured by the lyrics, songs and dance. Pure delight.
I went with other friends, Grace and Bill, to Essex, Connecticut, for lunch at the historic tavern at the Griswold Inn (built in 1776, one year after our 1775 cottage) before going to the last musical of the Goodspeed Opera House: Summer Stock, a lively three hours of amazing dance and singing in a rustic barn. All the songs are romantic and sweet. What tonic to our hearts, ears and souls, on a soft Saturday summer afternoon, to hear "Happy Days Are Here Again," "I Want to be Happy," "Accentuate the Positive," "Always," It's Only a Paper Moon," "The Best Things in Life Are Free," "Red Hot Mama" and "I'm Always Chasing Rainbows."
I joined friends for several cabaret performances at the Eugene O'Neill Theater Center in Waterford. At this teaching theater, we hit the end of the season's top teachers, who came from New York to teach at their Cabaret & Performance Conference. Their grand finale variety show pulled out all the stops!
Many of my friends enjoy celebrating the anniversary of Peter's death, on September 25, 2014. Because you and I have been in touch throughout these past nine years, you know I am flourishing. The reality that Peter lived an extraordinarily happy, fulfilling life and died a good death is amazing grace. I'm in excellent health now, with so many caring medical professionals working as a team to care for my body's specific situations as I age. I assure you I will be celebrating Peter with a heart bursting with love the entire month of September.
In 1960, the 32-year-old lyricist Tom Jones's musical, The Fantasticks, opened in Greenwich Village. Peter and I love the opening song, "Try to Remember."
"Try to remember the kind of September
When life was slow and oh, so mellow.
Try to remember the kind of September
When grass was green and grain was yellow.
Try to remember the kind of September
When you were a tender and callow fellow.
Try to remember, and if you remember
then follow, follow."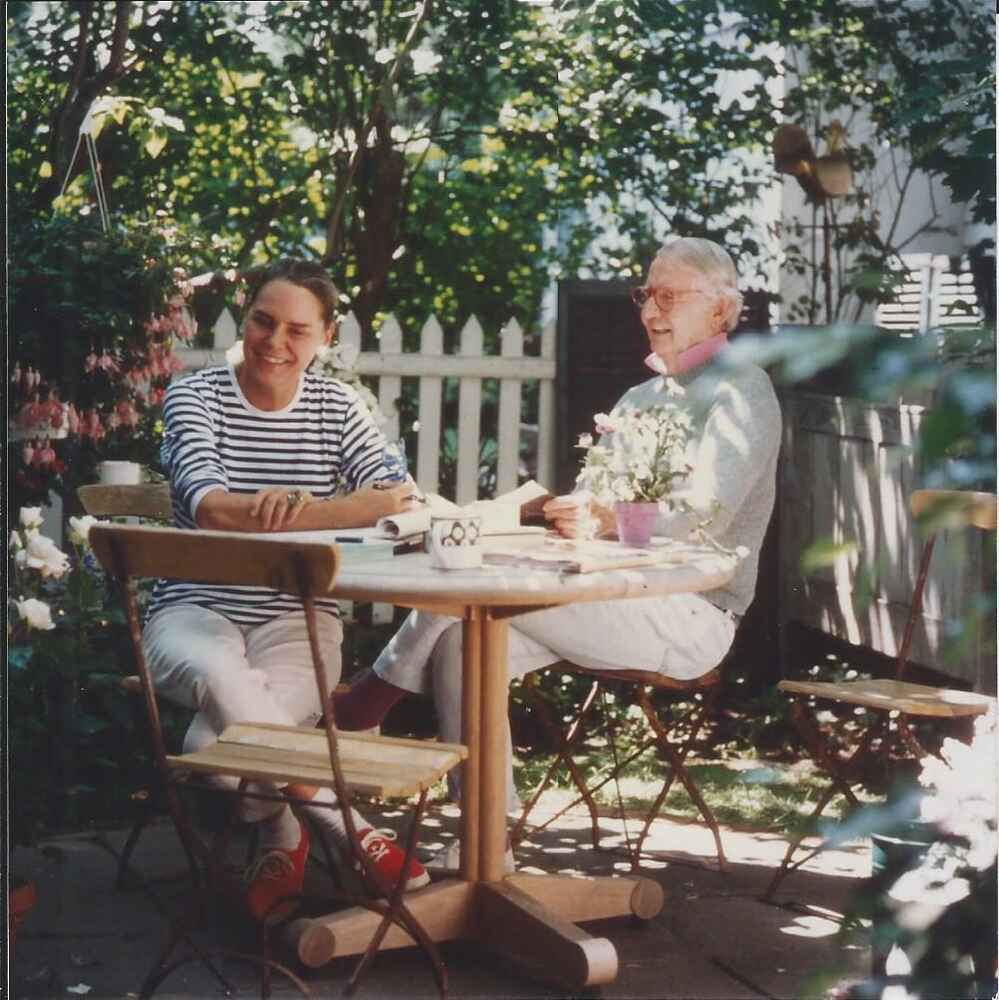 His show ran longer than any other musical in history, lasting over four decades. In one theater, it had over 17,000 performances.
Tom Jones just died on August 11 at the ripe age of 95. In his obituary in the New York Times, he was quoted from an earlier interview, in 2002, as saying, "It's nice to be remembered for anything. I do hope and believe that there is going to come a time, probably after we're dead, when someone will say, 'What are these other weirdo titles?' and they'll say, 'This is strange; this is interesting stuff.'"
Because of the gift of his longevity, and being genuinely pleased with his success, in his later years he was still hoping future generations will discover some of his other works. One of particular fascination to me now is his musical version of Our Town by Thornton Wilder, created with his collaborator and college friend Harvey Schmidt. The play got "derailed," apparently because the star Mary Martin became ill. Peter went to Yale with Wilder, and this play was a favorite of his. I've seen and read the play and movie since Peter died. I'd love to have this play happen in Jones's musical rendition.
Whenever our intentions are pure, we can put our positive energy out into the universe and be open to dreaming impossible dreams. Perhaps, in my lifetime, Tom Jones's musical—an uplifting, joyous version of Our Town—will premiere at one of our small theaters (in a barn) in Rhode Island or Connecticut.
We're all going to die. We never know when. We don't need to be told this, but we need to be reminded: Be present with all our loved ones now while all of us are alive. Be mindful, at this present moment, how precious our loving bond is to us.
To honor Tom Jones's death and Peter Brown's anniversary, let's sing "Try to Remember" whenever the spirit moves us. The collective vibrations going around the airwaves will be refreshing. Try to remember the kind of September, when life was slow and oh, so mellow … and if you remember, then follow, follow.
I'm embracing September being slow and oh, so mellow. I love the soft, sweet rhythms of deliberate observation. I'm anticipating enjoying the ripeness of each opportune experience. I'm ready, eager and prepared for the serendipitous surprises this refreshing new month promises to provide. I intend to seize the day—one mellow one after another—all the glorious 30 days of September.
In closing, my cup is overflowing with gratitude for sharing our life's journeys together.
Happy September!
Love & Live Happy,

This month, I'm letting go of a painting by Pierre Lesieur if anyone is interested in adding it to their art collection; please contact Pauline at Artioli Findlay (artiolifindlay@gmail.com) for more information.
Pierre Lesieur (French, 1922 - 2011)
Fleurs
Oil on canvas
canvas size: 9 3/4 x 9 3/4 in
Signed & dated lower left, "Lesieur '82"
This still life in vivid colors is elegant and cheery.