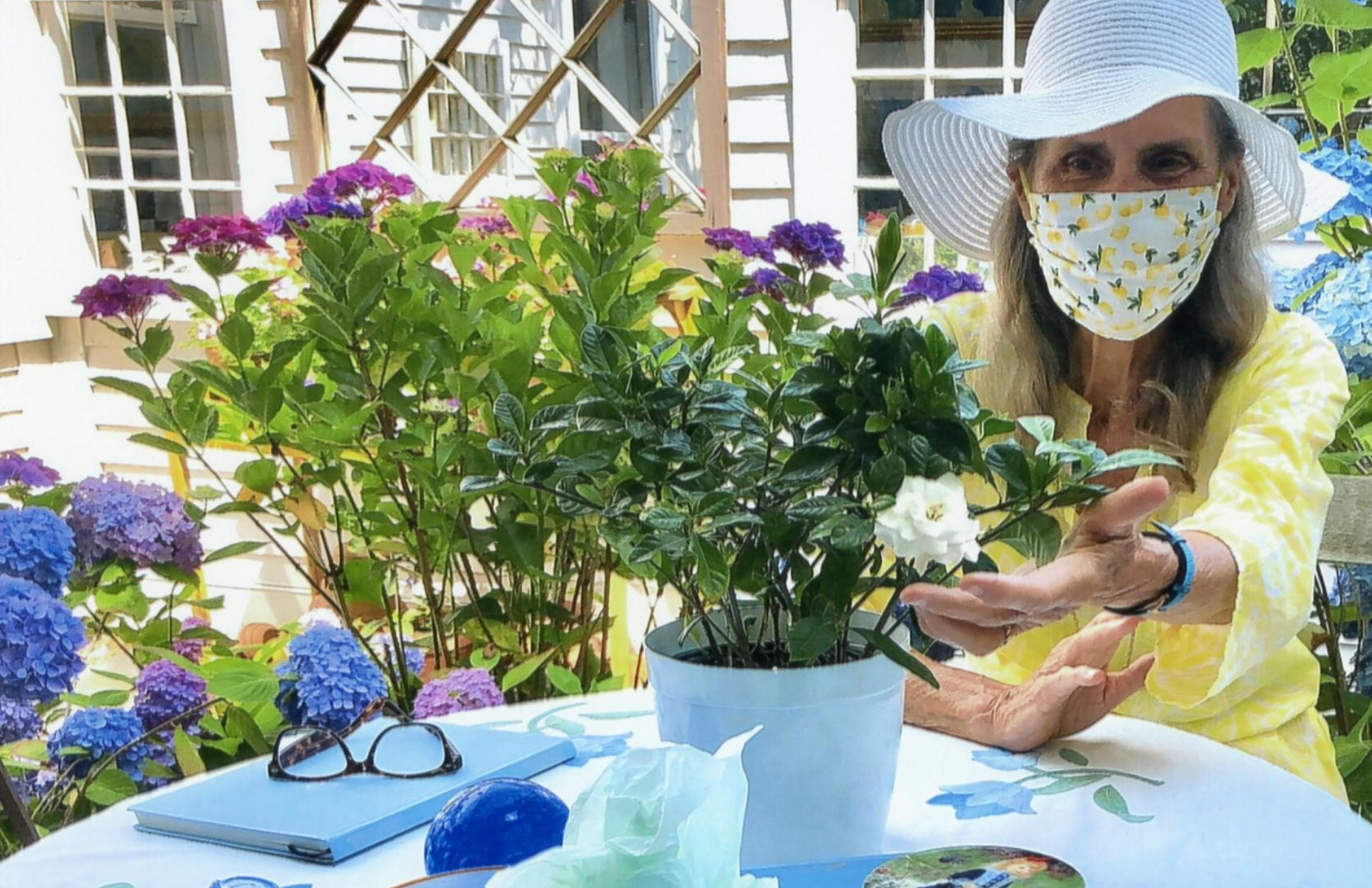 A fresh gardenia bloom near Kerri's breakfast tray.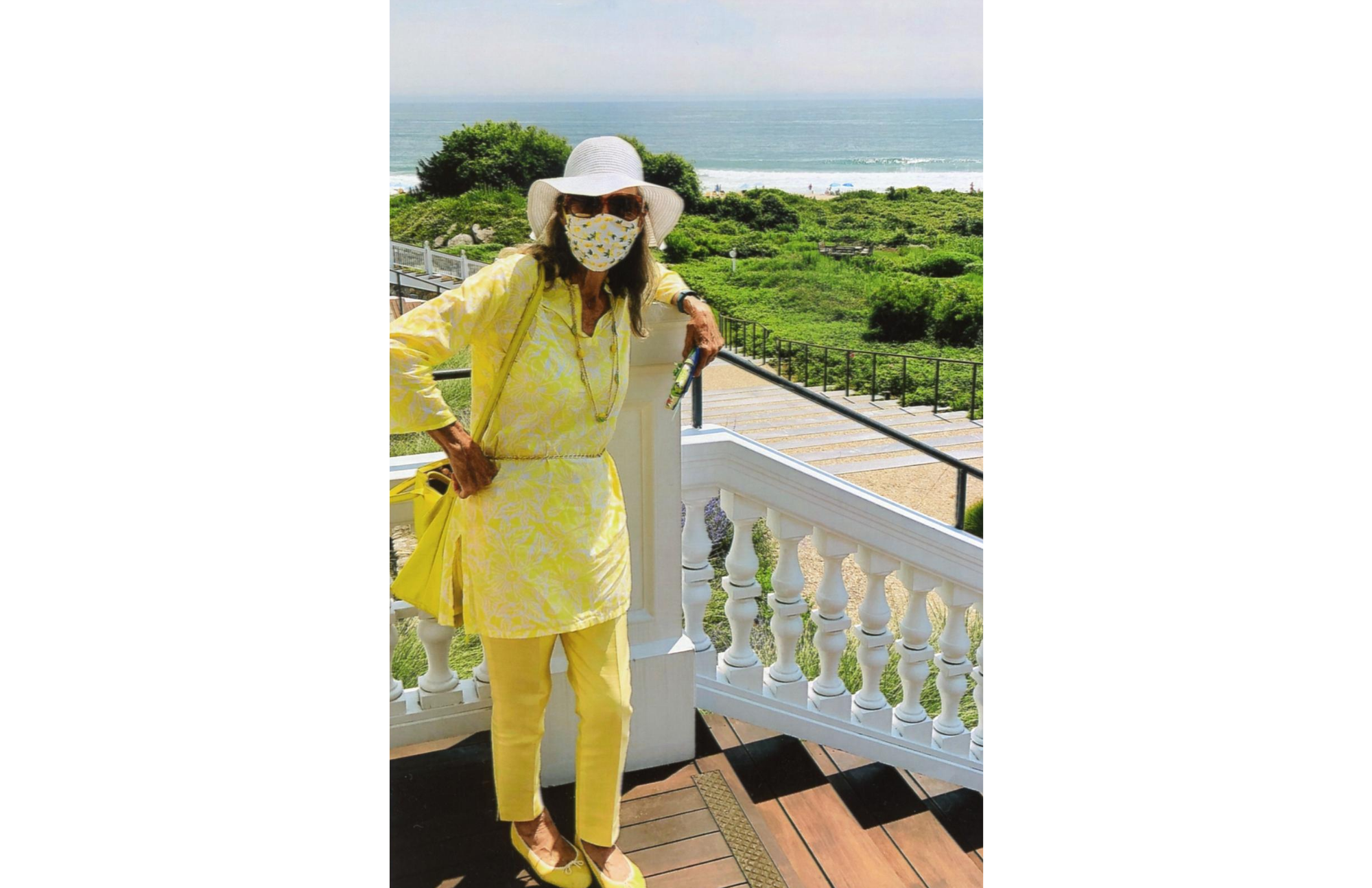 In front of the Ocean House Beach in yellow vintage silk slacks Kerri gave me.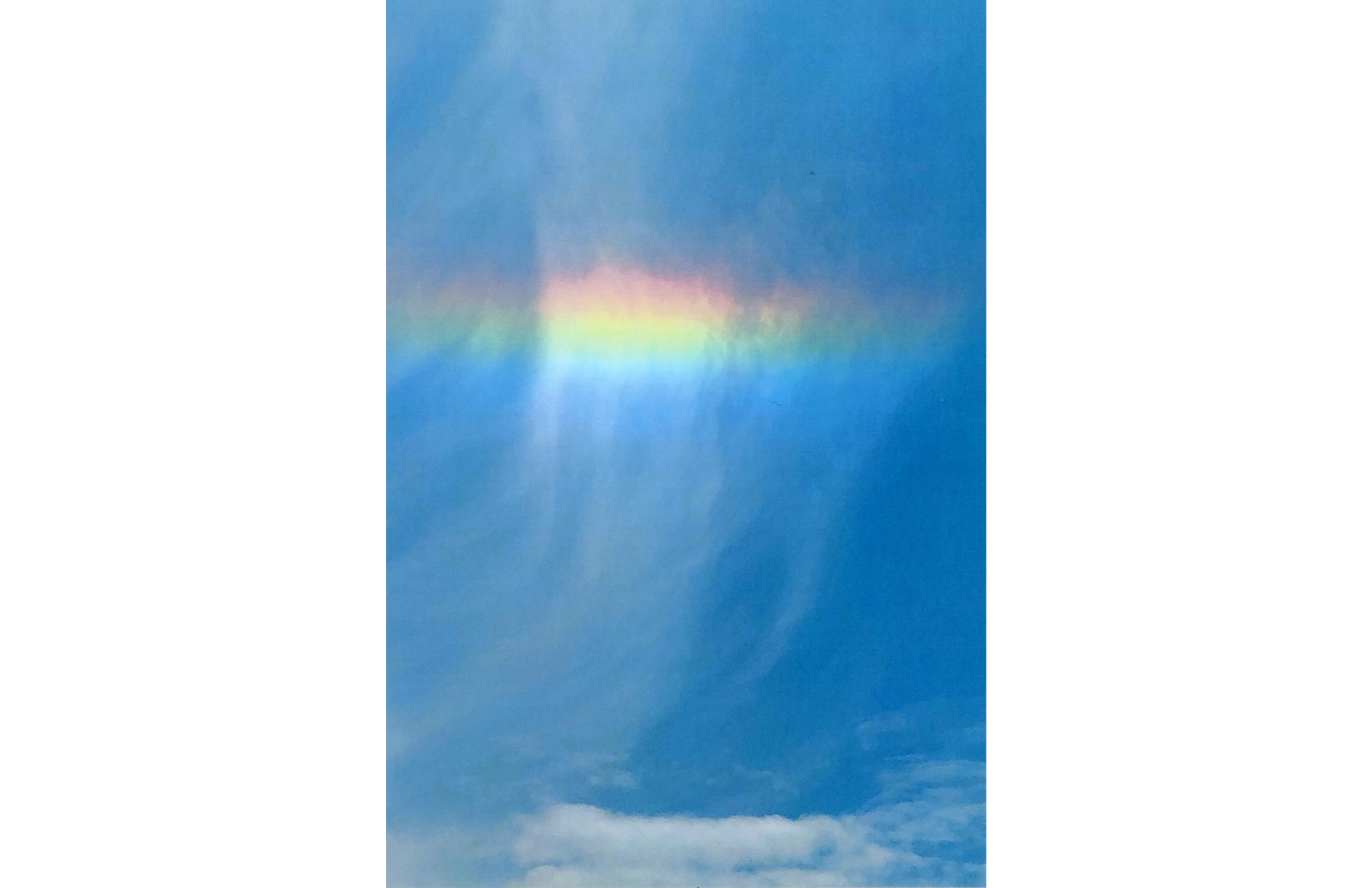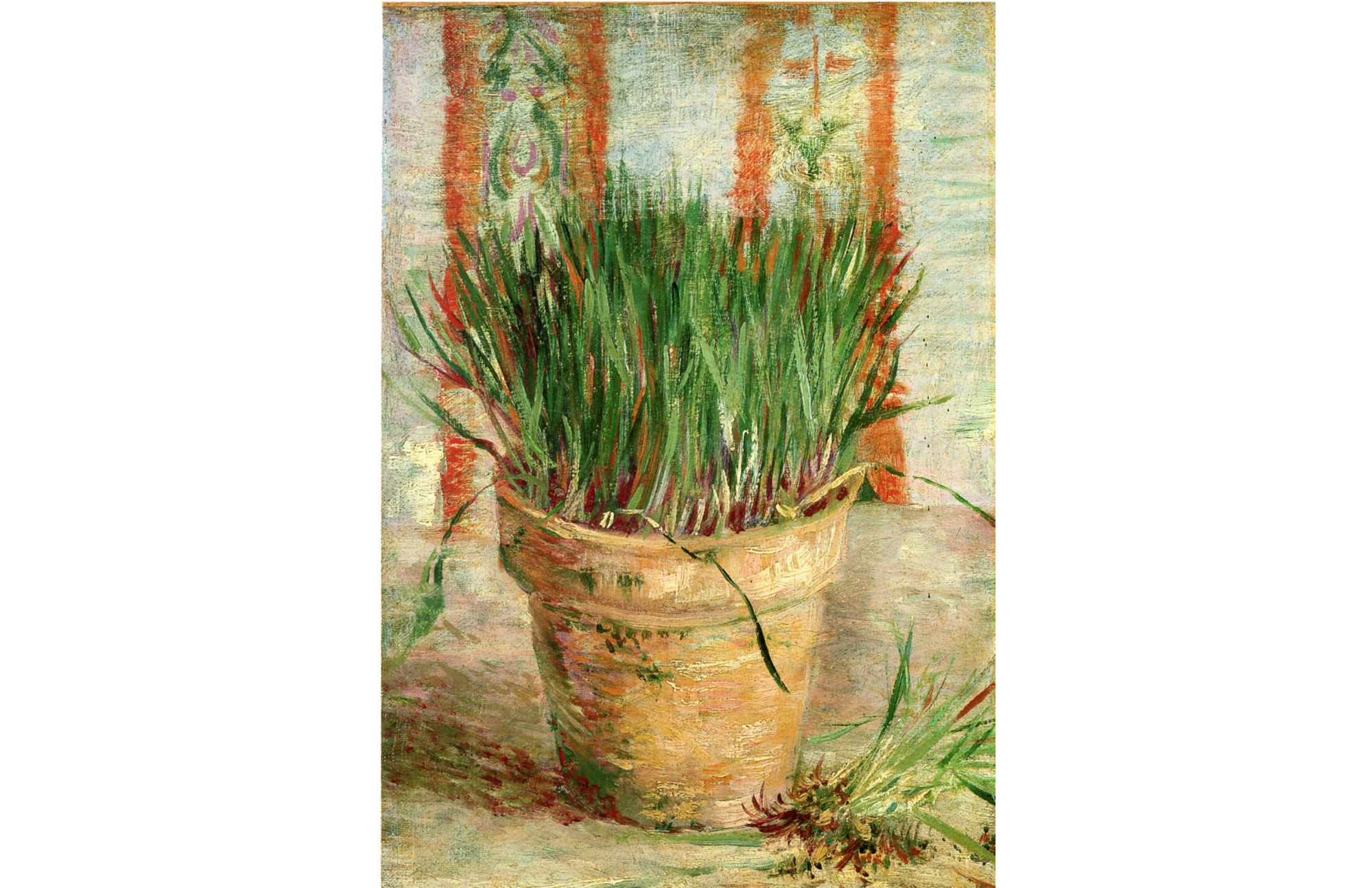 Feel the life in the pot of chives. Van Gogh saw beauty in the particular, seeing and feeling "the consummate powers of delicacy and truth."
Why are we here? How can we help?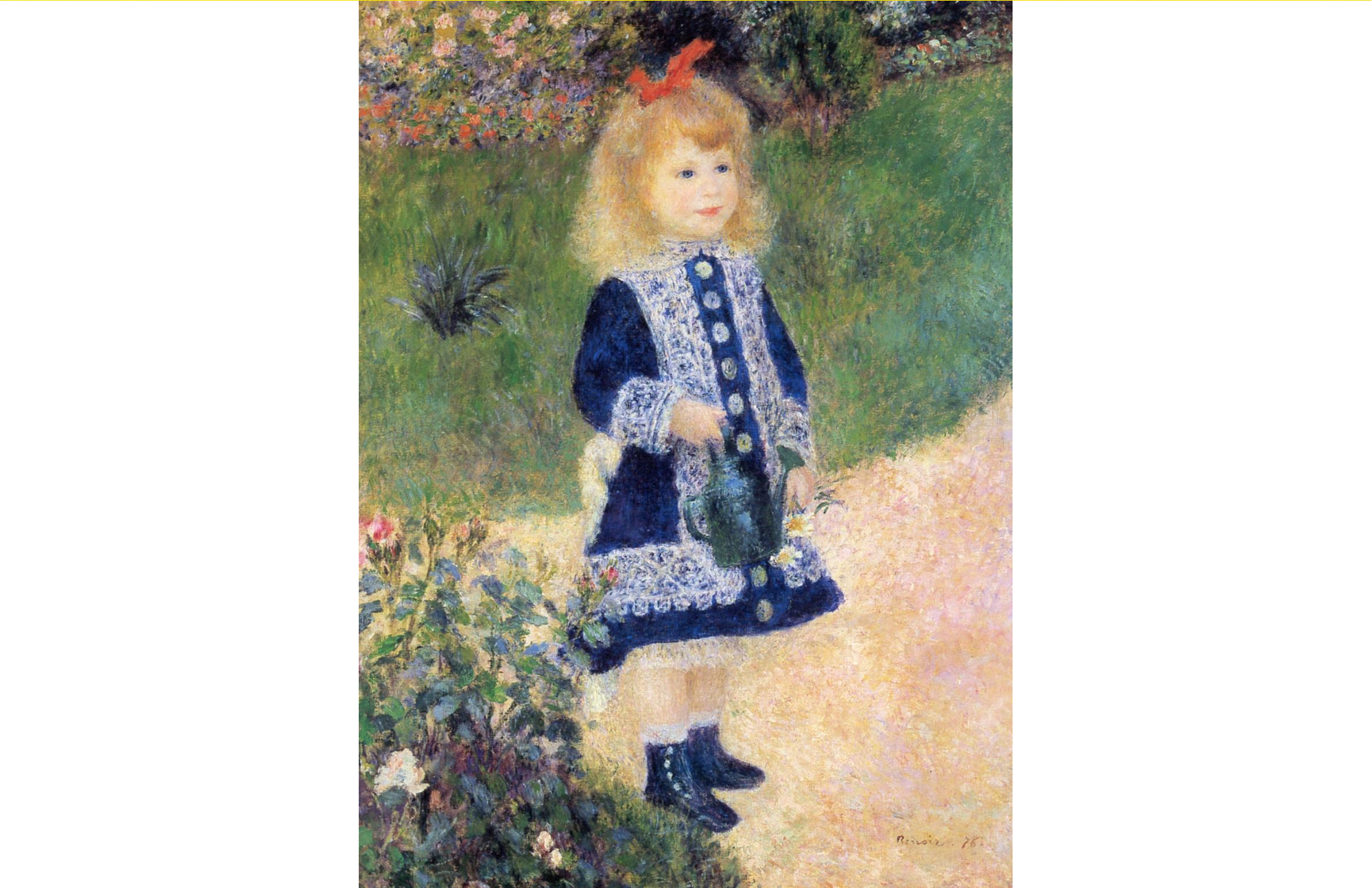 I'm still the little girl in the garden.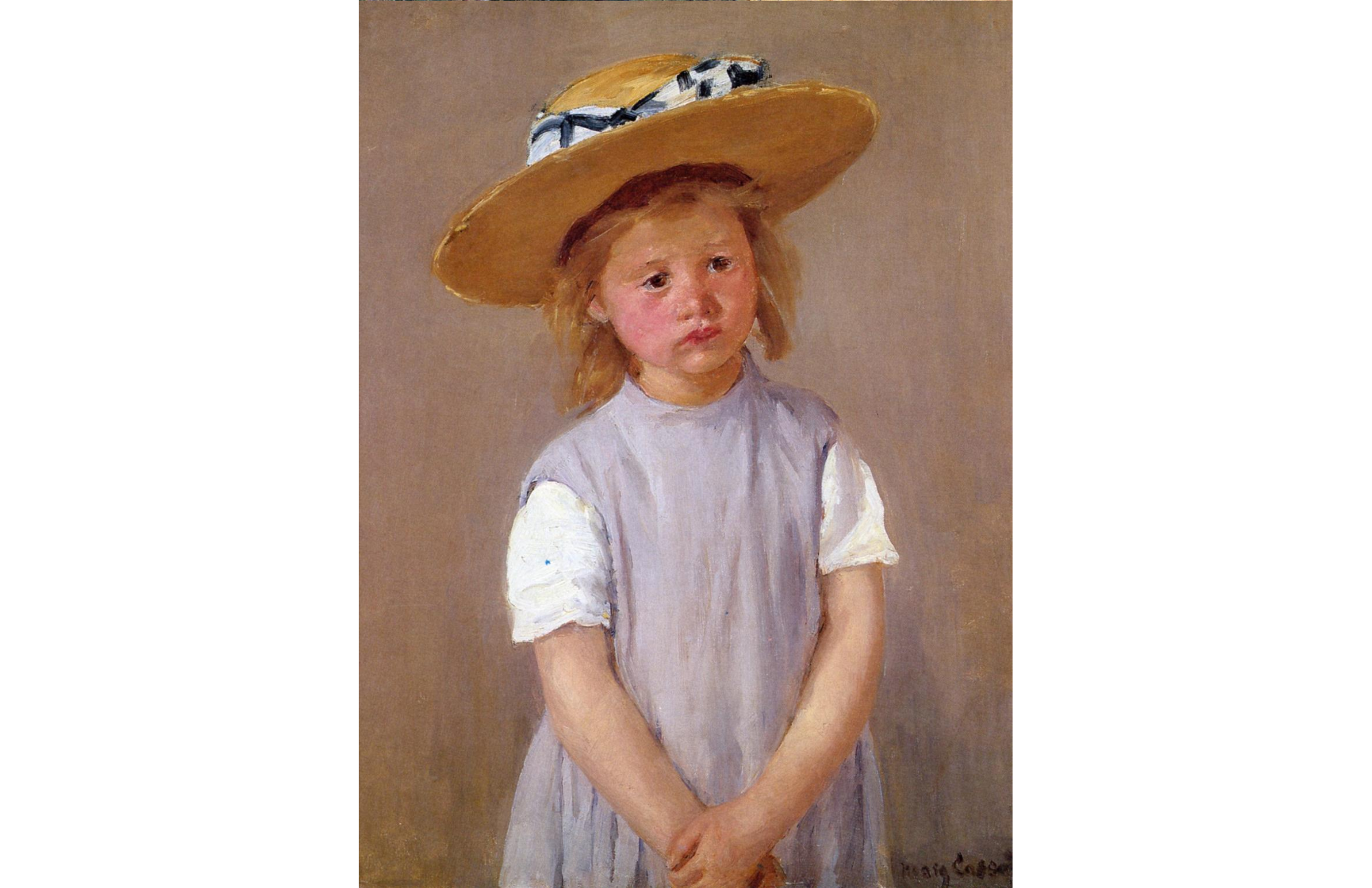 This is also me, asking why? Reflecting on 2020 and looking forward.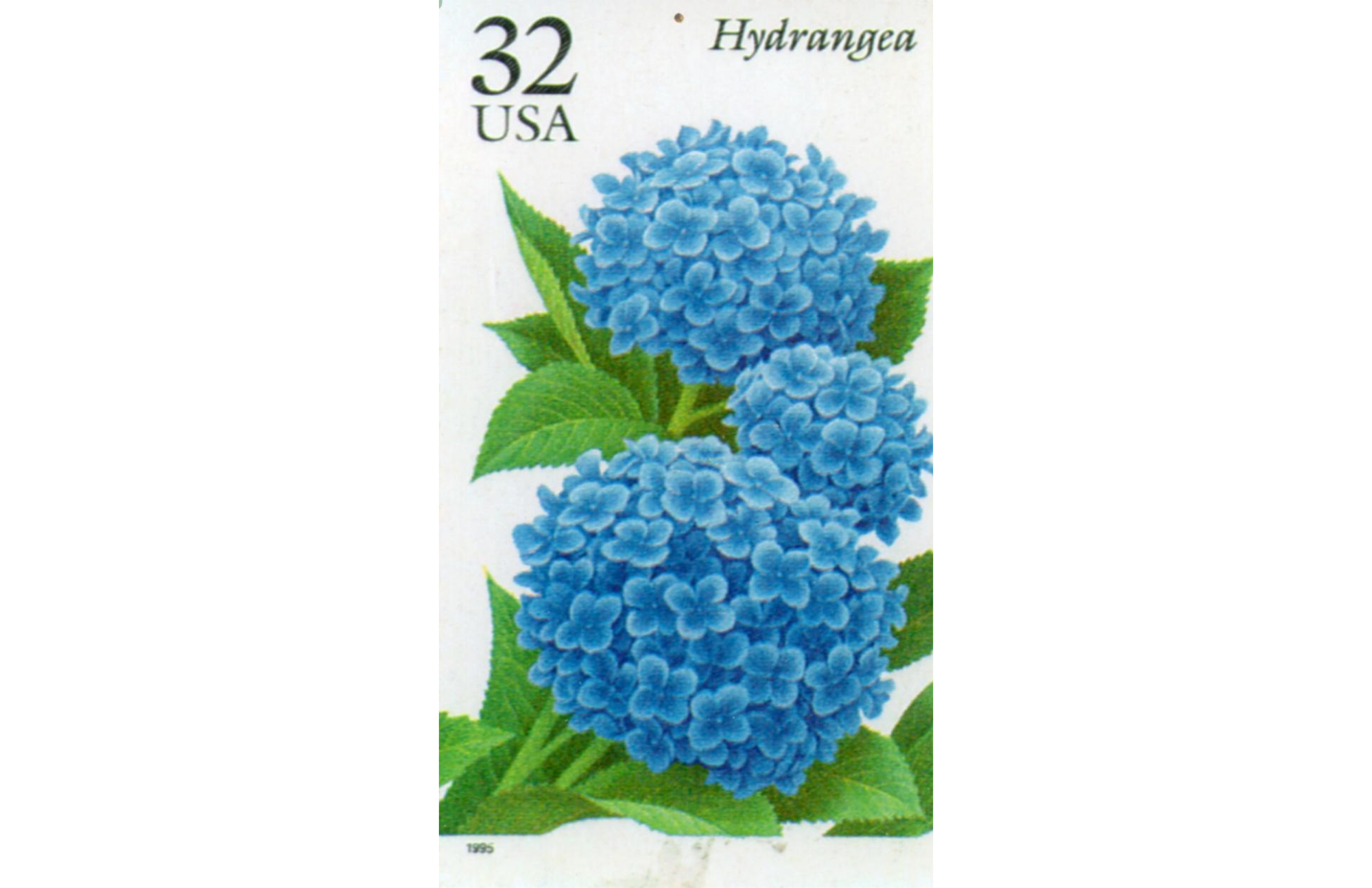 Serendipitously, the blue hydrangea stamp was issued in time for Alexandra's wedding invitations. I stocked up on them.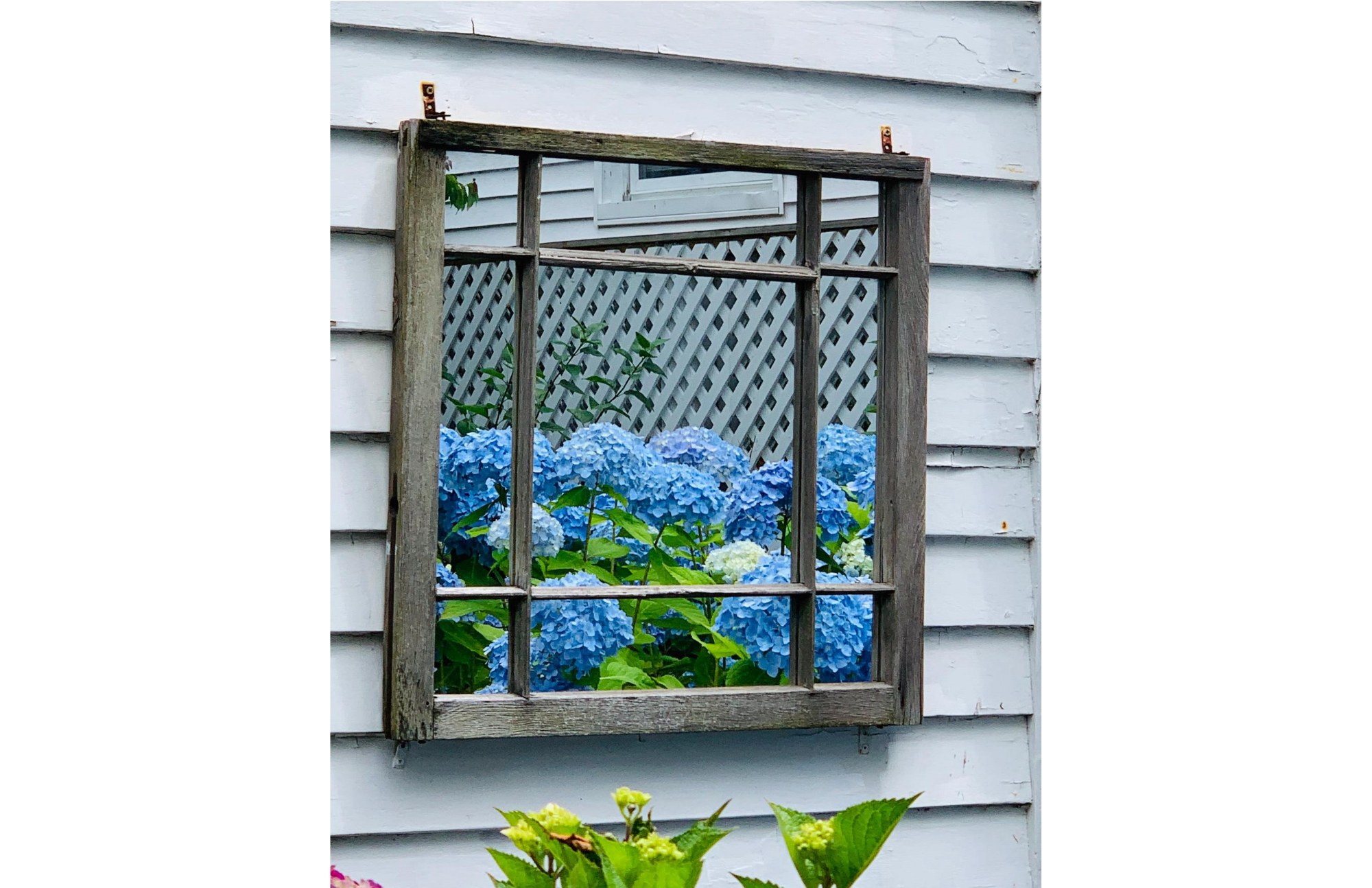 I hang windowpane mirrors in my garden to reflect the light, color and flowers.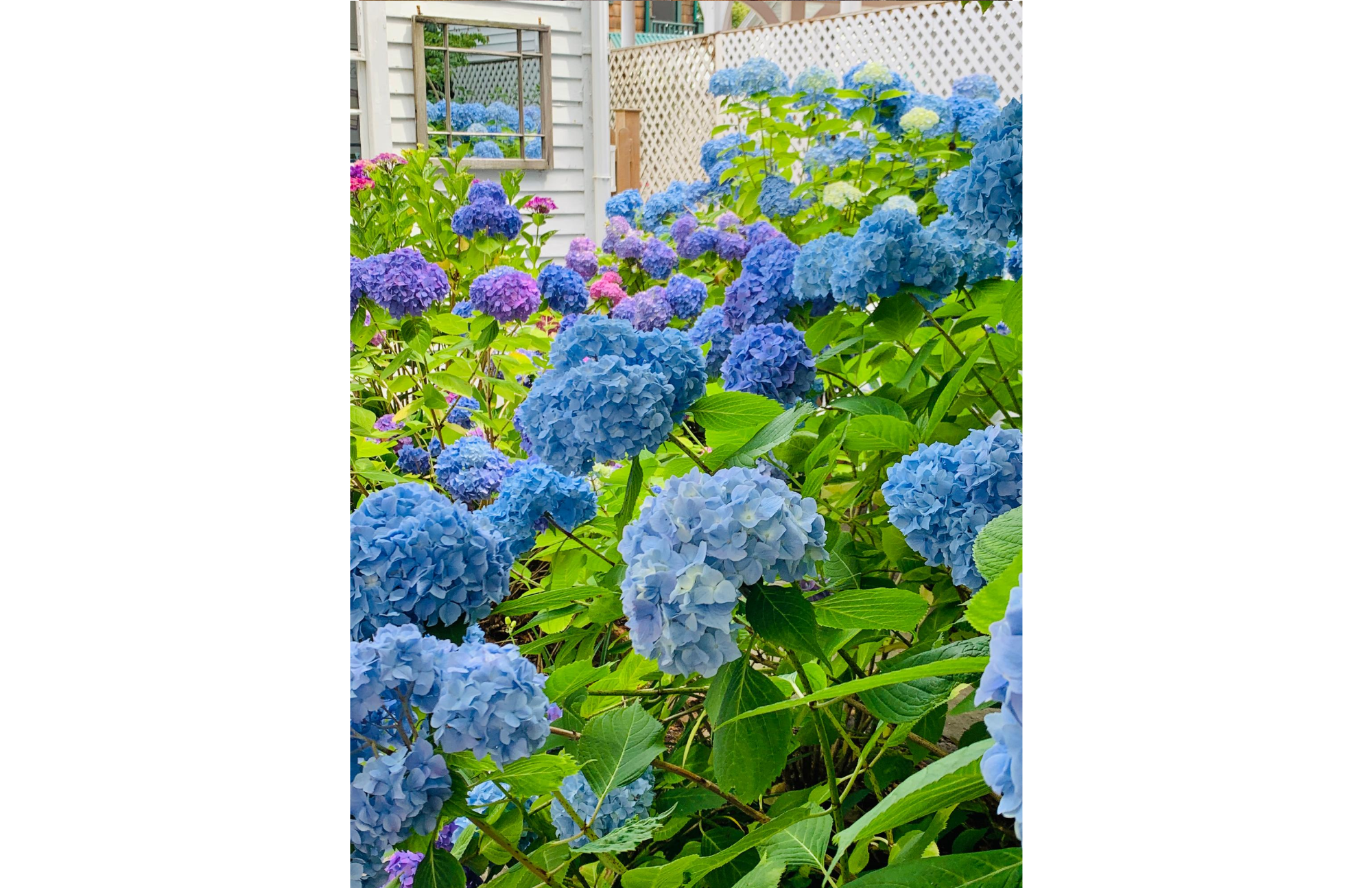 Cooper took lovely photographs of the hydrangeas in full bloom.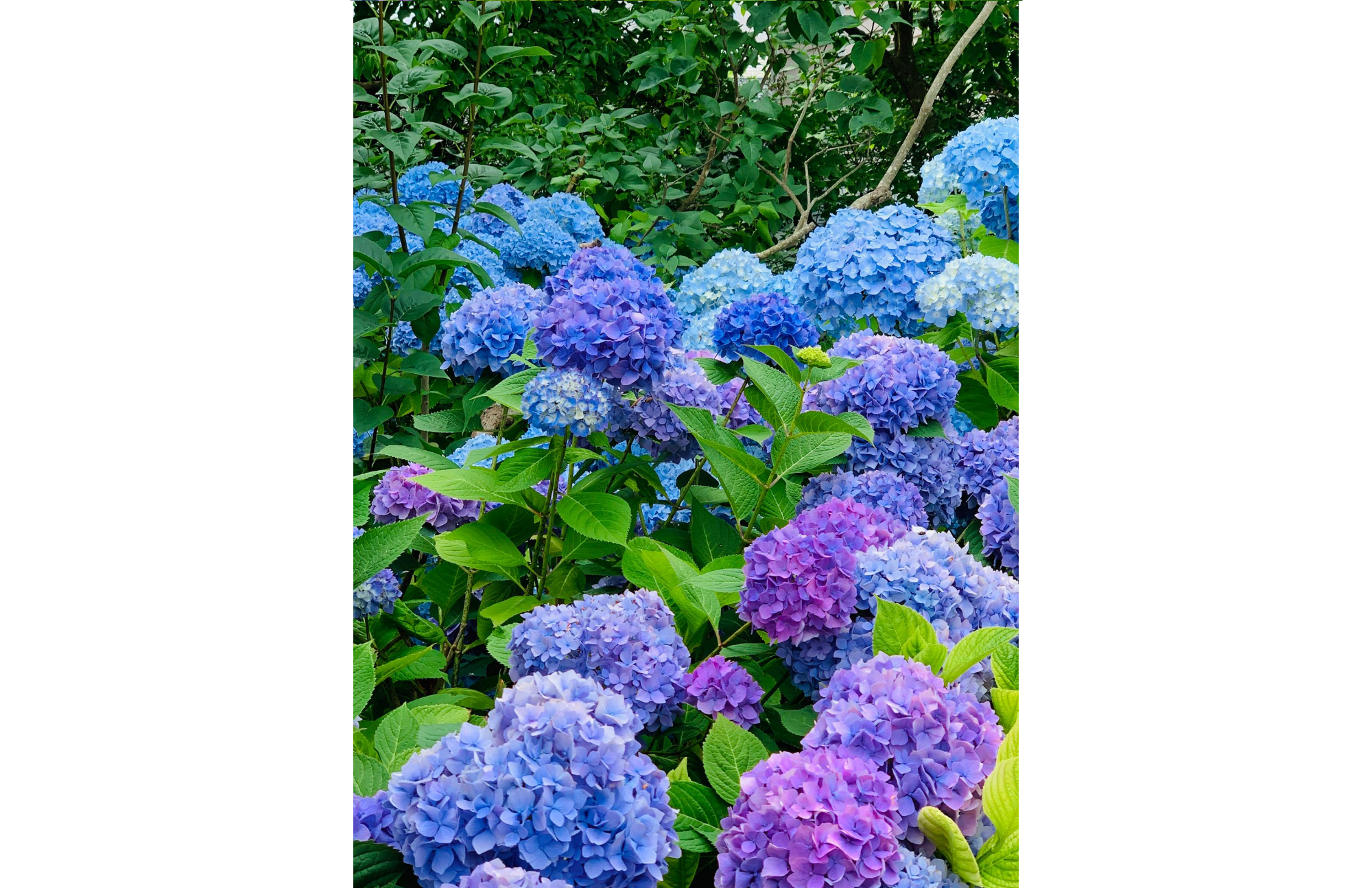 This year had more variety in colors than usual.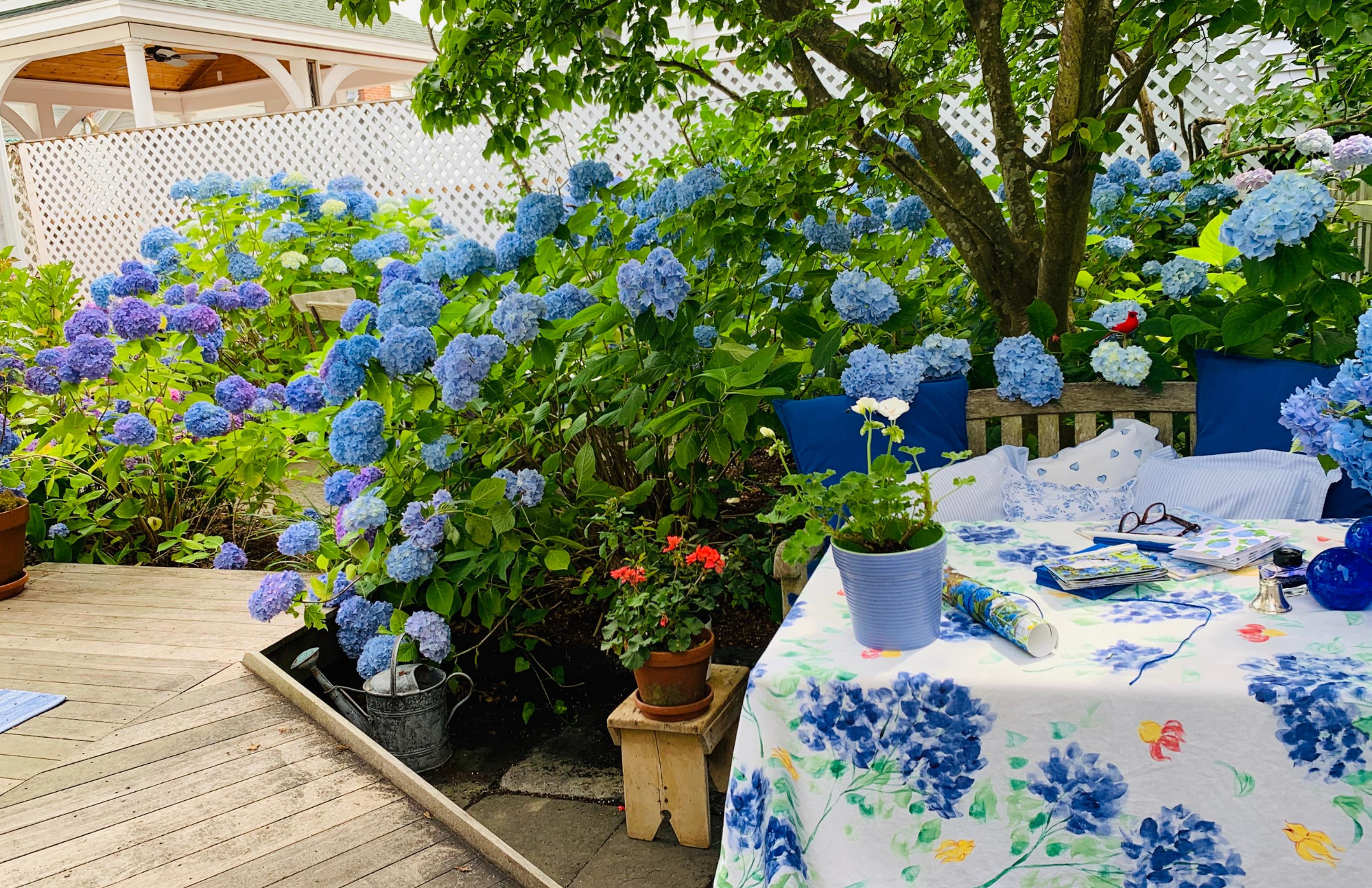 I love to write in my garden amid the hydrangeas.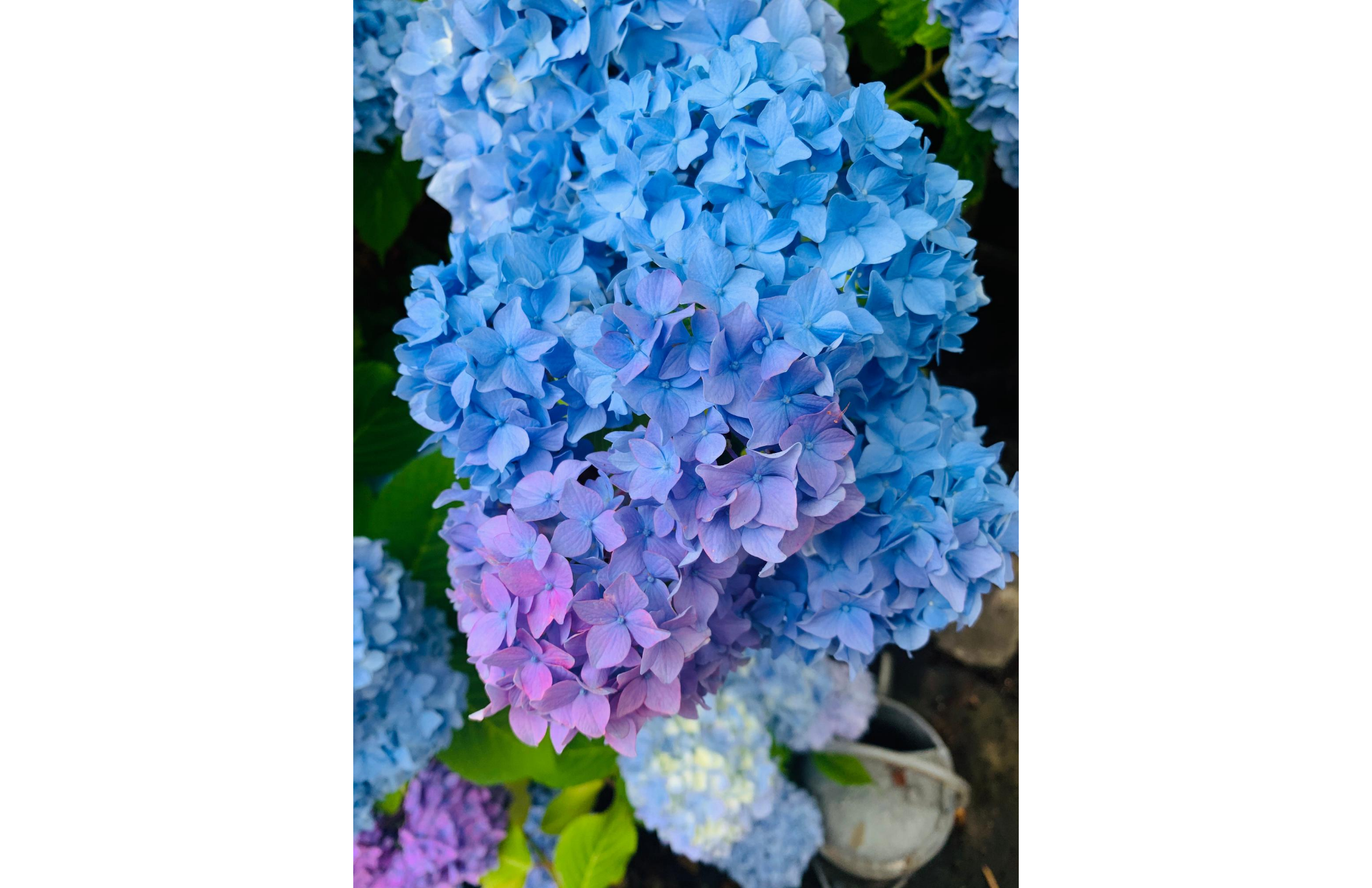 They're my favorite flowers.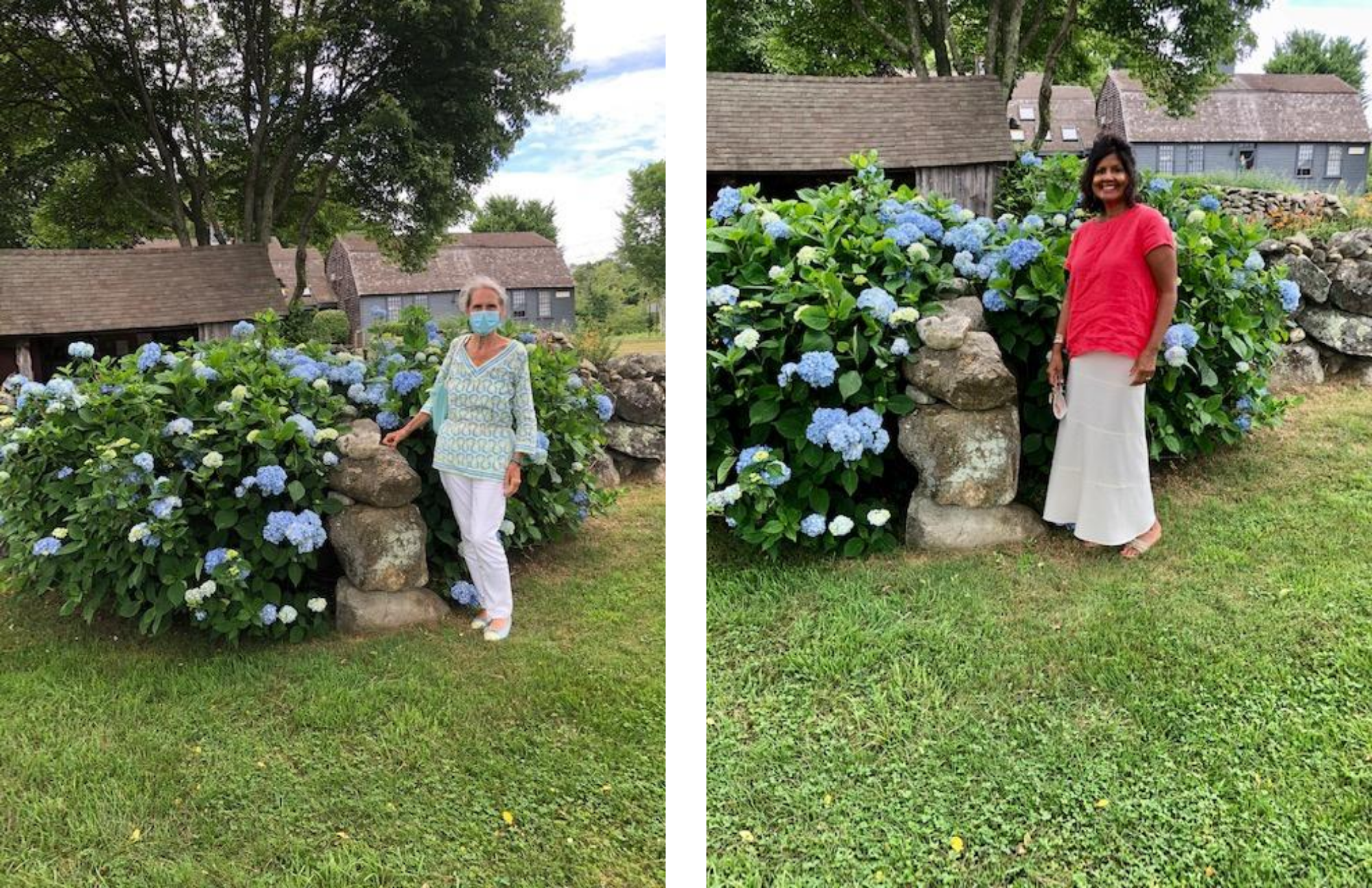 Saddia and I recently visited the farm stand (and made sure to be socially distanced).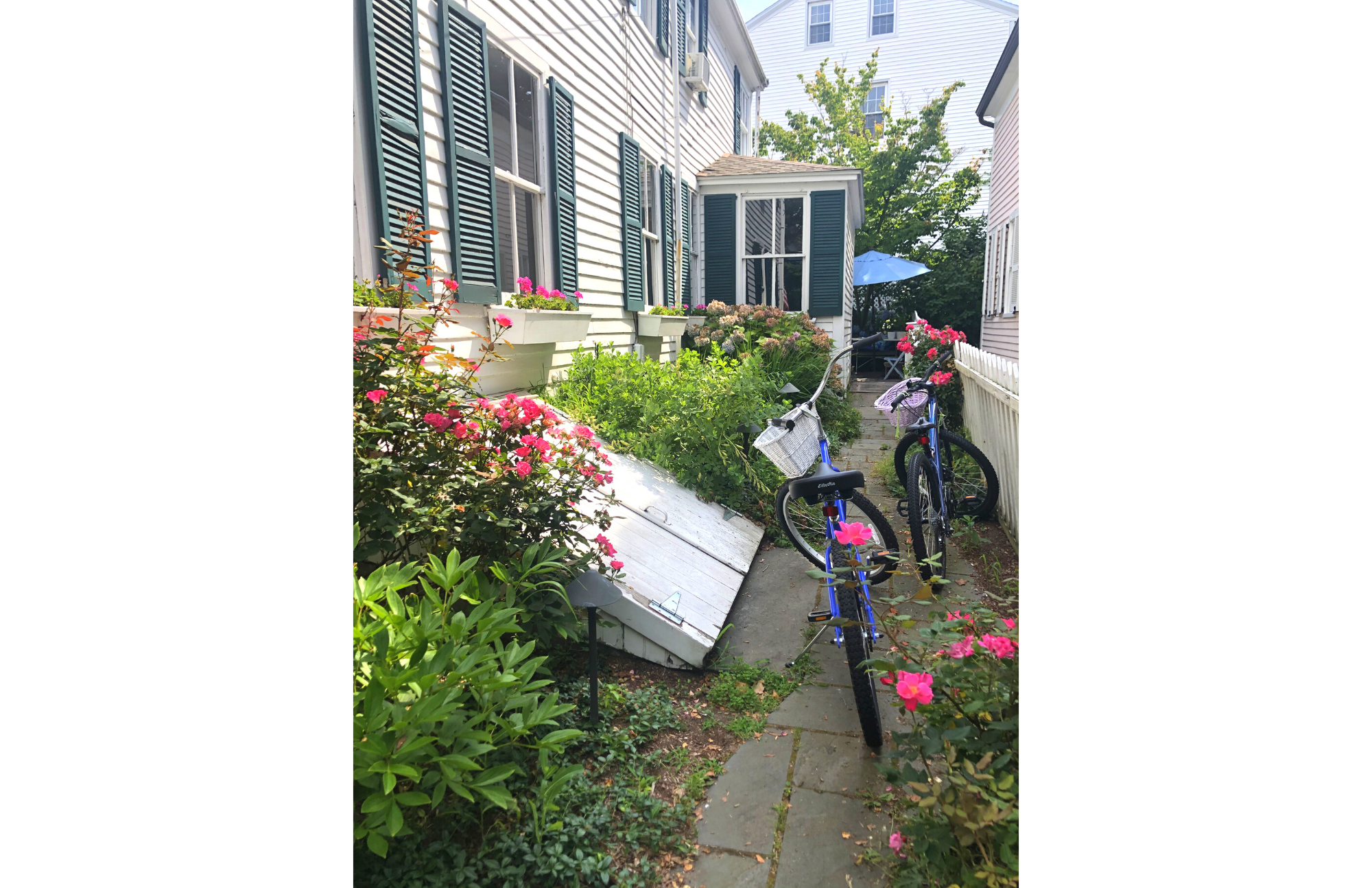 Elissa took this photograph of Brooke and Cooper's bicycles in our garden.
"The whole universe is change, and life itself is but what you deem it."
—Marcus Aurelius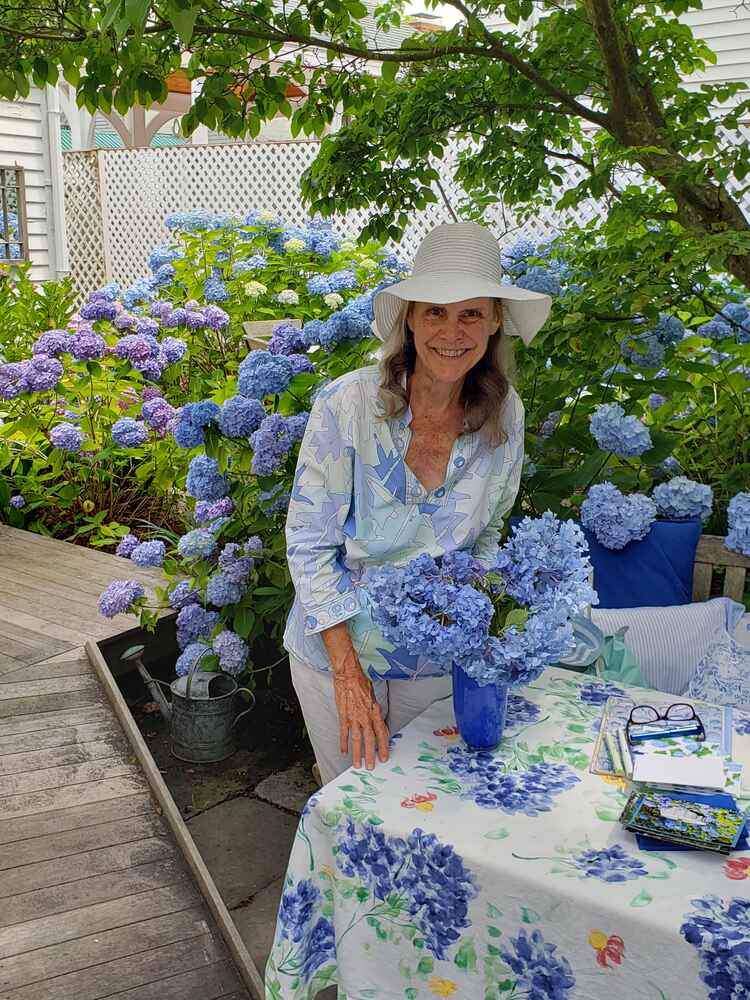 Dear Friends,
I love you. Happy August!
Before I leap fully ahead into anticipating this final month of summer, I want to pause and dwell on some of the joys of July 2020.
My good friend Kerri came for a heart-to-heart visit, one on one, face to face. Because of my being extra cautious to stay safe and healthy, she drove down from New Hampshire just for the day. We had to pack a wallop in our time alone together because her last visit was September 25. We were celebrating "Empty and Be Full," as I wrote you after her awesome visit marking the anniversary of Peter's death.
At the end of September 2019, we had no thoughts about a new contagious virus that would turn the world inside out and upside down. Between that visit and our July reunion, so much has changed. Seated in the garden with masks, we took long breaths when we exhaled. We're alive. We're here. The thrill of being together makes me so acutely aware how blessed we are to be with family and friends during this crisis.
Both New Hampshire and Connecticut's Covid-19 cases are presently stable, and yet we are acting with the utmost safety measures. One of the safest ways to not catch the virus is to not expose ourselves unnecessarily. Being more separated from loved ones intensifies our feelings of appreciation when we're even 10 feet away and communicating through masks. We tried not to sing—that requires 25 feet!
Kerri and I felt the precious gift of our time together, and just how meaningful it is to be such close heart-mates. We talk on the phone and write postcards and letters, but there is nothing quite as wonderful as having a loved one present. Thank you, Kerri. I know what hoops you had to go through to make our reunion happen.
Kerri talked about the gift of presence. When someone we love pays close, undivided attention to us—what we're expressing, what we're feeling—when there is a sense of depth of caring, we feel understood, respected and loved. When we look right into someone's eyes, we are seeing with a third eye, our soul.
Space to Breathe
Before Kerri told me she was planning to come on Monday morning around 9:30, I'd arranged for a friend to come with his nephew to pick up a sofa bed that had outworn its usefulness. Tino and his partner Norma own a wonderful floral design shop a few doors down on Water Street called Verdant. Paradise is found in a garden.
Because it's not possible to have overnight guests anytime soon, and they had just moved into a new house, it felt good to pass on a useful piece of furniture to friends I knew would enjoy it.e
The day before, Tino was in his bathing suit ready to dive off a dock at a relative's house, telling me that he and Patrick would come at 8:30 a.m. sharp. Both their arrival and Kerri's were off, giving me more time to prepare for the exciting day's events.
Since the lockdown, I've been rethinking "the Oprah Room," where I did the Oprah three-day makeover over 30 years ago. Early on, after Peter and I fell in love with our taupe, sad cottage in 1988, we did a makeover in this profoundly awkward space. The room has five doors and two windows facing south that look into a neighbor's house's windows 13½ feet away, ever so close. We were using it as a catchall storage space because the attic was full of thousands of dangerous, rusty, exposed nails in the eaves of the ceiling.
I have the happiest memories of Peter painting clouds on the heavenly blue ceiling and Elisabeth, our resident artist, ragging the walls pink and white. Family and friends transformed this ugly duckling into a swan.
Since then, the room has evolved into a space for grandchildren and friends' children to camp out on a pull-out sofa. I use the Oprah Room to watch the news on TV and iron. As I wrote in Creating a Beautiful Home, the one west-facing window opens to our master/mistress bedroom, with a view of the harbor's boats and sunsets, changing light and breezes.
Once Tino and Daniel removed this large piece of furniture, the room had space to breathe. We shared a La Croix coconut sparkling water together before they had to move the heavy sofa up the stairs of Tino's new home. We were enveloped by hundreds of blue hydrangeas in full bloom, as well as several of the eight gardenia plants he knows I worship in the highest altar of reverence. Tino is seriously funny and great fun as a result.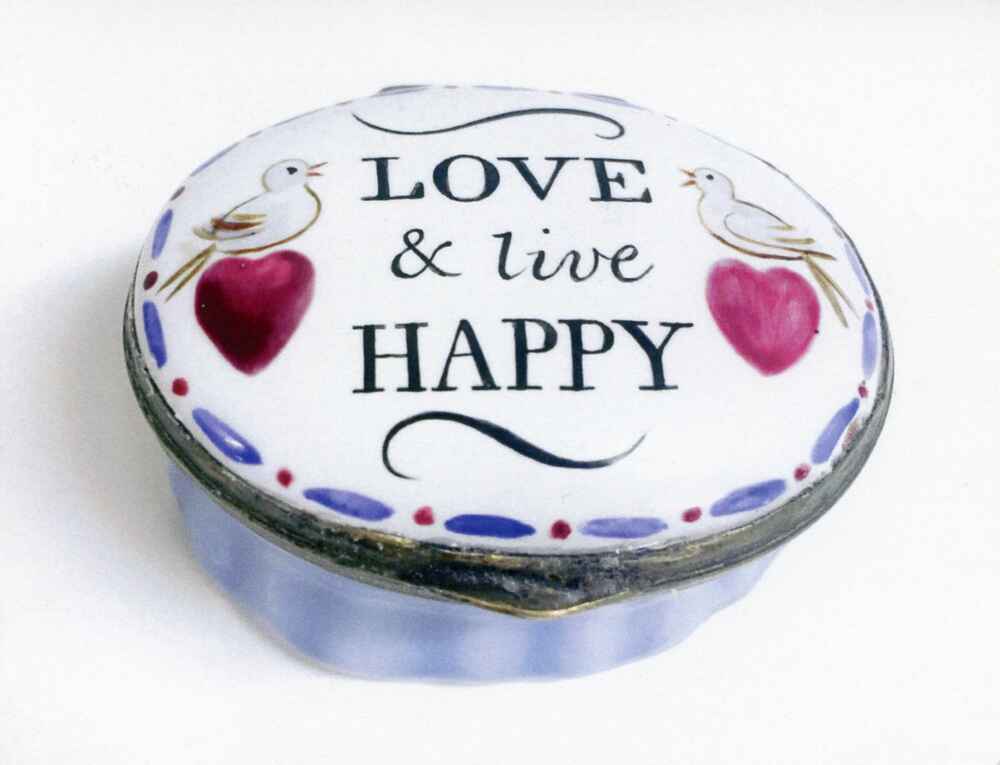 On my former sojourns to New York and Paris, Tino watered my winter garden in the cottage. He believes the best fertilizer for flowers to bloom and re-blossom is love. We both believe in loving up everything we can.
I'm usually at their shop, and I purchase flowers and plants on a regular basis, absorbing the uplifting feeling that overcomes me when I see Tino's truckload of flowers he's brought from nurseries near and far. I love to study all the artistry of their arrangements, wreaths and intimate bouquets.
I tease Tino that the gardenias that are in full bloom always go to funerals. They should go to weddings! Due to the virus, I don't go inside stores now. Tino and I had an overdue juice catch-up. I was happy Tino took a picture of the sofa to get Norma's approval before committing to taking it. When they bought the house, she told me she wanted her color palette to be hydrangea blue and white, a scene and theme for all the rooms, and I felt confident that she would like the blue and white flower and bird print.
It was a most happy start to an extraordinarily magnifique day—a favorite word of Peter's. Très magnifique, his few French words he'd exclaim with childlike glee. With Tino and Daniel out the door and no sight or sound from Kerri, I dashed upstairs with extra bounce in my step to catch a glimpse of this beautiful, empty room. Ah. Mask on. Deep breath in. Deep breath out. I sprayed the space, wiped surfaces down, and used a Swiffer on the lovely, wide, shining old pine floorboards. My friend Priscilla is making me some more ruffled, comfy seat cushions from faded, loved-up bedhangings in a favorite fabric called Joy, designed by Manuel Canovas, with a yellow colorway. It was photographed in Open Your Eyes, under the heading Our Bedroom.
For sentimental reasons and because of my love for Oprah Winfrey, I've decided to continue to refer to this space as the Oprah Room. With the rearrangement of things, along with my letting go of so many lawn-size bags full of Peter's and my clothes, I've eliminated three clothing racks from the room. I have a new shiny white ironing board. It was time to upgrade my old clunker. My white "La Croix" refrigerator is well stocked. I have two sturdy white side chairs (the same kind is in our bedrooms, the library, my writing room and the kitchen), one for "company." Thoreau had a third, as you recall, for "society" at Walden Pond. Hum? How many chairs do you have in your house? I dare not count.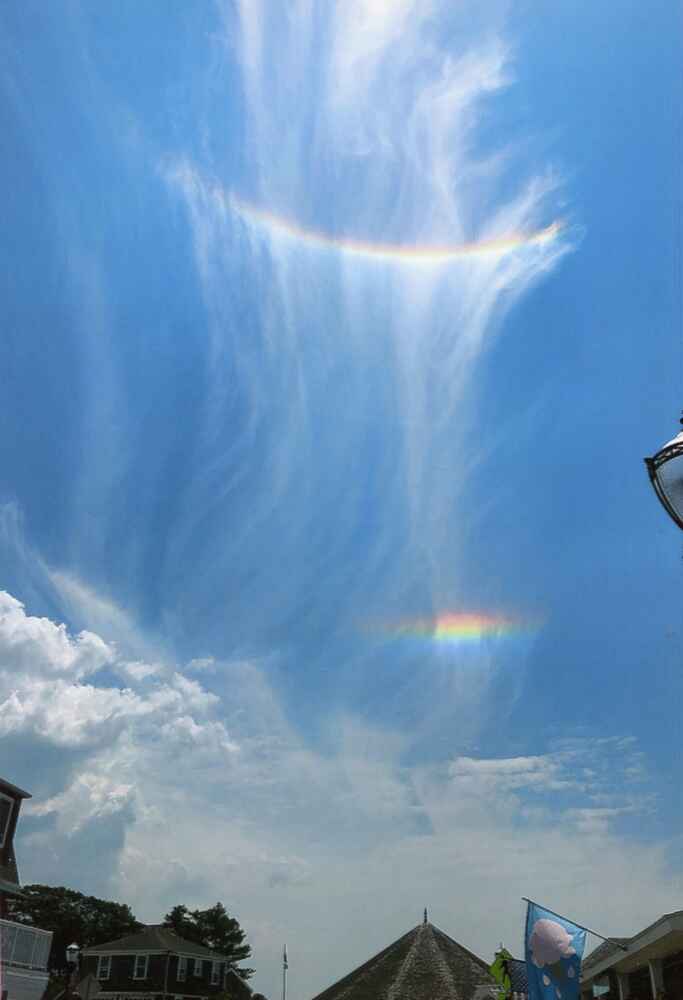 Double Rainbow
As I exuberantly awaited Kerri's arrival, I thanked my lucky stars that she and I and our good friends are continuing to walk together in this uncharted, unmarked, boundless territory. After Kerri and I visited in the garden, keeping company with some happy bumblebees, we went on afoot. Her visit to Stonington would not be complete without a spin in the car to Watch Hill, Rhode Island.
We headed down the steep hill to sea level, the harbor of the charming summer community of Watch Hill. Ah, what a July bonus grace note. A few yards from the famous carousel, the oldest in the country, is another destination, St. Claire's ice cream stand.
Kerri and I were licking our yummy chocolate crunch coffee ice cream on sugar cones when some inexplicable force made her abruptly turn around and look up at the sky. "Look, a rainbow," she said in awe, staring at its fleeting, glorious presence. "Look, Alexandra, underneath, a double rainbow." I was speechless. I was lifted up into this awareness of our out-of-body moments of pure light.
Being a colorist, the rainbow's spectrum of hues in perfect harmony came unannounced. We became poets.
"My heart leaps up when I behold a rainbow in the sky" —William Wordsworth
"The rainbow's glory" — Percy Bysshe Shelley
"Every observer sees the rainbow in a different place. Where, then, is the rainbow?" —Alan Watts
We burst into song: "Somewhere over the rainbow, bluebirds fly. Birds fly over the rainbow. Why, oh why, can't I?"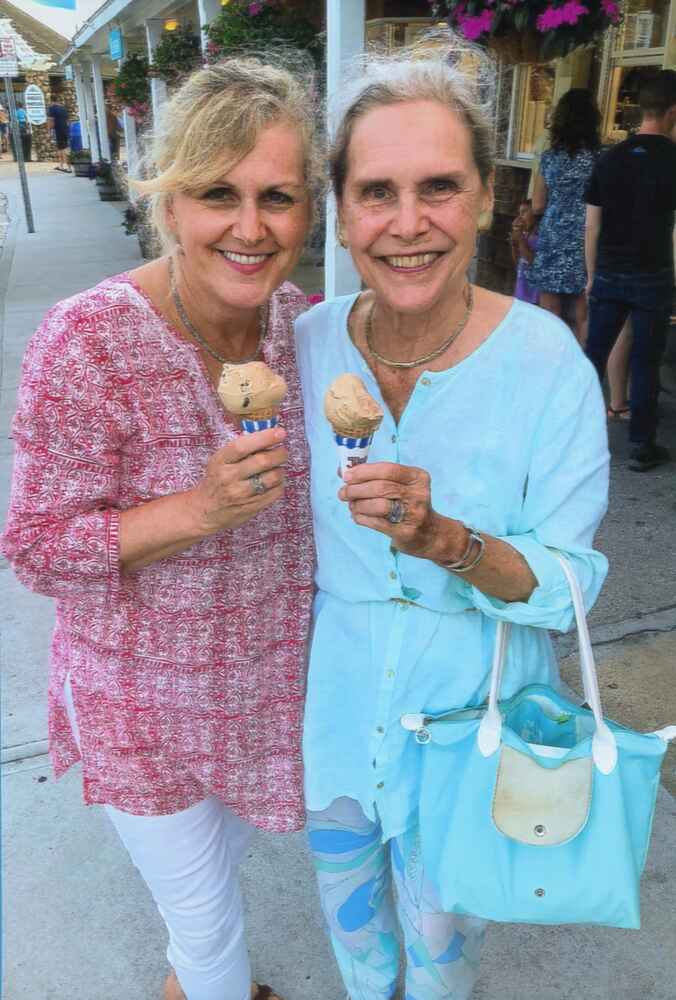 When did you experience your last rainbow? Have you ever seen a double rainbow? What is the symbolism of a rainbow to you? Alice told me rainbows are about happiness. Saddia thinks they are good luck. Brooke thinks they are about serendipity.
A few months before Peter died, we went to Provence for two weeks, ending our sojourn in Paris to make a final visit to his happiest place on earth. As you recall, we walked in the rain to go to our favorite restaurant overlooking a park and the cannons. We sheltered inside with open windows as the rain pounded down, relieving the August heat. The clouds lifted up, revealing this beautiful array of colors in two perfect arcs. Until Kerri and I were on our ice cream mission, that enchanted evening in Paris with my beloved Peter was the last double rainbow I'd seen; that was nearly six years ago.
Kerri wrote me that "Peter painted the double rainbow just for us." We smiled in reverence, wonder and gratitude.
Maya Angelou told a crowd of 5,000 people at Lincoln Center after 9/11: "After the rain, look for the rainbow. If you don't see a rainbow, be a rainbow in someone else's cloud." Peter and I were in the front row center, having arrived one hour early, in order to be close to her energy and be able to hear her every word.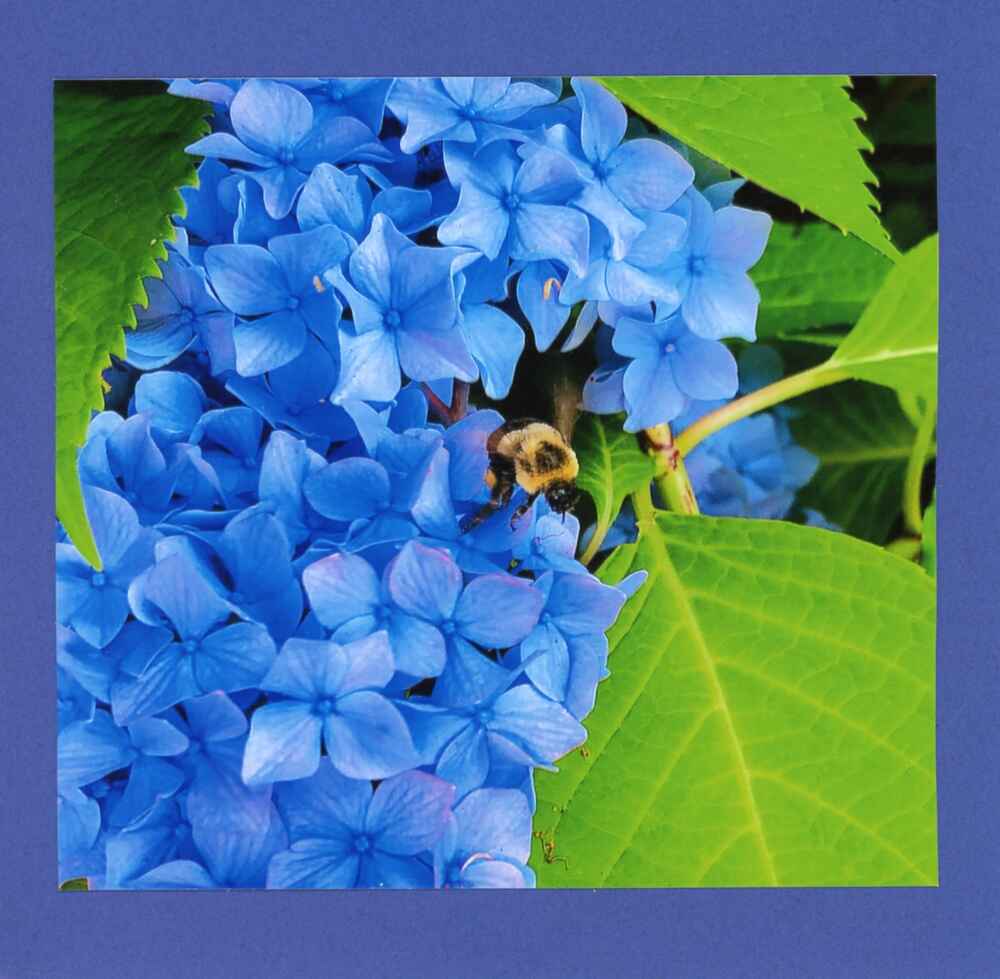 To Run Where the Brave Dare Not Go
We are moving along on our path into a higher realm of beauty, understanding, kindness, light, compassion, truth and love. We will discover fresh insights and openings in our hearts that will lift us up to rest on the shoulders of the giants. Those heroes who have selflessly motivated us are guiding us now in our time of need.
With courage and strength to grow our own wings, we can freely dance in the heavenly sky with the angels who have been our teachers. You and I have been given all the wisdom of the ages. We've been preparing for this moment in history all our lives. We've been handed the lit torch of freedom and equality for all. The truth is indeed marching on. When we accept responsibility for playing a helpful, constructive role in the present drama of life, to be willing to do whatever is in the power of our will to improve, this can be our quest. Let's burst into song as Andy Williams' lyrics in the musical Man of La Mancha inspire us.
I want to pay a tribute to my spirit friend, John Robert Lewis, who gave his life for our peace, love and happiness.
To fight the unbeatable foe
To bear with unbearable sorrow
To run where the brave dare not go
To right the unrightable wrong
To love pure and chaste from afar
To try when your arms are too weary
To reach the unreachable star
This is my quest, to follow that star
No matter how hopeless, no matter how far
To fight for the right
Without question or pause
To be willing to march
Into hell for a heavenly cause
And I know if I'll only be true
To this glorious quest
That my heart will lay peaceful and calm
When I'm laid to my rest
And the world will be better for this
That one man scorned and covered with scars
Still strove with his last ounce of courage
To fight the unbeatable foe
To reach the unreachable star
As I continued to hum, sing and reflect on the "dream the impossible dream" lyrics, John Robert Lewis' legacy was vivid in my heart. We can never underestimate the mighty power of one human life, making a difference.
In Nancy Pelosi's eulogy for John Robert Lewis, she mentioned how she visited him while he was lying in state at the same place where Abraham Lincoln lay. "There was this double rainbow over the casket," she said. "He was telling us, 'I'm home in heaven, I'm home in heaven.' We always knew he worked on the side of angels, and now he is with them."
Take a moment to hold up in your mind these giants throughout history who have improved the lives of millions. Did you start a July notebook? What are some of your reflections? What did you learn about your feelings and reactions to our current crisis?
I'm an avid writer in notebooks, and while I don't keep a journal or write a diary, I write letters and books. I keep a "Common Book," as Emerson referred to his notebooks of his random reflections and insights.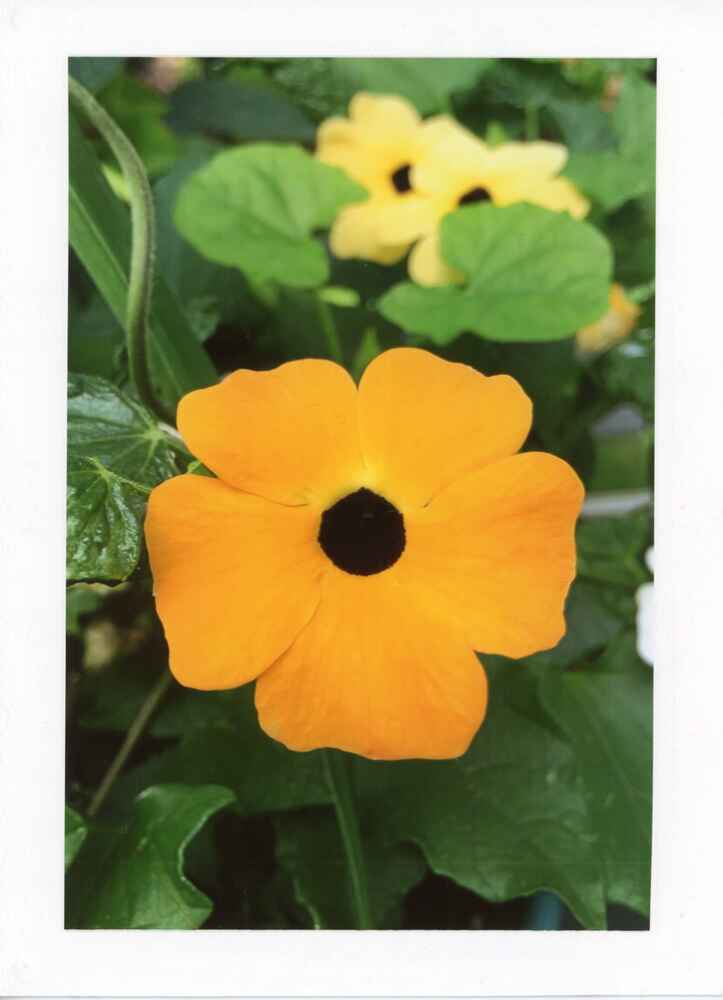 Someday
The word crisis is one I want us to think of collectively. Just as there is power when we all pray at the same time, there is power when I (and close friends who treasure Peter) light a candle at 2:57 p.m. on All Things Peter Day—the name my brilliant, book-loving, country-loving, humanity-loving cousin Russell called Thursdays.
There's power in finding meaning in coincidence, in creating rituals that center us and bring us hope and courage to "bear with unbearable sorrow, to run where the brave dare not go." There is power in all of us admitting we are in a crisis. Collectively, we can grow through this and become more compassionate, loving, kind human beings.
Look up the word crisis in a dictionary. Yes, a tangible, physical dictionary. Do you still have one? Where is it located in your house or apartment? When is the last time you looked up the meaning (or spelling) of a word in this book? Because I am 99.9% unplugged, I find joy in my dictionary and my research books.
Good friends, we are in the heart of a crisis. Please keep an August book. Remember to remember. We don't know anything about one minute from now. Thank you, Susan, for sending me some books you are reading, as well as your charming letter about silver linings and the difficulties of the pandemic and civil unrest.
She wrote, "Rolland and I find ourselves content and grateful to be healthy and enjoying our time together at home." Thank you for tucking in a little note with a quote from Goethe: "Nothing is worth more than this day."
Susan then wrote about her time spent in her gardens, in the midst of fresh air and sunshine and singing birds. Her notecard had a photograph she took of a black-eyed Susan vine.
The reason I want us to reflect on the meaning of crisis is in order to muster up all our inner resources to be the change we envision. A crisis is traumatic and requires us to change our present course. We can, collectively, make a difference "to right the unrightable wrong." A crisis is an opportunity to improve whatever is in our power and to find solutions to problems. I've used the word situation, instead of problem, in the past. However, as this pandemic is epic in scope and hasn't shown us her full power to make us sick and kill us, we indeed must face our country's problems.
Through our attitude and behavior, and the blessings of grace, we can behave in thoughtful, kind, understanding ways that will add to the health and well-being of our society.
I can't get the lyrics of West Side Story out of my mind. Together, let's make the words a reality:
Someday
Somewhere
We'll find a new way of living
We'll find a way of forgiving
Somewhere
There's a place for us
Somewhere a place for us
Peace and quiet and open air
Wait for us somewhere
There's a time for us
Someday there'll be a time for us
Time together with time to spare
Time to learn
Time to care
Someday
Somewhere
We'll find a new way of living
We'll find there's a way of forgiving
Somewhere
Somewhere
Somewhere
There's a place for us
A time and a place for us
Hold my hand and we're half way there
Hold my hand and I'll take you there
Somehow
Someday
Somewhere
Now, where we are, we can improve whatever we can, in whatever ways we can, with all our hearts, minds and might. One day at a time. Whatever needs to be done, we can make the right choices. We can right the wrongs. We can rise up to meet all the challenges with hope and goodwill.
Thank You
Thank you for your wonderful letters, books, ninis, encouraging remarks and your presence. Your garden visits have been treasured moments. Our sojourns on country roads to farm stands and outdoor cafes, where we've shared our soul's longings, sustain me and increase my faith in humanity's essential goodness and ability to love. I've loved our phone conversations where we share the details of what we're thinking and feeling.
I leave you with a favorite prayer from St. Francis, below.
Happy August to each one of us as we savor every moment in the splendor of nature's bounty.

Lord, make me an instrument of your peace.
Where there is hatred, let me sow love;
where there is injury, pardon;
where there is doubt, faith;
where there is despair, hope;
where there is darkness, light;
and where there is sadness, joy.
O Divine Master, grant that I may not so much seek
to be consoled as to console;
to be understood as to understand;
to be loved as to love.
For it is in giving that we receive;
it is in pardoning that we are pardoned;
and it is in dying that we are born to eternal life.
Grace Notes
"What has changed is that my life was then less difficult, but as to the inward state, that has not changed. If there has been any change at all, it is that I think and believe and love more seriously now what I already thought and believed and loved then."
—Vincent van Gogh
"Not knowing when the dawn will come, I opened every door."
—Emily Dickinson
"We do not see things as they are. We see them as we are."
—Talmud
"Slight not what is near through aiming at what is far."
—Euripides
"There is only one way to happiness, and that is to cease worrying about things which are beyond the power of our will."
—Epictetus