Dear Friends,
I love you!
Happy month of June to us all. When Elissa dropped off the May newsletter, I had a good chuckle seeing its layout and reading the copy. It was still cold at the end of April, and my unabashed enthusiasm for springtime was largely in anticipation of May's magic. I hadn't experienced 2023's May.
As human animals, we're so fortunate to be able to relive past experiences in our memory. We have the capacity to bring into sharp focus the most poignant, meaningful events. We can be skilled at visualization; however, there is no substitute for being able to experience the wondrous scene in real time. As we move forward, fully embracing all of June's opportunities, possibilities, adventures and events, I choose to pause and reflect on just how spectacular the rhododendron and azaleas were this May. Their clusters of various colors of pinks, purples, corals and whites—contrasting against the greens of the grass and trees and the blue of the sky and water—were awe inspiring.
My velvety deep purple iris began to bloom the week before Memorial Day weekend. I don't remember them ever being so lush. Their generous display in front of the only window in the study, where I sit and view them and the harbor, is simply delightful. Mrs. Brown's wise decorating advice was when one thing changes, we have to rethink everything. The exact place where Peter once sat at his desk, I now sit on the love seat and share the best view. Share, because I feel Peter's presence every time I enter this cozy space we once shared.
With my large desk behind me, I can sit comfortably as I read the paper and books or meditate and write. Later in the morning, when the sun warms up the garden, my summer happy place, I work among the colorful potted hydrangea, geraniums, petunias and begonias. The light on the water is always a dazzling sight. On a sparkling clear day, the blue of the shutters imitates the infinite blue of the sky.
After Cesar and his team cleaned the windows, Kevin transported the hot pink geraniums from a greenhouse to the cottage window boxes. What a transformation. Full-blown springtime is nature's most spectacular sensual celebration. Songbirds serenade us, and the natural rhythms of spring's abundant bounty quietly speak to us with transcendent presence. The refreshing breezes gently guide us forward, onward and upward on our spiritual journey.
Naturalist Henry David Thoreau understood that we are guided to "pursue some path, however narrow and crowded … you can walk with love and reverence." His fellow Transcendentalist friend and neighbor, Emerson, is believed to have said, "What lies behind us and what lies before us are tiny matters compared to what lies within us." In our quest to create our natural independent life, freely expressing our essence, right here, right now is key. Be here now, and do what you yearn to express.
The Transcendentalists believe in the existence of an ideal spiritual reality through intuition. This faculty of knowing is by instinct and transcends observation or experimentation. Whenever you feel a powerfully creative urge to express yourself, focus your full forces and act on this sudden insight. The more self-aware we become, the higher we extend our reach to get closer to the universe's transcendence. We let go of our own self-centered ego by letting go of anything that clutters the purity of our intentions.
We are spiritual beings. We are creative animals. Life is art. We are divinely endowed with the ability to cause something to exist in the material world. We're able to think, imagine and invent something original that comes into being because we possess an abundance of creative powers. We form a mental image in the act of creating something new, colorful and vital. We tap into this awesome feeling of being in touch with our higher powers by expressing ourselves. Sharp insights and vivid visualizations often come into being spontaneously, inexplicably, and are a deeply felt spiritual experience. As if from out of the blue, I feel a surge of spirit-energy, I get soul-bumps, and my creative juices are on fire.
By seeking to expand our understanding of both Self and our pure connection to the limitlessness of all that is, we, as creative animals, make something we love. When all the channels are clear—there is no static from outside negative energy—something magnificent appears before our eyes. Whenever this happens, we know we were connected, influenced, guided and moved by an eternal universal energy. This art-spirit is always inside us in potential, burning to be shaped and molded. Think of Michelangelo chipping away at a huge block of white marble to produce David; the god-within, perfected by his hands and heart. Whenever we do anything or make something more beautiful or appreciate something truly great, we are getting closer and closer to the invisible presence of our enlightened nature. Each one of us learns in our own way. The most memorable, inspiring teachers are the ones who encourage us to explore our god-within, to bring into being our true nature.
Aristotle taught us that we are "man the maker." We are all creating all the time. Look around. Because of our individuality, we—and we alone—are responsible to create the best life humanly possible in our brief life span. Wise Samuel Johnson's words help us to remember:
"Life is very short and very uncertain; let us spend it as well as we can."
We are all artists. We hone and refine our life skills throughout the day. We're drawn to doing a wide variety of creative and imaginative endeavors that refine our aesthetics to help us express beauty that speaks to us on a soul level. Whenever we follow our heart, doing what we love, the universe responds with a helping hand. We're led to new and exciting forms of self-expression. Everything we think, feel and do is enveloped in the ever-widening circle of who we are at our center.
Ideally, we are self-taught. No matter how many teachers, leaders, advisers, mentors, counselors, critics, family friends and community have supported our creative process, no one can know the secrets of our desires better than our Self. We can take everything we learn from others and let it inform and enrich our subconscious, but we alone know what we like and what we loathe. As Peter wrote so eloquently in his "guide to wisdom," his book's title hits the mark: Figure It Out.
In my great good fortune, I have had many creative thinkers and loving older people who have taken me under their wings over the course of my development. My mother's spectacular cutting garden was the awakening to me of a longing to live a beautiful life.
Many of the ordinary, everyday useful objects I wrote about in the 1980s I'm still attached to today. Because I write by hand, with a fountain pen, I am unwilling to give up what I continue to love. Another one of Mrs. Brown's decorating insights is "Be careful what you give up." There are essential, useful tools of my trade that I find indispensable. Remember the advice of Einstein, who urged us to simplify, but not too much. I'm deaccessioning the excess of beautiful art and decorative objects that I've "loved up" because it's clearly time to simplify my material possessions.
The great cartoonist, Sam Gross, who died last month, was described in his New York Times obituary this way: "He was unafraid to offend people. But his primary goal was to make them laugh." He was a cartoonist "who stayed true to himself." He's an inspiration to me because he was someone who let his raw humor pour out of him unfiltered. "I was never part of any scene except my scene," he said. He drew up to 17 ideas for cartoons a day. In his lifetime (he died at 89), he created 33,800 rough or completed cartoons.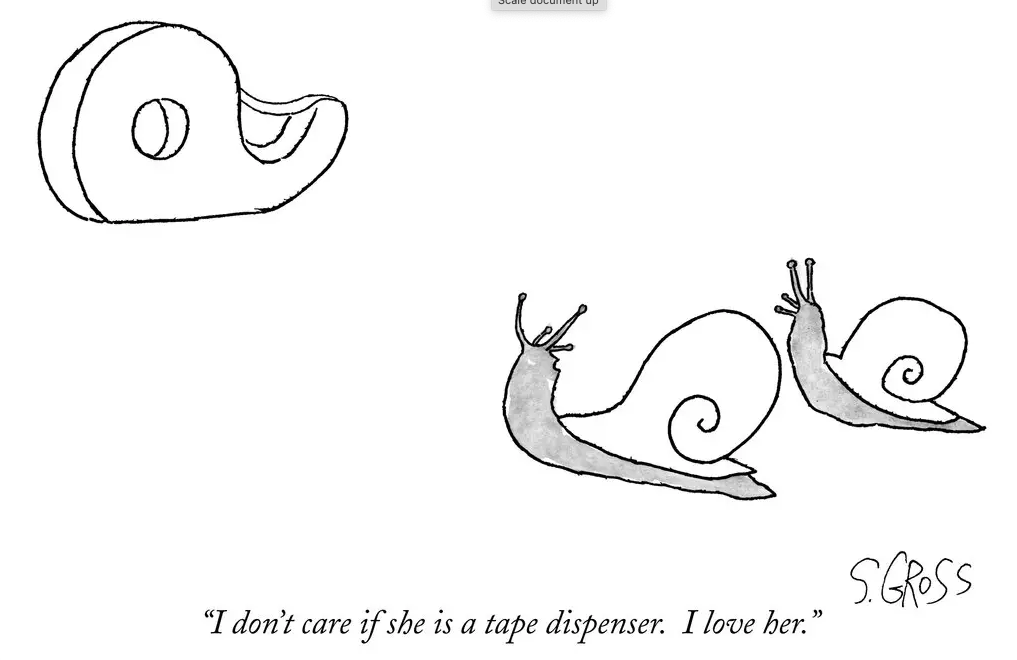 He made people laugh, and because of his irreverence, was funnier than those who were part of any scene. I not only loved his humor, but his example of "to thine own self be true" helps me be courageous in my daily life, to remain faithful to all that I know to be true, good and beautiful.
On a micro basis, the beauty in the Scotch tape dispenser is its usefulness. I can cut and paste, and I can wrap packages and pretty presents. On a macro basis, by keeping things unadorned, simple things become simply delicious. By zeroing in on the bare essentials, I am in tune with my own point of view. My lifestyle and taste are an intimate autobiography of my love of sensual, colorful, mouthwatering visual delights.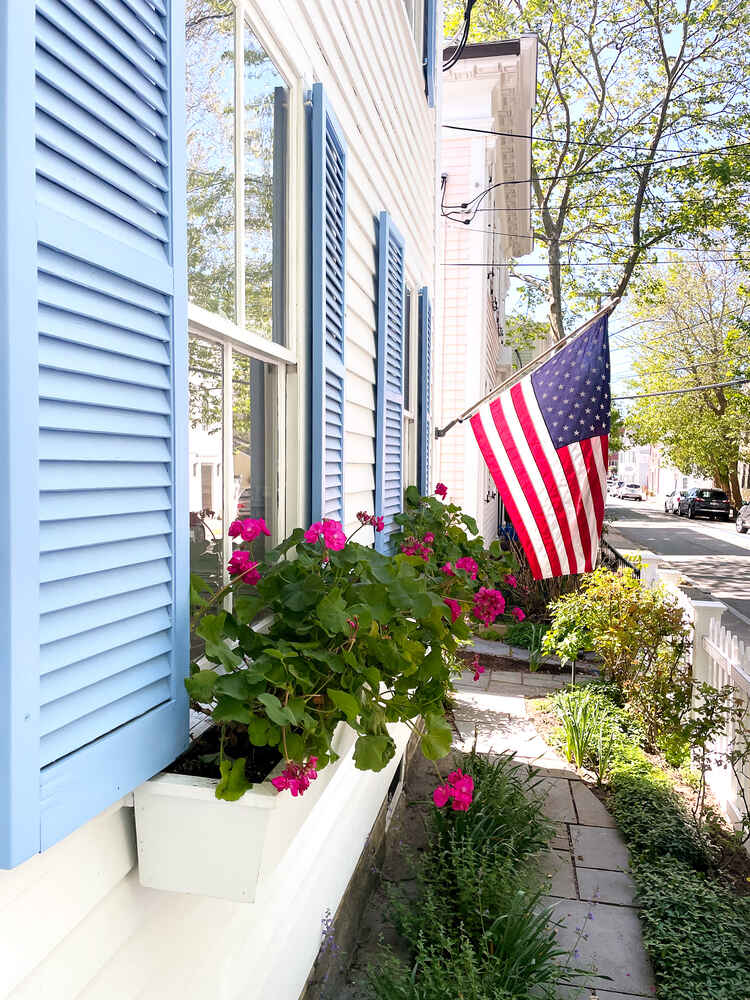 In Antoine de Saint-Exupéry's work, Wind, Sand and Stars, he expressed the stage I'm in at 81½ beautifully: "Perfection is finally achieved, not when there is no longer anything to add, but when there's no longer anything to take away."
Authentic self-expression is our companion when we let life happen naturally. "We can walk with love and reverence." I'm embracing my longevity. Time at the end of a spectrum is shorter than that of most of you reading this letter. Even if I were the last leaf on the branch, I would still be of the mind and heart to live as beautifully as appropriate. All I am focusing on is what's in front of me and what's inside me. The two are the same side of the coin.
This exciting year brings me one surprise after another of all things true, good and beautiful. I have been divinely blessed to be able to love my work, wherever it has taken me. As you know, I'm always happiest when I have a pen in my right hand, top off, ink flowing. I loved my interior design career and was learning on the job. How to create more light? Color? Energy flow? How could the environment elevate my clients' spirits? No matter who they were or how they chose to live, I feel I was useful in helping them achieve their goals. Some say their dreams came true.
My aim has always been to do my best. What a privilege it is to be useful to others! When I love everything I'm doing, if I am lending an invisible hand to someone, this is a bonus. I'm humbled to find such delight in my work and blessed to be in a position to share it with you.
In my quest to keep things simple, I am going to close. I wish you a month of June full of high-spirited exuberance. I anticipate several theater dates, having friends come see me from Massachusetts, Illinois and Texas. We'll celebrate a family reunion in Stonington Village at the end of the month.
Let's go on several more "awe walks" together; I'll always be with you in spirit.
Great love and gratitude.
Love & Live Happy,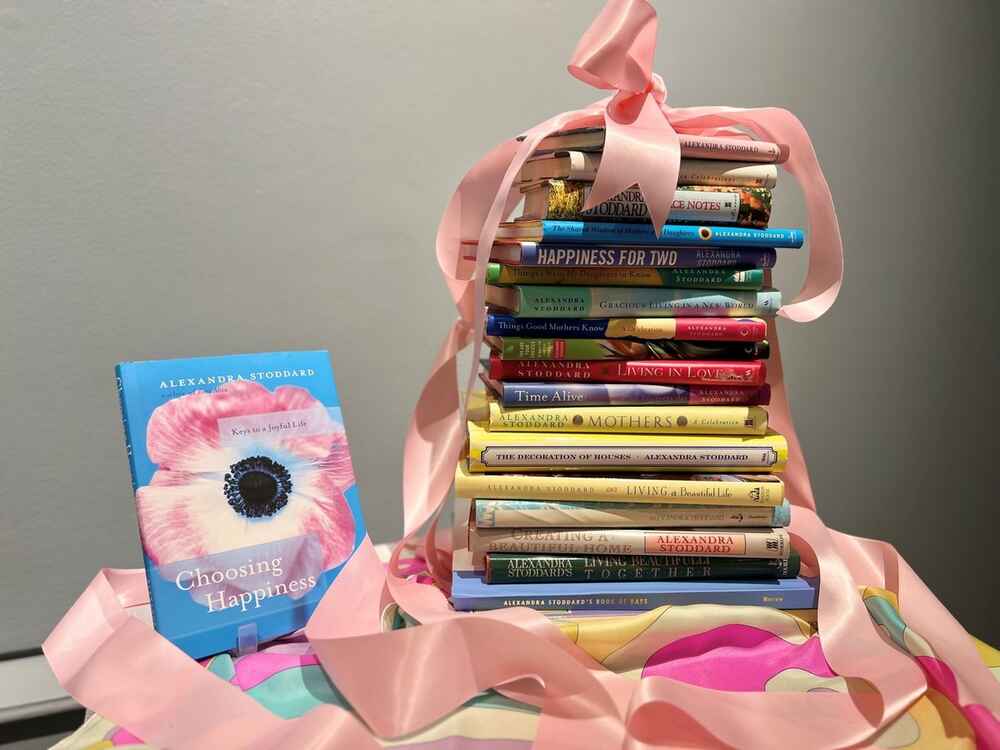 Artfully Vibrant Auction
I have donated a beautiful collection of 20 signed books—plus a vintage Emilio Pucci silk scarf from my own collection—to the Lyman Allyn Art Museum, and you're welcome to bid on them! The winner also will be invited to join me at my house for a visit, where I will personalize the books.
Click here to bid and to see the other wonderful auction items!
(The auction closes on June 3.)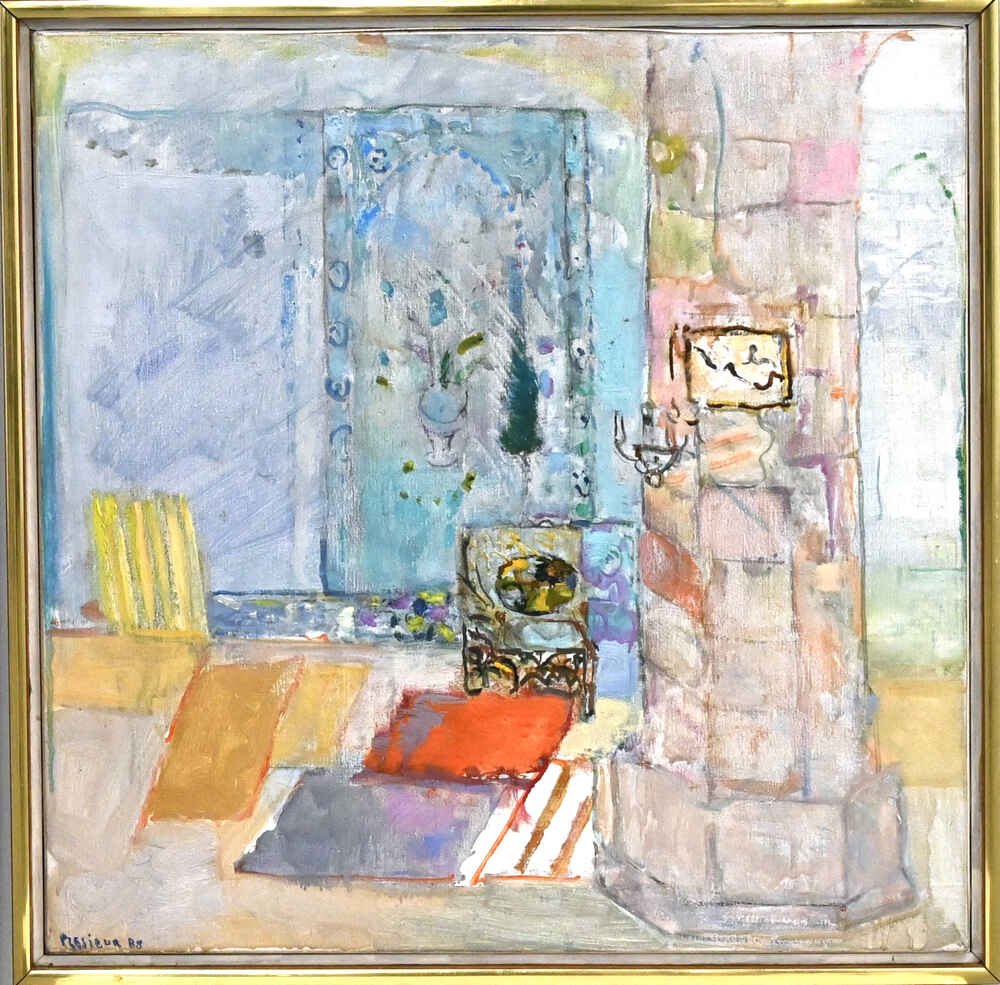 This month, I'm letting go of a painting by Pierre Lesieur if anyone is interested in adding it to their art collection; please contact Pauline at Artioli Findlay (artiolifindlay@gmail.com) for more information.
Pierre Lesieur (French, 1922-2011)
Petit intérieur
Oil on canvas
Canvas size: 19 5/8 x 19 5/8 in
Frame size: 21 x 21 in
Painted 1985
Pierre Lesieur's French interior painting has inventive warm and cool tones, saturated light and a Post-Impressionist feeling.