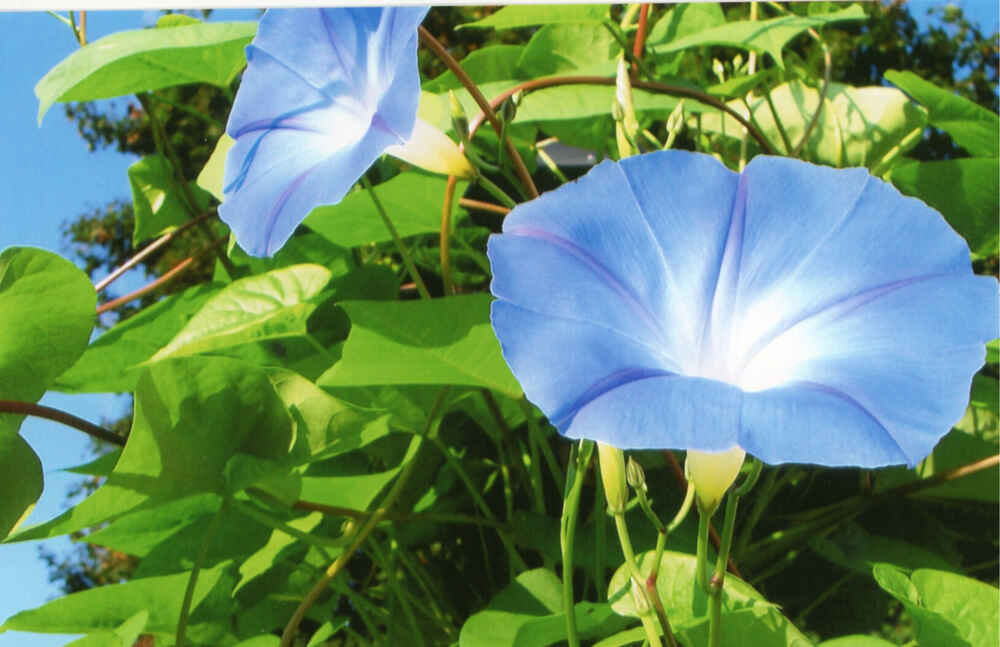 Peter and I stayed at Morning Glory Cottage in Bermuda for the second half of our May honeymoon.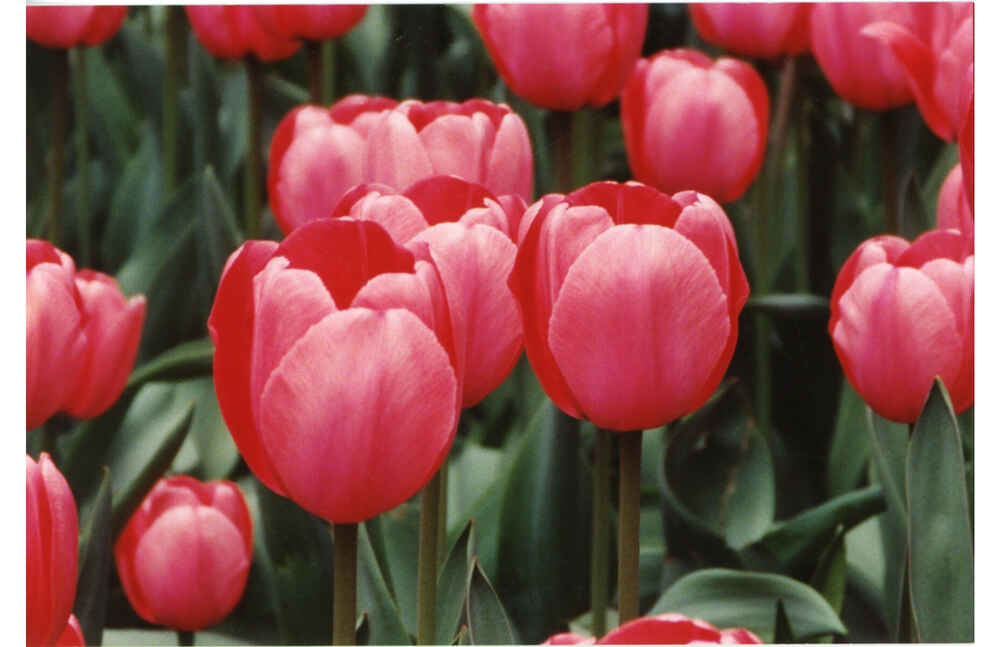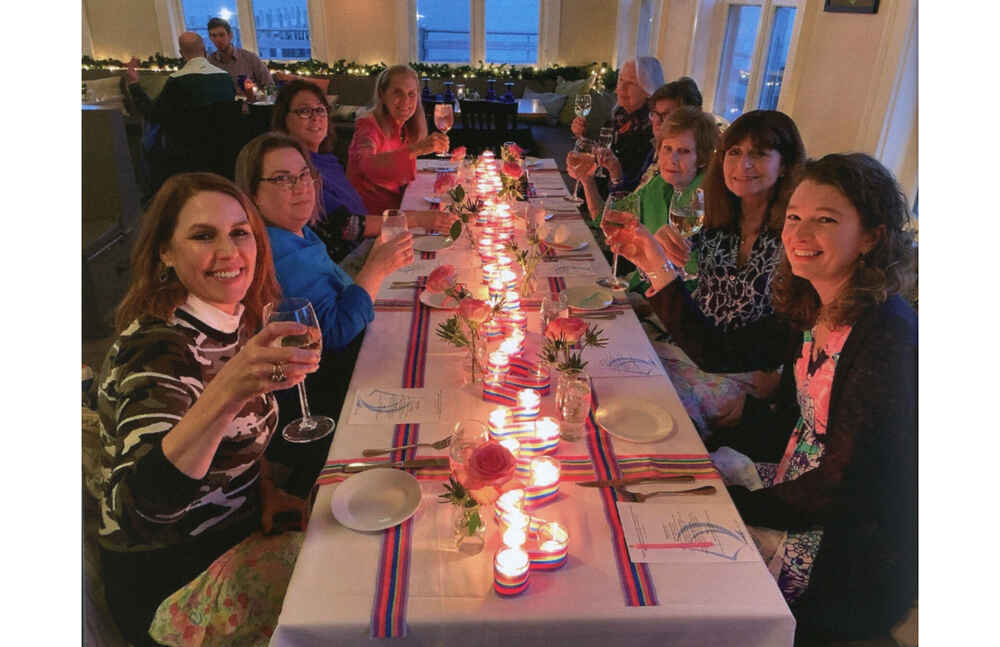 The candlelit banquet on March 12 after the seminar. Thanks to Amy, who is toasting us!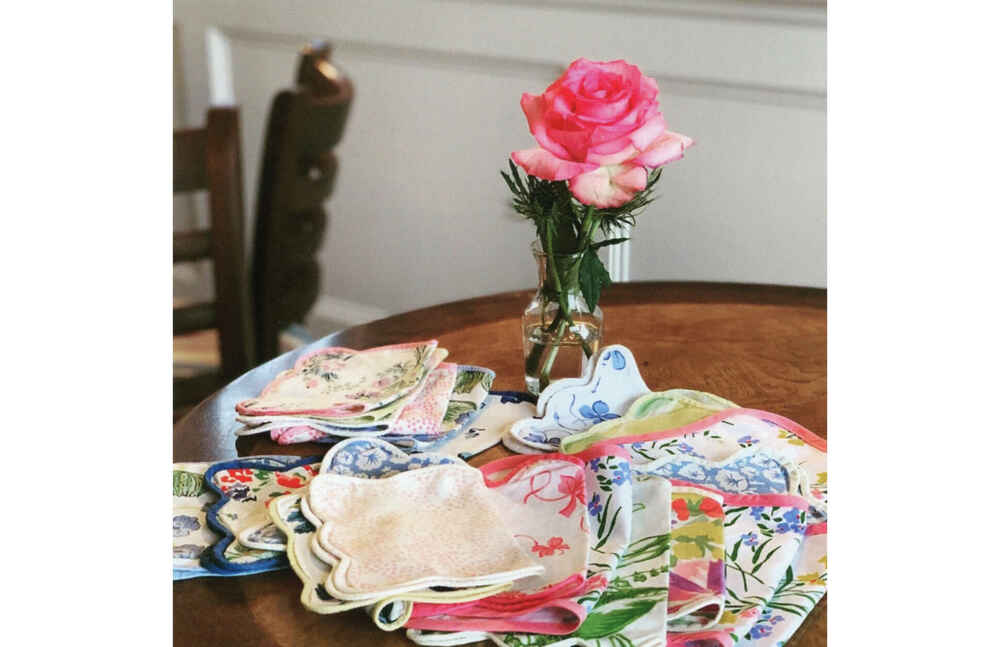 Incorporate a one-flower meditation into your daily rituals.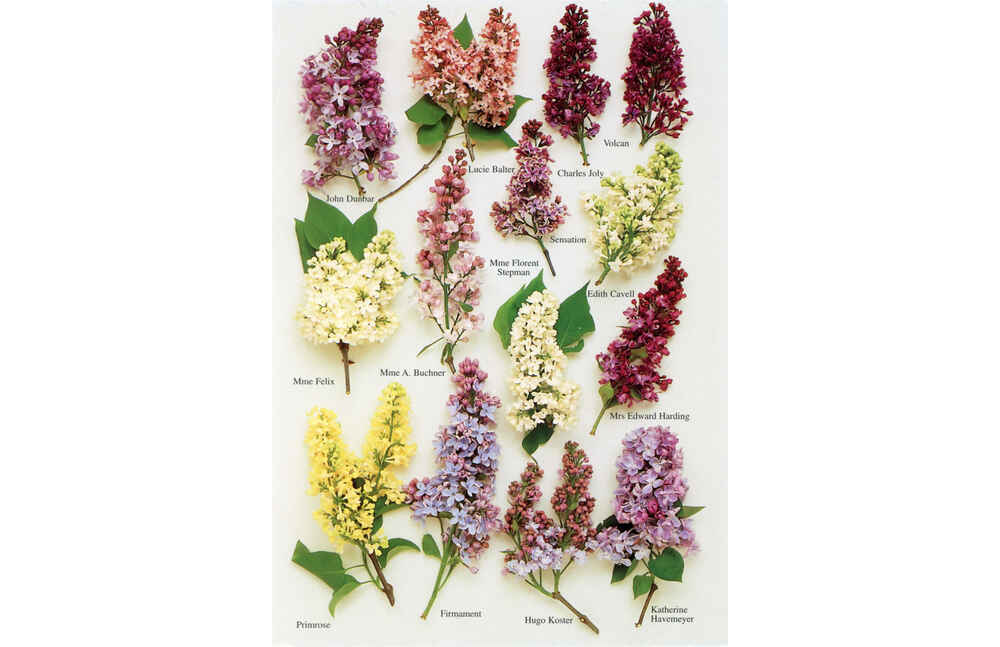 The bliss of returning to lilac season.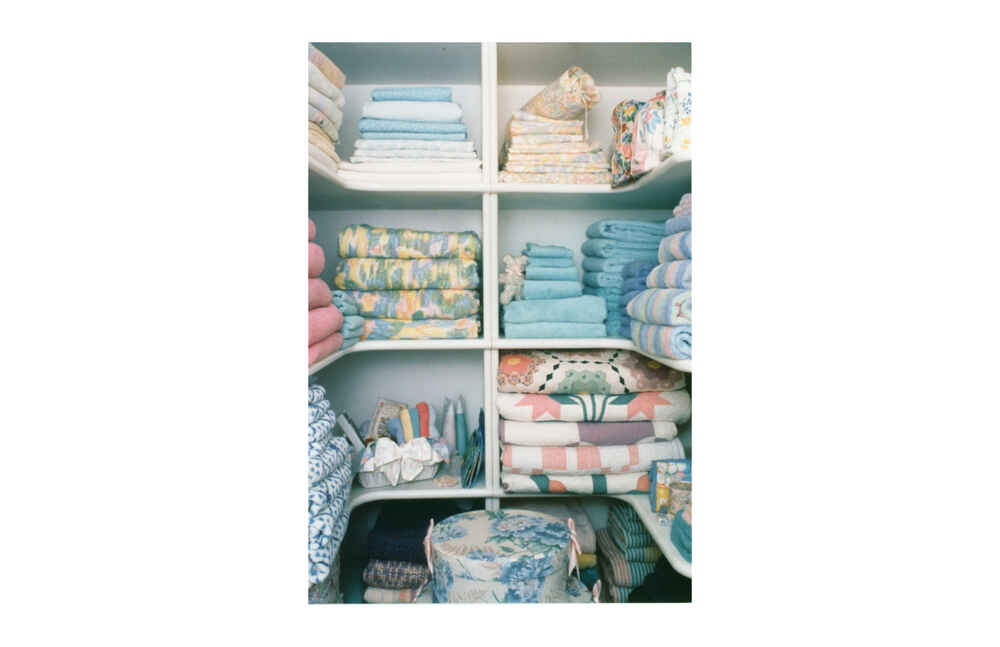 A memory of our linen closet at 1125 Park Avenue. I still have some of these towels and sheets.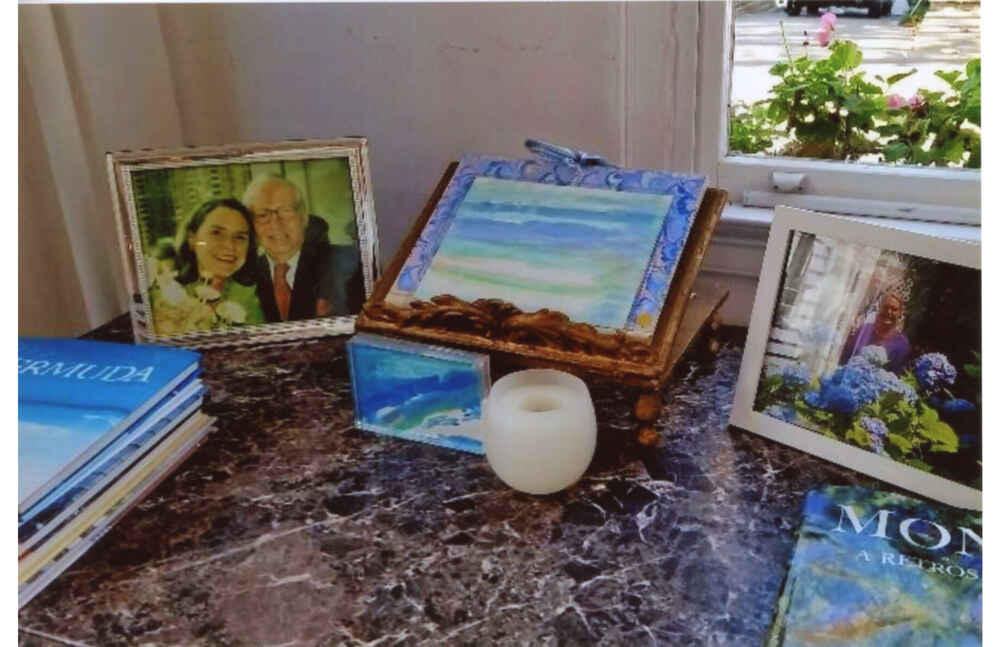 Peter's paintings, and our framed moments of joy.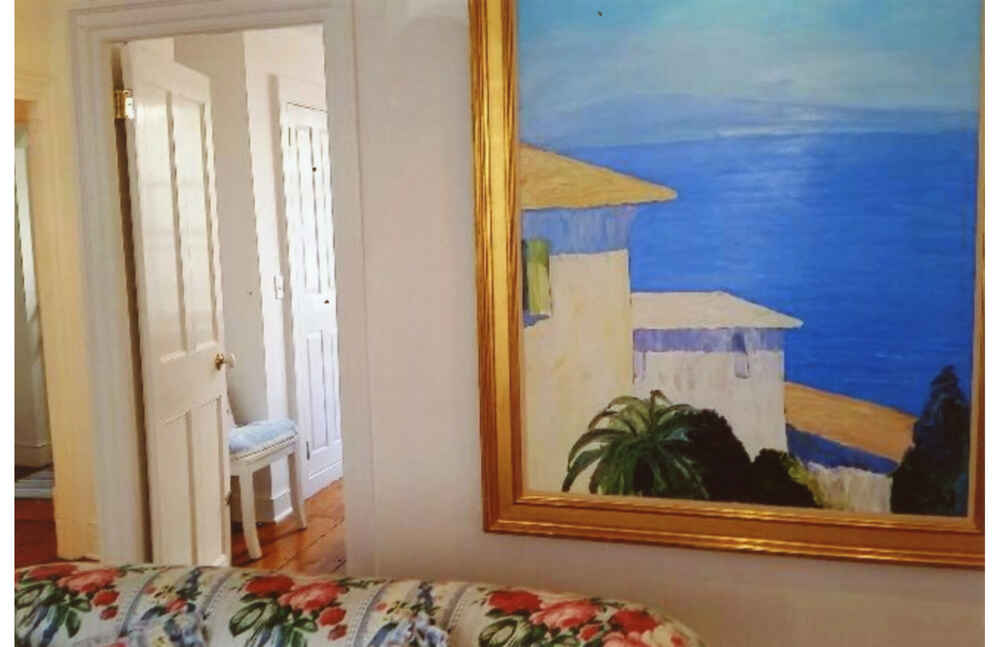 Our living room opens to the sky and waters in the Mediterranean because of Roger Mühl.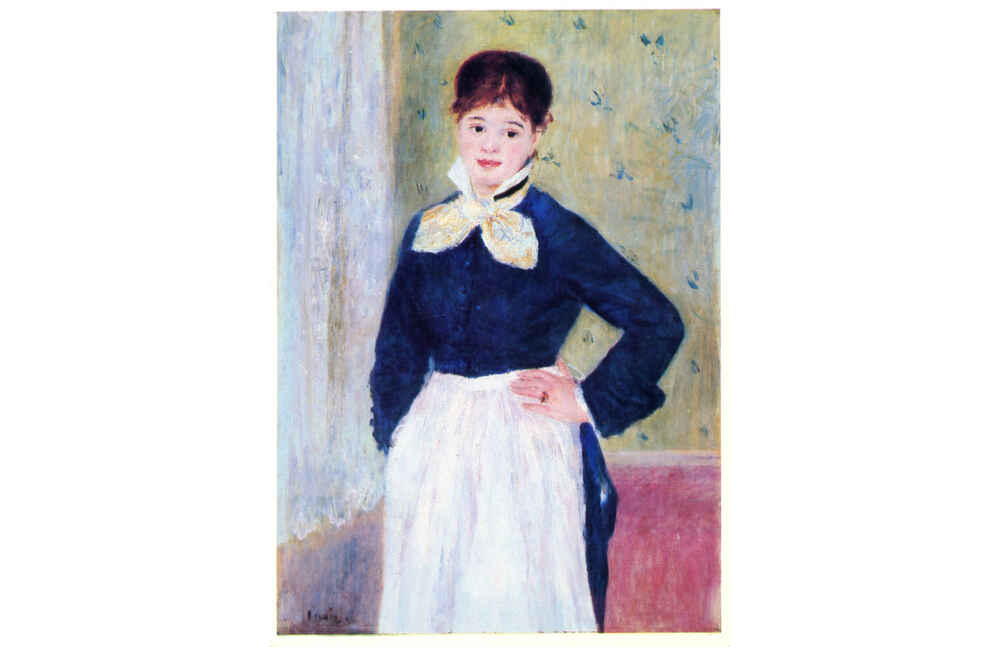 I live in an apron. Back in the kitchen!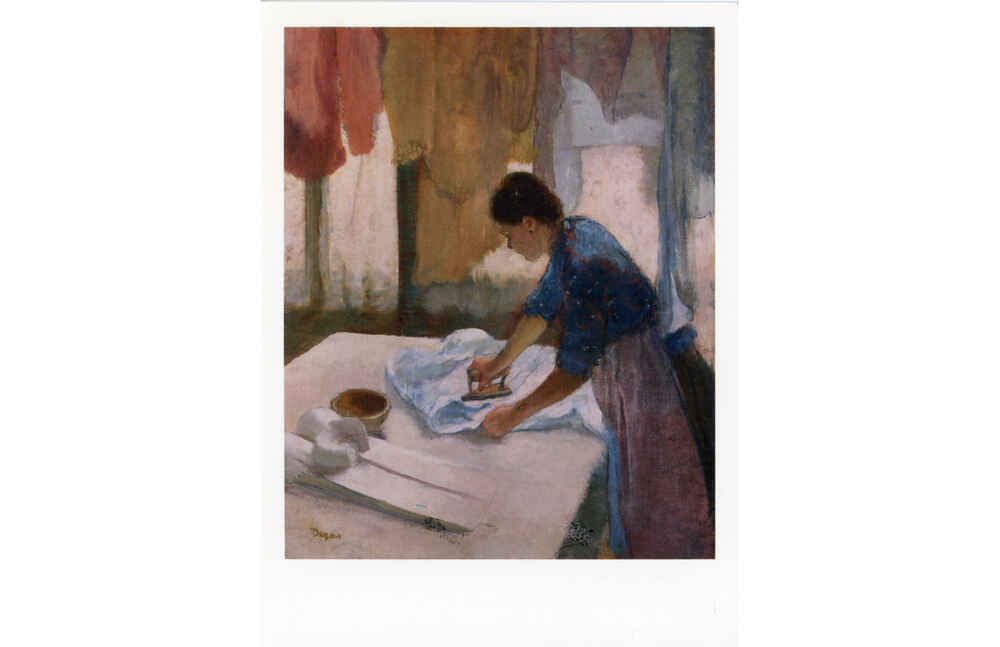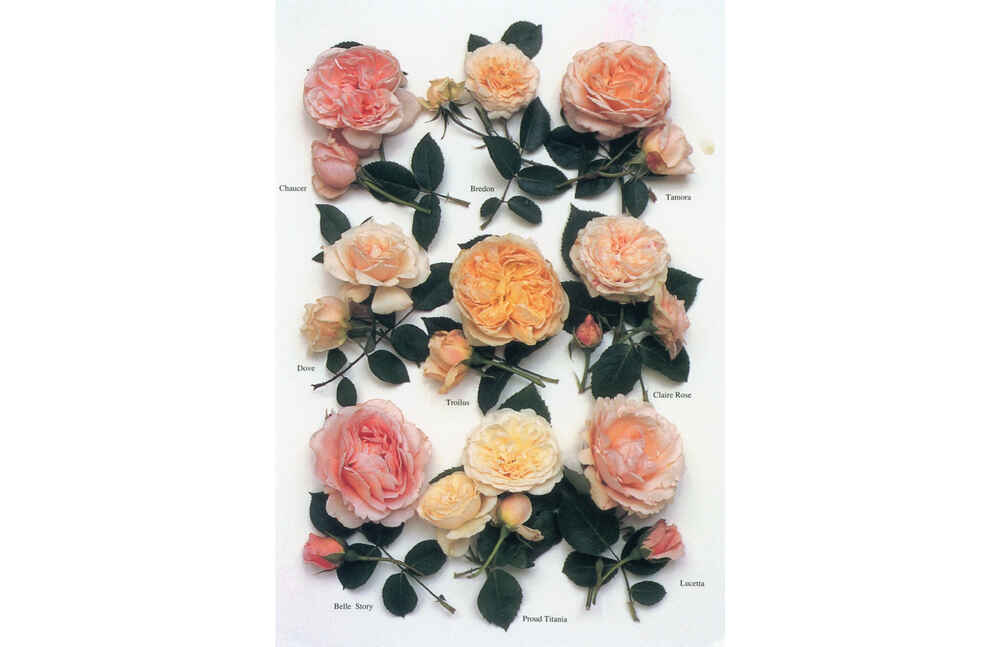 My yellow English rose bush from last spring is about to bud.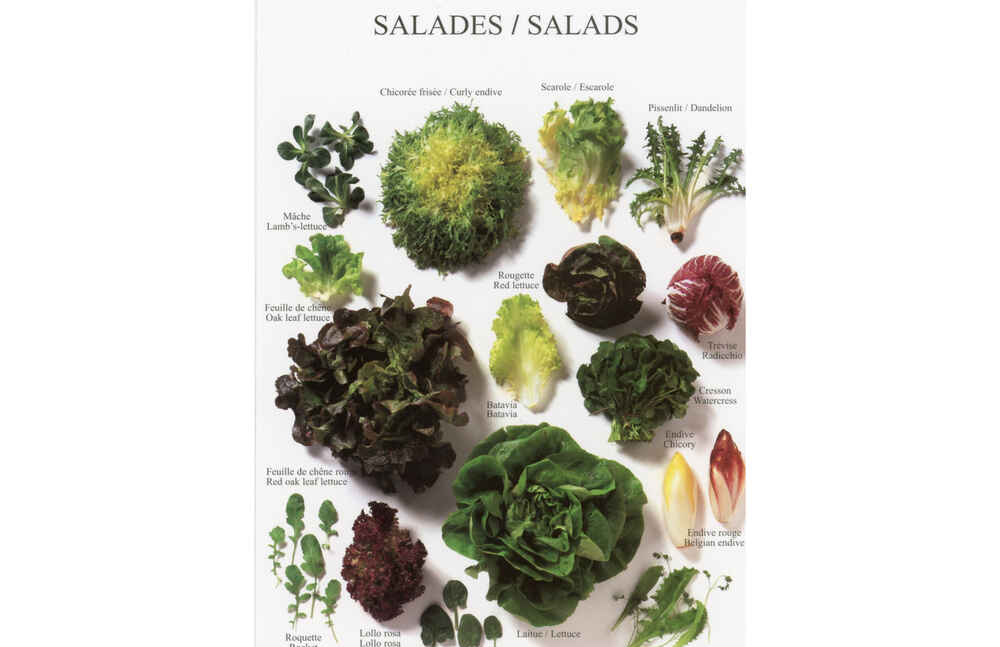 I have never felt healthier.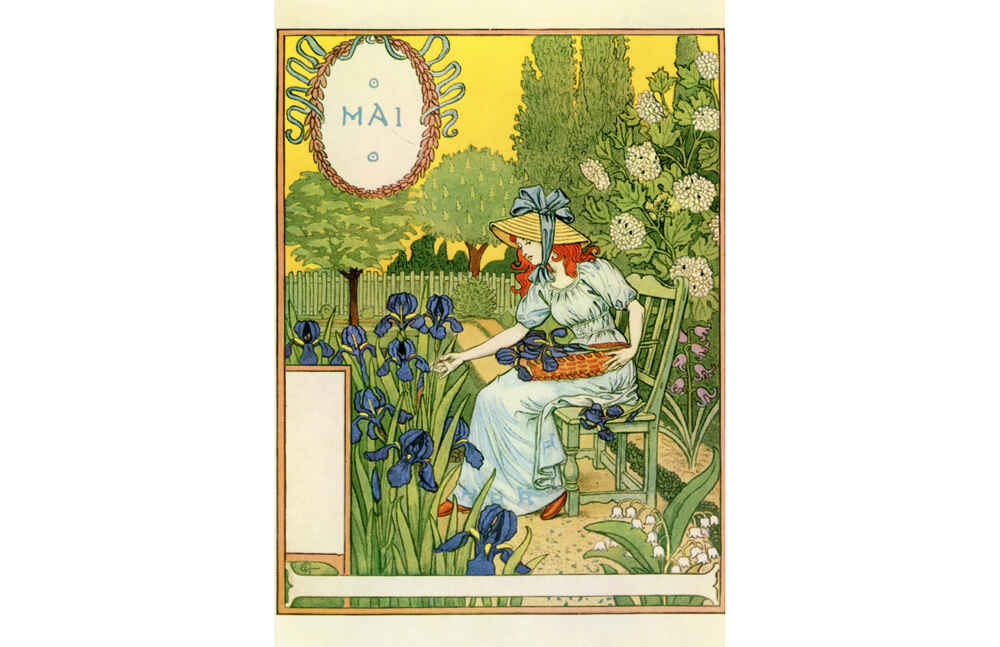 Our purple irises bloom before our peonies.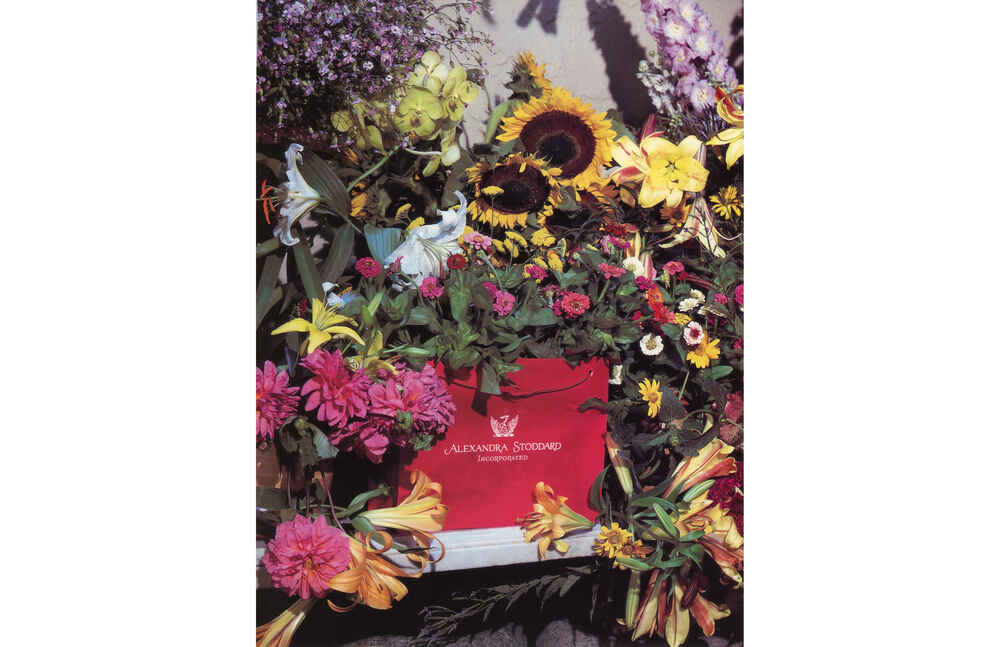 I started my international interior design firm in 1977. Bring nature's beauty inside.
"We need to learn how to want what we have, not to have what we want, in order to get steady and stable happiness."
—Dalai Lama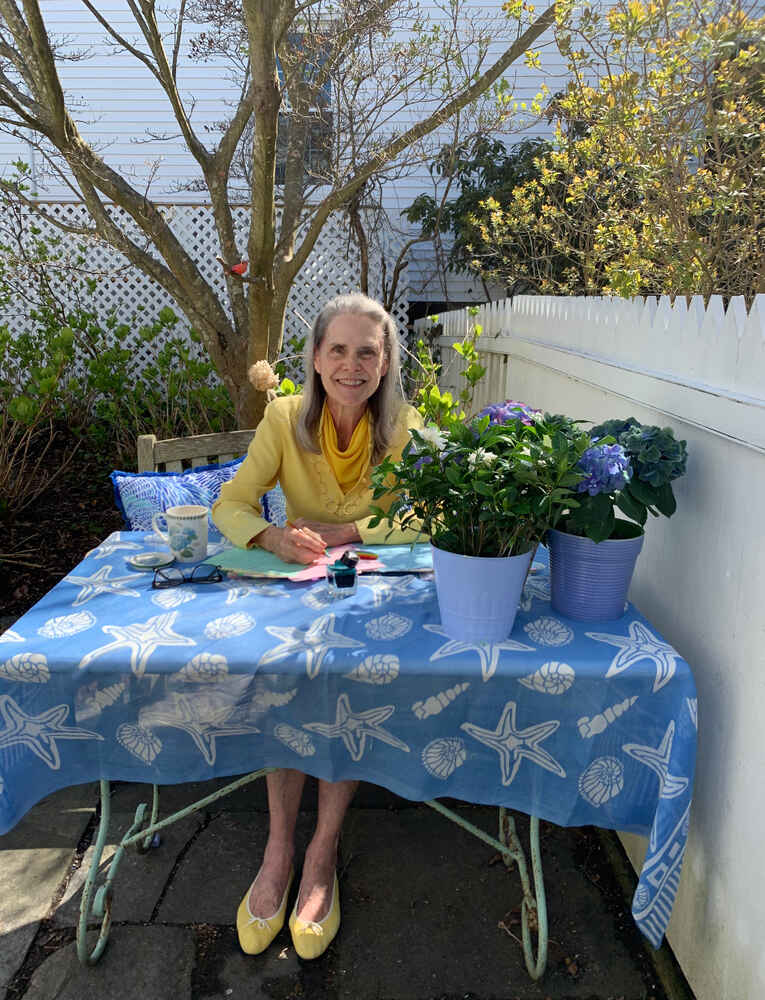 Dear Friends,
Happy May Day!
I love you. As I wrote in the opening of Living a Beautiful Life, Dr. Samuel Johnson taught us that we don't so much need to be informed as reminded. Let me remind you how much you mean to me. In your own way, each of you has reached out to me and has become an intricate thread in the tapestry of my life. I feel especially close to you now that we are growing through this international health crisis together.
Some of us have become friends through my books, beginning in the fall of 1975, when Doubleday published Style for Living: How to Make Where You Live You. Our book friends relationship is real. We mysteriously connected, we bonded, we related to each other. We have become authentic kindred spirits. Because of our own global network, I fortunately have book friends in all corners of the world. There is an opening up, a feeling of acceptance, a feeling of understanding that we are not alone in our feelings and longings to live beautifully, authentically and lovingly.
Presently, all of us are going through this global challenge together. What a blessing that we can be compassionate, empathetic and loving toward each other. For the people who are holding us together on the front lines and risking your lives for us, thank you. I look up to all of you as my heroes. Because of your selfless courage and dedication to your calling, you make me stronger. For those who have lost loved ones or are struggling with illness, my heart expands to reach you and your loved ones wherever you are. I weep for you and with you.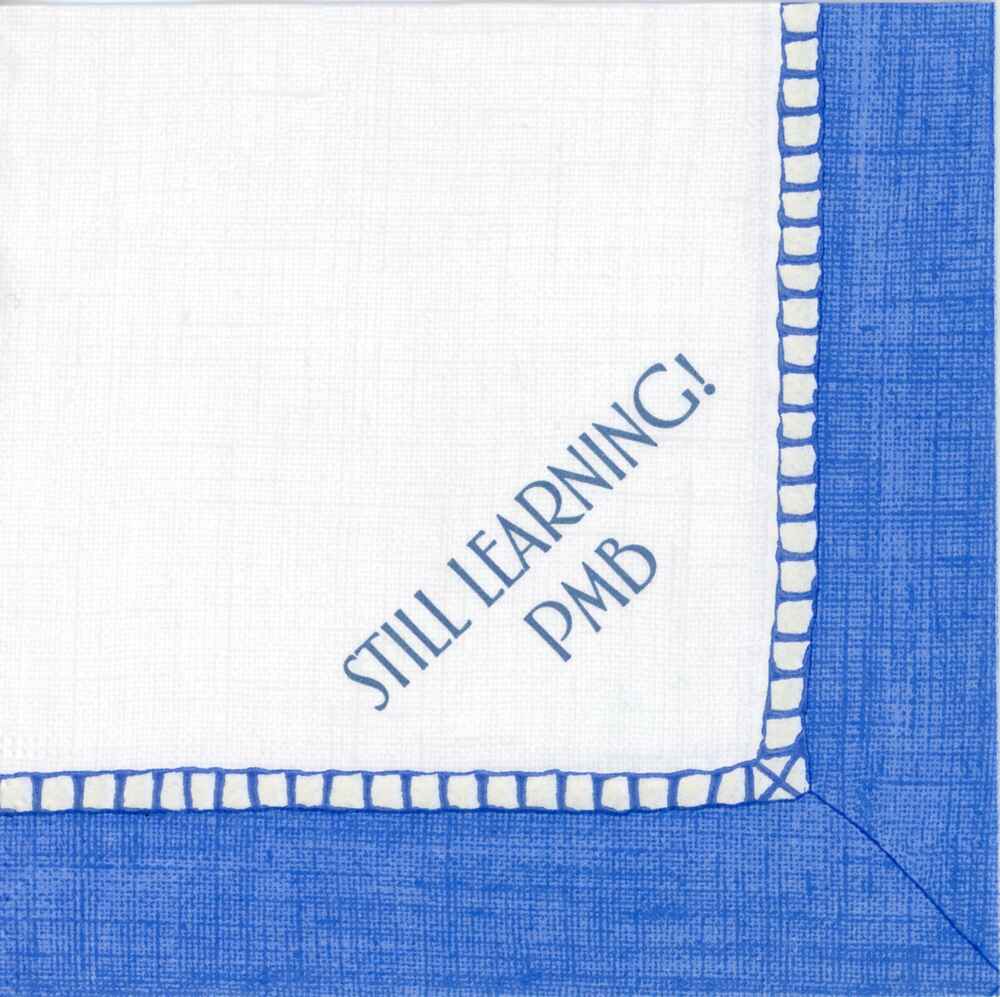 Thank You
Thank you for your support and loving kindness as we share a new world reality. Every gesture of care you've shown me has been one of a generous soul and a huge, loving heart.
I'm forever grateful that I transitioned from being an interior designer to becoming an "intimate author." You and I have stayed on this parallel journey, learning from each other. I owe a great debt to all of you, to your mothers, to your siblings and to your children.
When Peter and I were on book tours, we traveled to many of your communities. You welcomed us graciously into the intimacy of your homes. You have come to spend time with us at our cottage as well as celebrated with us in our apartment in New York City. When it wasn't possible to meet face to face because of geography, we wrote each other letters and postcards.
You've never been a stranger, because we met on a soul level.
Forever a mystery, many of us have grown to become heart-mates. The heart clearly knows what makes us feel loved. Of course, we are never alone or disconnected. We, being human, all need to be reminded of that!
As I remind you that I love you, I want to repeatedly thank you for reaching out to me to remind me why I love being a published writer. As I write this letter to you, please remember that all my books are written for you, in the hopes that each of us can grow to love with greater harmony and forge our own ways to be happy.
We've entered into a reciprocal dialogue. You have become my teachers. Many of you may recall the cocktail napkins at Peter's celebration of life, which were printed in "atmospheric blue" with his humble words: "Still Learning!" One of his books, written later in his earthly life, is titled One World at a Time, which is a wonderful reminder that we are still alive and we should continue learning while we are here. I wrote the book Time Alive, and its theme is for us to flourish now and here, no matter what circumstances we're obligated to accept.
Peter was and always will remain a mentor and hero to me. He constantly reminded me how he wanted to be worthy of my devotion. As I wrote you last month, telling you I want to always be worthy of my great good fortune to have you believe in me, you, as friends, have come to know how much meaning and purpose you bring to my daily life. You help me be true to my values and my heartfelt choices.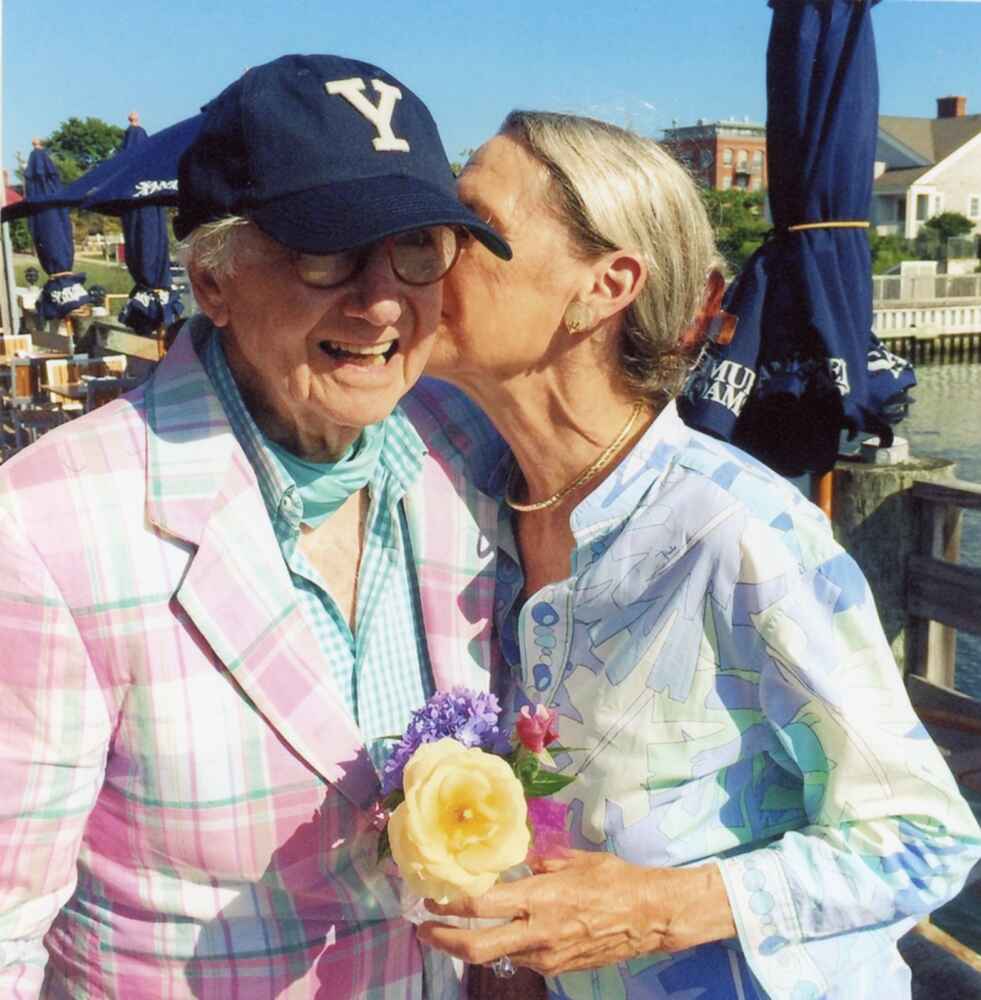 Love Transcends
Peter and I cultivated the seeds of our friendship of excellence that began to take root in September of 1954. We are two bodies in one soul, in the words of Aristotle. Aristotle may not move you to tears and give you soul-bumps the way he personally inspires me, but because he is my book friend, and has been since 1959, he is a formidable presence in my soul, permeating my consciousness.
On May 18, 1974, Peter and I were married, 20 years after our fateful meeting when I was thirteen and he was thirty-two. Our friendship enriched and enlightened our 60 years, 40 of them married. Our eternal commitment to remain as one soul in two bodies began in Paris on the most memorable, romantic and beautiful honeymoon imaginable. We quite literally swept each other off our feet!
Love never dies; love transcends.
I will celebrate our anniversary with awe-inspiring memories of our inseparable attraction, devotion and mutually respected sacred values. Peter is always present with me, wherever I am, whatever I am experiencing. On our forty-sixth wedding anniversary, I will honor our vows to always love each other and be one.
As the French author Antoine de Saint-Exupéry wrote in the classic The Little Prince, "It is only with the heart that one can see rightly; what is essential is invisible to the eye." I have no choice but to obey my heart. In the face of overpowering mystery, you don't dare disobey.
Now that I am physically living alone, I'm struck by how much I treasure all of Peter's loving possessions. They are all symbols of deeper meaning. By the time he died and, in his words, "went to his reward," I pretty well knew the stories behind the objects of his desire. "Three," our third floor, is the sacred place that houses most of his memorabilia, making my daily meditation up the narrow steps a preparation to enter a place of reverence. Taking in the best view of the harbor, I can open my heart so wide and feel such a loving presence as I putter about, making intriguing connections about his past life and remembering all our shared experiences.
Peter's clock collection reminds me of the writing on the Chinese wall—"It's later than you think"—a saying that held great importance in his life. A friend's garden here on Main Street has a sundial with the quote, "Time goes, you say? Ah no! Alas, Time stays, we go."
I adore the tingling sensation that I feel as the different clocks' chimes reverberate with a physical presence. Peter's main thrust in life was always to live the best quality of days under all circumstances; he never believed tomorrow's quantity will necessarily add to the integrity of the present. He was a shining example of using up every ounce of positivity for the sure moment at hand.
Peter collected bells, books, antique boxes, blue "poison" bottles (and anything blue and white), framed photographs of his mentors, friends and family, prints of artists' paintings from exhibition catalogs and leather scrapbooks full of pictures and letters. He regularly had books bound and labeled and also collected rare leather-bound books. I'm a witness to his generosity, as he gave them away to loved ones he knew would appreciate their emotional as well as intellectual value. I am the recipient of many of my favorite authors' first editions, some dating back to 1867, as well as beautifully bound volumes from Emerson, Thoreau, Samuel Johnson, Montaigne, Emily Dickinson, D.H. Lawrence and Cicero. I even have a beautiful leather-bound first edition of Harper Lee's To Kill a Mockingbird. Her epigraph touches me, as I know it made Peter grin: "Lawyers, I suppose, were children once." —Charles Lamb.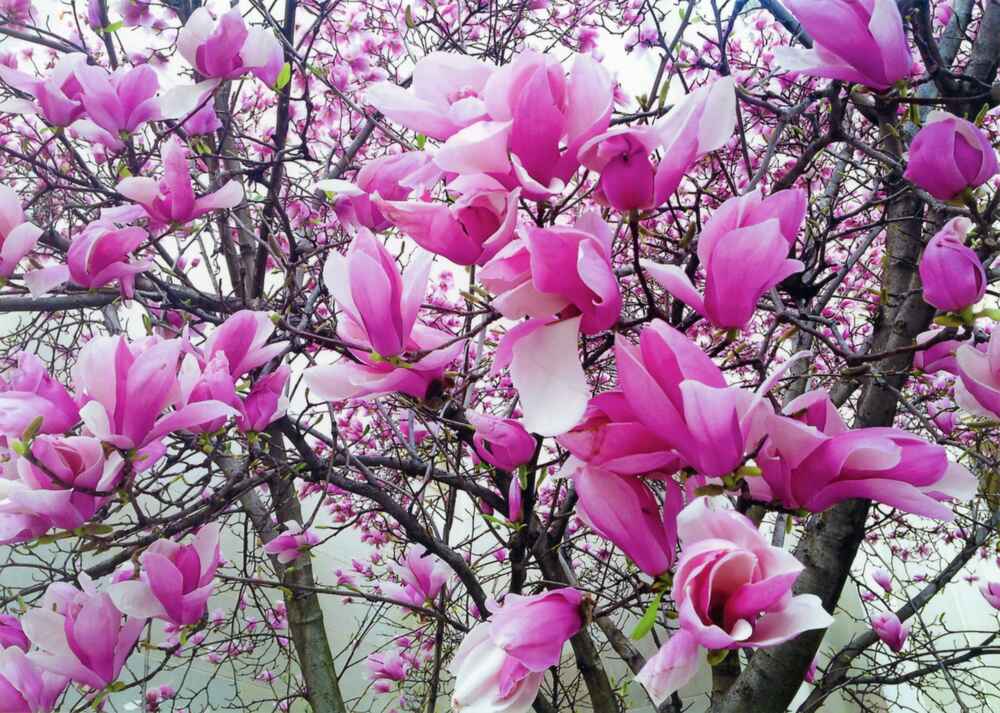 The Gift of Literature
One of the greater blessings that I've discovered from this once-in-a-century pandemic is spending long, indefinite stretches of time and gratitude at home, uninterrupted. I'm revisiting my book friends in our shared working library in Peter's spacious writing room. Thanks to Cooper's vision as my librarian, the library brings "elegance, order, beauty and joy to every day," which was the focus of my book Living a Beautiful Life.
Since Peter died, I have tidied up my bedroom by bringing the books I've read to his room. However, with his desk cluttered with my writing, I've begun using the floor to stack these piles, because I've run out of bookcase space.
Ah, deep breath. Now I can relax, seated in his chair at his large French Provincial desk we now use as a research table. I can soak in his view of Narragansett Bay from his perspective while also observing our collective reading history, musing about what will beckon me to reread next.
Many friends have shared with me that they are rereading some of the books I wrote thirty-plus years ago. We open our hearts and senses through more a more mature lens now, seeing, feeling, wondering and understanding with a nuanced appreciation why we turn to books for inspiration and guidance during this changed reality.
Candice wrote to me that she hadn't read Emerson's "The Over-Soul" since college, remembering that great literature is not only timeless, but takes us out of time.
As I wrote in Gift of a Letter, a sincere letter sent out to a friend is a gift we give to ourselves. We bring the person we love into our hearts in a one-on-one, immediate, intimate conversation. After Candice's mother died, she started writing daily letters to her. One of my current working manuscripts is called Men in My Life: A Love Story, and it is a collection of love letters to important people in my life, from Aristotle to Peter to the Dalai Lama. It is not yet published, but it was a joy to write. Dead people aren't dead if you love them.
On June 26, 1987, Peter tucked a letter to me in a book, written on his engraved Tiffany correspondence paper. I rediscovered it for the first time since he wrote it. This is no ordinary book, but Ralph Waldo Emerson's May-Day and Other Pieces, a first edition.
Here is the note: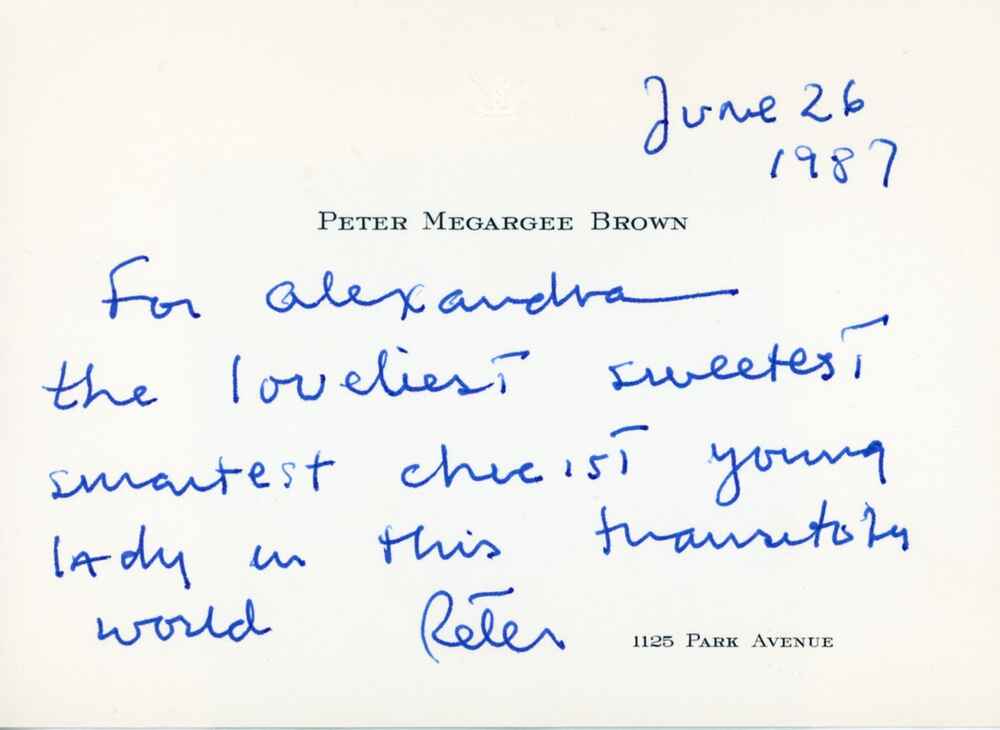 Because this is the merry month of May, I feel it is appropriate to quote part of Emerson's "May-Day," written over 150 years ago.
Daughter of Heaven and Earth, coy Spring,
With sudden passion languishing,
Maketh all things softly smile,
Painteth pictures mile on mile…
Beneath the calm, within the light,
A hid unruly appetite
Of swifter life, a surer hope,
Strains every sense to larger scope,
Impatient to anticipate
The halting steps of aged Fate. …
Under gentle types, my Spring
Masks the might of Nature's king,
An energy that searches thorough
From Chaos to the dawning morrow;
Into all our human plight,
The soul's pilgrimage and flight;
In city or in solitude,
Step by step, lifts bad to good,
Without halting, without rest,
Lifting Better up to Best;
Planting seeds of knowledge pure,
Through earth to ripen, through heaven endure.
What a gift of literature.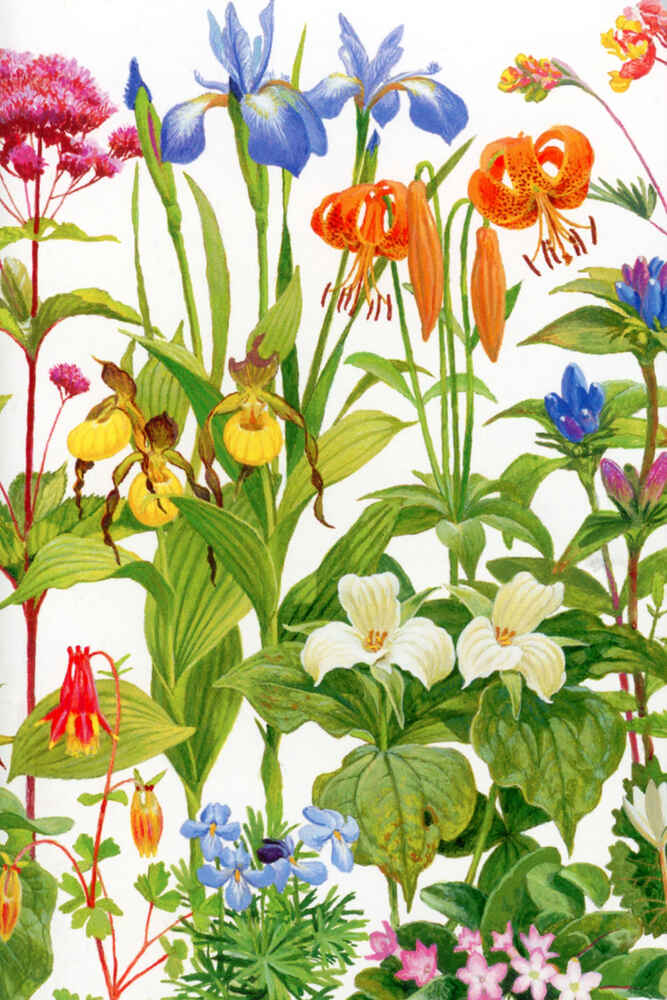 Spring Is Our Hope
At the end of April, one year ago, as many of you recall, I skidded on a wet, slimy ramp on Sixth Avenue in the pouring rain, cheek by jowl with the after-theater crowd. My hip broke in two, I had surgery, and I spent half of May in a rehab in New York City. It's useful to remember that we are strong and we are resilient. I was tenaciously determined to heal rapidly in order for me to be allowed to climb the thirteen stairs to my bedroom and our writing rooms.
How fortunate it was that this hiccup happened before the COVID-19 virus took flight, literally, taking over healthy lives all over the world. Brooke, Cooper and Alexandra were there at my side, taking care of my every need. Alexandra drove me home to the cottage, and we were greeted by our resident cardinal, Peter's presence to welcome me home. And it was spring. And it is now spring. I have a new hip, and I'm hip.
We are in the process of renewal, rebirth and fresh beginnings. Spring is our hope, our faith and our promise. We plant seeds and become co-creators and propagators.
Because of my awakening in my mother's gloriously exuberant flower garden at age three, flowers remain the constant uplifting inspiration in my life. Some feel this passion for their pets; others find this life-enhancing feeling in music. I need flowers for my soul, much in the same way I need food to nourish my body.
As I've been loving up every corner and surface of the cottage, I've come across little treasures tucked away. One rediscovery is a pocket-size notebook with lovely native wildflowers on the cover. Inside are four quotations to remind us how blessed we are to be surrounded by wondrously, sensuously beautiful sights wherever we wander with our feet on the ground when we go for our walks.
We can smile through our masks, put our hand over our heart and join our hands in prayer, as we bow down to nature and our socially distant family and neighbors.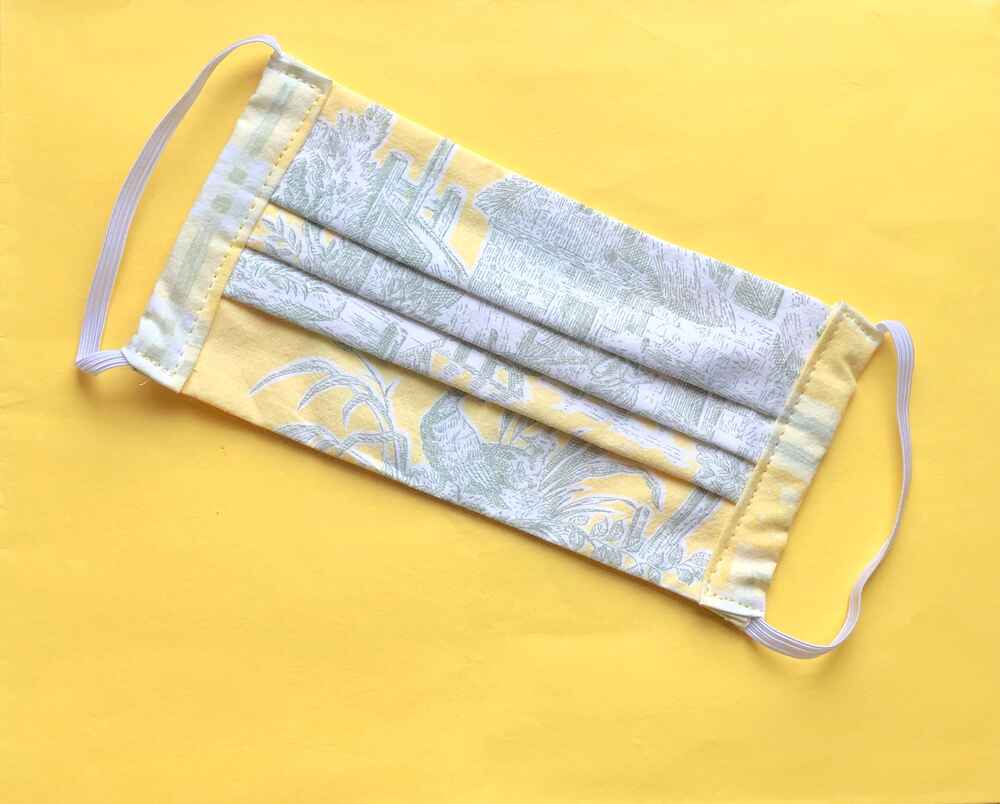 Be a Good Human Being
April is, indeed, the cruelest month. All month long we have heard the agonizing news of this highly contagious virus that is sickening and killing innocent men, women and children. When I heard that an adorable five-year-old had died from COVID-19 because she caught it from either her mother or father—both worked on the front lines in the police and fire departments in Michigan—I wept. That little girl and her parents became my family, even though I've never met them.
What can we do for others when we hear of tragedies like this? We can pray for the world population. We can do whatever it takes to be personally responsible for our own actions and work to not harm another person. We can make masks. We can give blood. We can send letters of thanks and gratitude to people. We can respect the guidelines to keep others safe.
What have we learned this past cruel month? I listen to Governor Andrew Cuomo, who speaks truth to power. He tells us how tough our lives are and will be indefinitely, as he praised New Yorkers' grit, strength and willingness to stay home, stay safe and flatten the curve. We are facing May with trepidation. If economic pressures take priority over the health and lives of our fellow Americans, we are in more serious trouble than we can even imagine. The virus is the boss. Governor Cuomo told us that New Yorkers changed reality with their sacrifices.
Our planet has suffered because of human irresponsibility and our feelings of ownership and entitled domination. For the first time in our lives we are experiencing clear skies and waters that were once full of smog and pollution. Inequality is in our face now. We are called upon to wake up. To rise up. When life is difficult, when there is no magical, colorful rainbow in the sunny sky, we become the rainbow.
We can do whatever is necessary to accept what we have no control over, remembering what is and what remains in our power. "The most important thing is to be a good human being," according to His Holiness the Dalai Lama.
Dr. Leana Wen, an infectious disease expert, is a hero who reminds us that we are all in the same boat. She and her husband have a toddler and a newborn baby born during the pandemic. Meanwhile, she remains a voice of reason on national TV, reminding us that most of us are doing our best under these once-in-a-lifetime circumstances. We can all help out in our own ways. She believes we should give ourselves some grace if things don't work out exactly as we'd like them to.
Rethink Everything
Starting today, my daughter Brooke, her husband Tony and our granddaughter Cooper will be living with me at the cottage until further notice. They're leaving their friends' house next door on Harmony Street. Harmony. It's all good. We have to figure out three school and work stations for them. I have bought two refrigerators. The cellar and parts of "Three" will become an exercise area and accommodate our supplies.
As my late mentor and boss Mrs. Brown always reminded her designers, "When one thing changes, we have to rethink everything." This shift in living arrangements has provided me with a life review. As the pandemic has turned the old world upside down, I have reorganized, rearranged, rethought and revived our spaces to make us all comfortable. Remember, the process is the reality.
Thank you for each of your beautiful letters. I intend to answer some of your questions soon. First, I have to put some order to the relocation of my spaces in order to feel on top of my corners of the cottage. I welcome your support and insights. Feel free to question me, because I have an open mind and heart.
In closing, know that I am here for you. We are good friends who help each other live up to the excellence that is the essence of our character. Shine your brilliant light far, wide and joyfully. The world weeps, and it needs you now. Spirit hugs.

"Our original guiding stars are struggle and hope."
—Pablo Neruda
This is my letter to the World
That never wrote to Me —
The simple News that Nature told —
With tender Majesty
Her Message is committed
To Hands I cannot see —
For love of Her — Sweet — countrymen —
Judge tenderly — of Me
—Emily Dickinson
There are always flowers for those who want to see them.
–Henri Matisse
Those who contemplate the beauty of the earth find reserves of strength that will endure as long as life lasts.
There is something infinitely healing in the repreated refrains of nature—the aurance that dawn comes after night, and spring after winter.
—Rachel Carson, Silent Spring
Earth laughs in flowers.
—Ralph Waldo Emerson
Flowers grow out of dark moments.
—Corita Kent