Dear Friend
I hope you had a happy Thanksgiving, grateful for all your family, friends and loved ones near and far. Peter and I visited our daughter Alexandra and her husband Peter Scott with their three precious children. We couldn't have had a more fun visit. Our son-in-law masterfully cooked a banquet for Thanksgiving dinner while we played with Nicholas, Anna and Lily. I spent lots of time with Alexandra, who is the best, most fun, person to be with – always funny, always profound.
More good news Things I Want My Daughters to Know went back to press for a fourth printing! The Los Angeles Times has it on their best seller list with these words, "Wisdom to help enrich your soul to enable joyful living!" I'm jumping for joy. I wrote it directly to my daughters Alexandra and Brooke. I believe that of all my books, this one may be the most powerful. What do you think?
We've loved our book tour. We've spent time with friends all over the country. In Portland, Oregon, we raised money for grants to help families with adoption. We were visited by happy friends and readers who came great distances to be with us. I hadn't been on the West Coast in a while and it was wonderful to be back.
So many friends surprised me by coming to my talks. This has been such a gift. As much as I love our apartment and our cottage, our travels were exhilarating, and we found that the more cities and towns we visited, and the more people we met, the greater our energy. We were doing what we choose to do and we were so happy to have so much pleasure.
In December I will be doing a lot of radio shows – something I enjoy because there's more tome than on a television appearance to discuss topics in depth. So far, the number one favorite essay from Things I Want My Daughters to Know of television and radio hosts is "The Five-Hour Rule." Everyone agrees this goes both ways. After five hours, you've spent enough time talking, listening, having something wonderful to eat and drink – after that, your energy lags, your concentration goes, and you've completely lost your focus. Five good continuous hours is a lot of time. I'm thrilled that the book is so well received and I will continue to go wherever I'm asked to talk and "talk up" Things I Want My Daughters to Know: A Small Book about the Big Issues in Life.
Peter and I are having a family party to celebrate the lighting of the trees on Park Avenue. The street will be closed to traffic, several churches combine their choirs, and parents and children gather to sing carols leading to the magic moment of the lighting – "Let there be light!" This is a tradition that brings back memories of our young children being so excited about the wonder of the holiday season.
Time Alive: Celebrate Your Life Every Day goes to the publisher mid-December. There is always a time of transition when I stop writing and re-writing and I let go and let my literary agent and my editor have a look. I feel extremely comfortable with my new writing format of essays. This is extremely liberating for me as the writer and also for the reader. I can write one essay at a sitting – you can read one at a time – and think about the message, feeling satisfied you've read a short story or piece with a beginning and an end.
As you celebrate this holiday season, I hope your heart will be increasingly filled with love. Peter and I are off to Hong Kong for ten days. We're not able to be with the grandchildren because we need to share them with their other grandparents. In over 30 years, this will be the first time we haven't been with our children. It's about time! We're going to be able to be with everyone in spirit and spend time away, together. I'll be working on my new book about friends. After an intensely busy fall, this escape will give us the perfect balance we need.
Great love to you and your loved ones. Remember to "open presents slowly" and don't forget the "Five-hour Rule." And I can assure you I'm going to "Travel Heavy."
Love December fully and Happy New Year!


P.S.: Please do come to the Alexandra Stoddard Happiness Weekend at the Inn at Stonington on January 28th, 29th, and 30th, 2005. Peter and I will welcome you with outstretched arms. We are looking forward to a weekend of great joy, celebration and community. (Please visit the Calendar section of the Website for more details about this event.)
Book of the Month
Surprise!
Things I Want My Daughters to Know
: If you'd like me to personalize copies for holiday gifts, there is a wonderful little shop in New York, The Lenox Hill Bookstore, on Lexington Avenue and 73rd Street, that has plenty of copies of my book. I go there often to autograph and personalize copies to send out-of-town. Their telephone number is (212)472-7170; ask for Jeannine and she will assist you.
The Inn at Stonington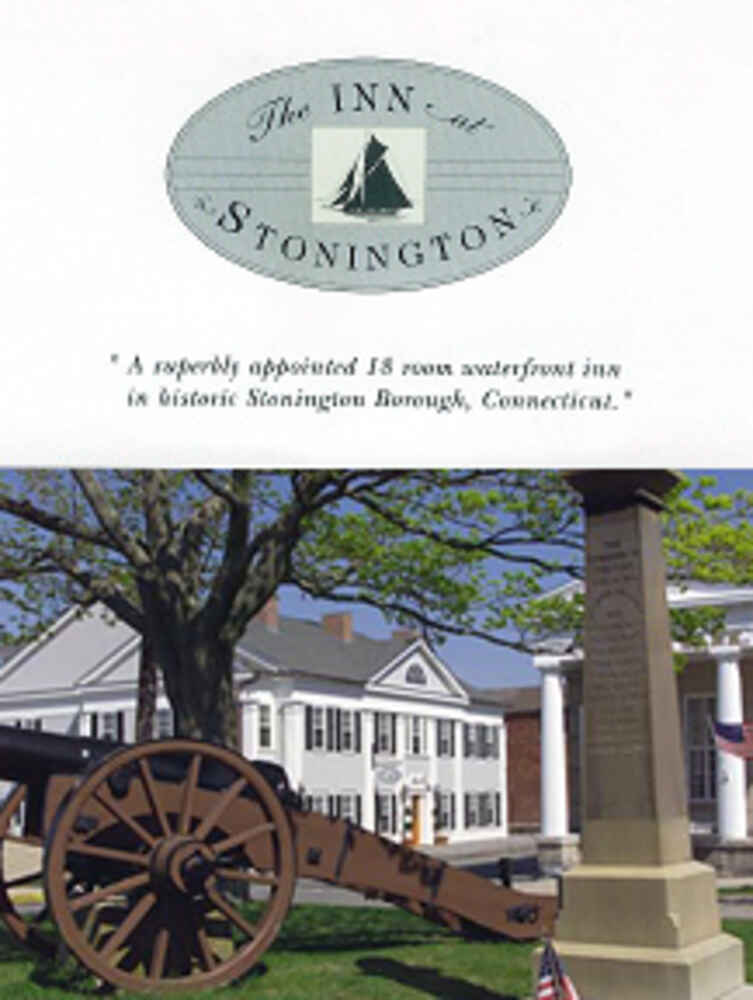 Don't miss the next Happiness Weekend with Alexandra, January 28th, 29th and 30th, 2005!
Wedding Day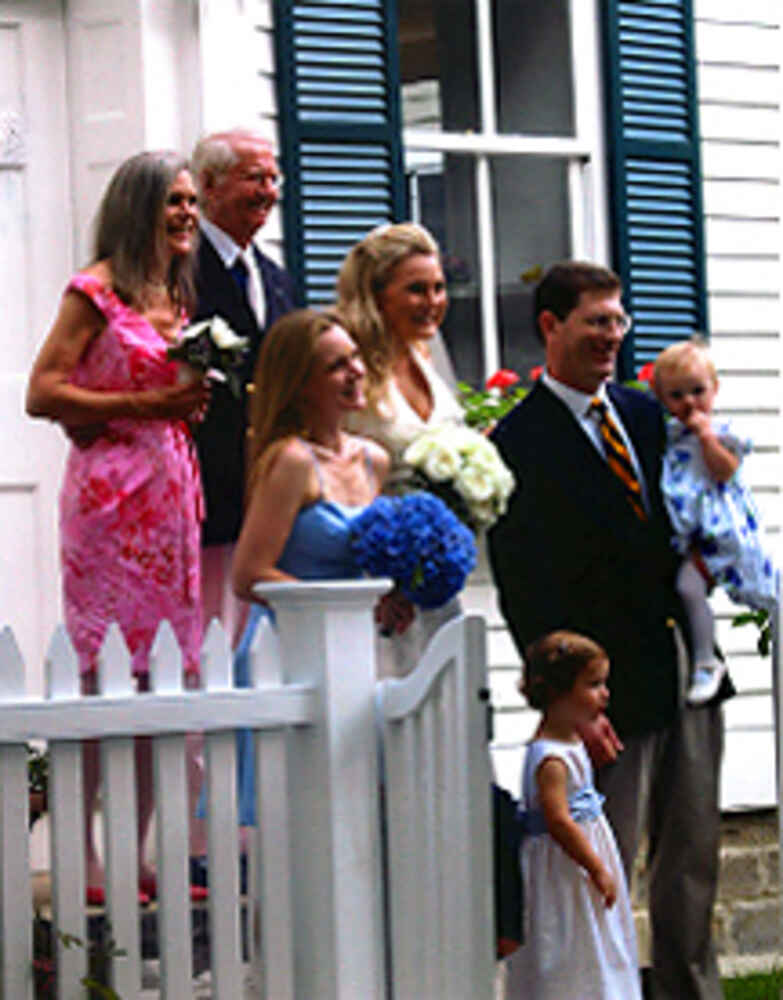 Brooke's wedding day on her way to Calvery Church around the corner from our house. Alexandra and Peter, Alexandra B., Brooke (the bride), Nicholas (behind the fence), his twin sister Anna, and Peter Scott Roberson gently carrying Lily
Alexandra and her Roses!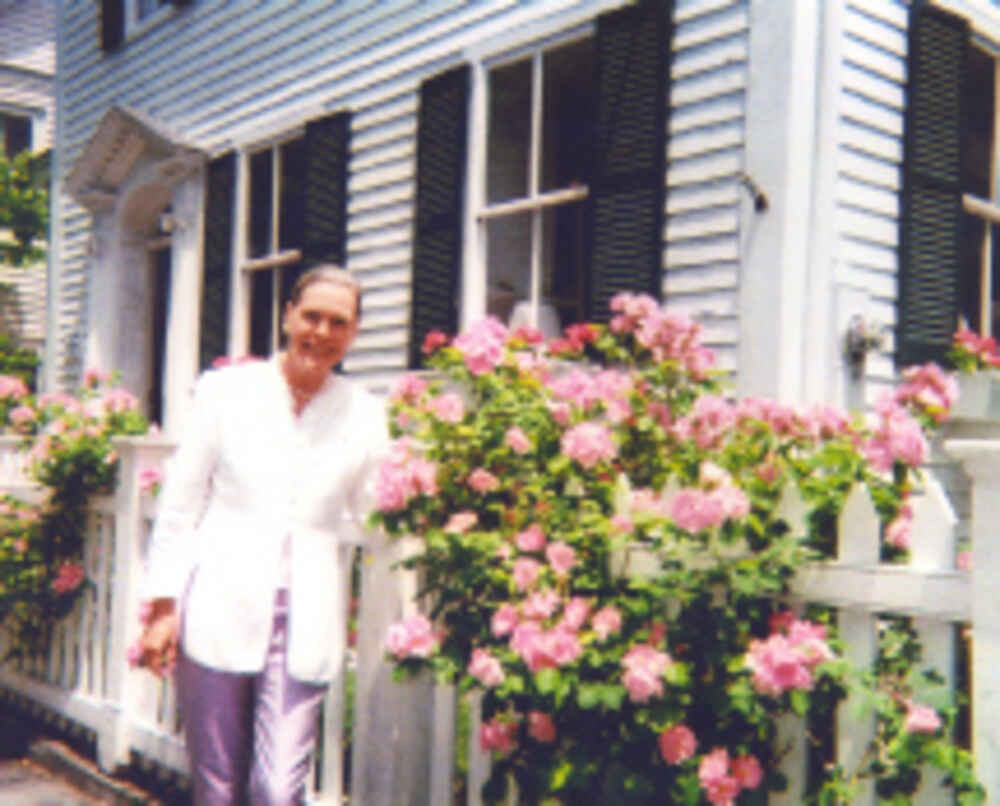 Mrs. Brown's Table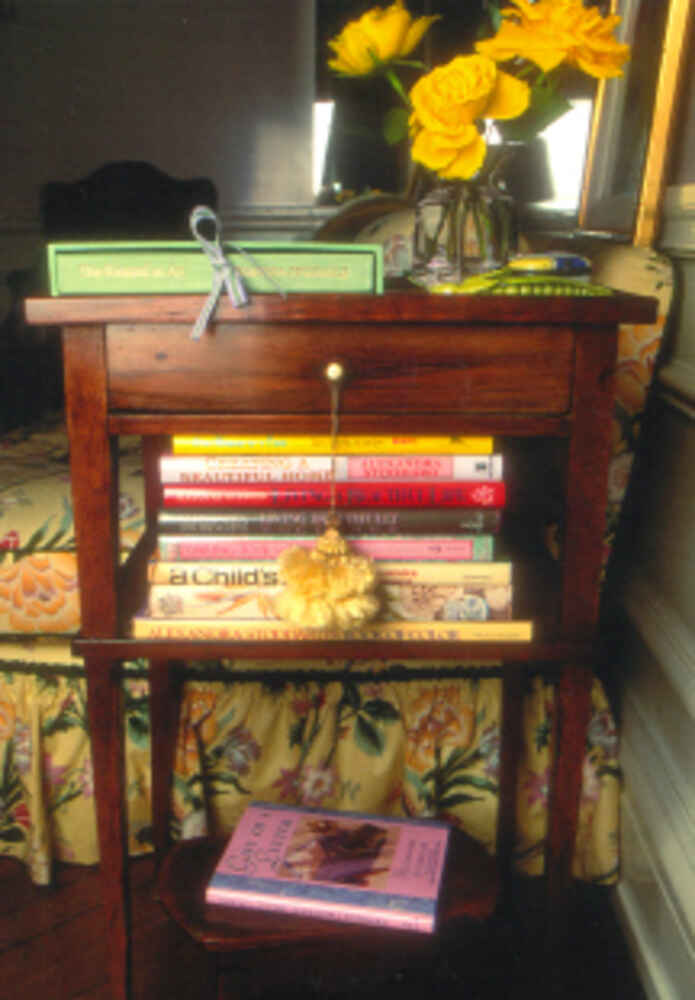 Good News! Levenger has brought the Mrs. Brown table back. Call toll free (800) 544-0880 to get their gorgeous complimentary spring catalogue. Turn to page 43! Choose dark or natural cherry finish.
Grace Note
An abundance mentality flows out of a deep inner sense of personal worth and security. It stems from the paradigm that there's plenty out there ... and enough to spare for everybody. It opens possibilities, options, alternatives and creativity.
Stephen R. Covey
(Suggested to me in a letter from Jill Hartman)