Alexandra will be doing a news spot at 7:15 AM SHARP this Saturday, March 5th on Channel 8, WTNH. She will discuss the happiness philosophy, Choosing Happiness and Things I Want My Daughters to Know.
Please watch and tell your friends!
Dear Friend
February was a spectacular month full of love, happiness and good news. Peter and I were with our grandchildren for Valentines' Day. We made valentines and baked cookies. Nicholas and Anna go to preschool, where I was able to experience their glee as they danced, sang, did art projects and gave their friends valentines at a party at the end of the school day.
Lily is one and a half and keeps up with the twins who are almost three and a half. She calls me, "Big Moma" and "Big Mommy," and "Peter Rabbit" for Peter has been shortened to "Rabbit;" she says this with a giggle because she knows he's not a rabbit! Great fun had by all!
On February 15th Time Alive: Celebrate Your Life Every Day went into production on time! We now have Ginger – my favorite copy-editor – to work on the final manuscript. I'm thrilled that my twenty-fourth book will be published in October, 2005. I continued the same "essay-style" as Things I Want My Daughters to Know. Time Alive has 80 essays ranging in subjects about all significant aspects of our lives – time, home, style, enthusiasm, caring, purpose and spirit! What's so exciting is that this book is so timely! As the doctors and scientists have finally begun to research happiness, more people will understand the positive benefits of being optimistic, in taking pleasure in the little details of life, in savoring the moment. Focusing on what is true, good and positive about our life makes our time alive more powerful, more productive, more pleasant.
More good news:
Things I Want My Daughters to Know
is being published in China as well as Portugal, and
Choosing Happiness
has gone back to press for a thirteenth printing!
February got off to a great start because of the joy we all experienced at the third Happiness Weekend on January 28th, 29th and 30th. We were blessed with brilliant sunshine and pure snow. Sunday at the cottage a dear friend sent me a fax that she'd sent Saturday morning but I hadn't checked the machine. I'm sharing her kind, loving message with you. I cried when I read it. I read it to everyone before they left. I met Mary Ann at a fundraiser in Jackson, Mississippi, in 1990. We've been dear friends ever since. Photos of their lovely home "Swan Lake" have been on the website. Mary Ann wrote:
Dear Alexandra and Pierre: Anky [Mary Ann's husband -- a highly regarded surgeon] and I are thinking of you and wishing we could be there [at the Happiness Weekend]. He is making "rounds"
and is on-call (or we would be there) all weekend. What a treat in the midst of this bleak, cold winter to share your warm, loving presence with others so that there is always sunshine wherever you are.
You picture was terrific in Vanity Fair. I do hope you received pictures and slides of "Swan Lake" sent to you several months ago. Anky is reading Myths of Light by Joseph Campbell. I am reading Light and Liberty Reflections on the Pursuit of Happiness by Thomas Jefferson. One of my favorite quotes from his book: "Happiness is the aim of life. Virtue is the foundation of happiness ... The Giver of Life gave it for happiness."
Thank you for continuing to offer us the ingredients that lead to individual happiness. A toast to both of you and all the love and light you bring to all of us.
Signed, Mary Ann
A fine journalist, Eileen Fischer, came to the cottage Saturday morning with a camera and interviewed the attendees at the Happiness Weekend. The article began "Happiness is ... Stoddard opens her home for a weekend of joy." Eileen came to lunch and continued asking everyone questions about why they came, what they wanted to get out of the experience and how they knew about the event. She came to the seminar in the afternoon and caught the flavor of the experience. The article can be seen on the Inn at Stonington's website: www.innatstonington.com. There are some photos and you'll see daffodils in bloom with 18" of snow on the ground...
The great good news is we're having our fourth and Happiness Weekend on April 15th, 16th, and 17th. Peter and I hope you will mark your calendar and plan to come. I am sharing some of the sweet notes we received after the last Happiness Weekend in January, on this month's website pages.
Everyone raved about the classically handsome Inn a few blocks from our cottage in our seaside community. This last event brought 32 men and women from far and wide across the country to participate joyously in talk, great meals, site-seeing, visits to the cottage, and tehwarmth and charm of the Inn.
Eileen quoted me, "The place to lead a happy life is now and here, not later; a happy life must include a BALANCE between caring for others and nurturing yourself ... Live a big life and don't be afraid." Come expereince the happiness. Meet wonderful new friends and refresh your spirit so you can go back to your family and community to spread happiness and love.
We're having our 6th Happiness Weekend on May 13th, 14th and 15th. For more details about both weekends, please call the Inn at Stonington at 860-535-2000. The staff and facilities are tops!
Remember to look for photos of the cottage in Country Living magazine that hits the newstand March 8th. I've seen the layout and it is scruptious. The title is A Colorful Life.
If you don't already get Levenger's catalogue, please ask for a copy of book 5. As you know, they reproduced Mrs. Brown's table at a neat price. They're doing a wonderful Mother's Day celebration with Things I Want My Daughters to Know and quotes from the book in 3x5 cards in an apple green leather case. You'll be surprised by joy!
We went to Florida the end of February to visit dear freinds in Sanibel and then on to Naples to give eight talks with six slide presentations.
Happy March. We hope we'll see many of you in San Francisco and McLean, Virginia, this month.
Thank you for your belief in me and your support of my message. I'm going to end with a nice review of Things I Want My Daughters to Know.
Great love to you.
Alexandra Stoddard, author of Choosing Happiness dedicates this 'Small Book About the Big Issues in LIfe' to her own daughters, whom she consideres 'the most precious relationship life has provided.' Telling us that 'Truth evolves and is relative, always discovered and rediscovered', she offers insights to help daughters everywhere lead wise and happy lives.
These sage life lessons begin with 'Find Work You Love That Supports You Financially' and end with 'You Are Smarter and Wiser Than You Think' and, the finale, 'When You've Made Your Point, Sit Down." Each begins and ends with a relevant quotation (such as Emerson's Life is a succession of lessons which must be lived to be understood, J. Edward Lumbard's Don't assume a damn thing and Maya Angelou's A day away acts as a spring tonic) and features a clear explanation and elaboration of the message. I especially like 'Travel Heavy,' 'Friends are our escape from the confines of function and position', 'Unplug', 'Promptness is a virtue', 'Every child is full of wisdom', 'Your happiness is up to you', 'Embrace change', and 'Your soul is not for sale.' But all the advice is sensible, intuitive, and positive.
I don't have daughters, but if I did, I would give each one a copy of Things I Want My Daughters to Know, a small collection of big ideas, valuable insights and priceless life lessons.

THANKS AND ACCOLADES SENT TO THE INN AT STONINGTON VIA EMAIL


Great thanks to you for a truly enjoyable weekend! Your gracious hospitality was so appreciated! We all had a divine time. And, I made new friends with similar interests…what a joy! Stonington Village is all you said it would be. The Inn was warm and charming. The food was delicious and the atmosphere magical! Your positive outlook, despite life's disappointments, is reflective in your radiant personalities. I consider it an honor to call you both friends… Kimberly

The graciousness, tenderness, and warmth of your hearts has made such a sweet impression in our hearts… and we are grateful to you. Many thanks to you both for making our first visit to Stonington such a happy and memorable one. Funny stories, good laughs, new friendships to treasure – all this amidst the beauty and coziness of your home! Your friendship, your message of happiness are dear to us…' Jackie & Paul

…our experience at Happiness Weekend in Stonington Village was heartwarming and special to us. We met many new sweet friends from all over the country and came together through your message of happiness and positive thinking. What a joy to be with you at the Inn as well as your colorful, cozy and charming cottage which you so graciously opened to all of us. We felt your warmth and true welcome… Lang and Jayne

I realize there is more opportunity for me to live mindfully, take more responsibility, value the happiness I have, inventory what I love, go within, release guilt and choose happiness all the more… Carolyn

JANUARY HAPPINESS WEEKEND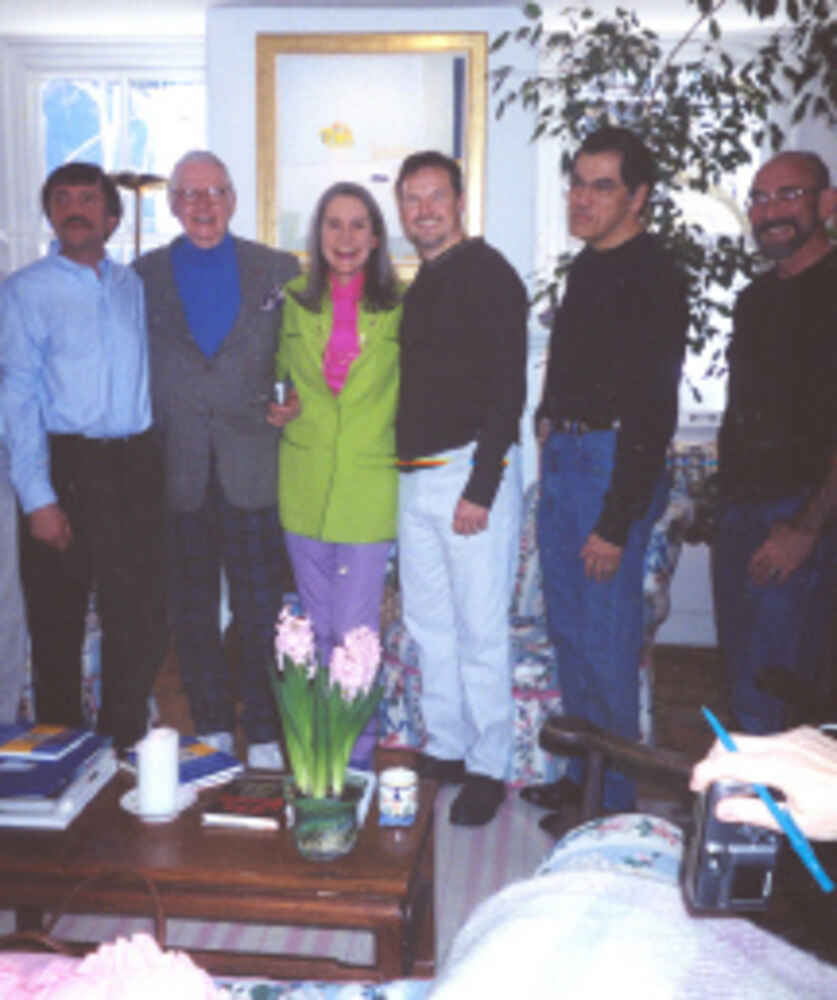 Dr. Peter, Peter Brown, Alexandra, Stephen, Manuel and Jim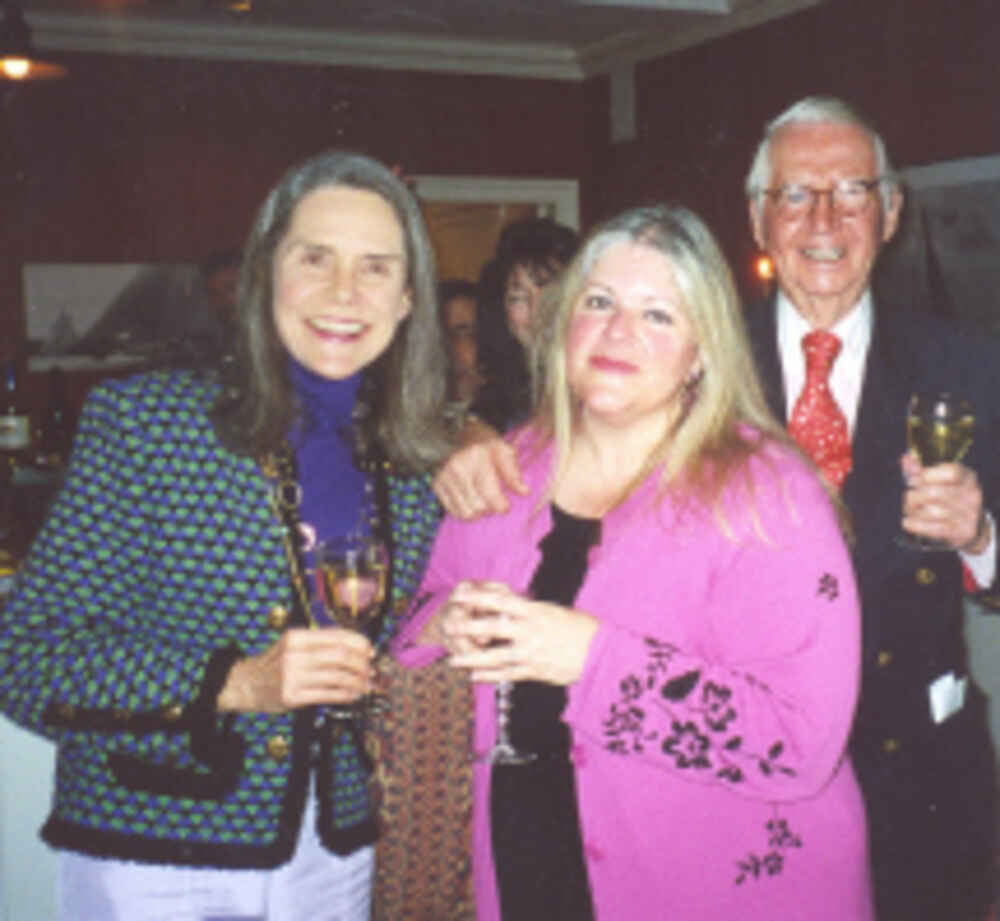 Alexandra and Peter greet Jennifer from Nantucket, Massachusetts, at the Welcome Reception at the Inn on January 28th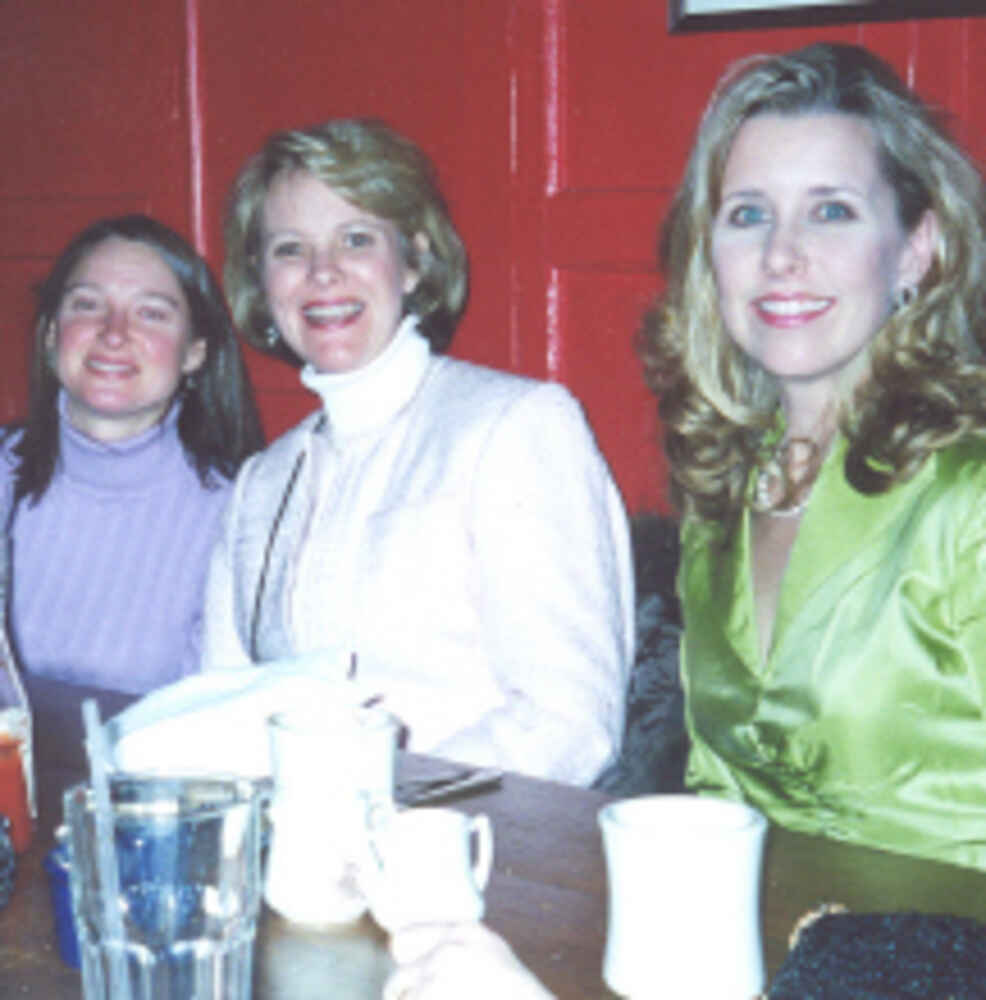 Happy Dinner Party at Stonington's Water Street Cafe: Coleen (North Stonington, CT), Lynn (Nashville, TN) and Kimberly (Nashville, TN)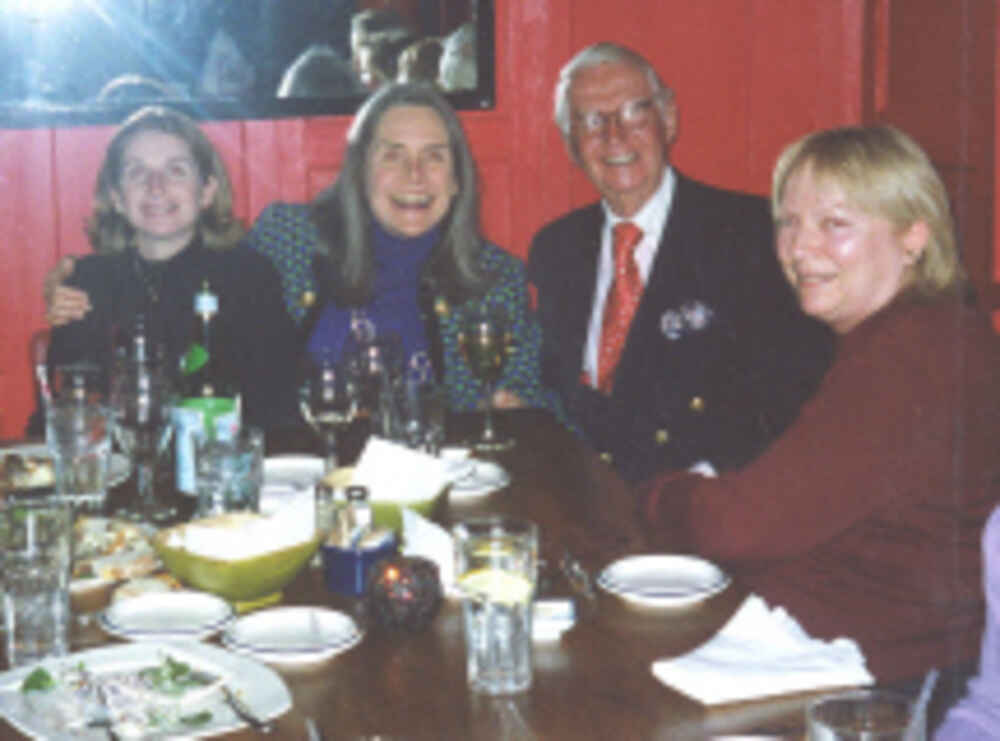 Our friend and waiter, Ken, tells us a joke as he photographs us at the Water Street Cafe in Stonington. Carolyne (Naples, FL), Alexandra and Peter, Peggy (Old Lyme, CT)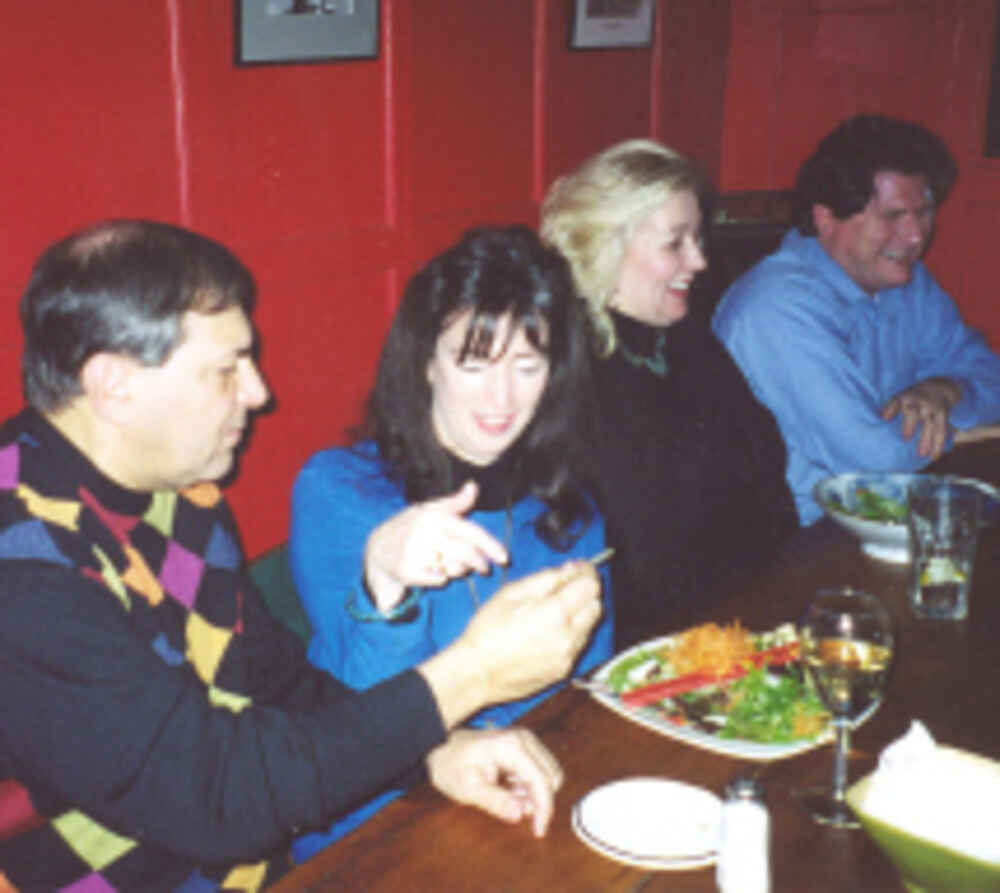 Enjoying dinner together at Water Street Cafe in Stonington: Jim & Elisabeth (Massachusetts)and Debra & Paul (Indianapolis)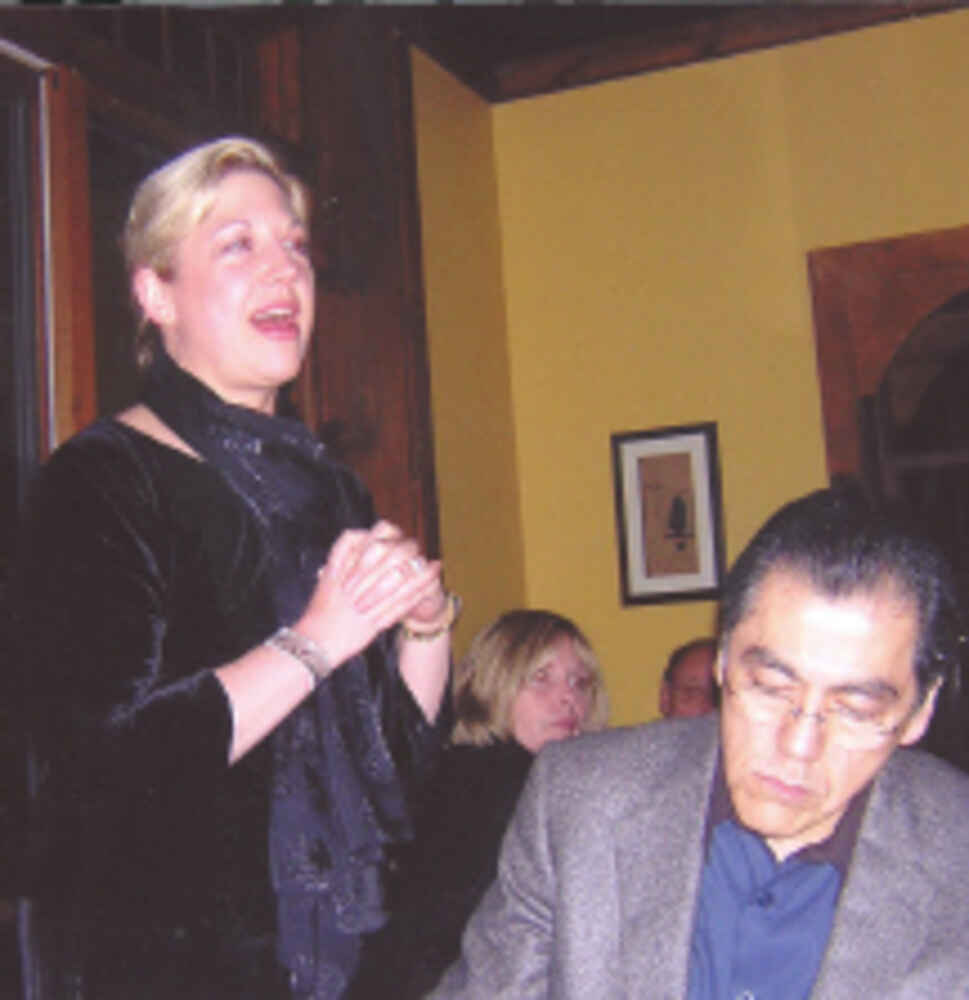 Dr. Lisa delights the Happiness Group with a witty toast at Upriver Cafe in nearby Westerly, Rhode Island, while her husband, Dr. Manuel, prepares his own rejoinder.
Happiness Weekends Planned for April and May!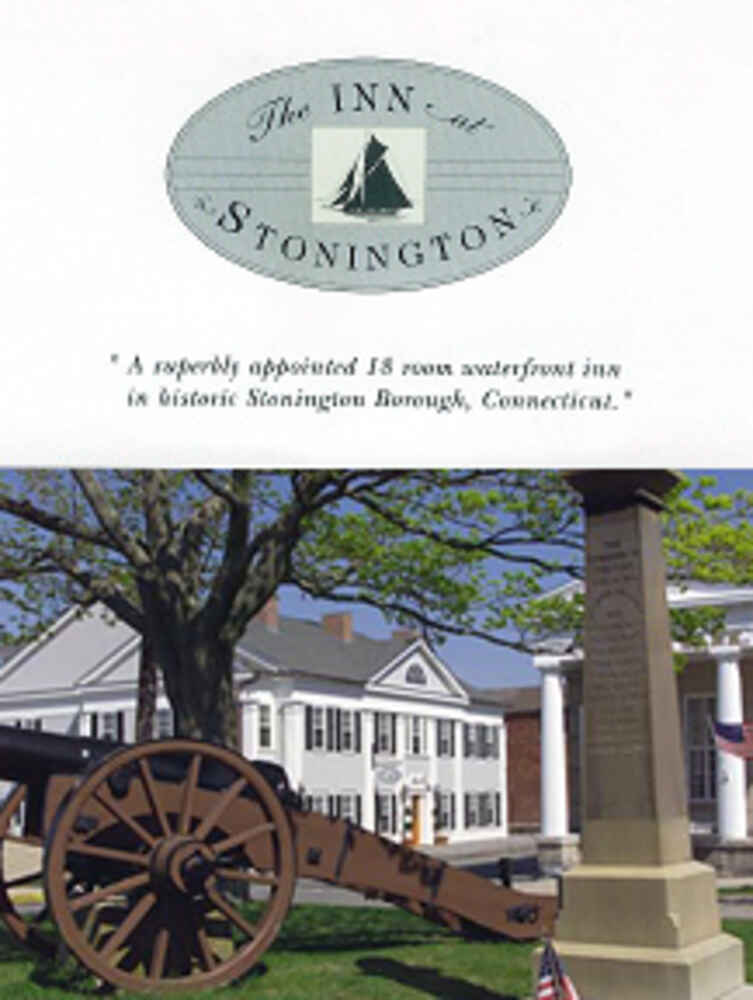 Alexandra will be having a Happiness Weekend April 15th, 16th and 17th and a May Happiness Weekend on the 13th, 14th and 15th. Call Anne at the Inn at Stonington for details. Plan to come. It's a fabulous weekend!
Mrs. Brown's Table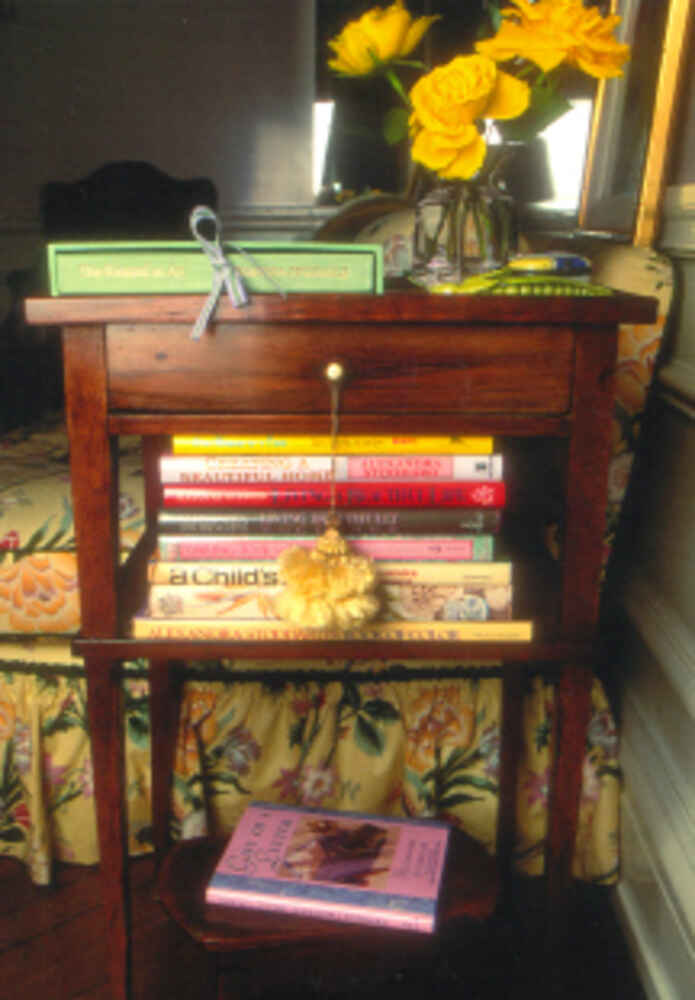 Good News! Levenger has brought the Mrs. Brown table back. Call toll free (800) 544-0880 to get their gorgeous complimentary spring catalogue. Turn to page 43! Choose dark or natural cherry finish.
A note from Sharon & Peter
Dear Alexandra, Thank you very much for the most lovely weekend! You inspired all of us to live our best lives & to have fun! You truly live your message of love. Your love for all shows in all you do for others. We enjoyed meeting everyone and felt close by the end of the weekend. Your beautiful home is bright, colorful and has great energy! The "happiness" weekend is a good thing -- we hope to meet again next time. Peter, we enjoy you very much! Your wit,intelligence and grace are a special gift you have! Thank you again for your friendship Alexandra and Peter! We are so fortunate to have you in our lives!
A note from "Queen" Jean
Dear Alexandra and Peter, Thanks for creating such a wonderful, loving atmosphere for the Happiness Weekend! You were both so generous with your time and attention. It was a privilege to visit your home. I'll always remember the bliss on Lisa's face wrapped in your blankets next to the fire this past Saturday night.
Grace Note
"It is only with the heart that one can see rightly; what is essential is invisible to the eye."
Antoine de Saint-Exupery
(The Little Prince)