Alexandra will be doing a news spot at 7:15 AM SHARP on Mother's Day on Channel 8, WTNH. She will discuss her happiness and health philosophy. Please watch and tell your friends!
Don't miss the Late Spring Levenger catalog! Lovely daffodils and Things I Want My Daughters to Know are featured on the gorgeous cover! To order a free catalog, call 800.544.0880! You'll love this fabulous catalog of beautiful "can't live without" items!
Dear Friend

Happy April! How blessed we all are to anticipate the flowers blooming, the grass greening and the light of the sun to cheer us and extend our days. I think we had to have a late March snowstorm in order to fully appreciate the exuberance of spring.
We came to our cottage for a few cozy days, discovering snowdrops and crocus popping up through the snow. For all of you who come to the village for the happiness weekends, you are witness to the beauty of snow in an old fishing village. There is beauty to all seasons and I feel grateful to be able to enjoy the contrast between winter, spring, summer and fall.
March was a great month for Peter and me for many various and exciting reasons. We went to Sanibel Island, Florida, to visit dear friends before going to Naples to see more good friends. The warm, sunny weather, the water, and the colors were vivid and happy. I gave eight different talks, met people who were there from all over the country, and enjoyed breathtakingly beautiful sunsets as well as a full moon!
One memorable evening was a party in our honor at our friends Barbara and Garry's lovely home on the golf course overlooking the water. Barbara and Garry gave all of their guests signed copies of Peter's and my books as gifts. We met many new friends, several of whom plan to come to a Happiness Weekend this spring.
In Naples, Jayne and Lang invited our Sanibel friends for a house tour of their beautiful new home. Barbara and Garry's daughter Kate is a close friend of mine who came down to Sanibel for the festivities. She enjoyed seeing Jayne and Lang's house because she is studying at the New York School of Design in a big serious way. Kate makes me believe I had some influence in her passion for design and color. We had a great time together and she helped edit my slides for each talk in order to be sure each presentation was unique because many people came to every one.
My great delight was a luncheon party at The Dock overlooking the boats. This was my father's favorite restaurant. I hadn't been back since his death so this was a memorable, meaningful time of great celebration.
After several glorious days in Florida, we returned to New York to experience The Gates. I was fortunate to have a photojournalist, Claire Marie Panke, take a picture of Peter and me. We were moved beyond words at the mystery of experiencing Central Park in this celebratory way. I smiled in wonder, imagining His Holiness the Dalai Lama to come skipping through the gates with hundreds of monks in their saffron robes.
I had a celebration luncheon with my editor – a 24th book Time Alive is in production! It is due out in October so please keep me in mind for fall fundraisers. Also, we celebrated news that Choosing Happiness is now in a thirteenth printing! Wow! This couldn't make me happier because, as you all know, personal happiness is the key to transform the universal energy and spirit of our planet.
I've been asked back on live television on Mother's Day on Channel 8 (WTNH) in New Haven at 7:15 AM. Please tell your Connecticut friends and family. I'll talk about happiness and health. Thank you all for sending me research on happiness. I'm hungry to read and study everything I can get my hands on so please keep it coming.
Peter and I went back to Florida to a wonderful Writers' Conference in Fort Lauderdale. Each author went to a different high school. I was excited to teach honor English students at South Plantation High School. It was truly thrilling to listen to their questions and to remind them of their greatness and their divine potential. I am sharing some lovely photos of my new young friends on this month's website.
We then went to San Francisco for a week where I gave three lectures and judged twenty-three gardens at the San Francisco Flower and Garden Show. I enjoyed every minute of being at the show as well as having dinner with great friends at the Huntington Hotel. San Francisco is one of my favorite cities for culture, excitement and food. This seemed like a vacation because I was totally absorbed in doing exactly what I love to do.
If you haven't been to the San Francisco Conservatory of Flowers, you must plan to do this because you will be amazed at the beauty of room after room of old trees, flowering plants and natural beauty.
One of the highlights of y trip was to have two cousins surprise me and come to see me and hear my talk. One cousin took a picture of my nephew Doug Johns, who looks exactly like my brother Powell who died ten years ago while having open-heart surgery at age fifty-seven. Doug sent me this dear picture I now have in a frame (but have also shared on this month's Website).
To my great delight the new flower stamps are out! Can you believe my great good fortune to have a daffodil stamp to celebrate Things I Want My Daughters to Know. I love them all – the blue hyacinth, the red variegated tulip and the purple iris. Why put up with using ugly stamps!
Peter and I are preparing for the exciting Happiness Weekend, Friday April 15th, Saturday the 16th and Sunday the 17th. Please call the Inn at Stonington to inquire (860.535.2000). This is a wonderful way for us to spend a happy weekend together. Please plan to come to the April Happiness Weekend or the one on May 13th, 14th, and 15th. Come with an open heart and you'll leave with new, wonderful friends and lasting memories and happiness.
Also, please try to come to a luncheon and talk at the Mayflower Inn in Washington, Connecticut the day before Mother's Day. Bring friends. It should be a most beautiful experience.
Great love to you.


NOTES TO ALEXANDRA
Dear Alexandra and Peter: Thank you for such a beautiful weekend at your home in Stonington. The temperatures outside were cold and the village blanketed in beautiful snow, but the delicious hot chocolate, the sounds of Enya, and the colorful and vibrant flowers that graced your cozy fire-lit cottage, warmed us...mind, body and spirit.
Stephen and I came home refreshed and inspired to continue sharing the message of choosing happiness to our four children and community. The "Happiness Movement" has begun and we consider ourselves ambassadors to our Dallas community and to everyone Stephen comes into contact with all over the country with his work as a news photographer for CBS News. When I reflect on the two of you, the phrase that repeatedly comes to mind is "Open Hearts." So, thank you, Alexandra and Peter, for opening up not only your home, but your hearts and lives. Your impact on not only our family, but individuals all over the world, is immeasurable. We love you and look forward to seeing you again soon.
Signed Stephen and Tammy from Dallas
Dear Alexandra and Peter: Thank you so much for the wonderful weekend we just shared with you. I absolutely loved Stonington and the Inn at Stonington. You are very blessed to be there. I so enjoyed the visits within your home, shared conversations, wonderful dinners, and the warm fire and hot chocolate! You both are a true joy to know and are both very hospitable. A big thank you for the giving of yourselves to others. ... Once again, I enjoyed Happiness Weekend 2005! Signed Lynn from Nashville
Book Sale
Living a Beautiful Life
in hardcover makes a wonderful gift for a friend. The cover is lovely! $25.00 plus shipping and handling. To order it today, go to the Library section on this website!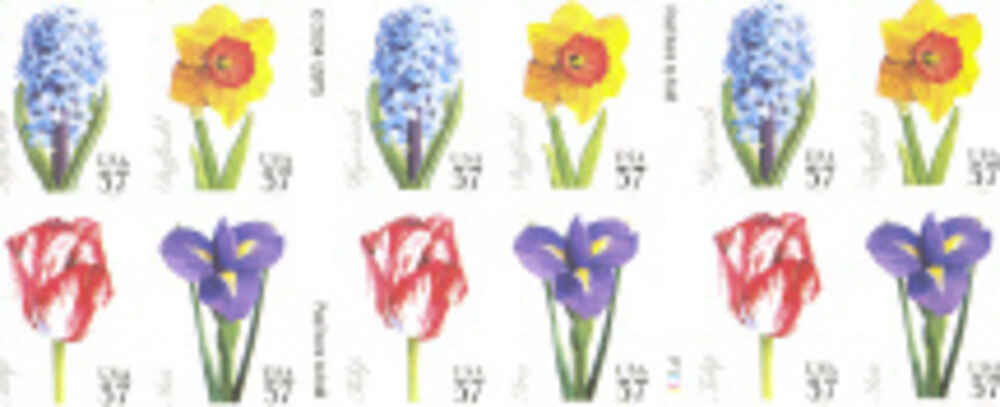 The beautiful new postage stamps recently released. What a lovely way to send a flower to a loved one!
The Gates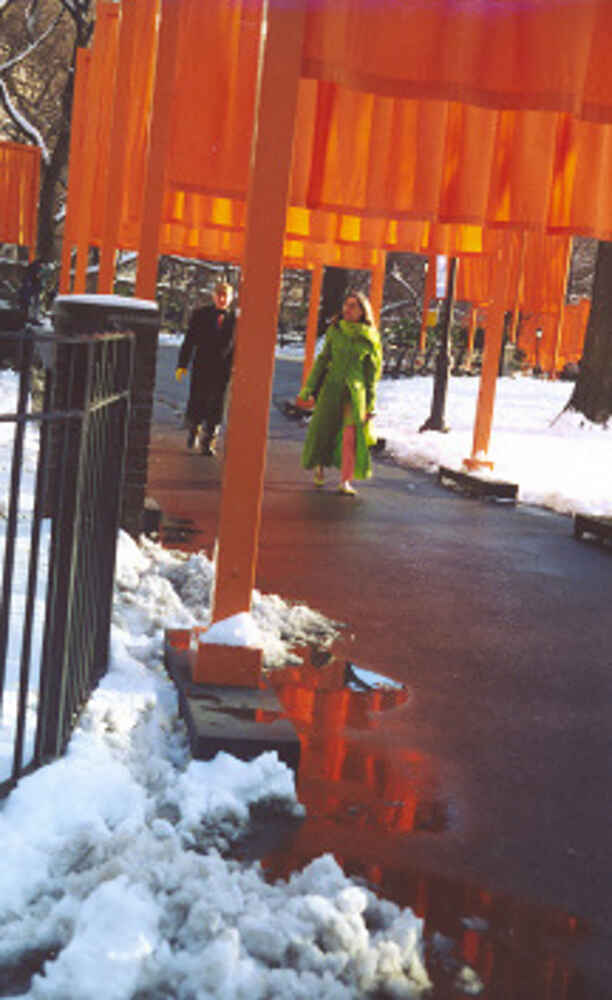 Peter and Alexandra stroll through Central Park to view the fabulous orange "Gates."
Autumn Tea Party and Talk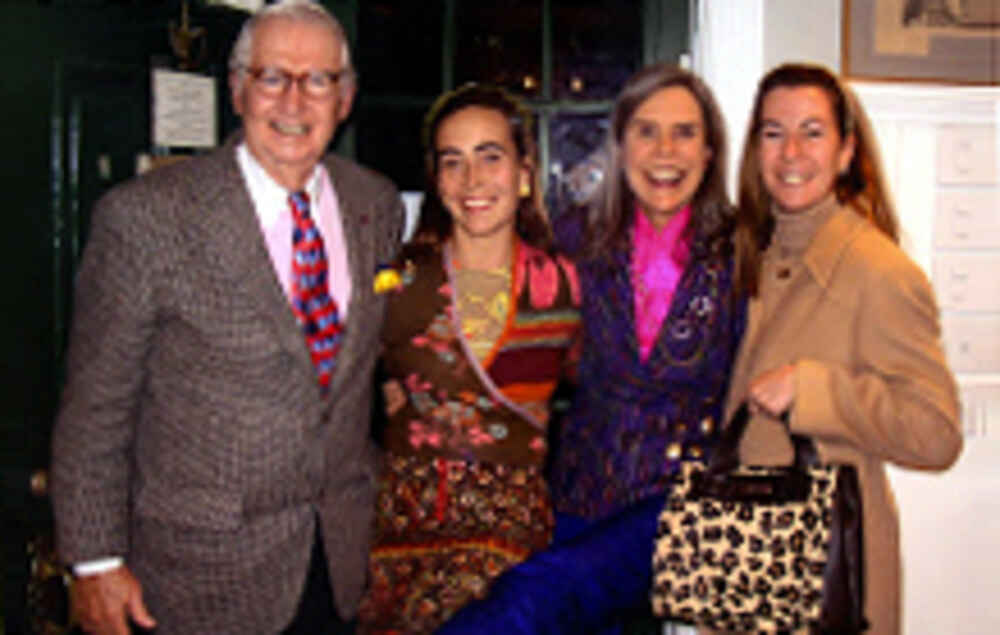 Peter, Robin, Alexandra and Marlene at the lovely Wenham Tea House in Hamilton, Massachusetts.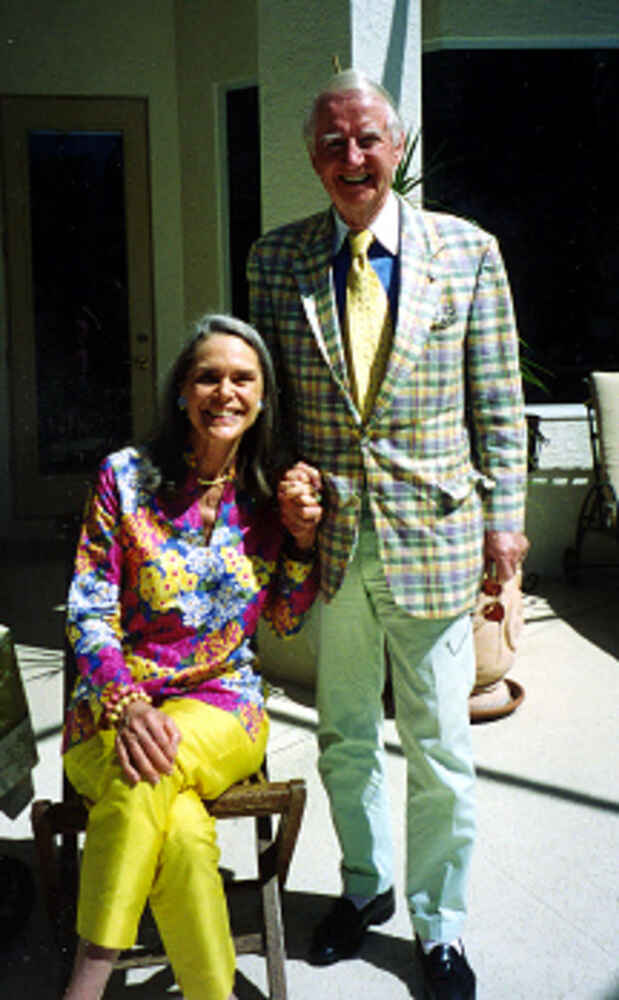 Alexandra and Peter arrive in sunny South Florida for a series of seminars in March 2005.
South Plantation High School in Fort Lauderdale
Alexandra had a fabulous day sharing her inspirational message of happiness and positive thinking with a group of English students who were the first place winners of the school literary fair. (More photos included on the Calendar Page.)
San Francisco Flower & Garden Show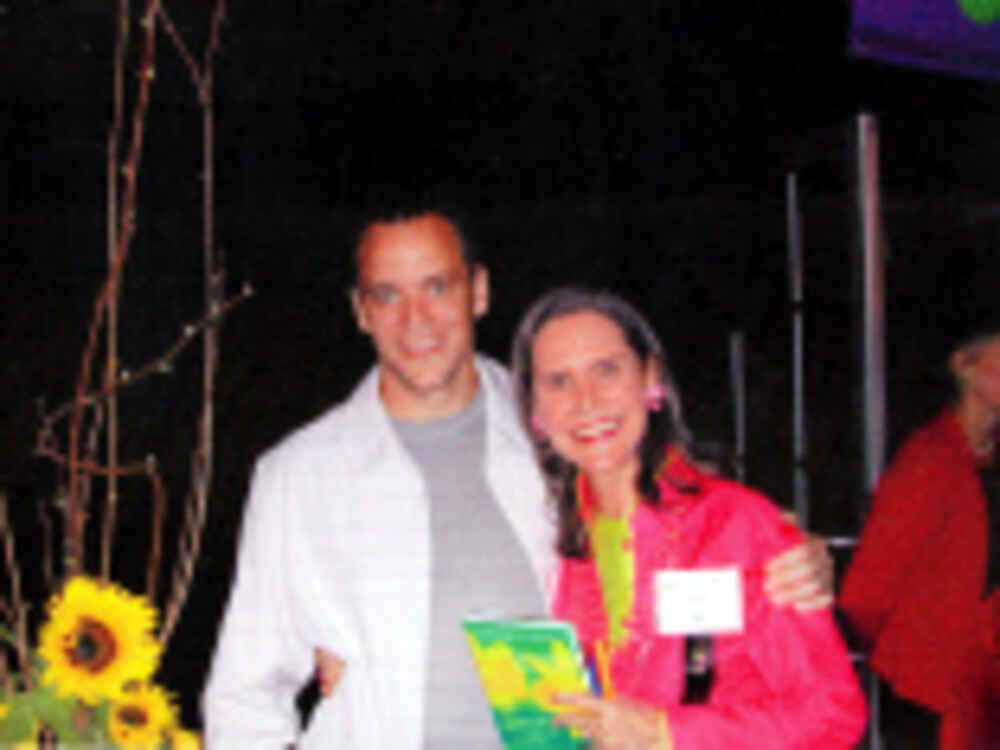 Alexandra received a wonderful surprise visit from her nephew, Landscape Architect Doug Johns, while judging the San Francisco Flower and Garden Show
Naples Florida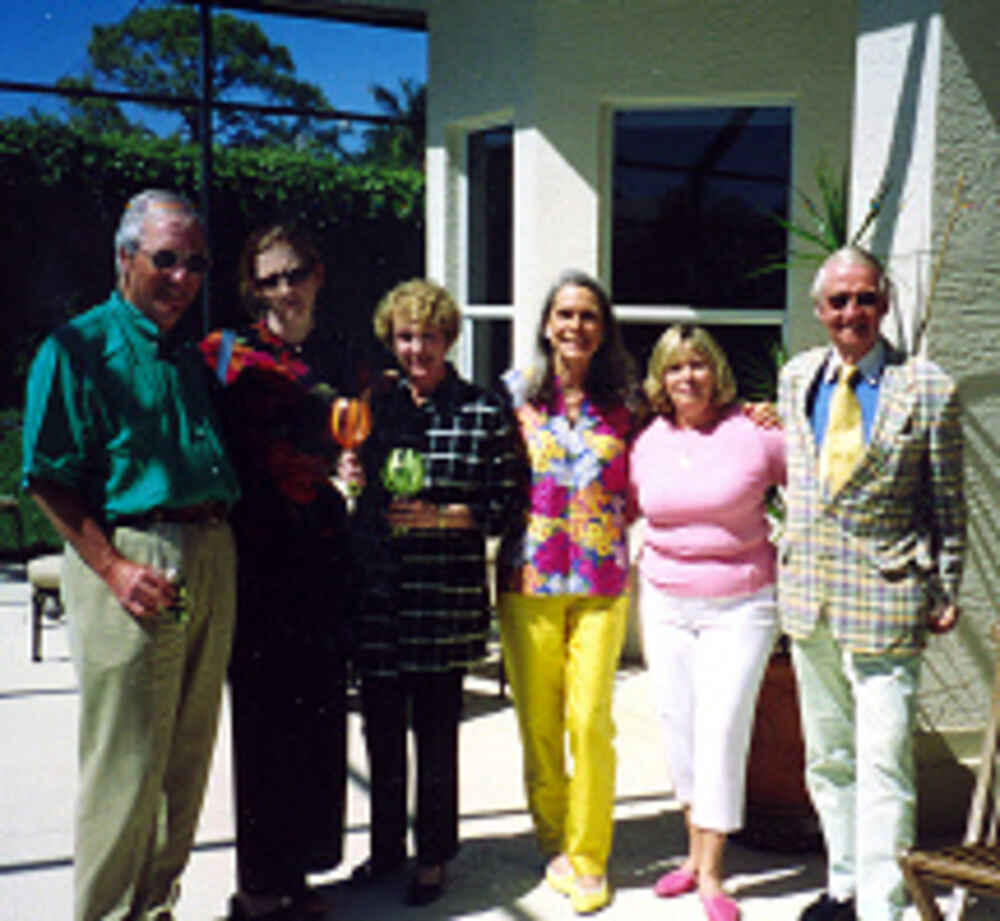 Abundant sunshine in Naples at Jayne and Lang's home: Garry, Kate, Barbara, Alexandra, Jayne and Peter.
Happiness Weekends Planned for April and May!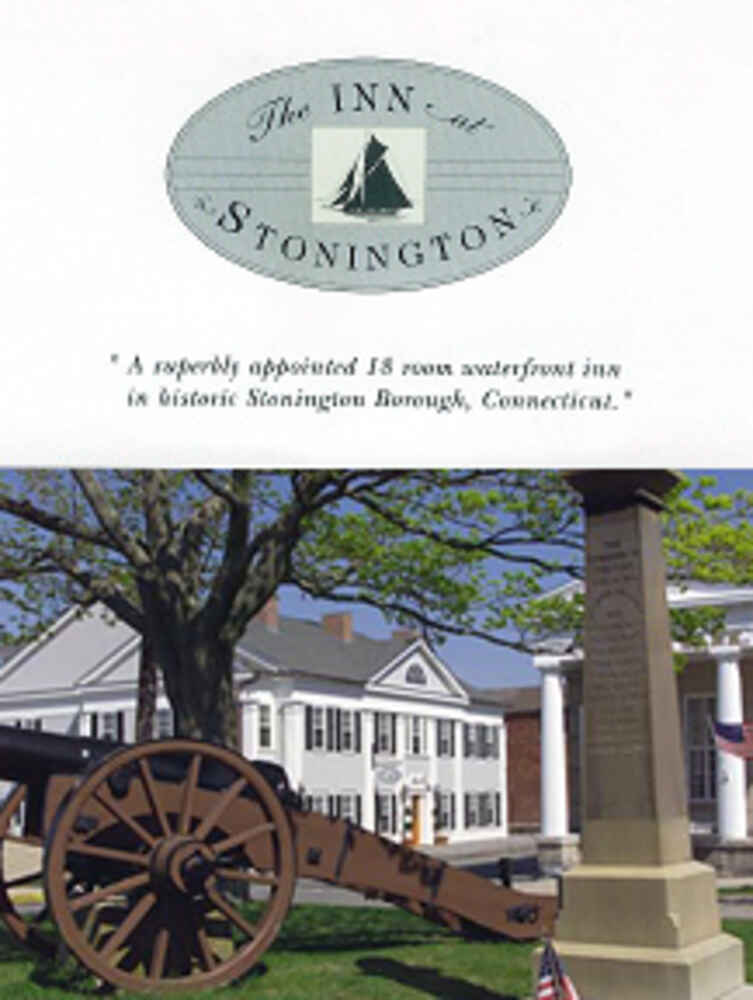 Alexandra will be having a Happiness Weekend April 15th, 16th and 17th and a May Happiness Weekend on the 13th, 14th and 15th. Call Anne at the Inn at Stonington for details. Plan to come. It's a fabulous weekend!
Mrs. Brown's Table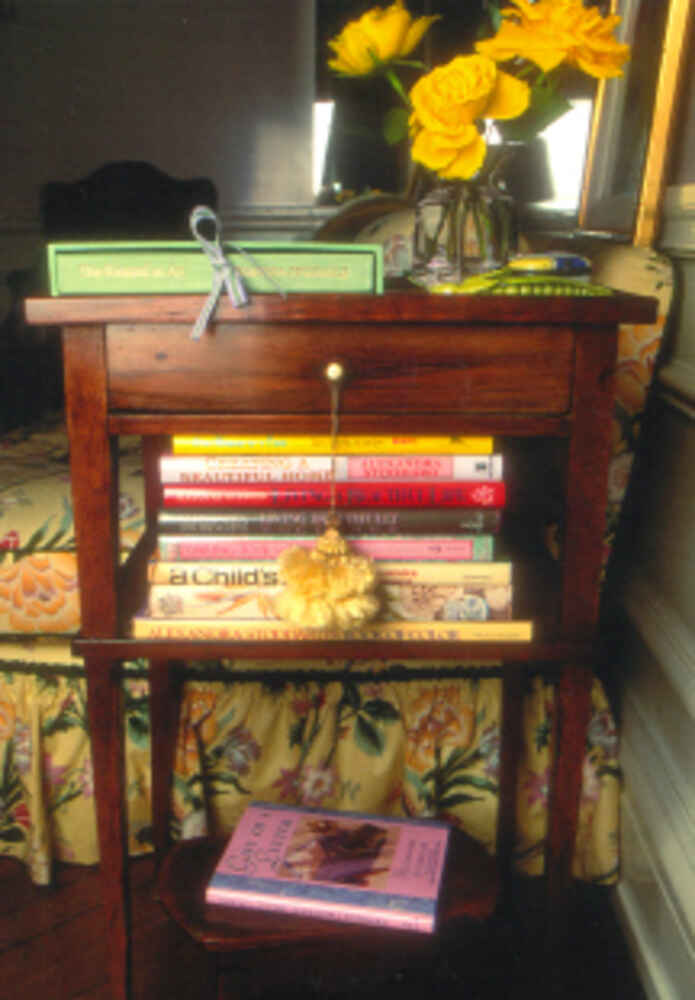 Good News! Levenger has brought the Mrs. Brown table back. Call toll free (800) 544-0880 to get their gorgeous complimentary spring catalogue. Turn to page 43! Choose dark or natural cherry finish.
Grace Note
Remember that you have little or no control over many of the events and outside circumstances in life. Focus on what is in your control. You can be mindful of all your thoughts and actions to be sure they are positive -- good for you and good for others.