Dear Friend
I'm sitting on an old wobbly prayer bench in our tiny garden overlooking the harbor. I have a green and blue striped beach umbrella stuck in the soil of the ivy so I won't be in the sun. I'm intoxicated by the quiet, the beauty, the sound of birds singing, and the smell of the sea air. Church bells are announcing noon and my heart if full of joy.
I hope you and all your loved ones enjoyed a happy June month. Peter and I will be spending as much time as we can at the cottage this summer because this is where I love to write and also this is where we long to be when our flowers are in bloom.
Right now the geraniums are thriving, the pink roses hugging the white picket fence are magnificent and in our back walled garden we have Nikko blue hydrangea blossoming beautifully. The grandchildren come for a weekend soon so they'll be in full glory for their visit. Every Saturday we go to the Farmer's Market – the largest in all of Connecticut – just down the street and we add flowering plants to our Zen garden I pot in old Italian terra cotta containers.
Mid June Stonington had a magnificent tour of eleven seaside gardens. Several were ones we know well because they were at the homes of friends, but others were a treat to see the hidden splendor not visible from the side of the road. Every three years they have this event and people come from all over to enjoy the beauty. We saw lots of friends from other parts of Connecticut and from Rhode Island, some who are great gardeners who loved their experience here.
The talk at the Groton Library was great fun and I did a wonderful live radio show that aired all over Massachusetts. The end of June an editor from the Hartford Courant newspaper came to interview me, bringing a photographer to film the cottage and our roses. Anne had been here to do a feature in 1992 so it was a good reunion. She enjoyed seeing all the changes we've made in the past thirteen years in the cottage. The article will probably come out on July 8th, Friday, in the newly revamped Home section of this fine paper.
Time Alive: Celebrate Your Life Every Day is back in production. I had to shorten some quotations in the "second pass" because it was too late to try to get permissions without holding up the publication, so I worked with my brilliant editor Toni Sciarra and we actually improved the book. It was all so thrilling to sign off on my twenty-fourth published book.
Peter and I went to New York the end of June to meet my new publicist, Maggie Sivon to discuss the book and lecture tour for Time Alive She is wonderful, very bright and enthusiastic, and want to know who are the "live wires," the friends and fans who help me spread the word. Please do keep me in mind for giving a talk at your favorite charity. We can together help you to assure it will be successful.
As I write two different books this summer -- one I will complete by this fall and Good Friends I will continue to write next year -- I will also be planning our promotion and publicity tour for Time Alive. Please check the calendar regularly because we will be adding event details as they come in and are definite.
We are having a family reunion here at the cottage and Inn soon so our lives are enriched by the sweetness of anticipation, being able to take the "grands" to the beach, on a boat ride and enjoy their company as they scamper about Stonington Village.
I'm inspired by my time to write. I appreciate that you have let me know my books are meaningful to you and for this I am forever grateful. I find I'm more challenged now than ever as I face the blank white page, fountain pen squeaking across the space. My life seems so enormously rich and full because of the intimate connection between us.
Have a glorious July! Have lots of corn on the cob, tomatoes and lobster. Think of us as we enjoy this sweet cottage this summer. It is such a treat to be able to really settle into all my writing spaces and spend "quiet time" contemplating, reading and writing. As I feel lifted up by so many wonderful people, some of whom I've never met, I feel a strong sense of connection and love.
Reminder
I am planning my Fall and Winter Book Tour. Please keep me in mind for a fundraiser for your favorite charity when my book Time Alive: Celebrate Your Life Every Day comes out in early Fall 2005!

PS: Fifth Happiness Weekend!! Please do come to the Happiness Weekend on November 4th, 5th and 6th at the Inn at Stonington. We couldn't have one last fall because we were on tour but we have scheduled this as part of our travel plans. It is an ideal time of year with great sunsets and fall foliage. Come! Bring loved ones and friends for a most happy experience. Space is limited, so make your reservations soon! (860) 535-2000.
PSS: A lovely lady, Dianne, who lives in Tennessee and also has a condominium in Naples, Florida, came to my seminars in Naples last February with her sister-in-law and they both flew to New York to come see some Muhl paintings. Dianne wanted a small painting she could bring back and forth from Tennessee to Florida. Let me know if you like Muhl paintings too!
PSSS: Great News! I just learned that Things I Want My Daughters to Know was the 3rd best selling book at the National Book Festival 2004! Of course I am proud and happy. This is the largest book festival in the country (85,000 people came last year), and it is also the most important because the best authors are invited to attend.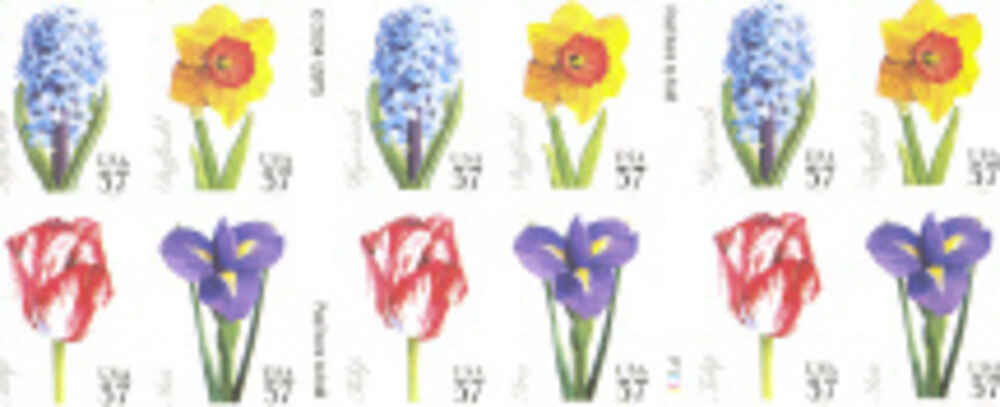 The beautiful new postage stamps recently released. What a lovely way to send a flower to a loved one!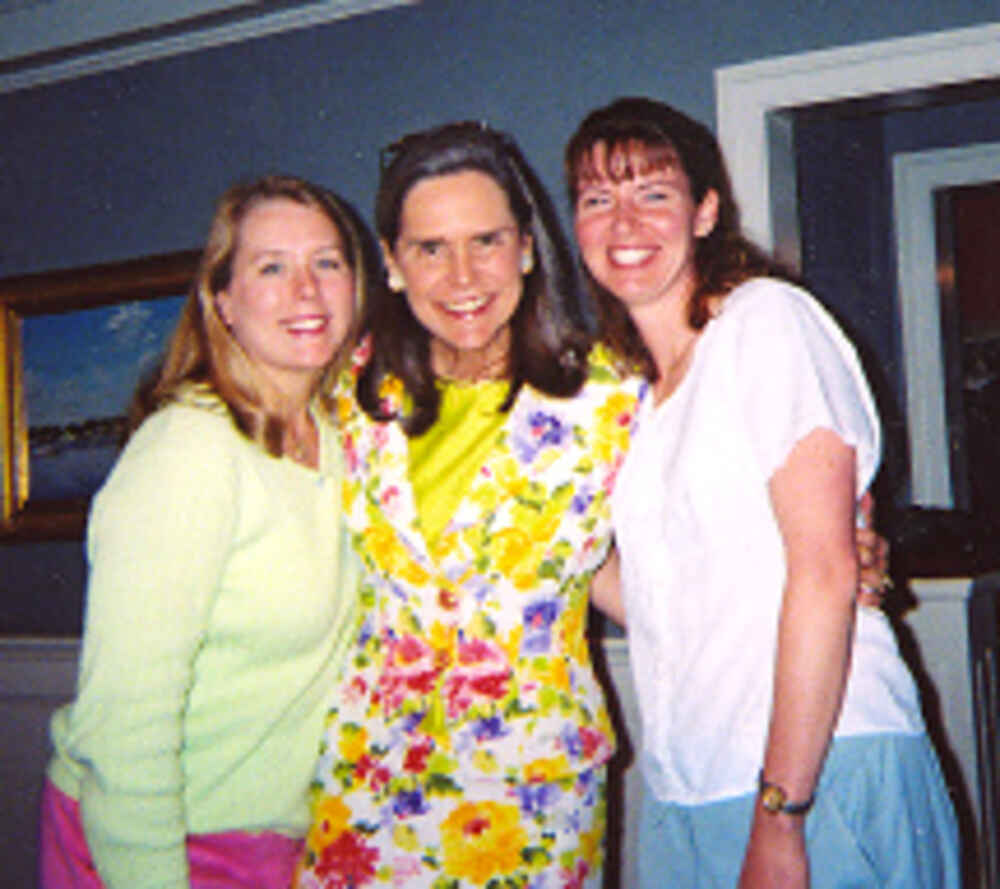 Alexandra with Jill and Laura at the Inn at Stonington.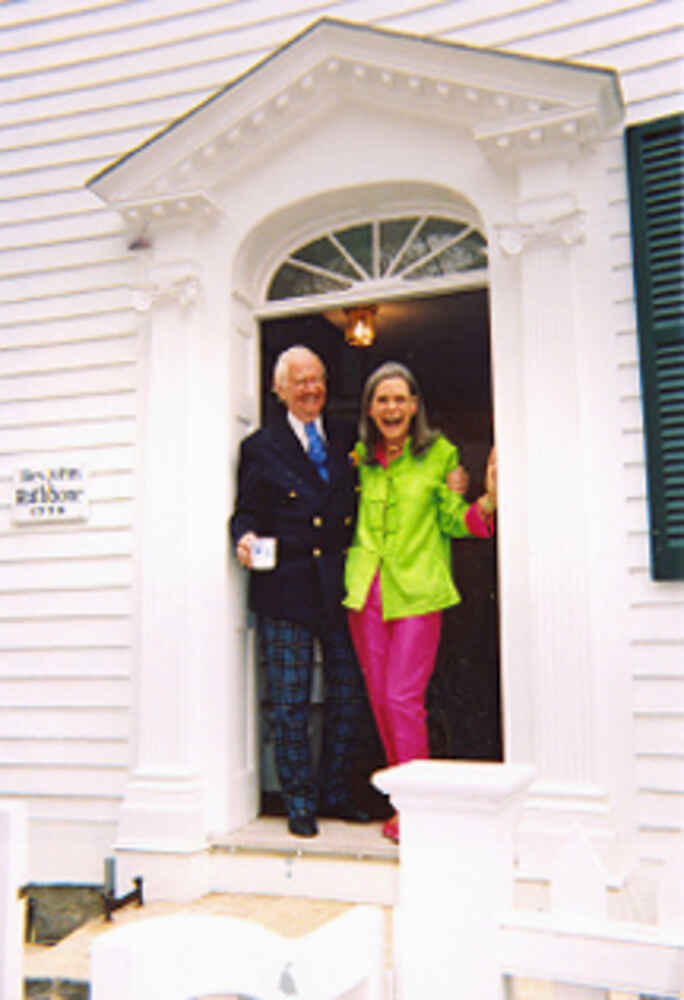 Alexandra and Peter welcome guests to their cottage at a recent Happiness Weekend.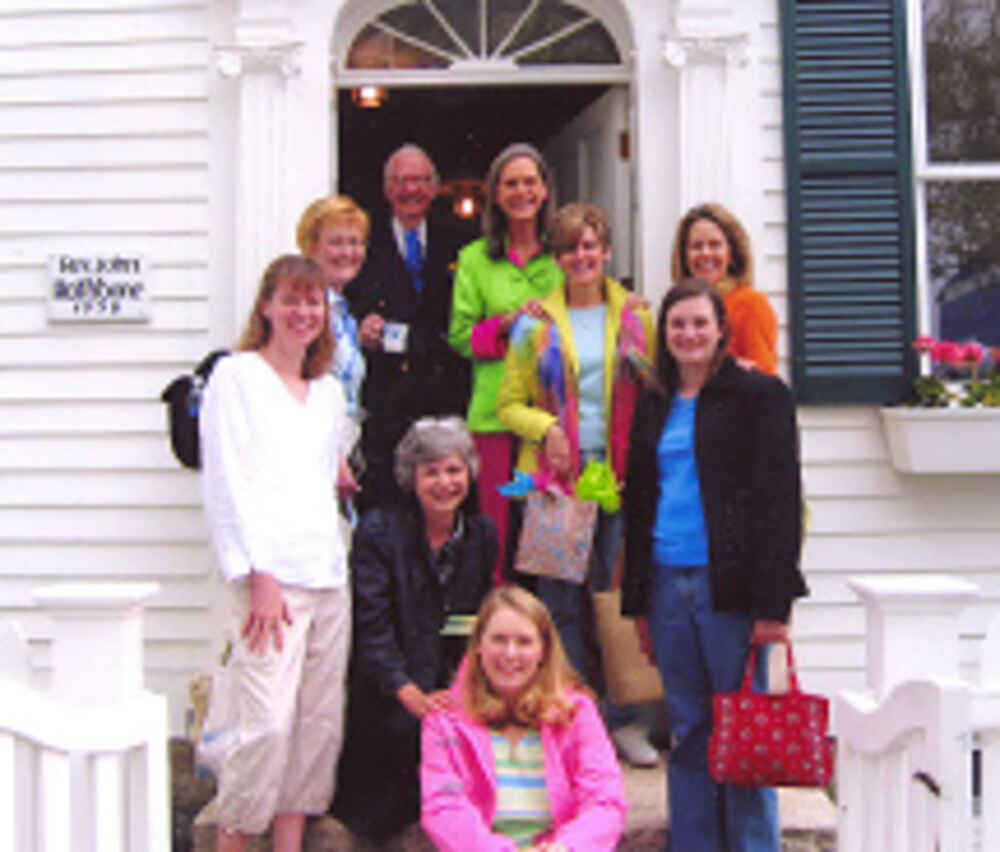 Alexandra and Peter at their Stonington Village cottage along with their new friends from a recent Happiness Weekend.
Stonington Village
Alexandra and Peter's narrow view of Stonington Harbor from the garden of their cottage.
Happiness Weekends Planned for May!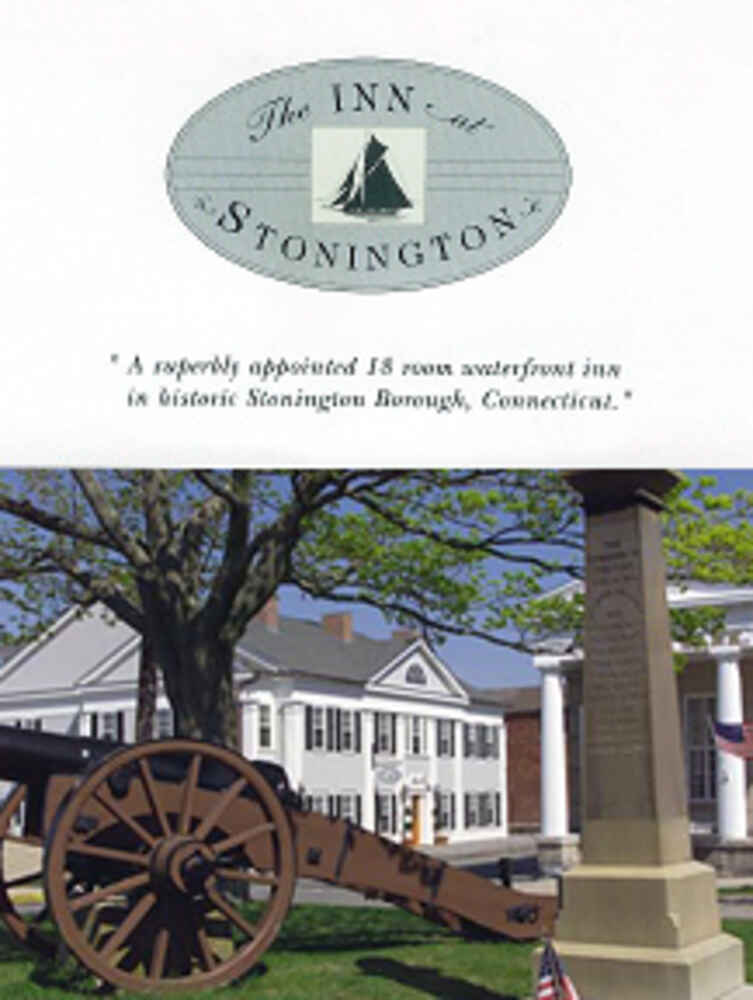 Alexandra will be having a Fall Happiness Weekend on the 4th, 5th and 6th of November. Call Anne at the Inn at Stonington for details. Plan to come. It's a fabulous weekend!
The beautiful artwork of Ruger Muhl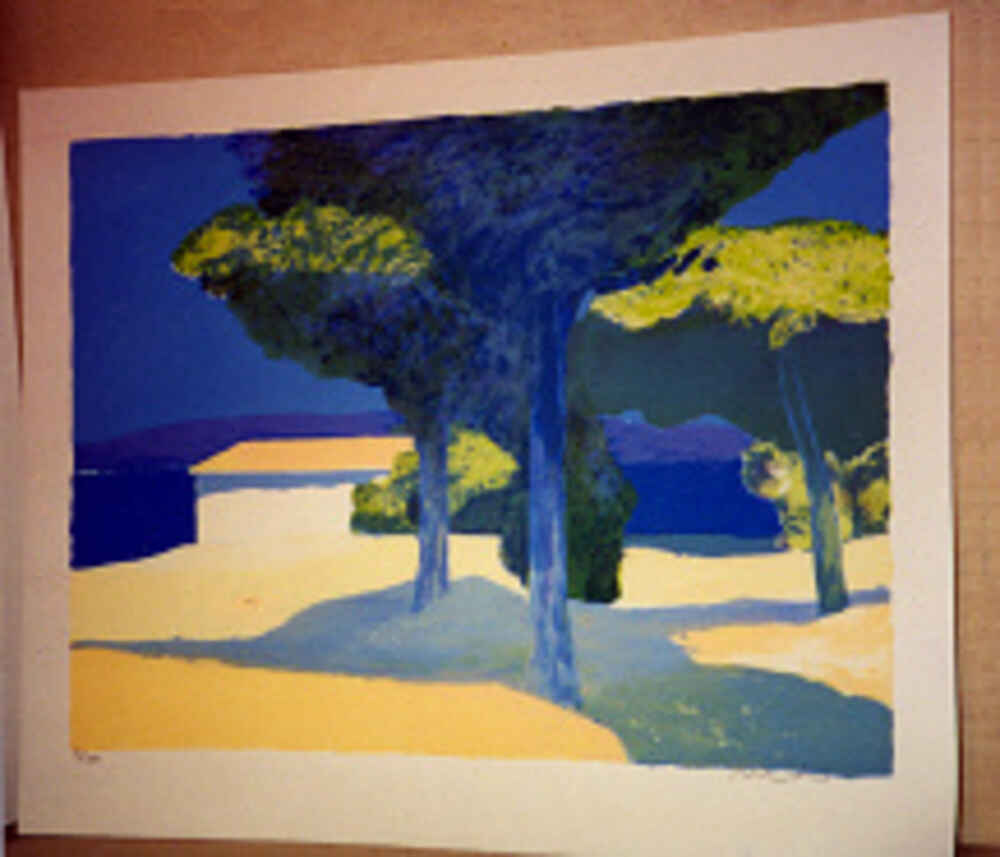 Many of you have expressed an interest in this great artist's work. I've been collecting Muhl paintings for 42 years. If you are interested in becoming a proud owner, please let me know. The prices range from lithographs to oils. Fax me at (212) 996-4625. Tell me your price range (lithographs are $1,400 and oils are $6,000 to $36,000). This one artist has brought great joy to the lives of hundred of collectors.

Mrs. Brown's Table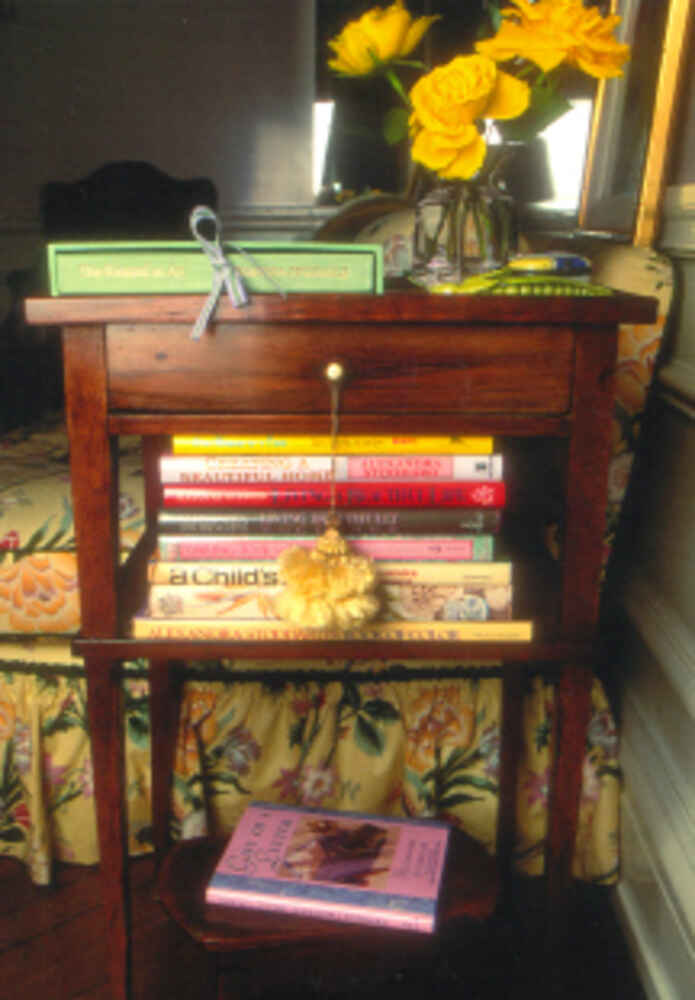 Good News! Levenger has brought the Mrs. Brown table back. Call toll free (800) 544-0880 to get their gorgeous complimentary spring catalogue. Turn to page 43! Choose dark or natural cherry finish.
Grace Note
Two of the most beautiful words in the English language are Summer Afternoon.