Dear Friend

September is my favorite month because it is when Peter and I fell in love. Summer still lingers on and there is a sense of a fresh start and new beginnings. We still feel light and full of fresh air and have a sense of the excitement of the anticipation of the unknown. As children go back to school and college, parents can now focus on their own work and take up projects that were not timely in the summer months. We tackle more challenging intellectual pursuits now that we put aside our beach reading. I find this change of season from summer to fall a most exhilarating time where we're able to think things through with greater clarity and a renewed sense of purpose. The freedom summer provided for us has a way of transcendence where we reflect on our carefree months and re-commit ourselves to living authentically in the uncertainty of the unknown future.
The month of August was among the happiest times in Peter's and my lives together. We will look back on this summer with great pleasure because we seized every moment to stay in touch with the beauty all around us. Our vacation was savored on the fun boat rides to Watch Hill, our relaxing moments on the verandah at the Ocean House overlooking one of the most beautiful beaches in the world. We nourished our bodies and souls with local fish, vegetables, fruit and wine. We spent meaningful, joyful moments with family and friends.
We loved the fact that we were here to appreciate our garden in bloom, to walk around this charming village, and to feel the blessings of our new life here without New York City. When we're asked if we miss New York, we laugh, "Not for a minute." We lived fully and had a good run there and it was divine timing for us to land here in our beloved cottage instead of living in a large city. Now, when we visit the city we know and love so well, we are unencumbered tourists. We don't need to own "real estate" in order to enjoy spending time there. Because of the excessively hot weather, we didn't go to the city once this summer. All the beaches around us are a big lure to the grandchildren who come here to visit us. Maturity does have its privileges. And the boat trips add to the sense of experiencing summer's magic to the fullest.
Peter's oldest granddaughter, Julia, came down from Boston and met up in Stonington with her best friend from New York. One magical Saturday we took the Gansett boat ride to Watch Hill, they shot some waves at the beach, and we shared a delicious lunch at the "Seasons Restaurant" at the Ocean House, After we returned to the village on the boat, we went to see "Eat. Pray. Love." and dined on grilled shrimp at a nearby seafood restaurant. We all voted this was a perfect day.
The most meaningful event in August took place on the 29th, the last Sunday of the summer, at our favorite dockside restaurant, "The Dog Watch Café." The owners, Dave, Wendy and Clay, threw the largest party of the season. The fundraiser for the benefit of the Stonington Free Library Children's Room, where Peter donated 1,000 copies of his new book, Figure It Out: A Guide to Wisdom, was a blast. From noon to 8 PM Peter sat under a blue umbrella on an open bar terrace overlooking Stonington harbor at Dodson's Boat Yard. The weather was ideal – warm, brilliant sunshine and people came to celebrate and support this most worthy cause from near and far.
Our goal was to sell 1,000 copies of Peter's book, have everyone get a free drink and raise $25,000 for the library. Ann Baldelli, the features editor at the New London Day, wrote a great article about this library fundraiser and all the local press was fantastic. There were huge banners around town. Everyone who can read knew about this big party. We love our library and when we were renovating our cottage, we went there virtually every day to do our writing. Our children and grandchildren love to go there to work and play. The spirit of generosity was in the air. Everyone showed up and helped to make a huge party a moving event. The library had suffered a big loss in a bad flood last Spring and we all wanted to help out. Scott Bates, president of the library's board, was quoted in the article in The Day, "It's in times of adversity when the spirit really shines through."
To help us celebrate, our daughter Brooke and her husband Tony came with 22-month-old Cooper. Brooke, Cooper and I all wore matching blue and white tunics the color of the book jacket that just so happens to be the same shade of blue as the terrace umbrellas at the Dog Watch Café. We were surprised by joy. I was never more proud of Peter's thoughtfulness and desire to help our library. Living in such a giving, generous community is so rewarding and delightful!
One of the local workmen, a fine and able mason who builds terraces and walls, donated $100 outright. He was so proud to open his checkbook. "This is a good cause and this village supports me. We all take good care of each other," he mused, smiling.
Happy September! We're looking forward to traveling to New York after Labor Day to go to Cooper's music class, going to Chevy Chase to visit the "grands" Nicolas, Anna and Lily, and then we're off to Paris for ten days to walk about, do our writing on our hotel room terrace …. I'm working on two books, currently, and Peter continues to write his memoirs, in a book he is calling, "Recollections." I'm writing "These Are the Days," and "Behind Closed Doors." I'm deeply committed to my writing even though these are difficult times in the world of book publishing!
I continue to be passionate about my Aristotle studies and my happiness research. In October, Saturday the 23rd, at 11 AM, Peter and I will be at the Old Lyme Inn in Old Lyme, Connecticut, where I will give a talk, "Creating an Inspiring Home," at a benefit on behalf of the Child & Family Agency (where I'm an honorary board member) called "Interior Inspirations." They are working hard on their website that will be complete after Labor Day. Please look up www.interiorinspirations.org for more details and plan to join us for a lively discussion. "A home is, in a sense, a visual reflection of you. It is your autobiography. To be inspiring, it must be deeply personal and authentic."
Let the mystery and wonder of September's song ring in your soul. Have each moment be lived mindfully, where every small subtle beauty is appreciated and you feel the grace and blessings of finding great meaning in your daily life.

Have you taken photos at one of Alexandra's events that you'd like to share? If so, you can email them to AStoddardInc@aol.com. Please be sure to include the names of those in the photo and where and when it was taken! We will try to include them on the website in the future.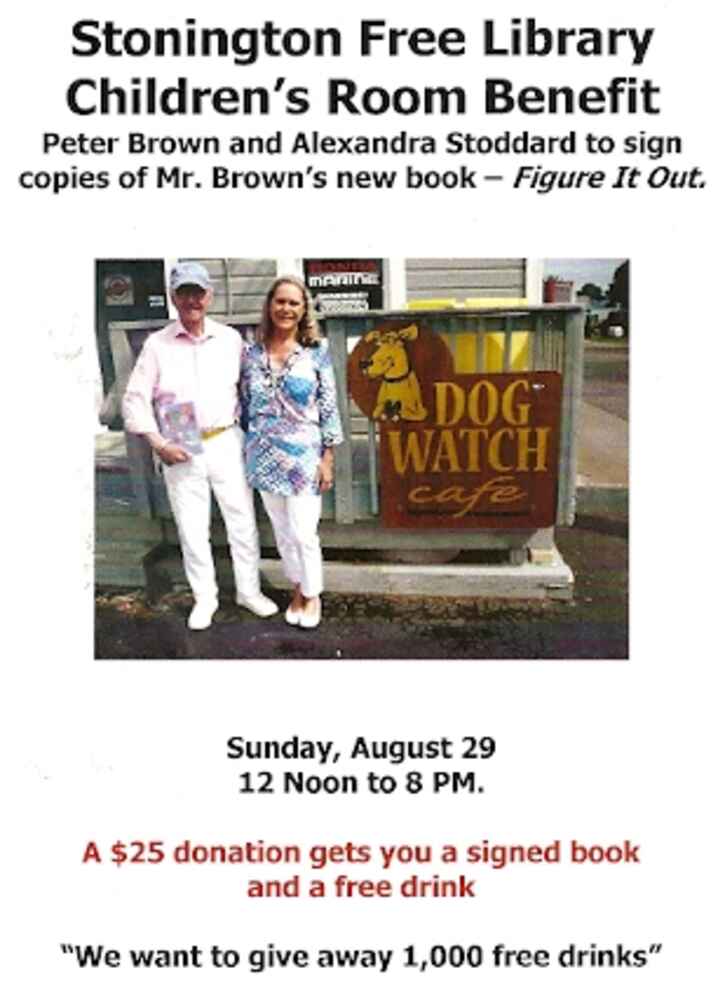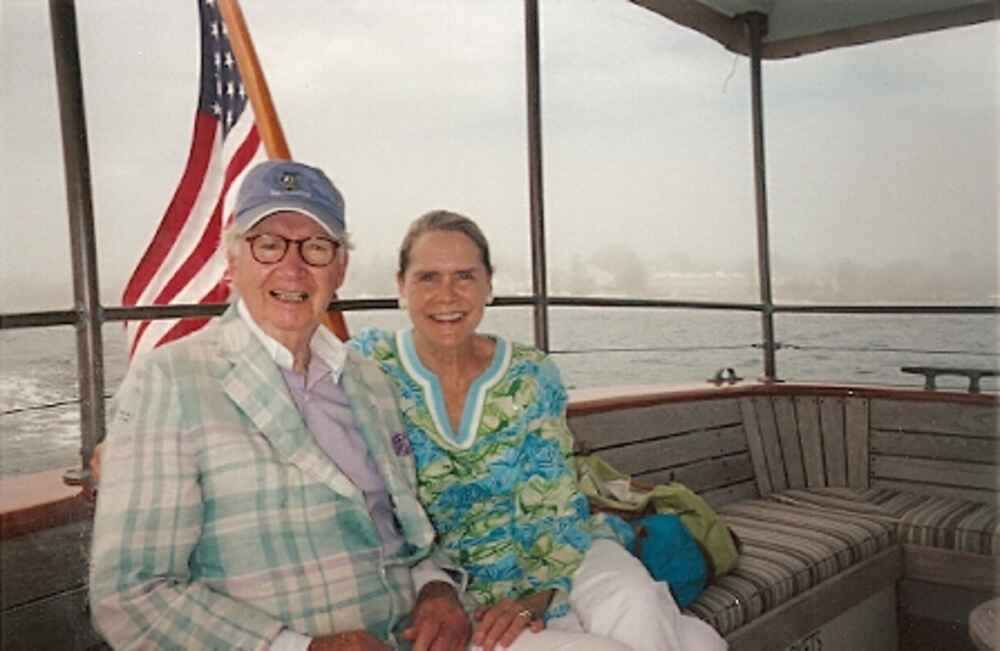 Alexandra and Peter on the Gansett on their way to the Ocean House in Watch Hill, Rhode Island.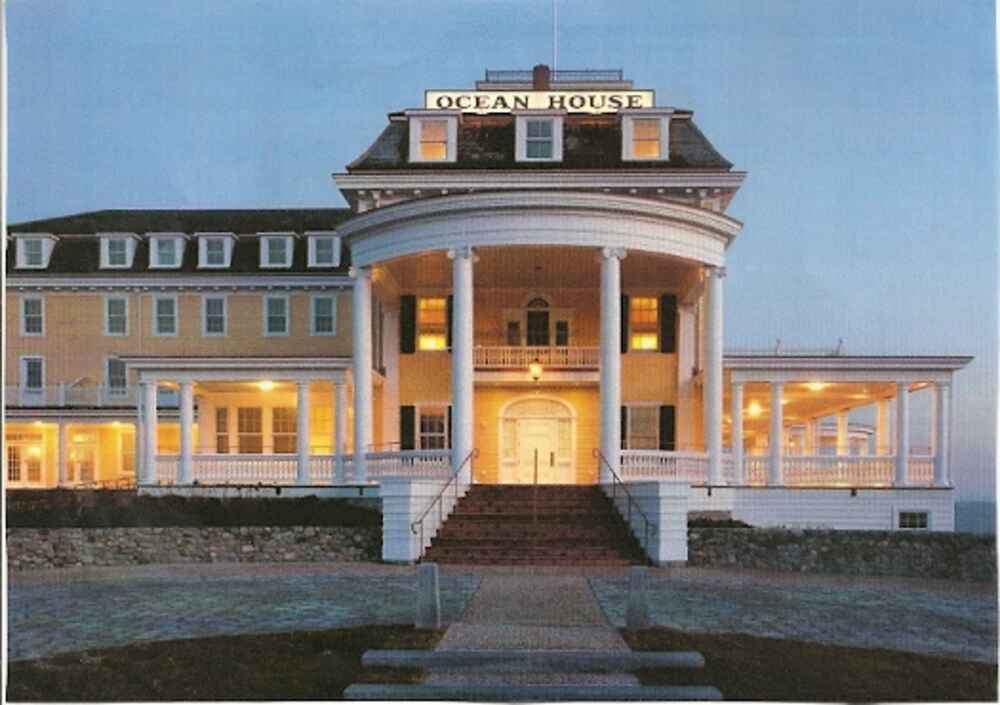 The Ocean House at night.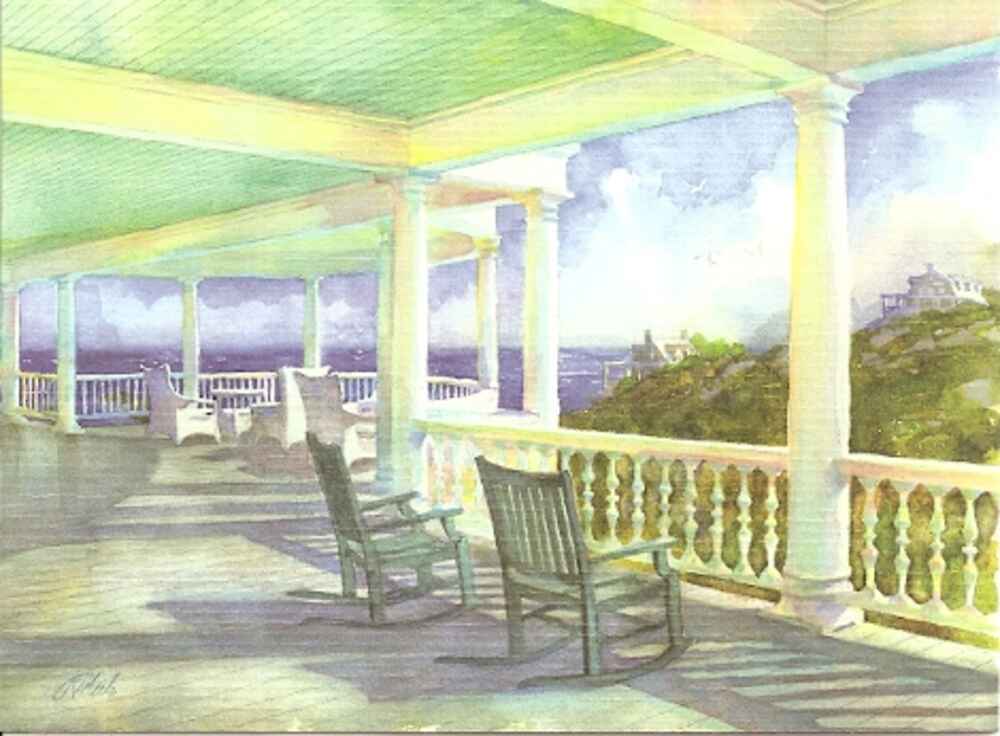 A water color of the famous veranda at the Ocean House.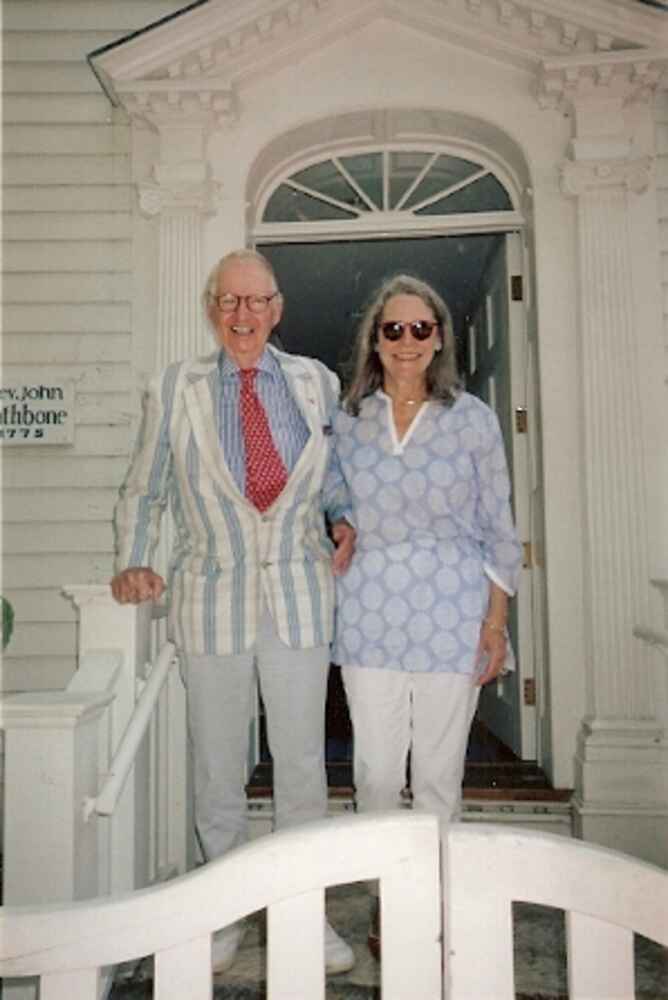 Peter & Alexandra watching the July 4th parade from their front steps!
Figure It Out: A Guide to Wisdom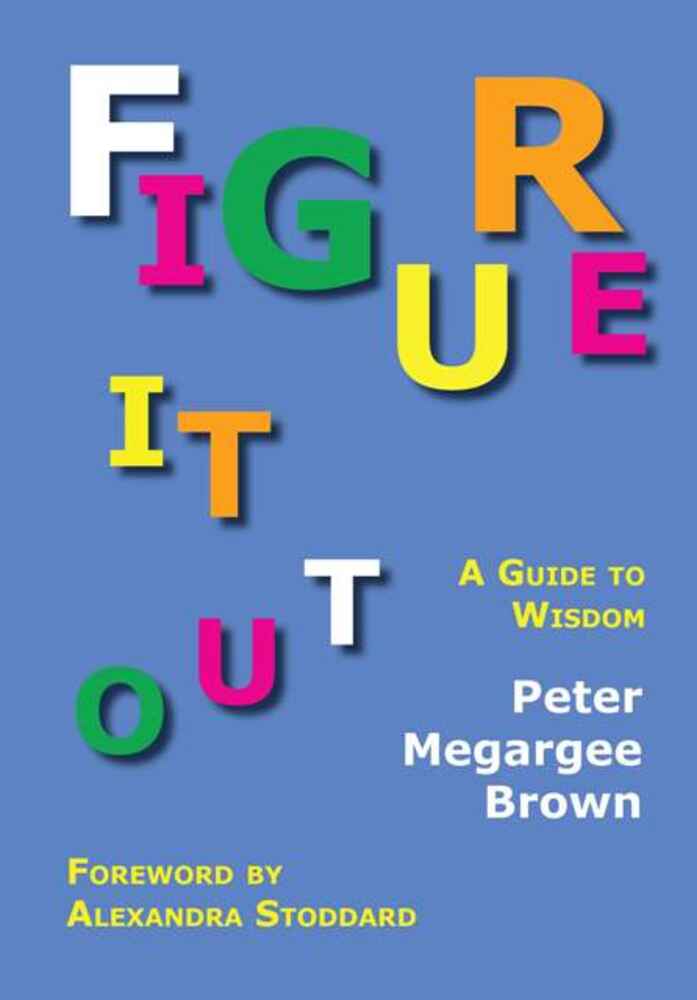 Book Sale! For the month of September, all sales of Peter's new book will be donated to the Stonington Free Library. Please make checks out directly to the library. Thank you for your support!!

Peter's new book, Figure It Out: A Guide to Wisdom
$24.95 hardcover
$19.95 paperback
Autographed and personalized with colorful striped ribbon bookmark.
Available through Alexandra's book page.
To order a personalized copy of Peter's book, please contact Patience at Bank Square Books in Mystic. 860-536-3795
www.banksquarebooks.com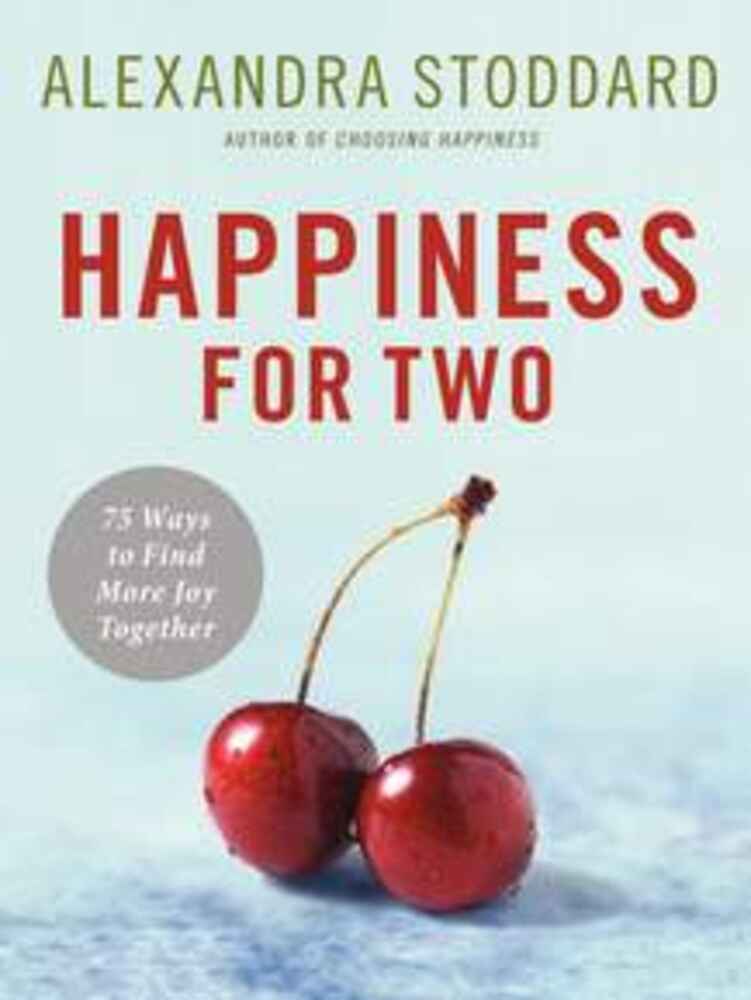 If you would like to get an autographed copy of Alexandra's book, please send your order (including inscription information) to:
Jane Hannon
Bank Square Books
53 West Main Street
Mystic, CT 06355
(860) 536-3795
banksquarebks@msn.com
Grace Note
The most fundamental form of human stupidity is forgetting what we were trying to do in the first place.
Nietzche