Dear Friend
The entire month of June brought me great joy and deep satisfaction as we enjoyed the beautiful weather and celebrated the beginning of summer. My good friend Kerri surprised me when she arrived at Gather with six of her closest friends to hear me talk at my event sponsored by Essex Books. Susan McCann and her parents, Joan and Bill, had a delightful luncheon for Peter and me in their charming 19th century farmhouse and then drove us to The Dogwatch Café where Kerri and the gang met us for dinner. They spent the afternoon touring the enchanted town of Essex.
Our daughter Alexandra was on television that Thursday evening and during dinner the restaurant owners David and Clay switched the television from sports to the news channel so we could watch her. There were a few people at the bar that were not amused but we were delighted everything worked out so well in the flow of a perfect day. The weather was spectacular, everyone's spirit-energy was high and after our fun evening at The Dogwatch Café, we all piled into the van and headed for the cottage where I autographed a bunch of books and we laughed our hearts out and wept with joy.
Kerri asked me if I like surprises. Yes, is my short answer, and I've always been thrilled when Kerri appears in my sight. Our friendship began many years ago when she, her husband Matt and their four wonderful children came to Stonington to look about because she'd read all of my books and wanted to experience first-hand some of the beauty I write about in this seaside walking village. I was in the front yard pruning our roses and that was it. Our friendship began and has flourished ever since.
Kerri is the same age as my daughter Alexandra and having such a close bond with this younger generation continuously brings me great happiness. She's quite the communicator and just before our annual visit to Paris in May, she sent me a package I savored and waited until the perfect moment to open. In my book, Things I Want My Daughters to Know, one of my favorite essays is "Open Presents Slowly." I kept the colorful package with the pretty blue ribbon on my downstairs desk, and suddenly it was time to pack and be off to Paris. I heard a birdie chirping and I couldn't figure it out. I thought a bird had gotten in the house. I looked under chairs and sofas. The mystery was solved in our hotel room in Paris where I opened the present, and there was the little birdie. I can't stop laughing at the thought of this silly little bird Kerri really meant for Peter, who is the bird man and makes wonderfully accurate bird sounds. I put the birdie in my tote bag and every time I move her (him?), I hear the chirping – in restaurants, in taxis, everywhere. This tiny little toy will keep us forever young and will come to Paris with us to keep us laughing. I love the fact that something so simple and childlike can bring out the child in us and lighten us up, causing such a pleasant source of enjoyment and amusement. The birdie makes us playful, no matter what our age.
On another Thursday evening, Peter and I went with our good friend Maryellen, who lives across the street, to Salt Water Vineyard to listen to a band and taste their chardonnay. Another spectacularly sunny day with no humidity and a cloudless blue sky – the color of deep Nikko blue hydrangea we call Mühl blue named after our favorite artist, the late Roger Mühl. We sat on a terrace and met up with friends who brought us some delicious snacks and then we were off to see Woody Allen's new hit movie, Midnight in Paris. Maryellen loves Paris and lived there for a year so the three of us were at the edge of our seats trying to absorb every detail. When the credits rolled on the screen, I was in denial. It was sheer delight and I wanted more. I'm hoping to go with our daughter Brooke over July 4th weekend to see it again. Magical is the only word for the experience.
After the entertaining film we went to a favorite restaurant around the corner, Go Fish, and were joined by Maryellen's husband Rick. When Rick inquired why Paris is so special, he got an earful. We three were on a roll! He's never been to Paris but Maryellen is planning to rent an apartment there for a month.
Another magical evening was when we went to another neighbor's magnificent soirée to celebrate the launch of his floral studio in Stonington, "Verdant." I have never walked into such a beautiful garden-like atmosphere with the most tasteful, lush flower arrangements. Peter and I enjoyed a glass of champagne with friends and realized how blessed we are to be living in such an attractive environment with interesting, creative, stimulating people.
Our local garden club had ten gardens on tour to raise money for our community and I was "garden proud" when our peonies were in full bloom and our roses have never been more lush and spectacular. June is a most special month for our gardens. Lily-of-the-Valley, iris, our Japanese dogwood in bloom, peonies, and roses everywhere, and the blue hydrangea were blooming at the end of the month in time for our family reunion.
Brooke came with Cooper several days ahead of Alexandra flying up from Maryland with Nicholas, Anna and Lily. We had the cottage windows cleaned and the house deeply cleaning in anticipation of a full house with a fun, action-packed schedule.
And on top of all the happy events with family and friends, my book contracts arrived! I'm loving my new book and the joy of being in my writing room looking down at the sacred back garden with the blue hydrangea. I have roses and hydrangeas on my writing desk and feel inspired by the sweetness I feel in our intimate surroundings. My work is going well and I have some ideas for two books after I complete this one. I couldn't be happier each morning when I walk from our bedroom into my writing room to have my one-flower meditation, my silent time to think and write, and to carry my book with me in my heart, mind and soul throughout the day, into the evening and in my dreams.
I've re-read many of my books recently to see where I've been and to help guide me in my work, and in one of my books I quoted one of my favorite authors, the Greek writer, Nikos Kazantzakis. "Sacred awe." That is how I feel about the month of June, ending in such glee with our two daughters and four precious "grands."
Happy July!


Have you taken photos at one of Alexandra's events that you'd like to share? If so, you can email them to AStoddardInc@aol.com. Please be sure to include the names of those in the photo and where and when it was taken! We will try to include them on the website in the future.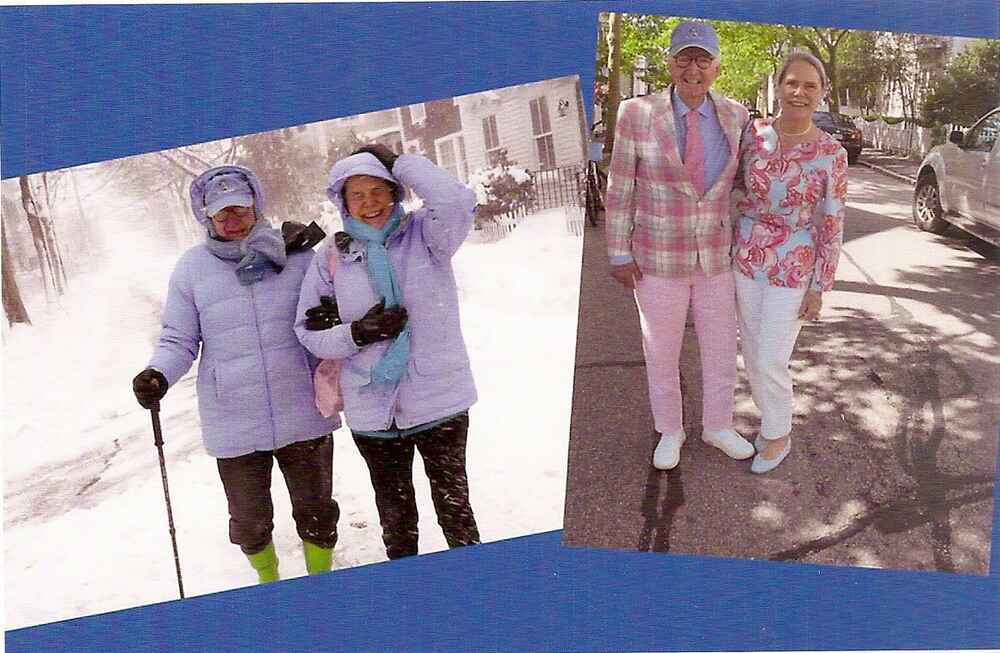 Spring finally arrived in Stonington!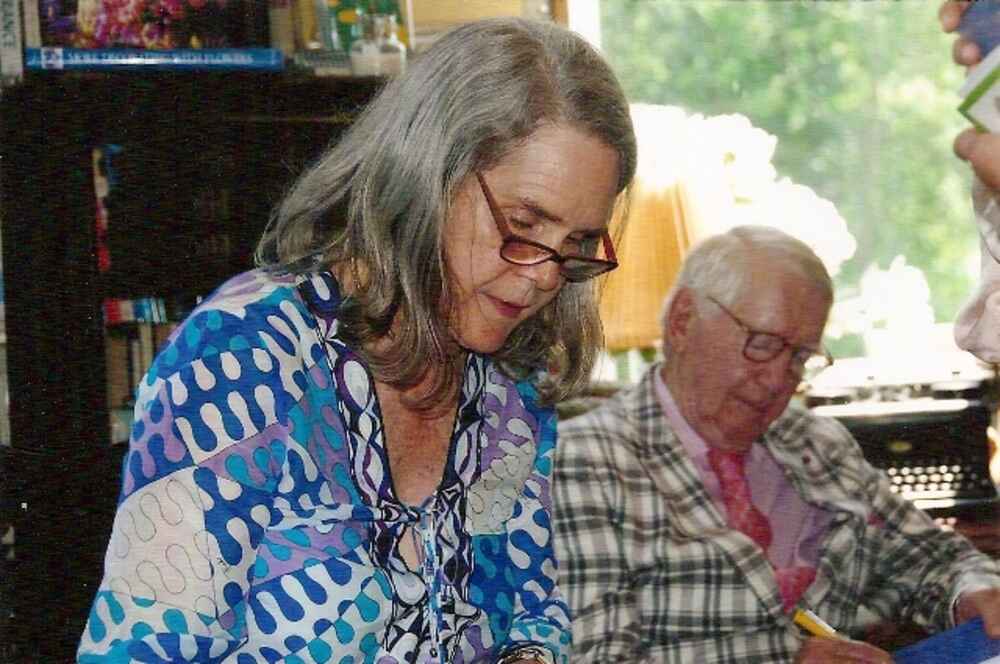 Alexandra & Peter at Gather signing books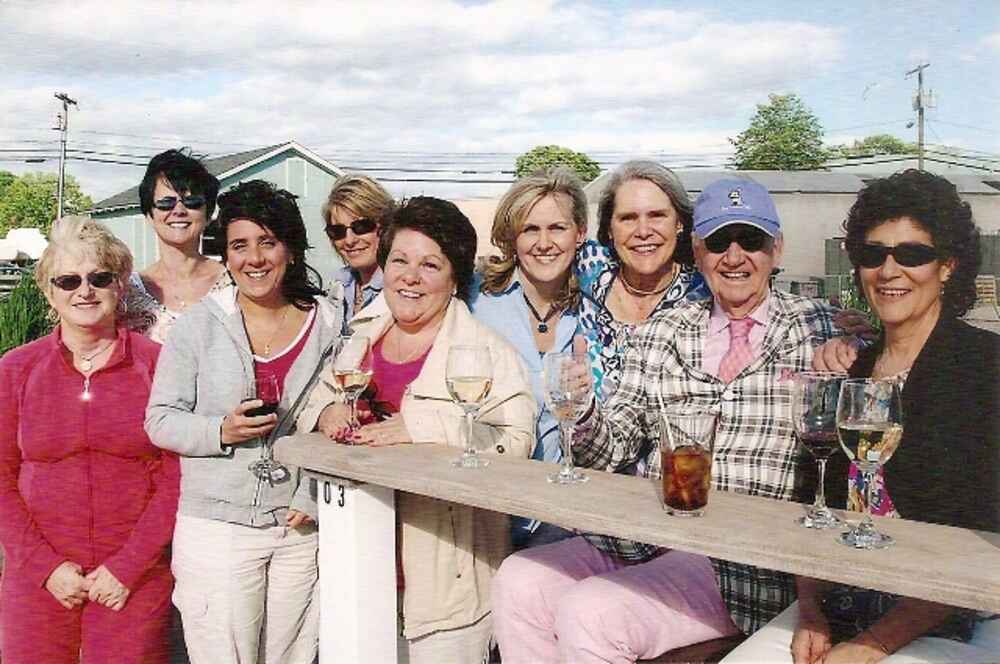 Peter, Alexandra, Kerri and her best friends at Dogwatch Cafe' in Stonington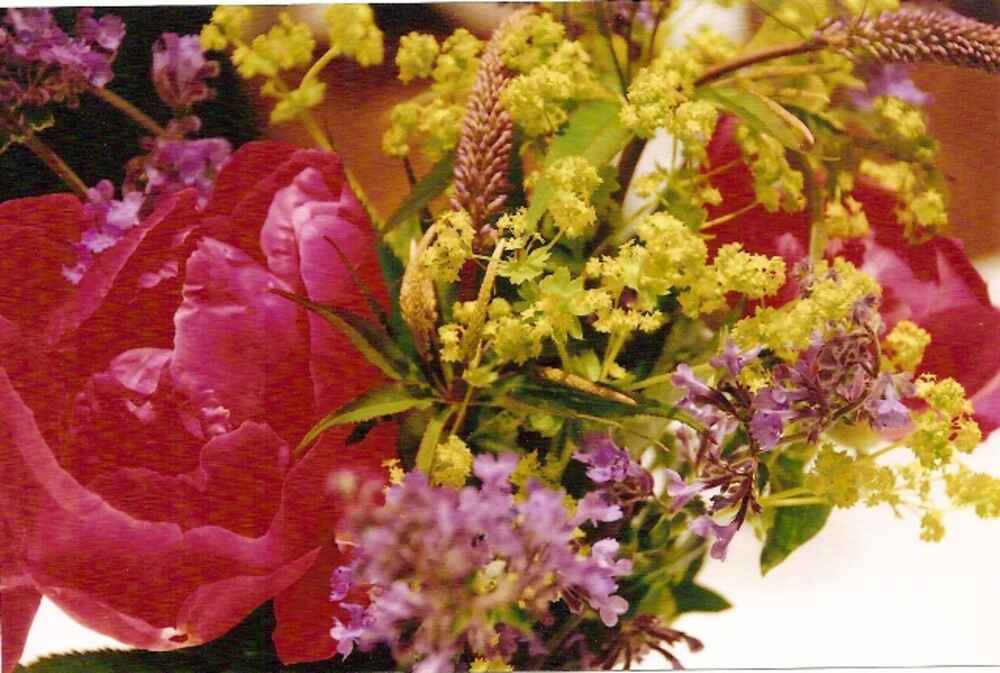 A friend brought me a lovely bouquet from her garden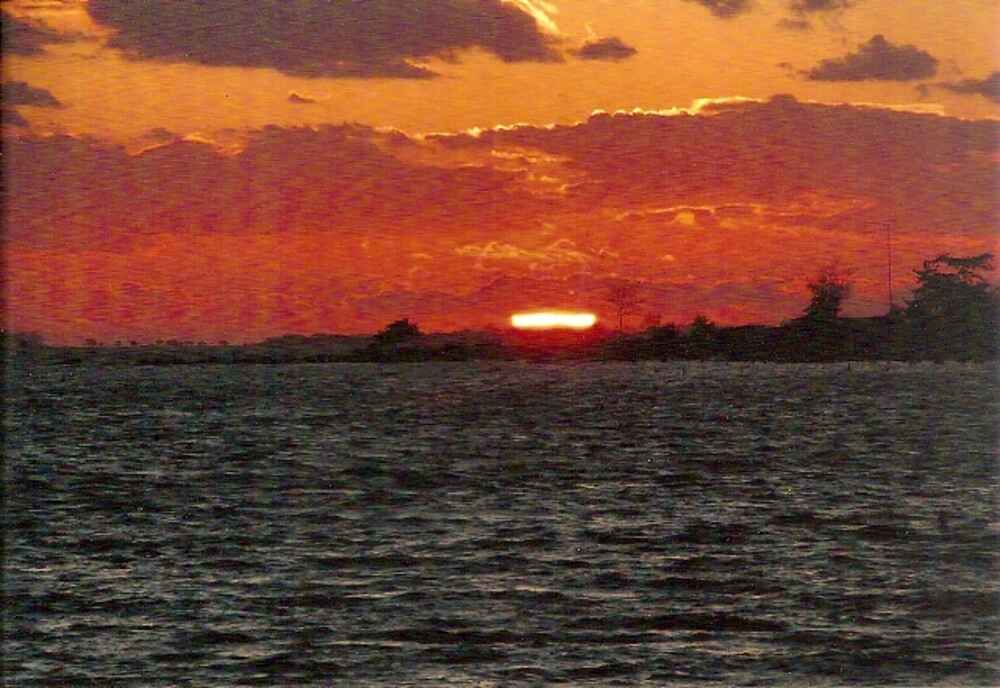 "Sacred Awe" at sunset in Stonington
Figure It Out: A Guide to Wisdom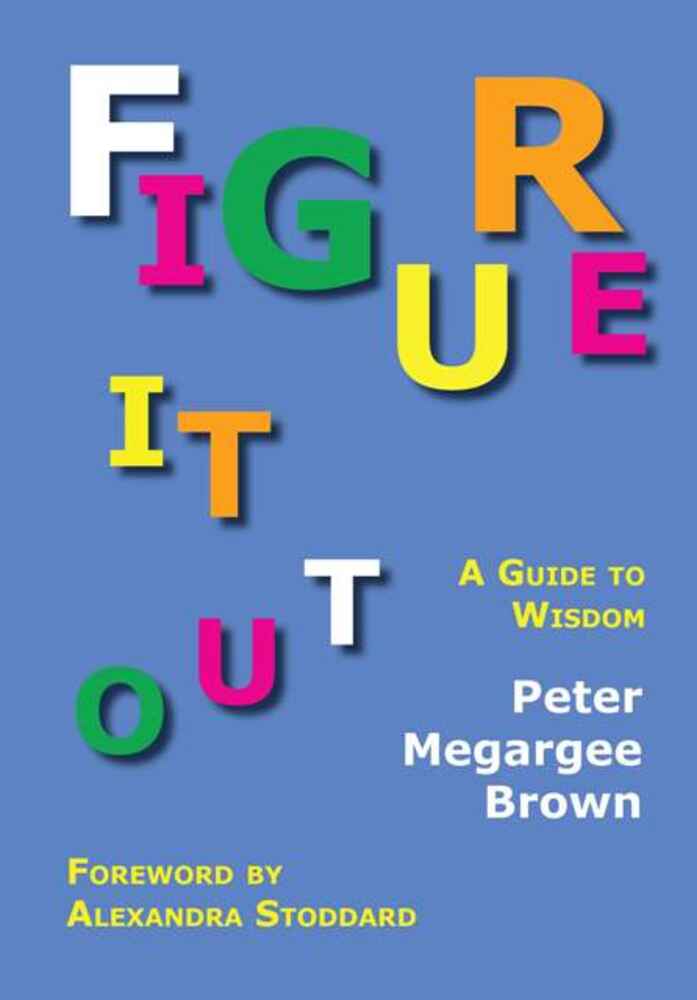 Please consider giving Peter's new book to family and friends for the holidays. Make checks for $25.00 per book to:
The Stonington Free Library
Send to:
Peter Megargee Brown
87 Water Street
Stonington, CT 06378
Peter will pay shipping. Your contribution is 100% tax deductible.

Grace Note
Meditate on all the "sacred awe" in your daily life.