Dear Friend

Peter and I'd planned to take some time off before we learned that my dear friend and literary agent Carl Brandt died August 13th. At the time of his sudden death, I was working so hard on my book, Joyful Living In The Real World. Knowing Carl had incurable cancer, I was in deadline mode. When I received the phone call from his daughter Diana, I thought my heart was going to break in two.
I don't think any one of us is ever prepared for the literal moment of the death of a loved one. The silence, the end of life on earth, the raw reality, is brutally painful to swallow in the blink of an eye. I sobbed and sobbed. I've never written anything but a personal letter that Carl hasn't read and tried to improve. We go back to 1961 and 28 published books. We've had an extraordinarily good run, and, quite frankly, it's hard to have it end.
Alexandra and Brooke have been wonderful. They understand how central Carl has been to my happiness, to my sense of purpose and commitment to be a writer. I can't imagine what my life would be like if the odd chance of our meeting each other hadn't happened. The best man in my wedding to Brandon Stoddard was Courtland D. B. Bryan, one of Carl's award winning writers. Carl and I met at Courty's house and mysteriously he believed there was a spark in me he was willing to nurture.
In over half a century, staying in touch on a regular basis, sharing ideas and insights, we've been through a lot of good living together. Our professional relationship of author-agent morphed into an evolving friendship. My husband Peter shares in my enormous respect and fondness for Carl. We call him "the great man." He is a giant figure of vast importance in my life. Our relationship has been central to my feelings of accomplishment and satisfaction. Carl has always been here for Peter and me. Carl, as my advisor and trusted friend, has had far-reaching consequences on my entire way of life.
At the time we met, I was yearning to express myself in words as well as design and art. Carl, from the beginning, took me seriously and was exceedingly generous with his time and talent. He believed in me and was willing to nurture my longings and guide the direction of my work.
My first published book took seven years of work, but when Style For Living: How to Make Where You Live You hit the bookstores in October 1994, I landed on the set of the Today Show with Barbara Walters as the host. This was the first book on interior design that didn't have photographs. My point of view was to have the reader go inside their essence and envision for themselves how they wanted to create their own unique style for living. The success of my first book encouraged me to feel I had something to say that is useful.
As I was riding a wonderful wave as an interior designer as an assistant to the great doyenne Eleanor McMillen Brown (whom I dedicated my book to), I absorbed, like a sponge, everything Carl taught me. He knew right away that I'm a hard worker and am tenacious.
Along with the hard work, we had glamorous luncheons together. Both Carl and I appreciate delicious meals, well served, and lunches lasted for hours. Those attractive visits inspired me to keep working. Looking back, Carl's astonishingly powerful influence on me literally changed my life. Over several decades of being an international interior designer and a writer of design-related books, I evolved into wanting to write more philosophically. I felt I'd expressed my thoughts about design and wanted to explore the emotional intelligence – urging my reader to paint the walls of their mind with many beautiful pictures. After all, if you aren't happy, no matter how beautiful your home is, it won't be appreciated. This change in direction in my writing was a gamble that Carl believed in, and the books kept pouring out of me.
There have only been three other people, with greatness of soul, who have had such a profound influence on the direction and depth of my thinking: John Bowen Coburn was my spiritual guide whom I met when I was a teenager. John married Peter and me and became a close friend. Eleanor McMillen Brown was my boss and mentor since 1963 until her death at 100 in 1990, five days shy of her 101st birthday. Mrs. Brown took me under her wing. A backward glance allows me the knowledge that I was the daughter she never had. Our intimate friendship that had no separation between our professional working relationship and our fondness to be together socially and with our families provided me with the inspiration to keep a balance in order to be able to live a full, rich life. Mrs. Brown was my inspiration for Living a Beautiful Life: 500 Ways to Add Elegance, Order, Beauty and Joy to Every Day of Your Life. Mrs. Brown's lifestyle was beautiful and everything she thought or created enhanced the human spirit.
One thing always leads to another. Through my decorating career I meet Roger Mühl in 1961, a young unknown, French artist. We became close friends from the beginning. He sensed my passion for beauty. My intense emotional reaction to his first exhibition in New York led to an extraordinarily happy relationship and close bond and affection. A silver bracelet he and his wife gave me in 1965 is on my left wrist to remind me he is still here, everywhere, in my life. Roger died several years ago, but we are surrounded by his spirit energy and his colorful heart and talent.
And now, the fourth pillar to hold up the foundation of my life, Carl Brandt, has died. I know, from experience, that the lump in my throat will go away. The hole in my heart will be full to bursting with the memories of our exciting years together. Carl was an old-school gentleman and brilliant thinker. His vision for me had no bounds. How can anyone who has had the privilege of his caring, kindness, and editorial guidance be more blessed?
The last time we met in May, Carl told me that Joyful Living In The Real World would be tricky in order to get the voice pitch perfect. But he also assured me that everything important is tricky. How true. Blessedly, he saw some early writing of this book I'm dedicating to him. I've done countless drafts since then because this book is the culmination of all my written work.
I'm grateful that Peter and I had planned, before Carl's death, to take time off. I was working steadily and felt an urgent need to gain some emotional perspective. Peter and I want to be quiet, alone together, away from any duties and expectations. This will be a good time to process Carl's death and how I plan to move on as a writer without his hands-on advice and encouragement.
The day after Carl died, Peter and I went to our place of healing – the beach. The sea air, the gentle breezes, the tumbling waves, and the expansiveness began to heal us as we breathed deeply, holding Carl up in our hearts.
Now, our time off will be healing. Rather than being a break from routine, this will be an opportunity to re-evaluate our priorities. The spaciousness of an unscheduled calendar gives us lots of hours to dwell on all the joy Carl brought to our lives. Death makes everything we think and feel paradoxical. I'm on my knees in gratitude for the gift of our relationship and the success we were able to accomplish together, but, in equal measure, I feel the pain that this is over.
Time will produce positive emotions of appreciation and feeling secure. Carl told me that any books I wrote that I felt passionate about, he would get published. I now feel vulnerable, a bit insecure, and a little afraid. I'm going to let my vulnerability be my strength. I'm definitely healing. Carl's intelligent assistant has been groomed to take over. Henry and Carl worked as a team. Diana told me her father would advise me to "keep on writing." And as long as I'm alive, I intend to have a pen in my hand.
Thank you for letting me pour my fragile heart out to you. I'll be back on board after Labor Day.
Happy September – the month of fresh starts and new vision.
Great love to you,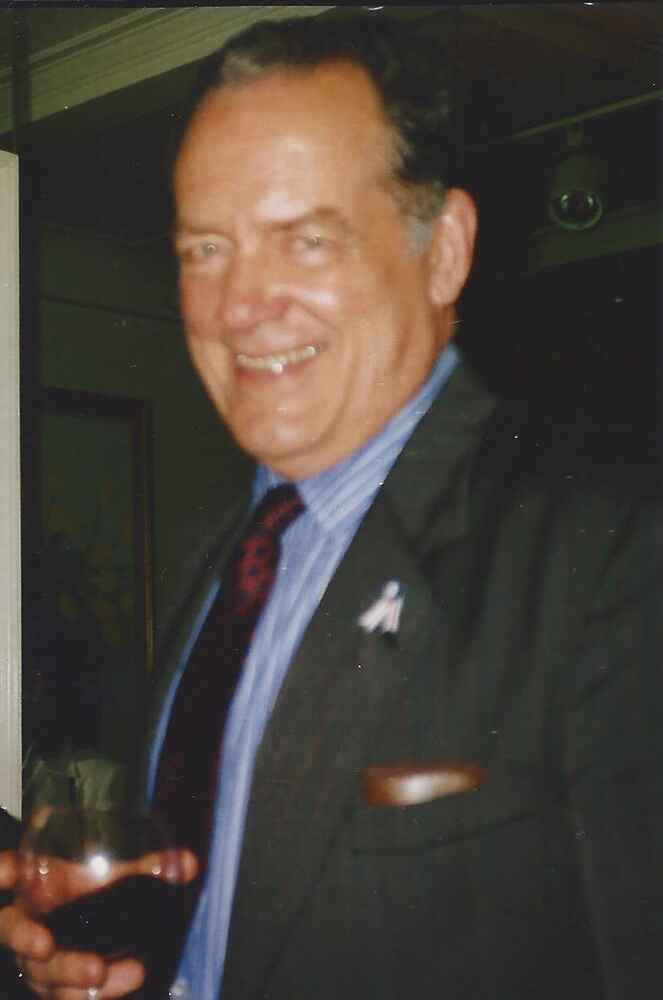 Carl's smile makes me melt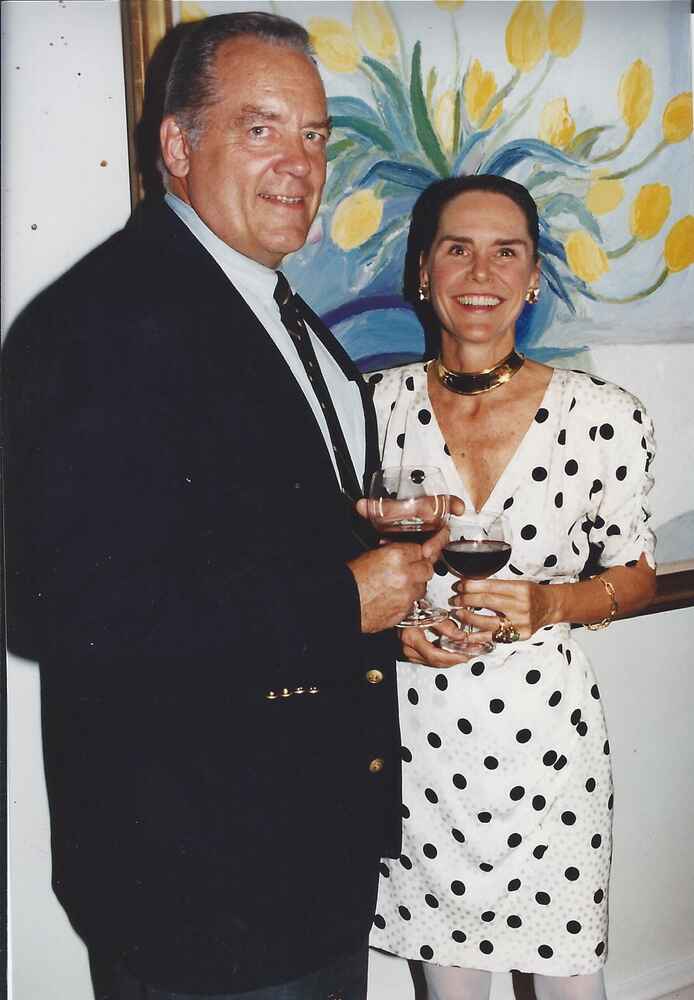 Carl and Alexandra in front of a Mühl painting at a book publishing party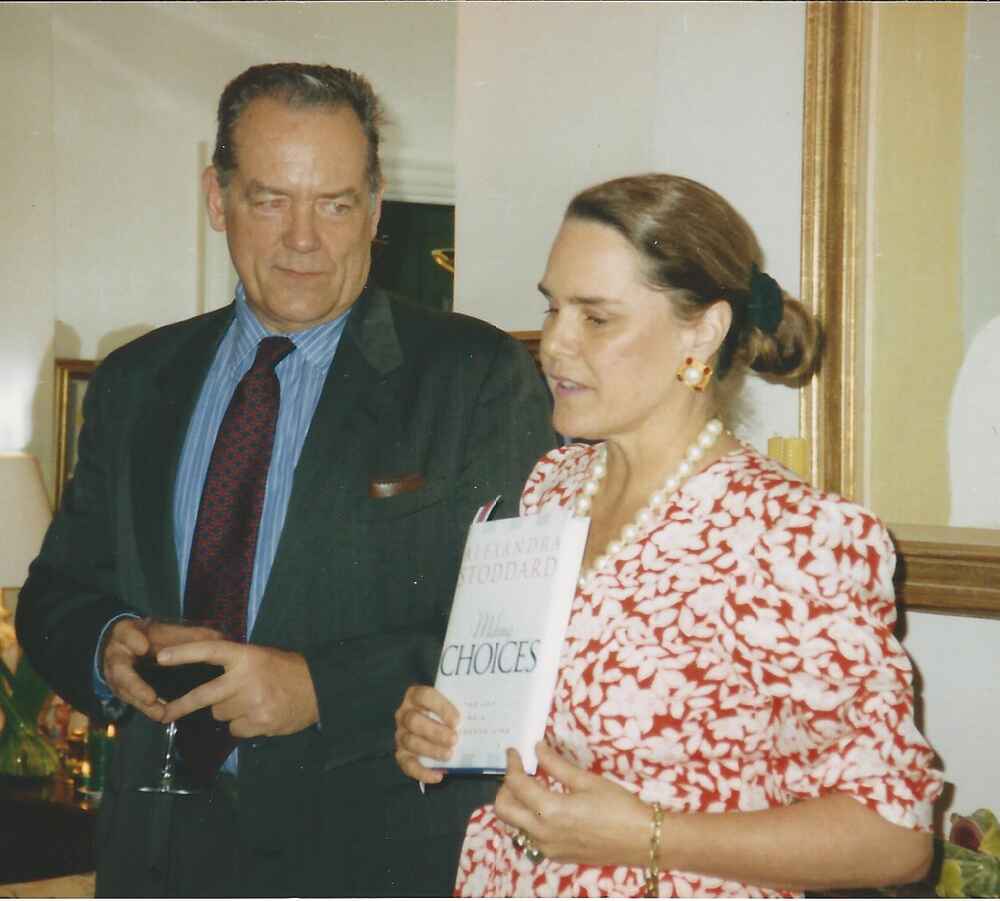 I dedicated Making Choices to Carl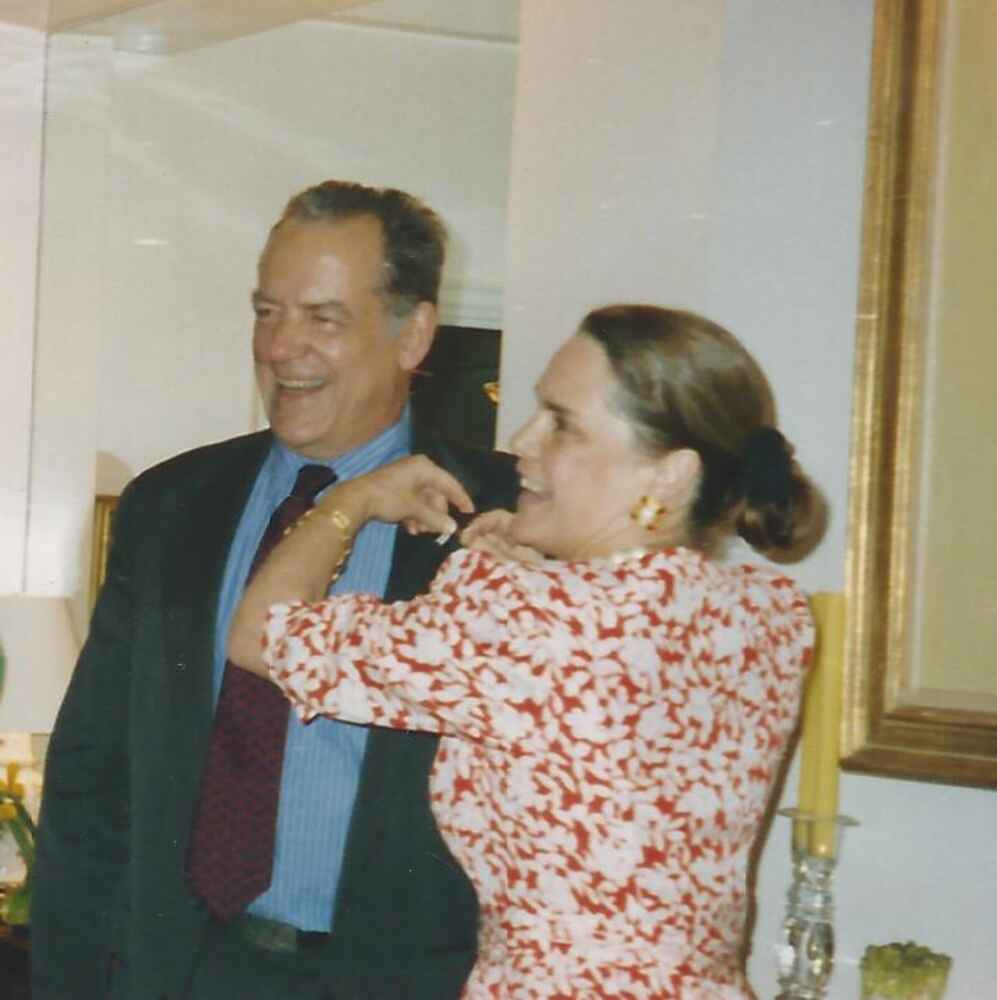 Carl is being pinned with the Making Choices rosette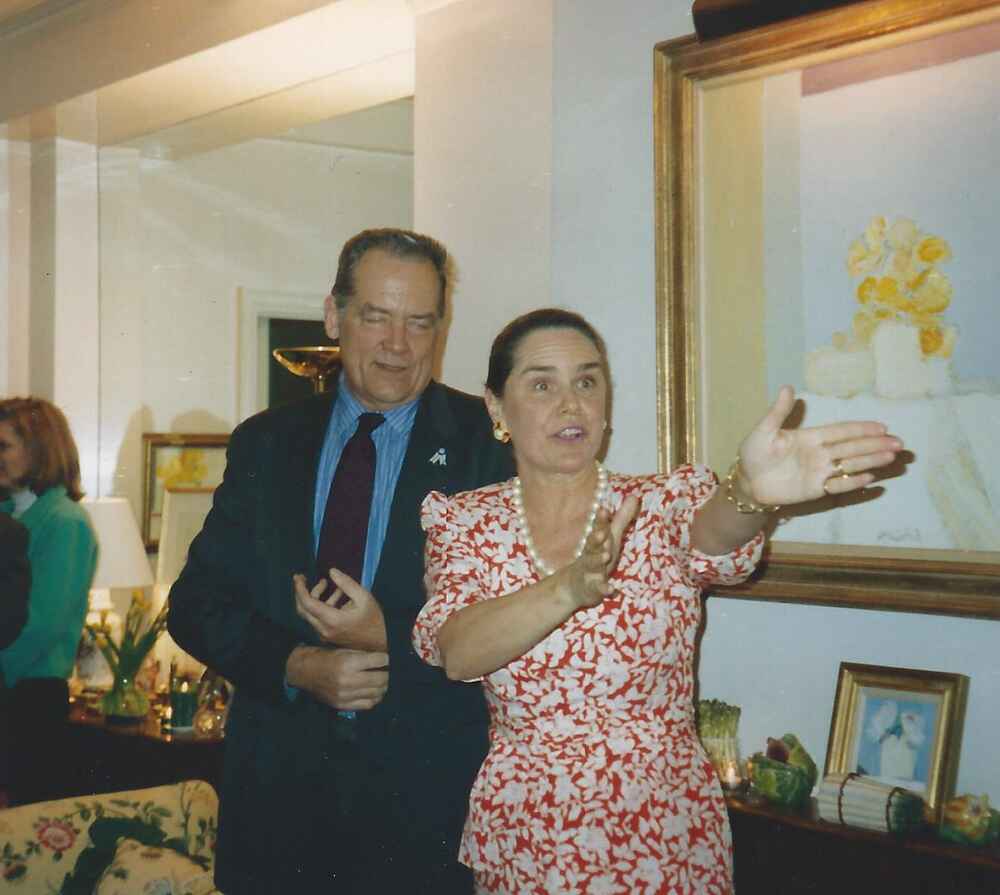 Carl, amused at Alexandra talking with her hands!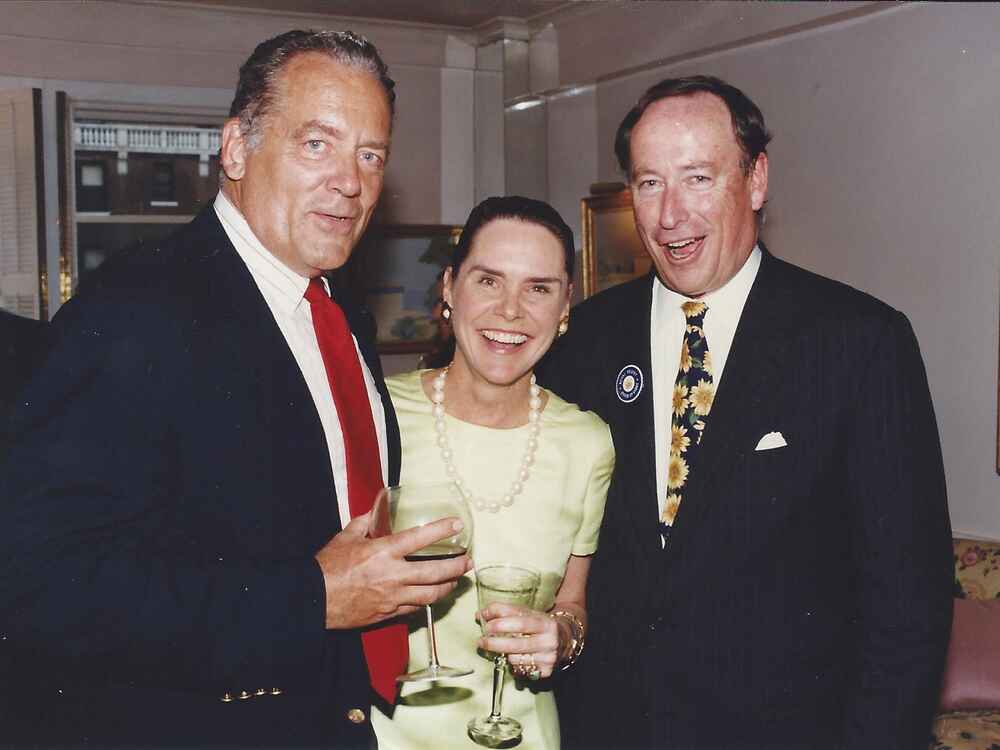 Carl told the CEO and president of Fieldcrest Cannon, "Don't take up too much of Sandie's time!"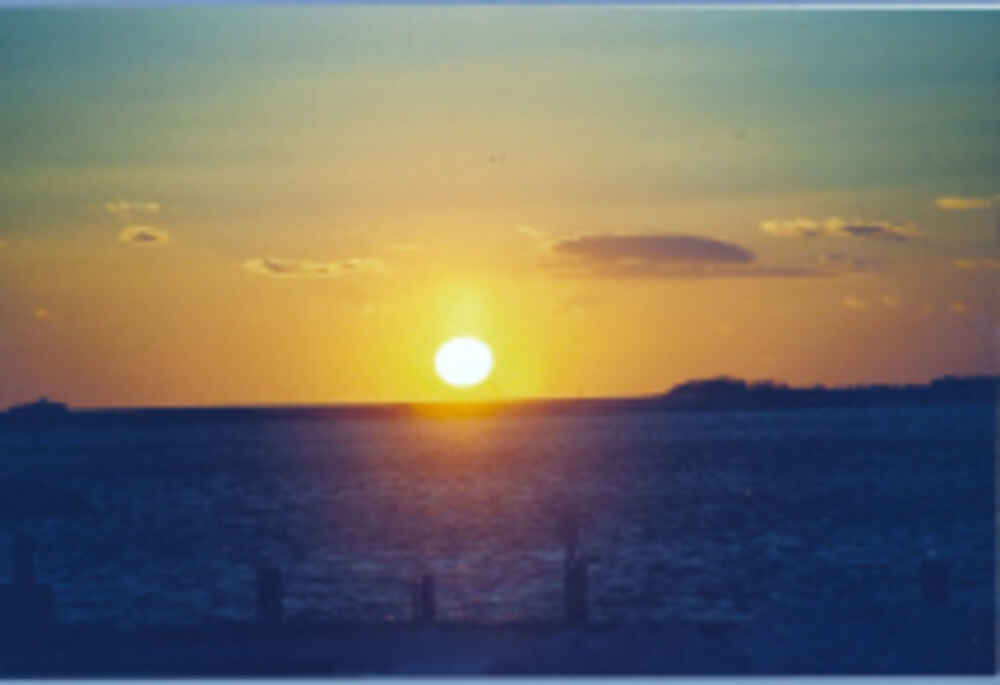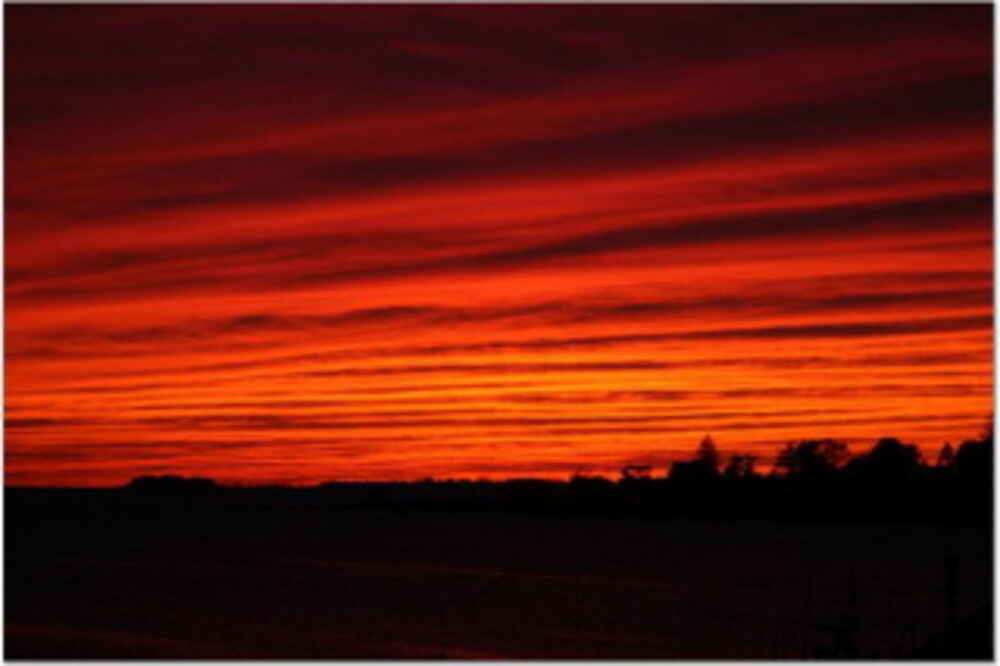 Grace Note
The essence of friendship is entireness, a total magnanimity and trust.
~~ Emerson