"Let the beauty of what we love be what we do—there are hundreds of ways to kneel and kiss the ground." —Rumi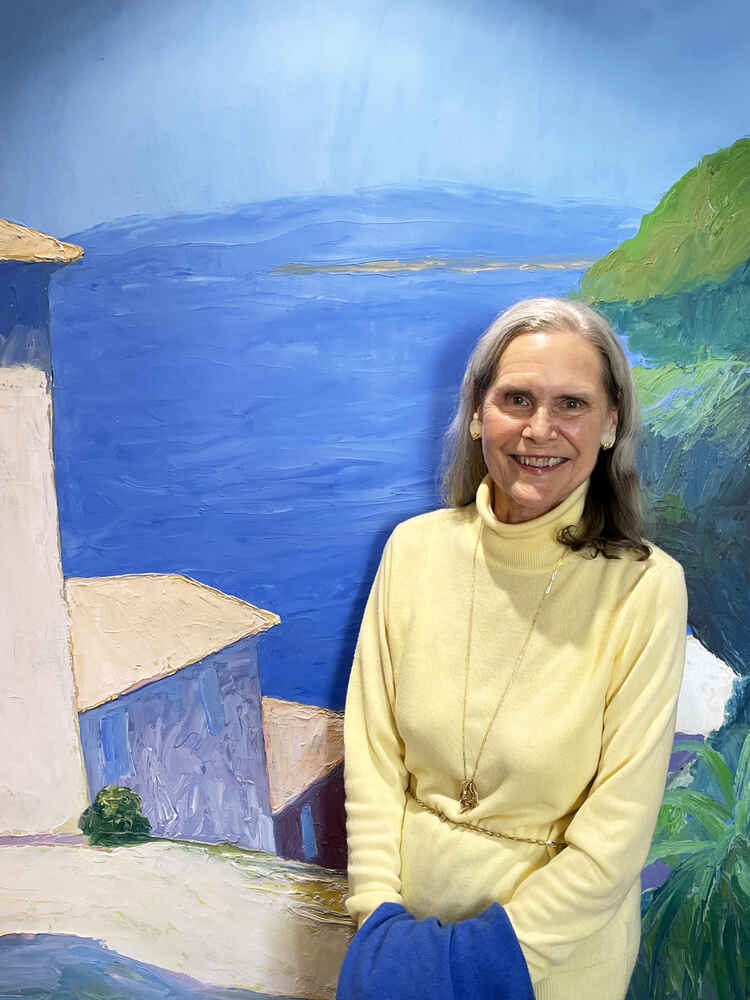 Dear Friends,
I love you.
The season of love and gratitude is upon us; I've never felt greater love in my heart. The spirit of true giving is thanksgiving. This is a time to reflect, to light the lights, to pause and meditate on all our immeasurable blessings. I feel deeply thankful to be sharing my life's journey with you. Let's begin where I started my letter to you last month: our vote.
My heart has expanded to unknown depths and heights. Against all the odds of the history of the midterm elections, "they surfaced something beautiful and decent and vitally important in the soul of the nation." These are the thoughts of Thomas L. Friedman, a thinker I greatly admire and learn from who has greater intellect and knowledge about the consequences of losing our fragile democracy than I do.
In a New York Times Opinion Page column, "5 Americans' Words to Live By," he expressed my feelings eloquently. "It was a readiness to defend the core of our democracy—our ability to peacefully and legitimately transfer power.… Democracy was reaffirmed."
Not only did people vote, but there was a record turnout of young people who voted, some for the first time in a midterm election. The liberties and freedoms we hold dear come with each citizen's responsibility to accept the fair outcome. We the people, you and I, must speak out and cast our vote in our constitutional democracy. And we did. "Losers concede gracefully and move on, and winners win gracefully and govern," Friedman wrote. Because this is in celebration of that tradition in our history, we bless God and America.
In this spirit, and in recognition of all our abundant blessings, I'm wishing you and all you hold dear a most happy thanksgiving season of love and gratitude. Abraham Lincoln wrote, "I walk slowly but I never walk backward." My friend Cherié sent me a well-known and relevant quotation, wisdom from the soul of my favorite American president:
My dream is of a place and a time where America will once again be seen as the last best hope of earth.
We all struggle with our conscience to do the right, good, decent thing. I feel uplifted and have more hope for our future than I have in a long time. I have faith in the majority of people respecting the core values of our democracy. Light follows darkness. As it gets darker in the sky earlier in the days leading up to the winter solstice, I'm reaching out to absorb and appreciate all the light available.
Not knowing what would happen at the polls on my birthday, I was determined to celebrate every day in November. I began the month excited to anticipate all the fun festivities, culminating in our day of gratitude, Thanksgiving Day.
On the First Day of November…
I savored my last precious days of my eight decades of being alive! Turning 81, however, is most exciting for me, mainly because no one in my immediate family has lived beyond 80. My longevity, as with my entire life, is a gift. I'm bathed with the greatest feelings of humility as I approach this personally meaningful milestone.
I was in high spirits, enthusiastically anticipating celebrating with like-minded friends. We wanted to indulge in the most delicious restaurant food in nearby Rhode Island. November 1 began this monthlong festival at my favorite celebratory restaurant of all, Al Forno in Providence. Traditionally we've gone there after the theater at least a few times a year. Whenever there was a birthday around theater dates, we would celebrate with the theater and a delicious dinner at Al Forno. Seasonally the menu changes, and the freshness of their vegetables is extraordinary; the subtle combinations of flavors and ingredients is mouthwatering and echoes good memories of outstandingly good times.
I smiled in appreciation as we were seated at a familiar table. Sunlight behind us was beaming on a pale pink garden rose with a chartreuse center. The white tablecloth brought in more light. We saw the pink sky reflected in the mirrors in front of our table. Doug, Betsy and I were eager to savor each taste treat completely. We were not "going to the theater," as Peter would say when we were not in a hurry.
The restaurant is known for the best pizza imaginable, and we began our feast with their signature margherita. This was anything but ordinary and whetted our appetites for the rest of our banquet.
Doug and Betsy had lamb chops; both voted it the most succulent ever. My eggplant was scrumptious, but the fennel salad with feta cheese and oranges took the prize. We all agreed. Even the roasted orange rind's crunch added a subtle note of spice.
Being a child who never enjoyed birthday cakes, I've made up for my lack of a sweet tooth for cakes with my passion for fruit tarts. We had the special of the day—cranberry, with whipped cream and ice cream.
This was day one of the restaurant tours. We weren't in France, going from one memorable feast to another; we were close to home in the state that shares a border with Connecticut.
Day two led us to another authentic, special restaurant experience: the Matunuck Oyster Bar in Matunuck, Rhode Island. Originally, we'd planned to go to the Celestial Café in Exeter after a Saturday theater matinee in Providence a few weeks ago, but they were so jammed up, even being seated at the bar was impossible. We agreed we'd all go back on a weekday. We were on a roll. We wanted to go "tomorrow." They are closed on Tuesdays, so plan B ended up being fortuitous.
Luck was mine. They had fresh shaved black truffles on the menu with a mushroom pasta. The founder Donny shaved fresh truffles on some pesto pasta for me on Valentine's Day last year. Because of my inordinate passion for this sensual pleasure and extravagant splurge, I had immediate flashbacks to some of my favorite truffle moments that began in Italy 60 years ago!
Two nights before my birthday, my food-loving friends Jamie, Leo and I went out to dinner. Jamie's wife, my good friend Amanda, was hiking in New Hampshire. Leo's oldest sister was in Portland, Oregon, visiting with family friends. Leo and I share the same birth date and always have dinner together, usually with the whole family. Jamie is the chef at Water Street Café in Stonington and was free Sunday night. Leo was in charge of deciding where we would drive. Shipwright's Daughter in Mystic proved to be a huge hit. Not only did we all enjoy and appreciate the excellence of the dinner, but Leo loved the ambiance of the ship décor.
After dinner, Jamie and Leo came in for a minute to gape at my dining room's display of Lady Anne Gordon's porcelain fruits and vegetables. To prepare myself for the Stair Galleries auction house coming the next morning, I'd gathered 120 pieces of her artwork and placed them all in the dining room on three tables, and on the mantel. In addition, I emptied all the shelves of a closet of all my 19th century porcelain dishes, platters and decorative objects. Much to my surprise, both father and son admired what they saw, and one minute turned into a pleasant aesthetic conversation. Rather than food to eat, all this excess of color and refined artistic beauty enriched our food for thought. The lengths gifted artists go to express their sense of what is beautiful is awe inspiring. I had company in my admiration as I was saying goodbye to these treasures.
"Be Prepared"
My Girl Scout motto prepared me to let go of almost all my beloved collection that I've loved up and used joyfully over more than four decades. After Jamie and Leo left, I went upstairs to bed and read the words of Deepak Chopra that made me gasp with recognition: "Holding on to something is like holding on to your breath — you will suffocate." I felt the appropriateness of my timely letting go. Better too soon than too late, we know from experience. There truly is a time for all seasons. I have all my memories of early days when I enjoyed helping my clients put their collections together. Many of them will now be able to buy some of Anne's priceless pieces at auction.
Lift Off
The porcelain expert Lauren's day here was intensely stimulating. Cory arrived soon after to pack everything and fill up a huge van with boxes full of beautiful objects. I was so ecstatic when he left, my daughter Alexandra was afraid I'd have a heart attack. I was so happy. Lauren took inventory of every item in categories, or "lots." There was a staggering total of 79!
We had dinner together that evening, getting to know more about our personal lives and interests. Lauren spent the night at the Inn at Stonington. The next morning, Election Day, I was one of the first to vote at our fire station. Before returning home to Hudson, New York, Lauren came to photograph my antiques that she'll auction off after I die. It's extremely freeing to have everything in order while I'm alive, able to make all these important choices myself. I have the complete support and blessings of Alexandra and Brooke, who are my cheerleaders in this "passing on" project. The universe will take care of the future. I'm thrilled to feel this free and fortunate on my 81st birthday.
Brooke and Cooper came over with giant silver balloons: 8 and 1. Depending on the way the wind was blowing, I was either 81 or 18! We went off to the Matunuck Oyster Bar for a birthday lunch feast, and I realized every extraordinary experience uniquely has its own energy. I loved being with family: mother, daughter, granddaughter. Cooper had Election Day off, the way she did when I was in New York City on my 75th birthday. Alexandra had surprised me at breakfast because she came to the city to cover the presidential election in 2016. Then, as this year, we all shared the gift of time together on big meaningful occasions.
Some people don't like to advance in age when they're old. I love being old in order to know firsthand how it feels to be an "elder." Until now I've only learned from mentors and wise people who were from an earlier generation. I'm interested in living well and setting myself up for a good death whenever fate decides.
I can simply say that turning 81 is fun. I'm fully appreciating all the cards, messages and love of family and friends who make me feel so happy. You all are in my life and heart, and I want to be sure you feel my love and devotion. "The longer I live," wrote William Ellery Channing, the minster Peter and I admire, "the more things I must complete." I feel strongly that a sense of completion of our passions and projects is self-rewarding. Each day I feel more complete in my work. Marcus Aurelius often seems to write to me. "Try to live your life," he wrote to himself in his Meditations, "and be happy with your destiny, acquiring inner peace by love and good deeds." Sometimes, often when appropriate, our "good deeds" require self-love and care.
Time Out
Day eight, nonstop. All the affection lavished on me was exhilarating and exhausting. My joy was bursting, my belly was full, I needed a break. I kissed Brooke and Cooper goodbye, smiled as the silvery 81 bobbed in the breeze and headed straight for bed. I remember the feeling going up the 13 steps as I held on tightly to both banisters. I didn't trust my legs because they'd let me know it was time to rest with my feet up.
I had a few hours before going to a Greek food festival in New London with my dear friends Charlotte and Fred. The bedroom looks west with a view of the harbor. The sun was pouring in on the bed, looking and feeling splendid. What a gift to be able to completely unwind and relax to replenish my energy with "bed rest." What a treat to feel well and happy, wanting only to be cozy, cuddled under an antique pink and white quilt.
Two friends dropped by to bring me presents. I invited them to come up to my bedroom. Once perched, I knew enough not to budge. Mary brought me a bouquet of flowers I hugged while enjoying our visit. Just as she left, Sandy came with a book about the Murano glass exhibit at the Mystic Seaport Museum. Sitting there, after our few minutes together, I was acutely aware how lucky I am to feel so well. Perhaps when I'm tired, I can do this again. What a luxury to be free to rest when we are tired. This might be one of the many privileges of aging well.
"The Happiest Day of My Life"
My daughter surprised me over lunch the weekend after my birthday with a full-blown family reunion birthday celebration. As Alexandra wrote me afterward, "We pulled it off." Everyone was healthy. Alexandra and her daughters spent the weekend, as planned, but the presents and caring that went into this occasion were way over the top. Teary, I burst out, "This is the happiest day of my life!" It is, after all, these extraordinary moments when we're able to let it all hang out, and we express our mutual pleasure in our being together on happy occasions. The whole family dynamics were indescribably beautiful.
Nothing lasts, good or bad. What lingers in our memory and in our consciousness is the strength of our love. All the attention from my family was on me. Love requires giving and also receiving. To be on the receiving end of this much affection is powerfully life-sustaining.
All this was a build-up to the gratitude of our American holiday, Thanksgiving. Feeling appreciative, giving thanks, recognizing all the countless people who work hard to help us maintain and sustain the quality of our lives is truly inspiring.
Feeling thankful is an excellent way of being, a form of loving, and a gift we give ourselves because of the pleasure we gain from this awareness.
Recognizing the Heroes I Admire and Love
In order to feel this fortunate, I'm privately honoring all my heroes by name, and in writing. I'm identifying all their character traits I want to emulate. I'm meditating on the gifts they gave me to help shape and mold my development. I've discovered, in this exercise, that this illuminating spirit-energy stretches my moral muscles. In my meditations, I light a candle and ask that they watch over my every move. I want to imagine I am known transparently to the men, women and children I look up to with respect and high esteem. Any of their insights I try to adopt will only be guiding me to be good by doing good deeds for others.
Reflecting on all their collective goodness elevates my spirits to inspire me to do more. Representative Jim Clyburn of South Carolina said recently, "Let's see what we can do to fill the glass up to the top. Is the glass half full, or is it half empty?" This is up to each of us to choose. We are always free to fill it up higher and higher. We can never love life too much. We all have work to do.
Brunch at Castle Hill Inn
On a sunny Sunday morning, Elissa drove her mother Mary Beth and me on the scenic route to Newport. When we arrived, we were met by Elissa's husband Colin and her son Jonathan, as well as Kevin, her dad. Our anticipation made us giddy happy. Originally it was just going to be Elissa and me, then Colin and 18-month-old Jonathan. When her parents came a week later, we got to share this excursion together. Shortly after we were seated we heard live music in the next room. I was, again, treated to a splendid brunch. On our way home we stopped at the Farmer's Daughter, a magnificent nursery that was all decked out with Christmas ornaments, plants and gifts.
I bought a stunning white cyclamen with fuchsia tips on the leaves and on the base of the blossom. The gardener in one of the greenhouses selected it for me: "This one is the most robust. Look at all the leaves and buds." I also bought a balsam and cedar candle that keeps me company along with my new plant I'm loving up. I bring it to the bedroom every night, and I enjoy seeing it before I shut my eyes and again upon awakening. Both bring wonderful memories of a splendid day trip to Newport.
Happy December. I have so many thoughts I want to share with you that will have to wait until my next letter. Elissa is going to her parents for several weeks in mid-December, so I will write it to you early, and you will receive it January 1.
During this festive month of parties and activities, I want you to remember to pace yourself. What I know now from my own experience is that we can never provide for others at the expense of neglecting to nurture ourselves. I want to end with a thinker I truly admire:
"When we feed and support our own happiness, we are nourishing our ability to love. That's why to love means to learn the act of nourishing our happiness." —Thich Nhat Hanh
Happy holiday season to one and all. I'm embracing the new year's possibilities and adventure.
Great love to you always.
Love & Live Happy,

Correction: In the previous newsletter, there was a mistake that changed the meaning, and it's corrected here: "I know what makes me happy. I have to say so no a lot in order to live according to my individual lifestyle." My mistake! —Elissa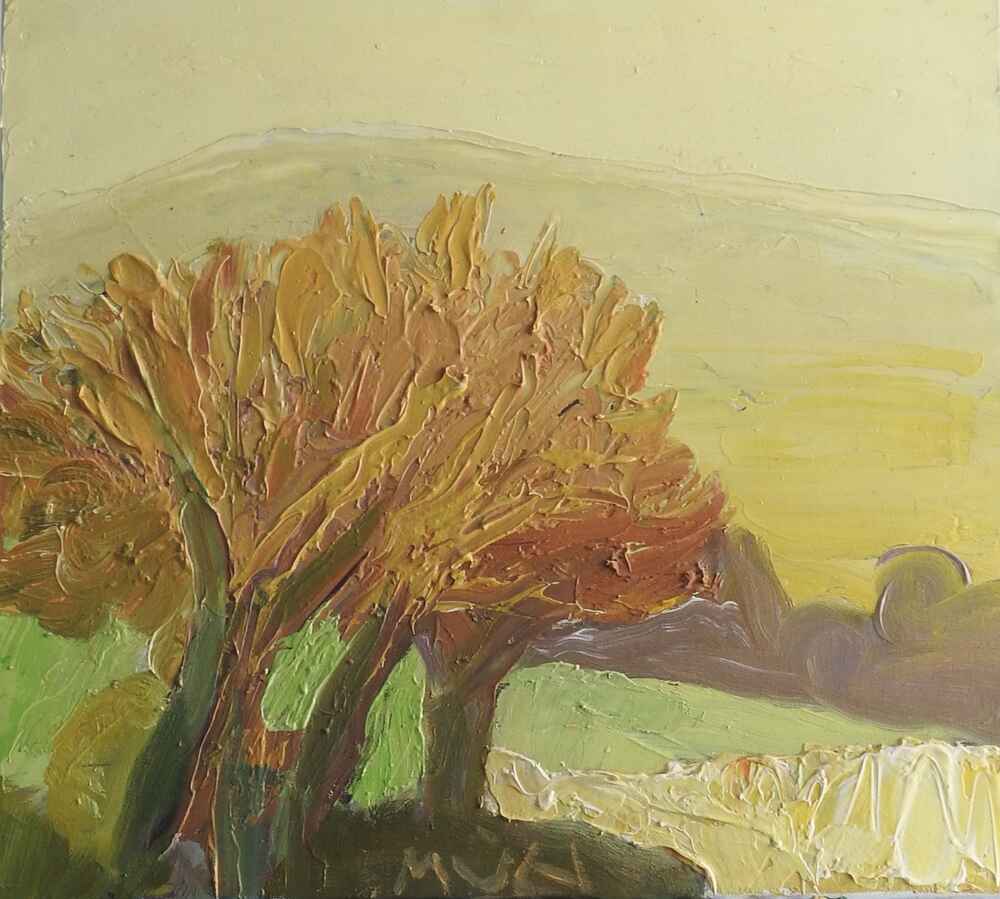 I'm letting go of this oil painting by Roger Mühl if anyone is interested in adding it to their art collection; please contact Pauline at Artioli Findlay (artiolifindlay@gmail.com) for more information.
Roger Mühl
(French, 1929-2008)
Automne
Oil on canvas
12 x 12 3/4 inches
Painted ca. 2001
Mühl's French landscape of vibrant fall foliage has an energetic feeling.
"Don't seek that all that comes about should come about as you wish, but wish that everything that comes about should come about just as it does, and then you'll have a calm and happy life." ―Epictetus
Angels on Earth
My story about Charlie's pink house and our friendship will be featured in the January/February edition of Angels on Earth Magazine, so look for it on newsstands!