The invisible work we do to improve the light and love in our soul is the greatest benefit to the world.
(This newsletter was written December 15, 2022.)
Dear Friends,
I love you! Happy, happy 2023. November was a monthlong celebration, leading up to the full-blown festive holiday season culminating on New Year's Eve. Out of darkness, light the lights. Early in December, houses are decorated for the holiday festivities. Candles and wreaths are in windows, trees are trimmed and lit up with strings of colorful lights, indoors and out. It's fun to drive around at night to see all the enchantment of December's magic.
Music Uplifts the Spirit
On December first, Grace, my friend and one of my theater buddies, and I returned to the Goodspeed Opera. To get us in the festive mood, we went to the new musical Christmas in Connecticut in East Haddam. I love seeing the movie on Turner Classic Movies on television, but this live theatrical production of the beloved story won my heart. The exalted enthusiasm of the actors bursting into song was simply enchanting. The scenes taking place on Christmas Day on a farm in Connecticut's beautiful country were deeply touching.
The Russian writer Leo Tolstoy believed that music is the shorthand of emotion. Music is otherworldly. It can lift us into a realm of sensuous beauty and indescribable joy. I feel so fortunate to live in Connecticut and be near live theater and stimulating cultural events. What a magical way to begin this month of love to get me in the spirit.
Christmas in Connecticut as a musical is simply sublime. The beloved production of the musical Annie opened at Goodspeed and went straight to Broadway. Fingers crossed for my New Yorker friends!
Fast forward, I was happily on a roll. Another theater buddy, Doug, and I went to the premiere of It's a Wonderful Life in Warwick, Rhode Island, on Friday night, December 9. We first hit Trader Joe's, leisurely sauntering up and down every aisle, savoring unhurried moments stocking up on their brands and other discoveries. I never want to run out of lavender laundry soap. I picked up some orange "Refresh" citrus body wash for the shower. I bought some adorable wreaths for the picket fence. We returned to the Shanty restaurant for dinner before the 7:30 performance at the Gamm Theatre. Not having a reservation, we felt lucky to be given the last two seats at the bar.
Another stroke of good luck: Robin, Doug's grandniece, was working as a waitress. She's in graduate school, not leaving much free time. Because we sat at the bar, Doug was able to spend lots of moments with her in the interstices as we were enjoying our delicious meal. Robin recommended we try the cauliflower tacos as an appetizer. Yummy. When we told her we were off to see It's a Wonderful Life, she mentioned that she and her whole family were going to A Christmas Carol on Sunday at noon in Providence. Eureka. We bought the last two tickets for the same performance. We were excited. "Scrooge is a woman this year," Doug told Robin. Our spirits were high.
Doug mentioned that he'd like to pop into the Whole Foods store in nearby Cranston. He knew they have a large selection of authentic mango chutneys. He'd made a favorite curry chicken recipe the night before and was on a mission to find some authentic Indian chutney. We don't have a Trader Joe's or a Whole Foods near us in Stonington. Whenever we are near one of these grocery stores, it's a treat to look around and see what's newly available, based on the season.
Focus on Presence
I value being present, in the moment. When we are mindful of how precious our time is, we can be so much more aware of all the beauty available at each focused moment. The pace of modern life has accelerated to become breathlessly rushed. My friend, beloved boss and mentor Eleanor Brown trained her young designers to value time. Mrs. Brown wanted us to live beautifully because living well takes time. I've learned that whenever I'm rushed, it affects my breathing, as well as the bliss of being in harmony with the present moment.
Time is our most precious commodity. The greatest insights I've taken to heart, I've learned from spending time with wise people of an older generation. I make a habit of pacing myself. I enjoy the process. Taking my time is a great luxury. When I wrote Time Alive, I wanted to call the book Now. My literary agent Carl told me no. Whenever I am focusing on what I'm thinking or doing, I feel the flow of my nature guiding me. When I'm spending my time undividedly mindful to pay close attention to my senses, I feel calm. A feeling of satisfaction washes over me whenever I'm giving my all to each unrepeated moment. Time moves quickly; it is not ours to relive.
In retrospect, Time Alive is a perfect title to express the urgency of valuing our time, while we're alive. Not only alive, but when we still have keen perception, intelligence and understanding. We want to savor all the bounty available to us now—yes, this very moment—when we still have our wits about us!
It's no secret that the most basic meaning of life is to enjoy ourselves as fully as is humanly possible while we can. When we learn how to live well, to appreciate being able to work and love, and love our work, we're fulfilling our responsibility to humanity. A fundamental obligation to the universe is to appreciate what fate has in store for us. Whenever we try to make the best of every real-life situation, in real time, we will feel a sense of wholeness, an understanding of completing small tasks. Our "time alive" will come to an end sooner or later. By valuing the quality of these fleeting moments, we will learn to savor the subtle, wondrous nuances of small increments of time as it ticks by one second after another.
Our Town, the book by Thornton Wilder (made into a play and movie) expresses the sheer mystery, magic and wonderment of the miracle of being alive on earth. Notice the ordinary, intimate details we can all appreciate.
Good-bye world…. Good-bye to clocks ticking ... and Mama's sunflowers. And food and coffee. And new-ironed dresses and hot baths … and sleeping and waking up. Oh, earth, you're too wonderful for anybody to realize you.
It's a Wonderful Life
Before the play began, several of the actors in the cast came around to the audience with paper and pens asking us to write a note to a loved one, dead or alive, by name. Some of our sentiments would be picked from a basket and read on the "live radio play." This audience participation set the mood of the message of the play. I read years ago that 85% of Americans believe in angels. Whether you believe in immortal spiritual creatures or not, I'm a huge believer in good, kind people who, to me, are "earth angels." No matter how skeptical we humans tend to be, there are rare, enlightened people whose goodness radiates far and wide. Whether we know it or not, they are mysteriously guiding our spiritual elevation. Angels are there for us when we seek guidance and leave us when our prayers are answered.
In addition to the notes we were invited to write to someone (an invisible angel?) we love and appreciate, we all sang along: "On the first day of Christmas, my true love gave to me…" George Bailey's actor, Jeff Church, is a good singer, urging us to sing out, as the entire cast and the audience were Christmas caroling. Clarence saved George's life as a lovely second-class angel, moving up to earn his wings.
This story is well known to us. Samuel Johnson's truism that I wrote about in Living a Beautiful Life—"People need to be reminded more often than they need to be instructed"—is more meaningful when we are freshly moved by the message of life's infinite wonders. Apparently whenever we watch the film from 1946, 42 angels are blessed with wings!
Three Hands, Four Hands
The next night, my friend Mary picked me up and we walked down a few blocks to La Grua, our Stonington cultural center, to attend a piano duet, "Une belle fête de Ravel!" The pianists Stephanie Ho and Saar Ahuvia are both passionate about the 19th century French composer Maurice Ravel. (Many are familiar with his Mother Goose.) One of Stephanie's extremely complex solo pieces was designed for one hand; she explained that Ravel wrote it for someone who lost his right arm in World War I. These pianists are world-class performers. They are married in real life and are one with the music they create. In some of the duets, their hands overlap, and their synergy and the harmony of their intertwined spirit was most uplifting and inspiring.
Charlie came to Stonington expressly to come to this belle fête. On Sunday morning, he delivered the New York Times, and we had a brief visit before he headed off. We both were on a roll, raving about the high bar of excellence a few minutes' walk from our Water Street houses. How can we be this exceptionally fortunate? Some questions bring us to our knees!
A Christmas Carol
The Trinity Rep Theater in Providence's A Christmas Carol is a favorite New England tradition that has enchanted theatergoers for 42 years. Doug brought his grandnieces for the first time when they were young, and they've been going every year since. His family waved to us from their seats in the balcony. We bought the last two seats in the house; my seat was literally in the last row.
The female Ebenezer Scrooge was uniquely touching. You could immediately sense a tender heart hidden beneath her seemingly impenetrable armor. Because we are all familiar with this classic character from Charles Dickens, we could anticipate the infectious joy as this modern version of the play unfolds. A Christmas Carol is a timeless ecumenical tale that reminds us of, and reinforces, our shared humanity.
To add to the joy, we met Doug's family in the lobby after the show. The theater gave out fortune cookies to their patrons with Charles Dickens' most memorable lines. A few of us read ours, to great laughter. "Merry Christmas" rolled off all our tongues. I was feeling full of high-spirited gaiety. At an old-fashioned Italian restaurant, having lunch by the window at a high top, we saw our first New England snowfall of 2022.
Letting Go of 2022
My merry making will continue throughout this year's end. I'm flying to Washington to visit Alexandra and her family for a few days before Christmas. I'll see my other daughter Brooke and her family over Christmas here in Stonington.
As this extraordinarily happy year ends, I embrace the presence of 2023. I'm choosing to continue to celebrate whatever gifts of opportunity come my way. This past year, I realized that I'm not going to live forever, and I want to prepare for my good death. Our life changes, we live in chapters, and in this chapter of my life, I'm choosing to let go of excess. When we left New York, we downsized our possessions, and now I'm downsizing even more. I'm enormously pleased with my actions once I woke up! By having less, I have "space to breathe." "Empty and be full" has opened doors and windows into the expansive beauty and mystery of nature. I now am living A.A. Milne's adorable words: "Time for a little something."
A favorite 16th century French thinker, Michel de Montaigne (who invented the essay form) taught me that the greatest thing in the world is to know how to belong to oneself. He believed that the happy are those who think they are. Knowing we are happy when we are is essential. Unrealistic, impossible expectations are counterproductive.
Happy New Year! Embrace each moment. We have this precious gift to live the good life. I wish for you, and all you love, true joy, peace, love and happiness.
Love & Live Happy,

Exciting News!
The Lyman Allyn Art Museum in New London, Connecticut, is planning an Alexandra Stoddard lifestyle pop-up exhibition for one month starting mid-January. Sign up for my emails to receive more information as soon as it's available!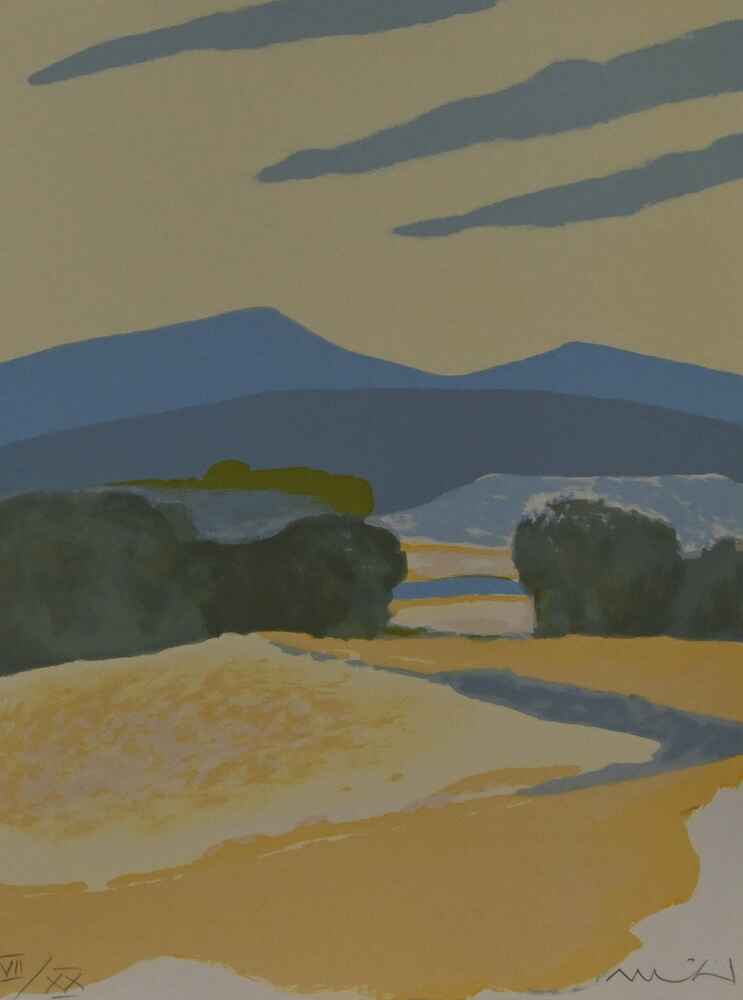 I'm letting go of a lithograph by Roger Mühl if anyone is interested in adding it to their art collection; please contact Pauline at Artioli Findlay (artiolifindlay@gmail.com) for more information.
Roger Mühl (French, 1929 - 2008)
Provence III, Un long rayon doré jaillit à l'horizon
Limited edition French lithograph
16 3/8 x 12 1/2 in
Executed/printed 1986
Edition of 20
Angels on Earth
My story about Charlie's pink house and our friendship is featured in the January/February edition of Angels on Earth Magazine, so look for it on newsstands!