Dear Friend

Peter and I enjoyed some peaceful happy days at the cottage in September, savoring sparkling sunny days with low humidity. The sunsets were awesome in their spectacular colors. As sky meets water when the sun touches down, we experience a miraculous sight, a promise of nature's continuity. Fall is the best time of year is Stonington Village and we feel blessed to be able to spend time there.
The highlight of September by far, however, was our visit to a favorite Texas town, Austin, the capitol. Governor Rick Perry and the First Lady Anita Perry invited me to participate in the Texas Conference for Women. I was asked to speak about Choosing Happiness at an afternoon session September 10th. When a journalist, Carol Blanchard, called me in Connecticut for a telephone interview, she asked what I intended to do September 11th. Instinctively I took in a deep breath and said, "I'm going to pause in Austin."
The next day I received another call from Carol, who sounded excited as she enthusiastically proposed that I give a talk on 9-11 in Austin - she and her newspaper, the West Austin News, would sponsor "an afternoon with Alexandra Stoddard of healing and community." Yes! Wow! I felt my ch'i, my vital energy, racing through my body. I felt extreme joy at the opportunity to be with a community on such a sensitive day - a terrible, sad anniversary. I was actually relieved not be in New York City where the wounds are still raw and the loss so deep.
I called my friend and literary agent Carl Brandt to tell him the news. He suggested I discuss September 11, but not dwell on it. It is time for us all to move on, to never forget, yet to heal.
The speakers and moderators who attended the Conference for Women were invited to the Governor's Mansion for a reception the evening beforehand. By some stroke of good fortune Peter was also issued an invitation and we spent a delightful half hour privately with Governor Perry as he showed us the memorabilia donated to the mansion by former presidents and governors, including exquisite silver candlesticks given by President George W. Bush that has belonged to his grandparents. The Governor told us he was giving the most difficult talk in his life on 9-11 at the Texas State Cemetery in a solemn memorial service where he would unveil a model of a monument remembering the tragedy and the heroes whose lives were lost. Two columns from Ground Zero will be encircled in marble.
There were bagpipes, a 21-gun salute, the National anthem and the Governor's moving address. The Texas flag was flying at half-mast and there were color guards as the American flag was honored with our hand on our heart. Texas rescue workers who had gone to Ground Zero to help were in uniform with their young babies in their arms.
The Conference itself was spectacular. Four thousand women were able to hear enlightening talks all day long, selecting from three sessions, going to hear the speaker of their choice. I spoke after the Governor's keynote luncheon address on a panel moderated by Jan Bullock, widow of the former Lieutenant Governor, a Democrat mentor to President George W. Bush. Jan had introduced George W. at the Republican Presidential Convention viewed by 2.5 million people.
Jan is dynamite. We had dinner together after the Governor's reception and Peter and I felt we were with a dear close friend. She moderated our energetic panel with great style. This talk was the most stimulating one for me. Blessedly, many people from the Conference and several who couldn't get in because of the crowd came to the community tea. The energy in Austin is amazingly positive; these Texas women are warm, open and vital. Our afternoon was indeed healing and we felt such a deep sense of connection; strangers left as friends.
To top off such a powerfully emotional day, a new friend, Barbara, whom I met at the book signing after the event, offered to drive Peter and me north to the hill country to the Riverbend Church that was performing an evening memorial tribute for 9-11. Twenty-five churches were united to create a 50-piece orchestra and a 500-person choir. We arrived early to get front row seats, joined by a packed congregation of 3,000 people.
Austin moved my soul. I hope to go back soon. There is something to be said about going to a Conference!
Together we empower one another, we share ideas, we connect, and we're inspired to participate in making unique contributions to the happiness and well-being of the citizens of our great country.
Thank you Governor Perry. Thank you First Lady Anita Perry. Thank you Jan Bullock. Thank you Carol Blanchard. Thank you Anna Baker, editor-in-chief of the West Austin News, who introduced my talk.
Happy October.
"Love and Live Happy"

PS: Choosing Happiness is in a 6th printing! Living a Beautiful Life is in a 21st printing! Thank you friend and reader.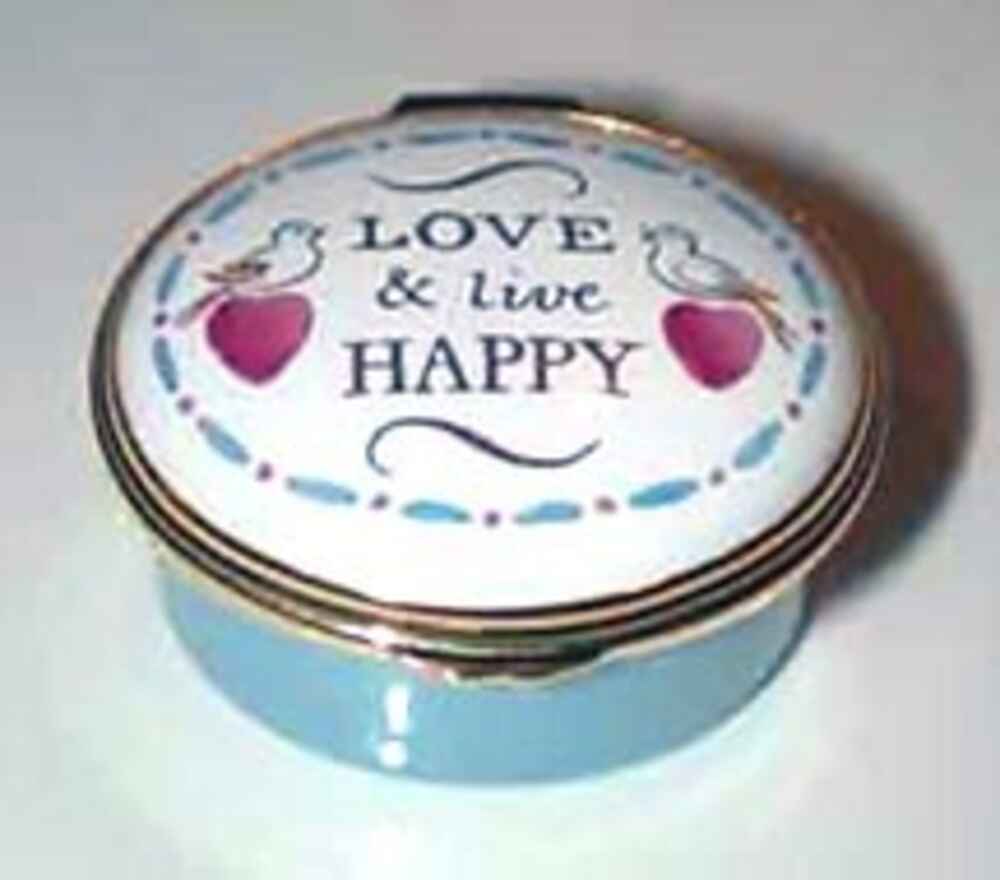 Great, good news. The wonderful lifestyle store Scully & Scully in New York City fell in love with the antique hand-enameled box "Love and Live Happy" shown on the back book jacket of Choosing Happiness. They have engaged the English company Halcyon Days to reproduce the box! They have now made a limited edition of 50. Please consider having one of these keepsake treasured boxes on your writing table to remind you of my mantra. This is a perfect gift for someone you love.
To order, call toll free:
1-800-223-3717
Grace Note
Start a Happiness notebook. In it write all the things that you do to make yourself happy. Add inspirational, motivational quotes. This will become a sacred text for you.