Dear Friend
Can you imagine how much the following letter warmed my heart, especially under these difficult circumstances? As our lives have been suddenly confined to a few rooms in our New York apartment because of Peter's injury, we're acutely aware how precious life is, how important it is to focus on all the beauty, grace, color, light, love and laughter available each moment we are conscious and have the capacity to see life through loving eyes.
Here are excerpts from a letter from a Dallas, Texas, reader and friend, Meggan Friedman, who eloquently tells of the exceptional impact of Choosing Happiness upon her personally – as well as her relationship with her mother:
October 18, 2002
Dear Alexandra –
Oh what a gift you have given me – you have given the world!!! I want to express my deepest gratitude to you for your exquisite, profound, inordinately helpful, motivating, magical, beautiful book.
It is truly a work of art. I chose it as I have proclaimed the next 6 months of my life to be focused (in each and every unfolding day, hour and minute of JOY, LAUGHTER, LOVE) on happiness.
I have been a seeker of truth, knowledge, wisdom … of what makes for a soulful life, for sometime now. The search has taken me to many different places, different ways of being, a student of many different authors and philosophers … while the journey has been profoundly rich and interesting, valuable and rewarding … it has often lacked a sense of joy, of lightness; there has been so much focus on depth, inner striving and uncovering – that I have often neglected – even rejected, the more worldly, surface, exterior gifts that abound. Your book has the riches that are everywhere – on all walks, all parts of life, that all can be savored.
Specifically, having grown up on the Upper East Side of New York – with a Mom who loved (loves) aesthetically pleasing things and structures. Her world! I completely turned away from that, believing the only true riches can be found within – all else is superficially fake, maskful, self-indulgent. This rejection included much of the way my Mom is – and excluded so much joy that can be found in material things.
Time, and my becoming a mother myself, certainly led me to appreciate my Mother and all she is and was when I was growing up. But your book has really opened my eyes and heart and senses in order to discover and recognize how much time, effort and beauty my Mother's world contained/contains. You have helped to build another bridge, bringing us even closer …
Beyond this monumental gift, you have given me KEYS TO LIVE BY. This is a huge hug to me, Alexandra … to me the very, very best gift one could ever receive.
You are without a doubt, an Angel on Earth. Thank you, thank you, THANK YOU for your helpful, inspiring, enlivening words that serve as tools to create what I want most in life – to be happy, to be joyful, to be loving – to appreciate and savor this miraculous life experience. My own copy of Choosing Happiness is filled with hundreds of neon-colored Post-it flags (I too am a color-fiend) that I will write down on cards, laminate and use as REMINDERS in my everyday – every moment life.
Bless you Alexandra,
XOX Your fan
Meggan
Let me begin by thanking Meggan for her generous, uplifting letter to me. Since I had to completely cancel my lectures since Peter's fall, the outpouring of letters, calls, faxes, flowers, fruit baskets and sympathetic affection and prayers has meant the world to Peter and me. We feel loved and we want each of you to know that your concern and heartfelt wishes for a speedy and full recovery are a central part of the healing process. Thank you for being so understanding, kind and big hearted.
Two days before this unfortunate accident we were at our first Choosing Happiness book club at Barnes & Noble in Willow Grove, Pennsylvania. Nancy Baker, a talented Personal Professional Coach formally introduced me to a standing-room-only group, sharing how much of an influence I've been on her life and the direction it has taken.
Minutes from this lovely meeting were taken by Suzanne. A tidbit of her bright notes follow:
Happy equals whole and well. Happiness can control health and well-being. "When you are happy, you will be good – don't try to be good, just to be happy," quotes Alexandra.
Forgiveness helps lighten the load, not forgiving is toxic.
We should not put happiness off, but live in the moment and be happy each in our own way. If one is happy, one will do good; don't be ashamed to be happy.
She reminds people that they are responsible for their own happiness, "Snap out of it, do your best." Nancy asked the audience to share what happiness meant to them. Quite a few mentioned their children and families, but one person said she appreciated a hot shower. She had lived in Africa for two years without any hot water and thanked God every day for hot water. The people she left behind in Africa will probably never know anything at all about a hot shower.
Alexandra expressed to those in the audience to have the confidence to edit their lives. Life is too short to be the caretaker of useless details.
It was a spirited meeting of enthusiastic people who discovered just how happy they really are. It is always the little things available right where we are every day that can make us so happy. The session closed with someone saying that "Happiness is Alexandra."
Peter and I are choosing happiness. This difficult patch is a minor bump in the road, needing much effort and skill. We're making the necessary effort and we have the skill to live beautifully.
We send you our love. Never will Thanksgiving be so poignant and meaningful. Gather together with family and loved ones and celebrate life together fully.
Love & Live Happy,

A Note from Peter

I'm sorry to tell you the news that on Thursday, October 17th, when Alexandra and I were on tour at the North Carolina Poe Medical Center (where she keynoted an extraordinary Happiness program for over 400 people), I unfortunately fell on a hard limestone floor at the event's show house.
This sudden severe accident completely ruptured the quadricep of my left knee, immobilizing me for many weeks ahead. Following immediate major surgery at New York Presbyterian Hospital, I am now convalescing and rehabilitating slowly at our New York City apartment.
My principal nurse is beloved Alexandra, who is here with me night and day. She has made it possible for me to make my way through this ordeal.
We've been compelled in the circumstances to cancel many events on tour for the immediate future while working here on present and future Happiness projects.
This is to thank you sincerely for your thoughts, calls and encouraging words. We send our love and look forward to many happy sunny days ahead.
All best. Thumbs up.
Peter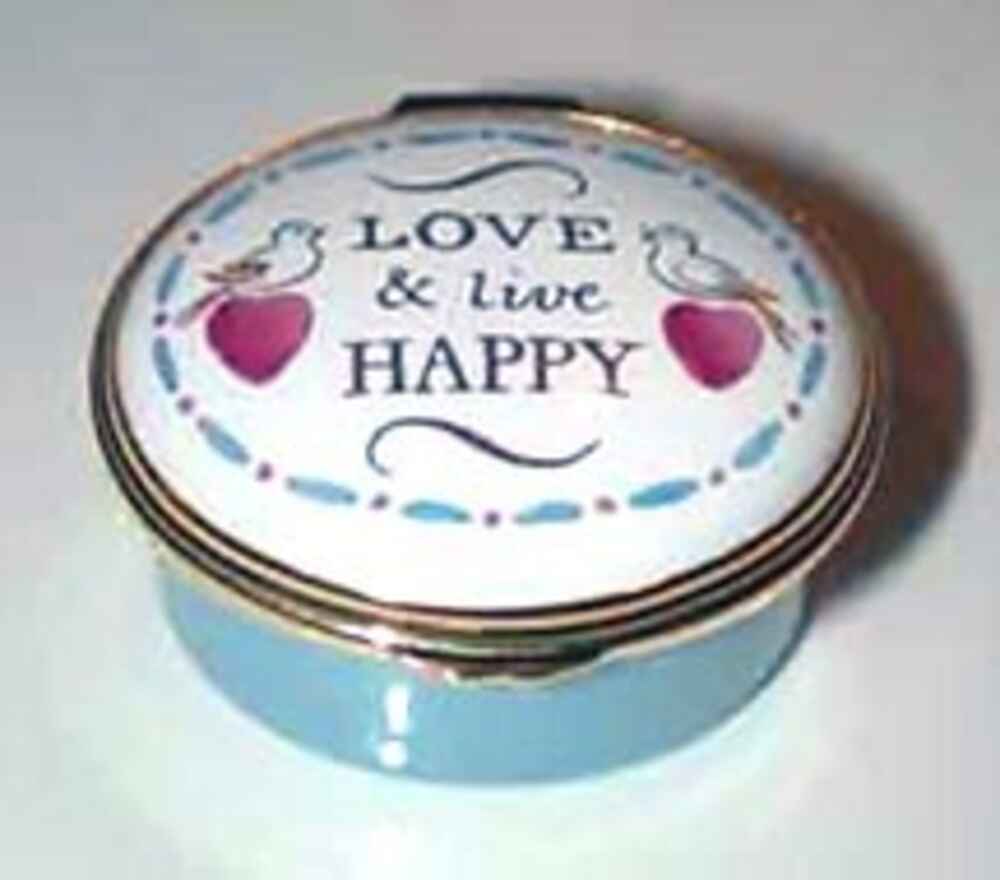 Great, good news. The wonderful lifestyle store Scully & Scully in New York City fell in love with the antique hand-enameled box "Love and Live Happy" shown on the back book jacket of Choosing Happiness. They have engaged the English company Halcyon Days to reproduce the box! They have now made a limited edition of 50. Please consider having one of these keepsake treasured boxes on your writing table to remind you of my mantra. This is a perfect gift for someone you love.
To order, call toll free:
1-800-223-3717


Grace Note
"Pain is inevitable; suffering is a choice."