Dear Friend
I hope your heart is full of Thanksgiving cheer and you feel that you have abundant blessings in your life.
Peter and I count you as healers and friends. The outpouring of loving energy continues to uplift us, inspire us and is working magically. Thanks to a wonderful and talented physical therapist, Lorraine, Peter has some mobility in his operated knee and he feels stronger each day.
November proved to be a most happy month. Long before Peter's injury, we'd planned to have a supper party after the exhibition of our favorite artist Roger Muhl's 42nd year of exhibition in America. We also had planned a reception in his honor two nights later; by chance it was my birthday. Our thinking was that Peter is here, he can sit with his leg on a cushioned stool and enjoy the company of family and friends. We couldn't have had a happier time celebrating "Muhl week." A darling young chef cooked a delicious boeuf Burgundy and we all gathered at three tables for a cozy supper.
Roger Muhl's art exhibition at the Gallery was a triumph. Seeing room after room of his paintings was dreamy. Shortly after his arrival from Provence, he had trouble with his right eye and flew home the day after the opening, so he wasn't able to attend the reception in his honor. We toasted him and sent our energy to his eye healing. He's resting and is on medication and will fully recover.
What a joy to be with dear friends from all over the country on my birthday. It was wonderful; the memory of the fun festivities lingers in my heart.
We decided to celebrate my birthday the entire month of November so each day brought some air of excitement. The highlight of November was the visit from our beloved grandchildren, Nicholas and Anna. Alexandra and her husband Peter Scott wanted to bring us a bundle of cheer because we're not able to travel to see the twins, so they came to us. I'd waited to open presents until the family arrived. We are used to the concept of "faux" birthdays and holidays and find our fun where and when we can be together.
At the encouragement of Peter, I managed to go to Washington to the National Press Club literary event and to the Birmingham Antique and Garden Show to give a talk due to their generosity in flying me down and back the same day so I could be home for Peter.
Our December will be quiet as Peter patiently heals. The twins will come up the weekend before Christmas. Our building has created a playroom in the basement that is ideal for running around and playing with a room full of colorful things.
I'm writing two new books. Being home with Peter has silver livings wherever we look. Our apartment has never felt more comfortable. Being here indefinitely has allowed me to create an indoor garden with lots of flowering plants and the addition of small ficus trees.
I hope this last month of 2002 will be one that brings you great happiness. Our being forced to be home and quiet has given us time to reflect, to think about loved ones, to be together in the privacy and serenity of our apartment. We have more time to read and write and I have created some delicious soups and salads.
Each day I realize I don't have to rush around. I'm here. This is where we are and we have created paradise on earth.
Peter joins me in sending you love.
Love and Live Happy,

Happiness Suits Her Well,
An Alexandra Stoddard Profile
In the midst of this joyful November, a young and talented journalist wrote an article entitled Happiness Suits Her Well. Shelby Murphy writes a column entitled Radiant Women. She is planning to expand the happiness theme for a national magazine article. We met when I was in Austin, Texas in September.
Every now and then, a wise woman illuminates our collective consciousness like a ray of light. Just when things seem dark and uncertain, from a shaky economy to the random violence of terrorists, this person shines her light down a different path. And she does it while wearing silky shades of hot pink and chartreuse.
Alexandra Stoddard's message is style, but her mantra is happiness; both of which radiate from the ever-elegant 61-year-old's colorful couture. Author of 22 inspirational books and an in-demand decorator for the international elite, Alexandra maintains an accessibility that resonates with women looking to add a dollop of joy to their lives.
Her latest book, Choosing Happiness, is the most recent installment in a lifetime spent adoring the details. It is culmination of a lifelong mission to infuse color and light into our personal environments, into our everyday experiences. And it is a thank you to the people, ideas, wisdom and beauty that made Alexandra the embodiment of happiness she is today.
"I first became conscious in my mother's flower garden when I was three years old," says Alexandra in a recent phone interview from her New York City apartment. "It was a shocking realization that I was a part of the universe."
When she was six, Alexandra planted a garden of her own. "It was the love of the garden that made me aware of how beautiful nature is," she says. But when Alexandra peered into the dreary houses of her mother's and godmother's friends, she knew her calling was to help bring the beauty and color of nature into the space in which we live. It was one of the first defining moments in her life.
Alexandra says both her mother and godmother had a decorator instinct and both influential women in her life helped school her in the art of style from early on. Alexandra recognized at a tender age the difference bright curtains, clean windows, and bleached floors can make in the appearance of a room as well as the well being of the homeowner.
In 1959, Alexandra's world expanded beyond four well-decorated walls when her Aunt Betty invited Alexandra on an around-the-world trip. Aunt Betty was a pioneering social worker of meager means who introduced Alexandra to Eastern ideas and a lasting gravitas. The trip planted in Alexandra a universal comfort with people and broader life perspective that would eventually take form in her artistic vision as both a decorator and a writer.
Alexandra returned to attend the New York School of Interior Design as the school's first recipient of a full scholarship. There she met her mentor, Eleanor McMillen Brown, at a lecture given by Mrs. Brown. Alexandra was so inspired by Mrs. Brown, she went to work for her until she retired in 1977, when Alexandra started her own international design firm, Alexandra Stoddard Incorporated.
During this formative time in her decorating career, Alexandra had her second defining moment. She realized that her clients merely slept and entertained in their homes, they weren't truly living in them.
"They were homeless in their houses," says Alexandra. "These women would set the room up for some future event that never happens."
Even though she had never wanted to become a writer, Alexandra says she felt compelled to teach women how to authentically express themselves. Alexandra began writing "Style for Living" when she was 26 and pregnant with her first child. Six years and another baby later, her first book was printed … and her marriage dissolved.
Through it all, however, she kept things in perspective. "I've never aspired to be a Super Mom," says Alexandra. She wrote when her children slept and worked to fit her schedule around theirs. "Being a mother is the most important thing in my life…bar none. I was put here on this earth to be a mother." I just enjoyed every minute with my children. The biggest gift I gave them was an a-ha enthusiasm, that wow for life," she says.
At 32, Alexandra married Peter Brown, a distinguished trial lawyer, whom she had met playing tennis 20 years before. Alexandra says that nobody supported her relationship with Peter, except her daughters (the youngest, Brooke, actually proposed to Peter). But for the first time, she trusted her instinct and married him anyway.Peter still accompanies Alexandra on every book tour and speaking engagement, always dressed in bright colors and sitting in the front row cheering her on.
Now a grandmother to one-year-old twins, Nicholas and Anna, Alexandra says she finds it easier to listen to her intuition and to express who she really is. No doubt her sunshine yellow and fuchsia accessories help.
"In order to be myself, I have to be different than everybody else," she says with a smile in her voice.
Happiness suits her well.

So many of you have asked me to share books that I've read that I recommend. Beginning this month I will suggest a book for you to read and enjoy. My Recommendation for December:
The National Bestseller
Learned Optimism: How to Change Your Mind & Your Life,
written by Martin E.P. Seligman, Ph.D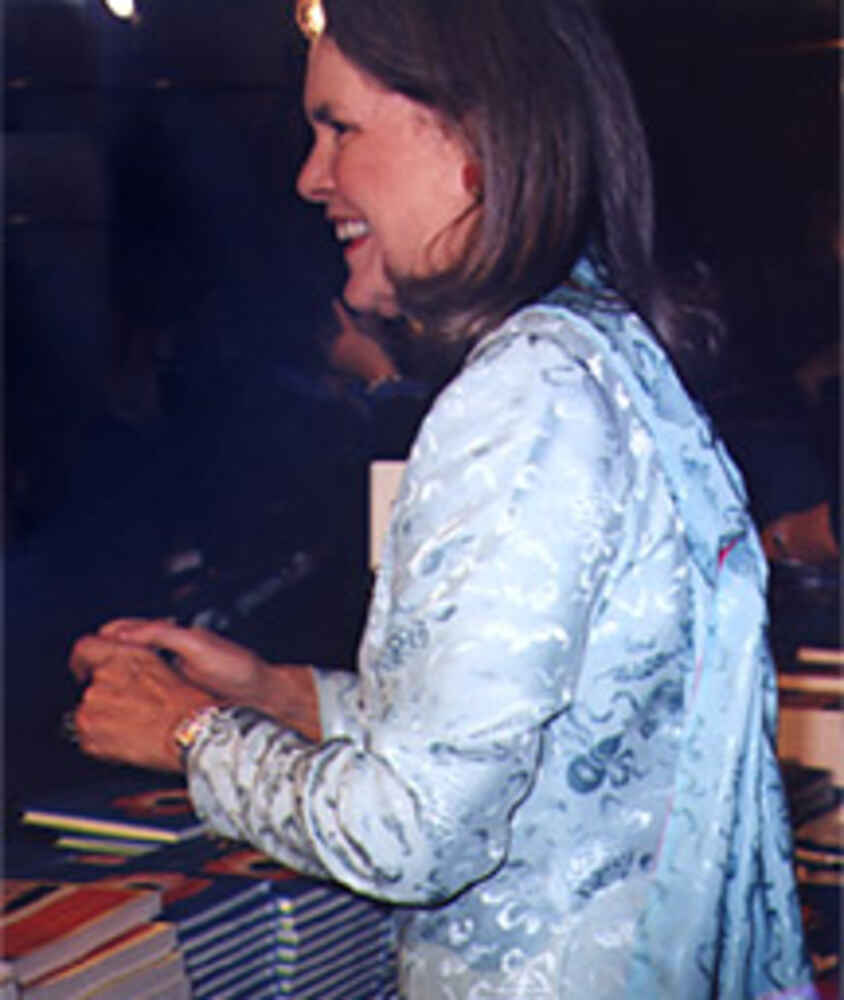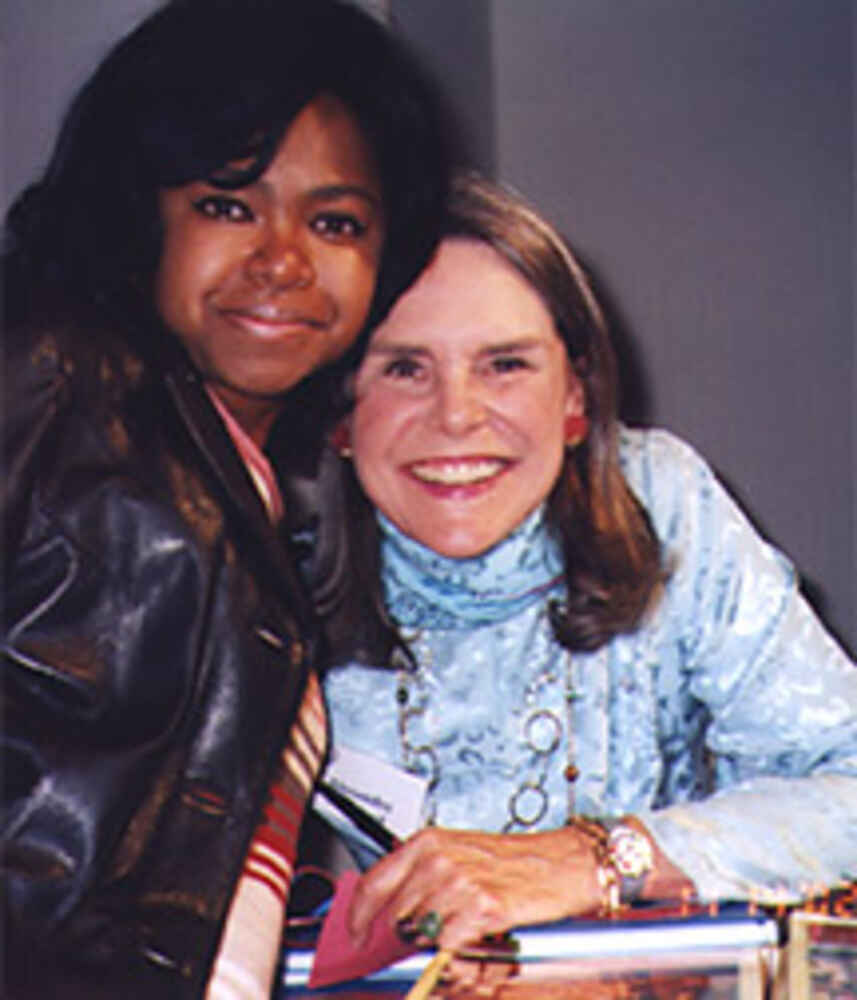 Grace Note
Simmer apples, cider, oranges, cinnamon, nutmeg and cloves with water and your favorite herbal tea to create an aroma that cheers you and loved ones.