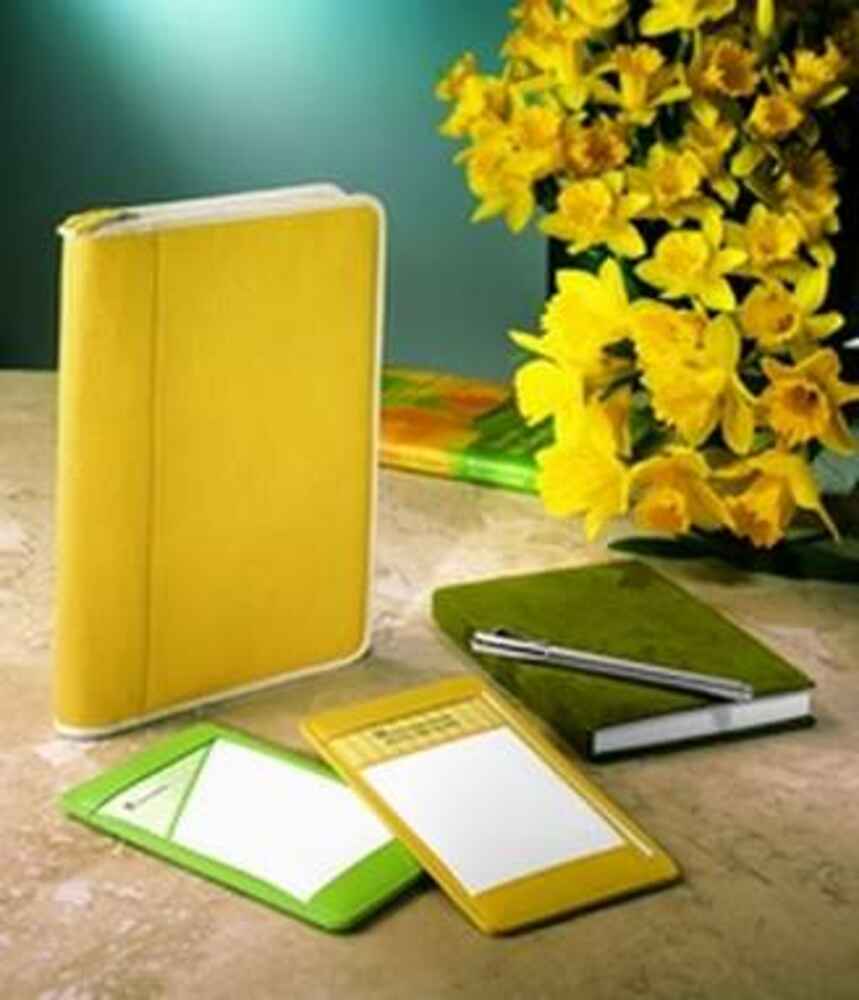 Don't miss the Late Spring Levenger catalog! Lovely daffodils and Things I Want My Daughters to Know are featured on the gorgeous cover! To order a free catalog, call 800.544.0880! You'll love this fabulous catalog of beautiful "can't live without" items!
Dear Friend
April brought warmer summer days that caused spring to burst forth in bloom. We were in Washington visiting our grandchildren the weekend of the Cherry Blossom Festival. New York's Central Park is enchanted with flowering trees shedding petals on brides and their wedding parties. Stonington Village has forsythia in bloom, pansies and daffodils galore and buds on our rose bushes, lilac trees and hydrangea.
I caught a virus when we were in Washington so we postponed the Happiness Weekend in April. We're excited about our May 13th- 15th Happiness Weekend when the blossoms will be bursting everywhere. We're exited to welcome friends from all the country and Canada at the Inn at Stonington. Call for further information (860.535.2000). We hope to see you for this fun weekend.
We had an unusually harsh winter with lots of storms and our roofer was unable to replace our roof until this April. We feel happy that we now have a sound roof over the 19th century addition of our 18th century house. When you live in an old house, sometimes your basic needs can't always be met – food, clothing and leaky shelter.
May will be a most exhilarating month for us. I'm studying for my Channel 8 Television appearance on May 8th, Mothers Day, on Health and Happiness. On Saturday the 7th, I'll be at a luncheon and seminar at the Mayflower Inn in Washington Connecticut. This is a beautiful Inn in a lovely garden. The afternoon promises to be joyful. Please come, bring loved ones and we'll share a memorable and happy afternoon together. This will be a real treat and I do hope you'll plan to come join us. Consider bringing your mother for an intimate time together.
Peter and I fly to Paris on May 17th for our 31st wedding anniversary. We're looking forward to walking about, enjoying the beauty and spending some free time alone, together. We plan to "travel heavy" so we'll be happy rain or shine. As I wrote in Things I Want My Daughters to Know, I made the mistake one year of assuming the weather would be sunny and warm only to discover freezing cold rain storms… The Chinese have a saying, "Make mistake once, you are forgiven. Make mistake twice, you are stupid!" I will pack whatever we will need to be comfortable. Our habit is to always bring lots of books to read, as well as paper, pens and writing gear because I love to write when we are away in places that have a real spirit that inspires me.
I'm going to see typeset pages for Time Alive: Celebrate Your Life Every Day soon. The process of having a manuscript become a book is endlessly thrilling. Every stage is exciting as I see the process produce something tangible that holds great meaning.
In addition to writing about Friends I'm writing a book I know you'll love but I can't tell you much about it until I have a title. I'll keep you posted!
Many of you have written me about the Levenger catalogue. Things I Want My Daughters to Know and quotations of the 345 cards from my book are on the cover. Please call toll free for a catalogue 800.544.0880.
Peter is president of the Riot Relief Fund, a volunteer organization that has given money to the police and fire departments for 142 years. He had a trustee's meeting in April at La Grenouille Restaurant in their upstairs private dining room. One of his new trustees is Kate Scheuring, a young, vibrant, intelligent woman who gave a brief talk at the luncheon ending saying, "I want to be of service." This was a memorable joyful spring day with the sun shining through windows and skylights and the bagpipers playing favorite tunes.
I hope this letter finds you well. I'm looking forward to staying in touch with you in the months ahead. As I write I hold you in my heart. Thank you for reminding me that my books continue to make a positive difference in your life.
Happy, merry month of May. Spring is a time of great transformation in the earth around us as well as in our soul. We have renewed hope and faith in all we love, all we believe in, and all we cherish.

Books Available
Copies of Open Your Eyes and Feeling at Home are available in hardcover at $28 each plus shipping and handling. You can order them at the Library Page.

Alexandra received two short notes from Bobbie, a fan-friend from Spokane, who went with a friend to see Alexandra in Portland last fall:
"You are in my thoughts and when I was in Portland I purchased your book, Grace Notes. I love this book! What nice memories I have of our time in Portland. I marvel at your gifts of insight, inspiration and writing. You have my utmost respect! Your writings always uplift me. Keep up the good work."
"I just smile and feel so happy when I visit your website. It just makes me feel good! The photos are so beautiful and to see you and Peter enjoying your lives and smiles with those you come into contact with is a pleasure. Keep up the good work on 'Happiness.' You are a gift to our world with your message."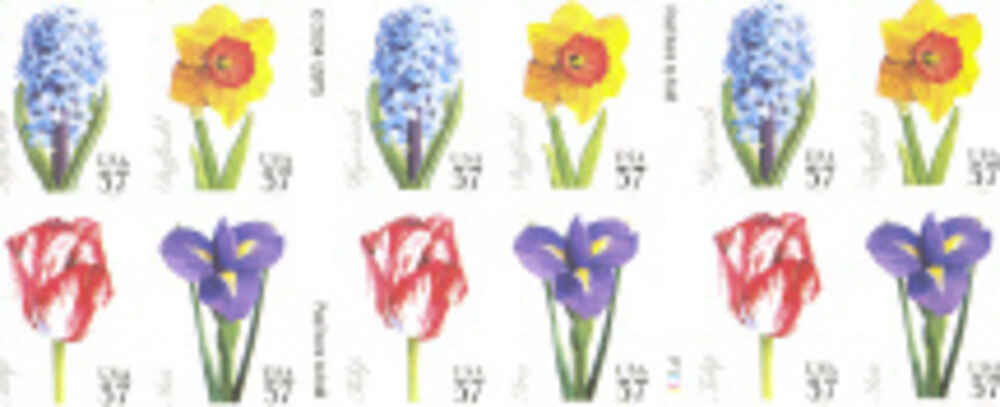 The beautiful new postage stamps recently released. What a lovely way to send a flower to a loved one!
Happiness Weekend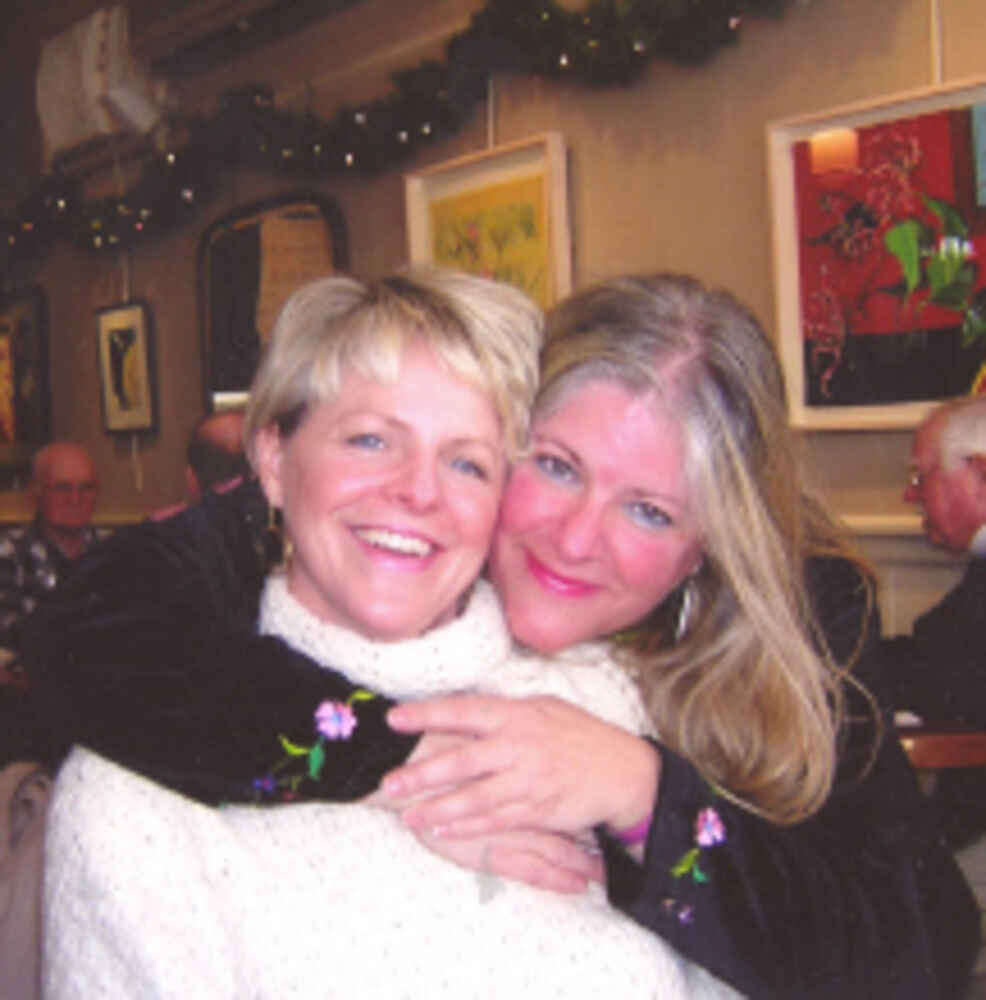 Jennifer and her sister Elaine at Noah's restaurant in Stonington Village.
Riot Relief Fund Trustees Luncheon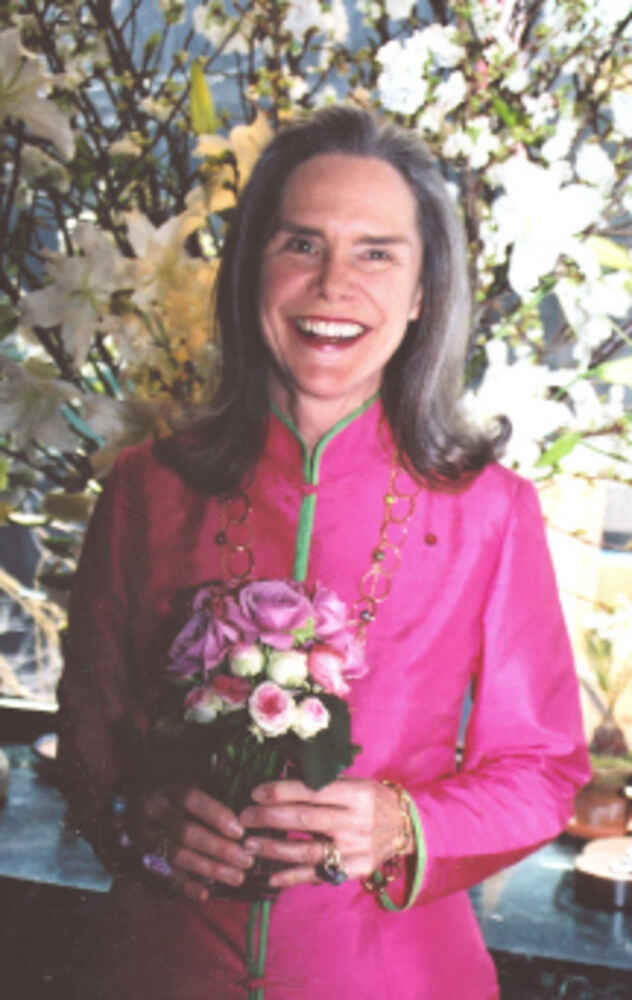 Alexandra at La Grenouille restaurant, April 2005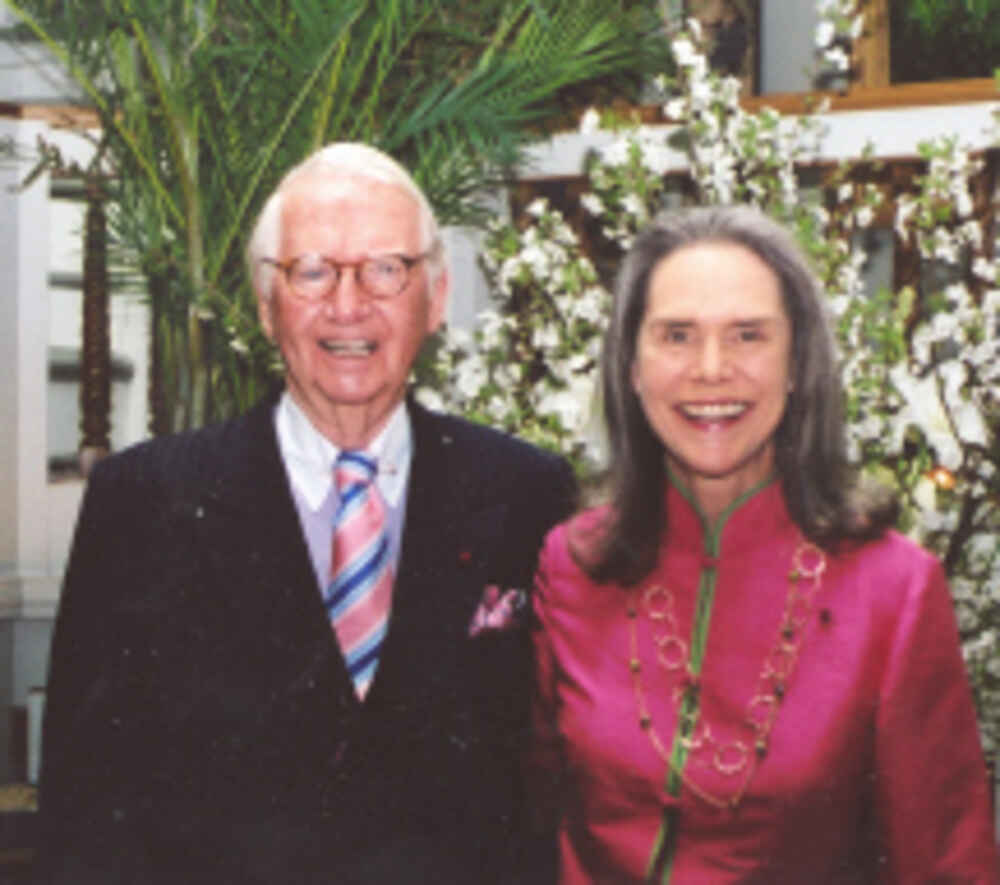 Alexandra and Peter at the lovely La Grenouille restaurant.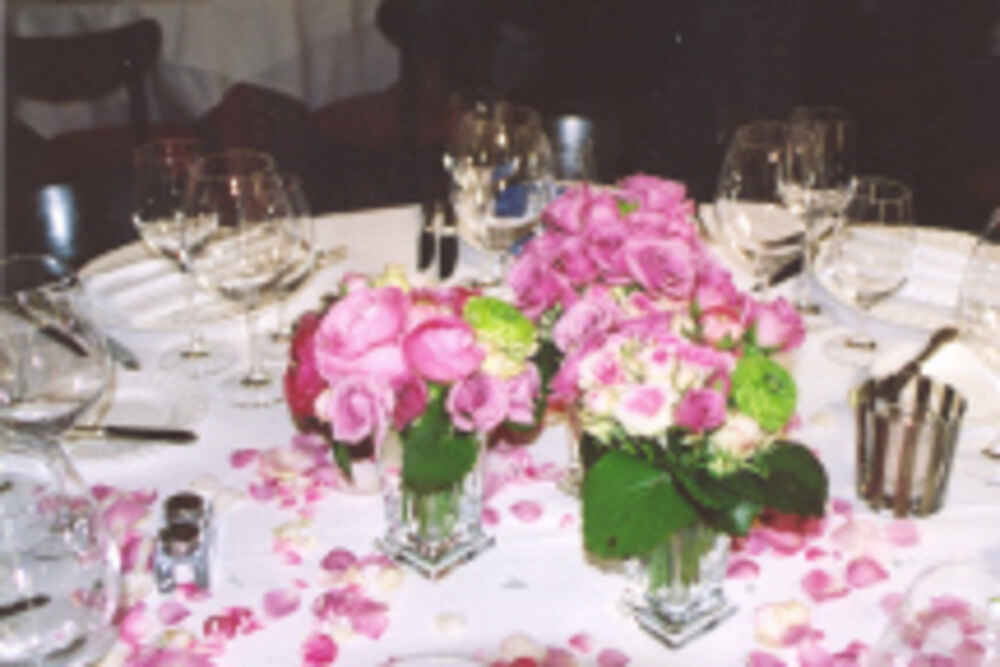 A beautiful table setting at the La Grenouille restaurant.
Happiness Weekends Planned for May!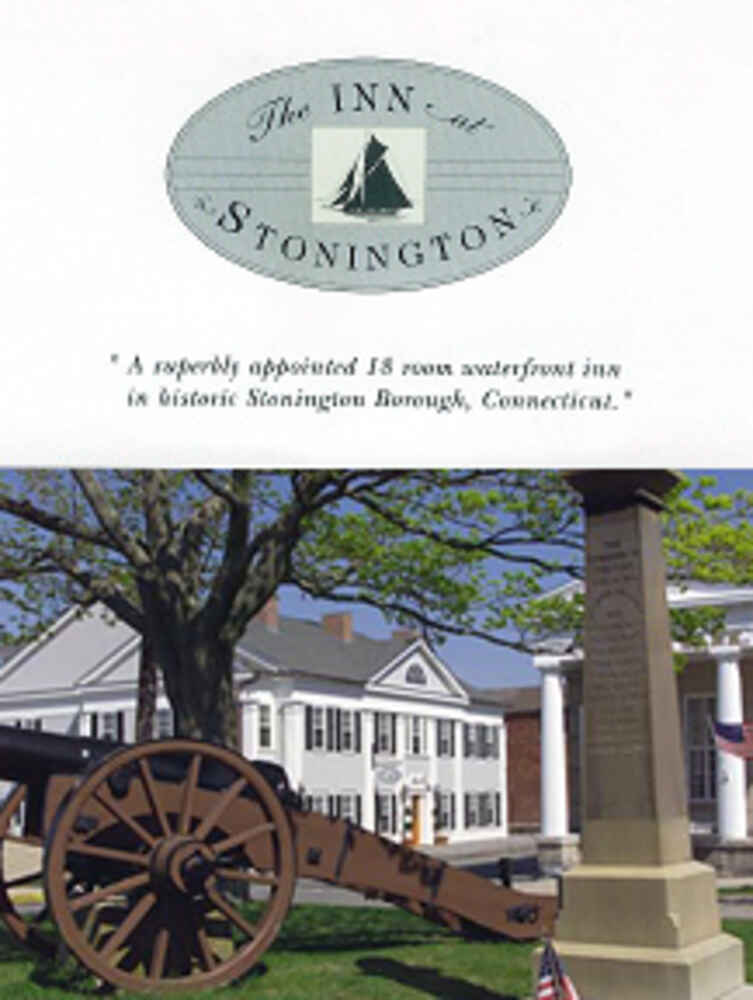 Alexandra will be having a May Happiness Weekend on the 13th, 14th and 15th. Call Anne at the Inn at Stonington for details. Plan to come. It's a fabulous weekend!
Mrs. Brown's Table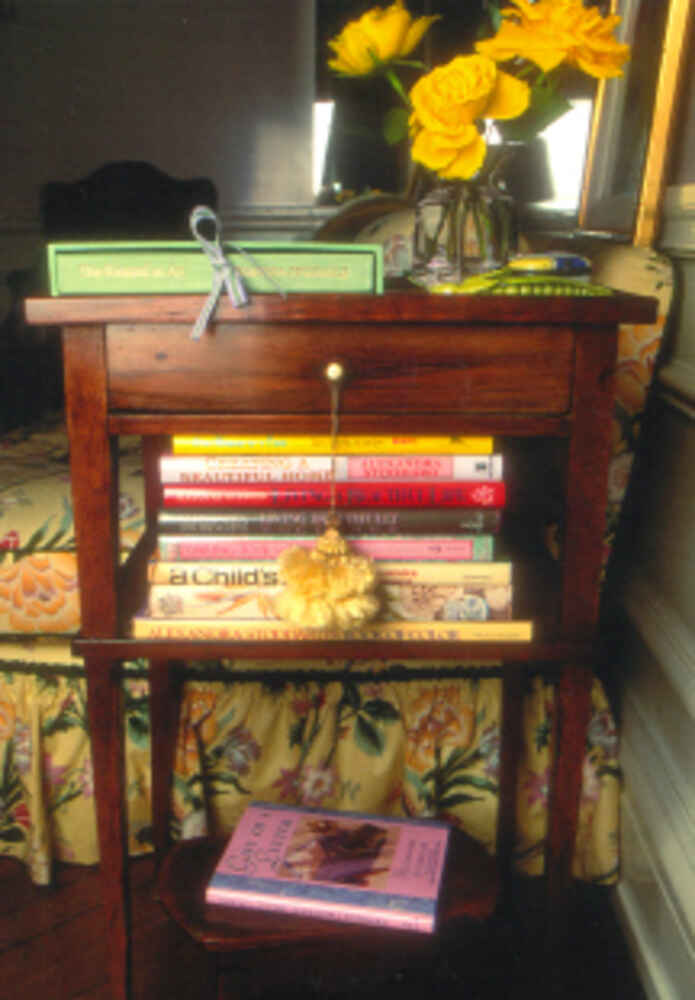 Good News! Levenger has brought the Mrs. Brown table back. Call toll free (800) 544-0880 to get their gorgeous complimentary spring catalogue. Turn to page 43! Choose dark or natural cherry finish.
Grace Note
None of us has any idea how much we mean to each other. Try not to take anyone for granted. We are richly blessed by all the people in our lives. They won't always be here.