Dear Friend

Before I discuss the glorious month of October, I want to tell you about the extraordinary time Peter and I had at the book launch party at Saltwater Farm Vineyard. Jim Hicks threw a grand celebration for his book, Healthy Eating Healthy World. Our good friends Matt and Kerri surprised us and showed up at the Dog Watch Café for a lunch party with Jim and his family and friends. After lunch, Matt and Peter had a visit while Kerri and I got ready for the event. When we arrived, it was sunny, but, within minutes, dark clouds covered the sky. Peter felt it was about to thunder and we raced inside before the storm came. Naturally, there was cause for concern that people wouldn't brave the elements. Within minutes, the downpour came and went and a huge rainbow arched over the vineyard. Look again. Another rainbow. We all felt this was a sign of a magical evening. Jim had asked me to say a few words. Part of my presentation was Peter standing up and raising his arms high in the air. Hey, hey, ho, ho, he no longer has painful arthritis! Quite frankly, this is a miracle because a year ago, Peter couldn't lift his arms. He stole the show! Being a former trial lawyer, he used the opportunity to say a few words. The whole experience was quite beautiful. By making a move to a plant-based diet, Peter no longer has arthritis and has never felt better. He is experiencing robust, vibrant health.
The entire month of October was stimulating and productive as I devoted myself to "the book." Other than a family reunion, I focused all my energy and resources on my writing. The two essays I worked the hardest on were the last ones I wrote: Eat Well; Live Well and Things Aristotle Has Taught Me. When you read my book, you'll understand why I worked so hard to convey my message with clarity.
Briefly, I am now convinced, we should educate ourselves to know what is the healthiest food for our human body, and then eat that truth. No one can make these choices for us. I now am getting most of my calories from fruit, vegetables, grains, nuts and whole wheat pasta. This has been a gradual evolutionary shift, but I am certain this is the best decision of my life. As I embrace turning 70 November 8th, I feel I am doing everything in my power to do the right thing to enjoy radiant health in the years ahead.
Having written an entire book about Aristotle, writing a short, clear essay about the most important thinker in my life presented a challenge. Where do I begin? What should I include? What do I leave out? When I spent long, happy days in my writing room with Aristotle's muse, I felt the incomparable blessings his teachings have added to my happiness.
When a friend asked me why I love Aristotle so much, I was able to give a short, simple answer: Aristotle teaches us to be good, to do good, and we will be happy. His philosophy was his original, different thinking. He knew that if we spend our lives in contemplation – thoughtful observation and study – this is the highest excellence, and therefore will bring us our greatest happiness. He believed our mind is divine and this is the best possible life for a human being, to put our mind to productive use.
My passion for Aristotle grows with each day, and I know I will write a book in the future about what he's taught me. I'll be interested to gain some perspective into the way I'll present it to a publisher.
I finished my book! Now, I'm re-writing, polishing and proofreading. I think I'll bring it to Paris when we fly November 8th, and I'll read it over one last time before it goes to my literary agent, Carl Brandt.
A darling daughter of friends of ours got married and we gave her a copy of Happiness For Two. In Katie's thank you note she wrote, "I've always admired the love and companionship that the two of you share and can only hope one day Andrew and I will be strolling down Water Street, hand in hand, enjoying the "Golden Years" of our lives!" I thought that was so adorable.
The day before our family arrived, we had a storm and flash floods, but the morning everyone arrived it was sunny and absolutely perfect fall weather. We could not have asked for anything better, next to everyone being healthy. The grandchildren asked if they could sell cider and cinnamon doughnuts to raise more money for the Children's Room at the library. From the lemonade stand over Labor Day weekend and the cider sale, they raised $301.00, including matching gifts from their grandparents. They joyfully wrote notes to the head of the children's department. They received a sweet note in reply:
Dear Cooper, Lily Anna and Nicholas,
You have all gone above and beyond ~~ I am so impressed by your thoughtfulness and generosity. You have learned some very important lessons from your grandparents and I know your whole family is very proud of you. I look forward to seeing all you soon ~~ thank you very much,
Sincerely yours,
Maris Frey
I was one of seven women nominated for the prestigious Athena awards. Athena was the ancient Greek goddess of wisdom. The honor bestowed annually upon an individual who best exemplifies outstanding community service and dedication to helping women achieve leadership roles. There was a fun dinner celebration honoring the nominees.
Winter arrived with a snowfall. The Nor'easter. We were fortunate we didn't lose power but 750,000 Connecticut residents did and some areas got almost two feet of snow! This seems a bit abrupt, but the sun is now shining and the sky is blue.
I hope November is joyful. Happy Thanksgiving. We're going to Maryland to be with our family.
I have Paris on my mind! Before we fly in the evening, Cooper invited us to have lunch with her in New York. She has the day off from school because it's Election Day. This is my treasured birthday gift.
Great love to you.

Have you taken photos at one of Alexandra's events that you'd like to share? If so, you can email them to AStoddardInc@aol.com. Please be sure to include the names of those in the photo and where and when it was taken! We will try to include them on the website in the future.
Matt took this picture of me just before the rain!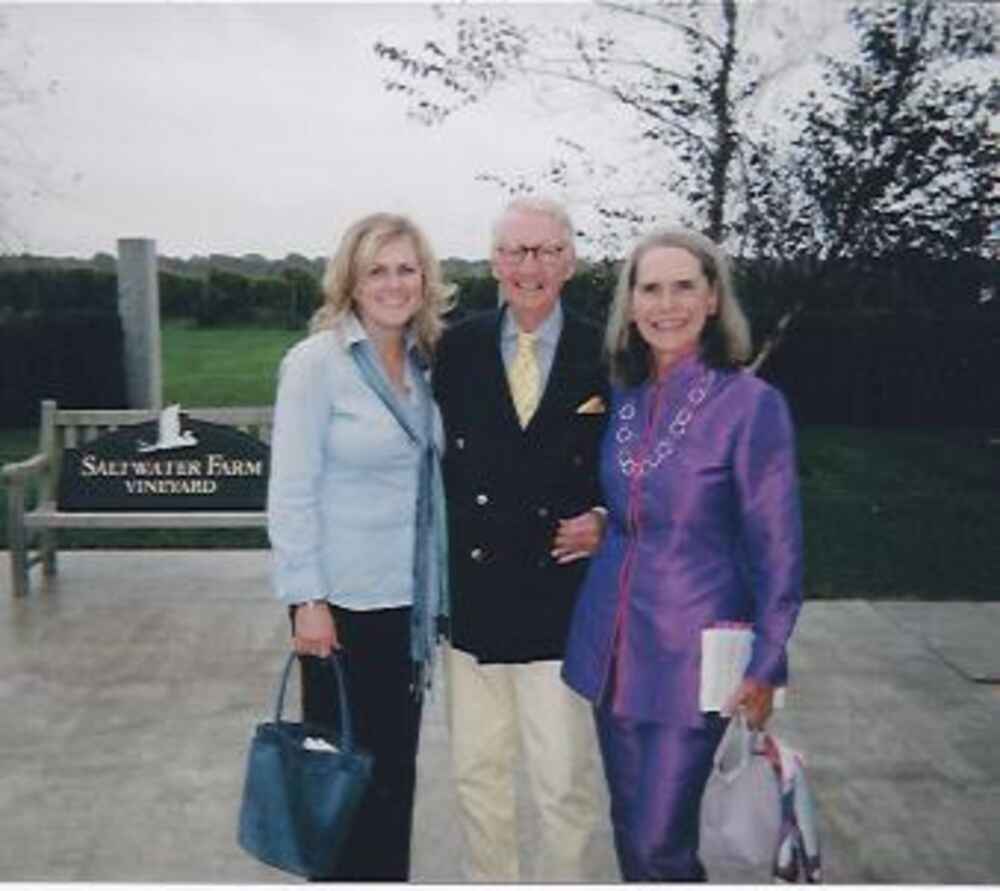 Kerri, Peter and Alexandra at Saltwater Farm Vineyard.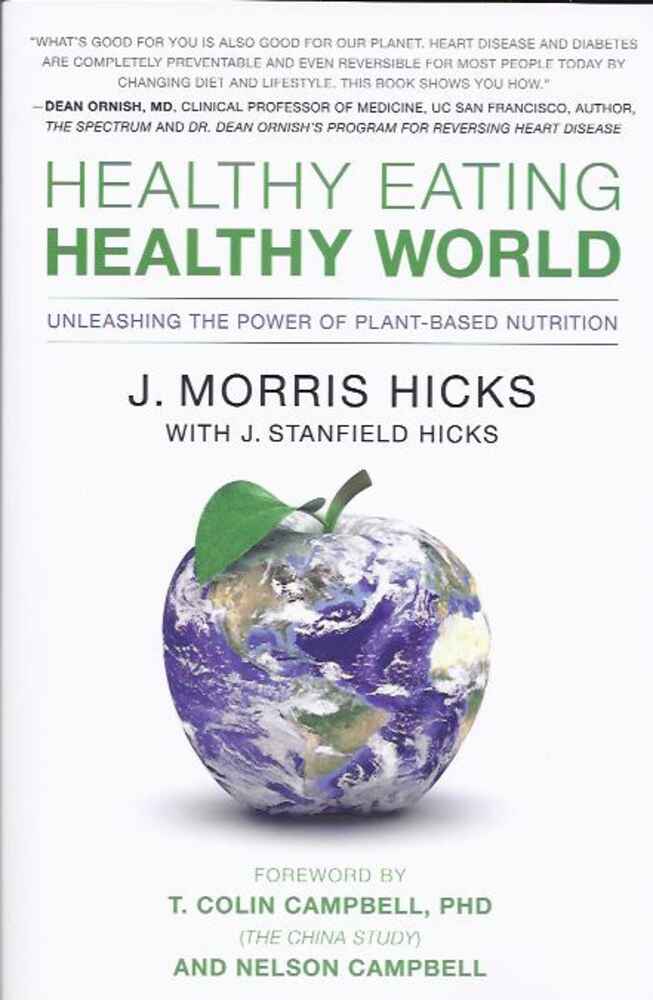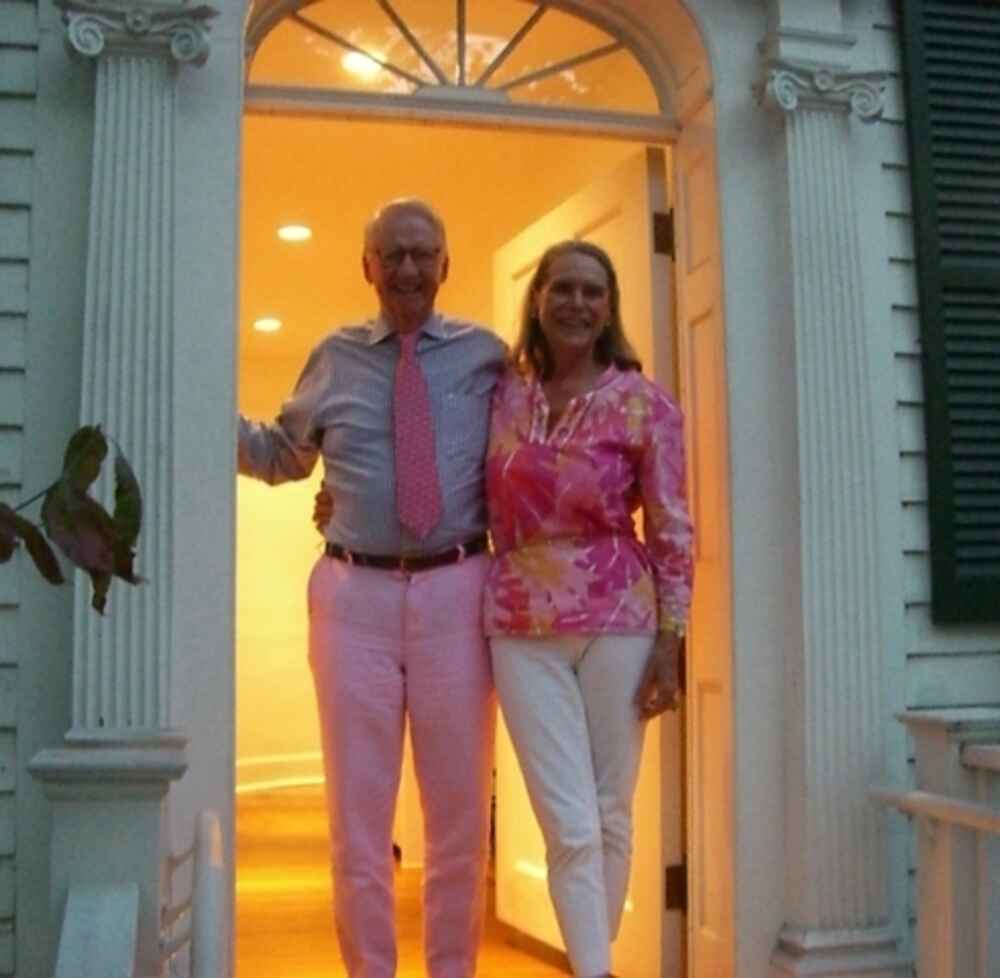 A beautiful photo of Alexandra and Peter at their cottage, shared by Jim Hicks. Thank you Jim!
Figure It Out: A Guide to Wisdom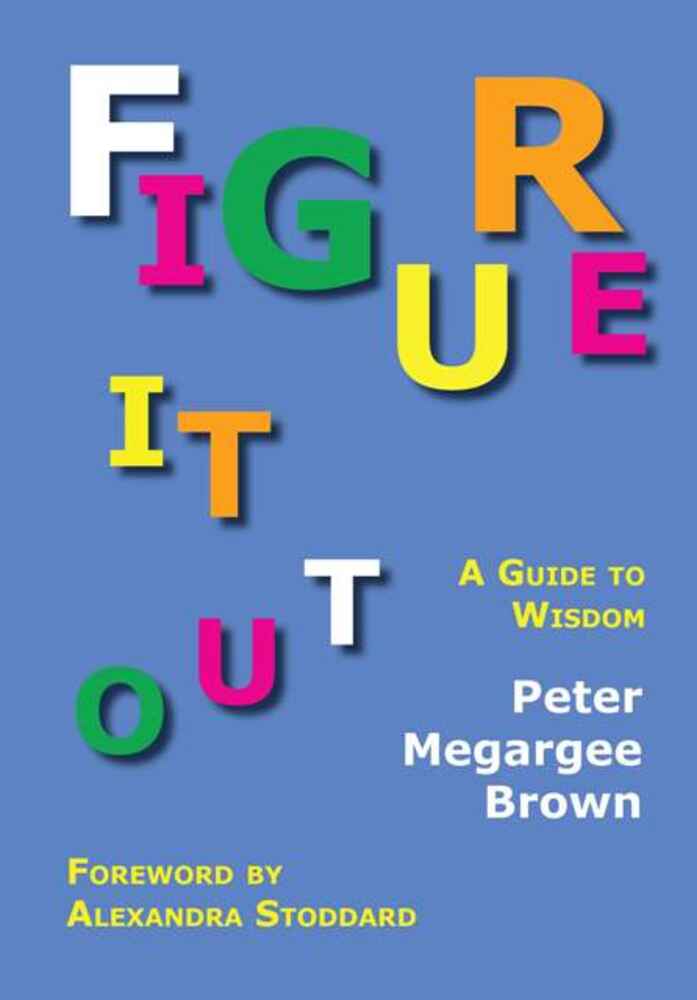 Please consider giving Peter's new book to family and friends for the holidays. Make checks for $25.00 per book to:
The Stonington Free Library
Send to:
Peter Megargee Brown
87 Water Street
Stonington, CT 06378
Peter will pay shipping. Your contribution is 100% tax deductible.

Grace Note
Spend one hour, alone, reading during the entire month of November. This is a gift you give yourself in a busy time of year.