Dear Friend

Happy Spring! The entire month of March was devoted to celebrations, ceremonies, and rituals designed to bring pleasure, meaning and happiness to Peter's well-lived life. (So far!!) I'm delighted to report that he is a fulfilled, content man as he approached his 90th year! As Aristotle wisely taught us, happiness is an achievement. No matter what the challenges are, whatever the outside circumstances, Peter and I have made a deep commitment to ourselves and each other to try to live every moment as fully as honestly and as beautifully as is humanly possible.
What we learned from our planning and the way our days unfolded in Paris is that living well is not about being busy necessarily. Our birthday holiday in Paris reminded us anew how vital it is to be, not always to do. As the ancient Chinese sage Lao Tzu wisely instructed us, "the way to do is to be" – (a favorite thought).
Peter planned all the details of his birthday party celebrations. We first went to New York to be with family, going to see granddaughter Cooper in her ballet class and her music class. We can't get enough of this delight. The morning of Peter's birthday, Cooper's music teacher sang happy birthday to Peter Rabbit. We had lunch on March 15th at La Grenouille, on Peter's 89th birthday, and lingered over a champagne toast and a hot apple tart with a candle.
Cooper, later in the day, put on a brief show for us, showing off a few of her new dance steps before we went across the street to a small French bistro for supper together. Watching her relish her buttered pasta was a treat, and knowing that Peter had an ideal birthday brought me great joy. I try not to take anything for granted.
This May, Peter and I will celebrate our 37th wedding anniversary. Over the years we've come to Paris for inspiration and to awaken our sensual awareness. Paris has become an enchanted habit. We develop a strong liking for the city of the light the more we return. Our patterns are repeated year after year. We have books on the bottom of our suitcases and immediately settle into our daily ritual of reading and writing. In a sense, we make Paris our temporary home and live very much the same way we do in our cottage. However, the contrast from living in a quiet fishing village in Connecticut and being in this electric, enchanting, romantic city is so enormously stimulating and exciting, it is hard to close our eyes, even at night.
When we're in Paris, we're left to our own resources – completely uninterrupted. Ten glorious days where we can experience the good life on our own terms, in our specific ways that bring us the most satisfaction and well-being, a rare blessing and privilege in a noisy, rushed world. One morning I realized I'd studied my favorite French essayist Michael De Montaigne for five hours without any distraction except breakfast being delivered with the International Herald Tribune.
Just before we left Paris, Europe changed to day-light savings, giving us another generous hour of the divine light in our favorite city. We don't rush around in a hurry. We enjoy spending endless hours looking about and savoring, the key to a Parisian experience of living in the moment. Here, we give each other the precious gift of time, alone, together. This expansive time away from our routine, our family and friends, opens us up to our inner selves, to the rich landscape patiently waiting to be acknowledged. In Paris, we awakened our souls expansively in the quiet beauty of an environment we have grown to love and cherish.
My beloved mentor and friend, Eleanor McMillen Brown, taught me when I first went to work for her interior design firm when I was twenty-two years old, "Living takes time." The minister who married Peter and me, John Bowen Coburn, another dear friend, believes we live our lives in chapters. I agree, and having the good fortune to spend these sacred days in Paris with Peter is indeed, a great blessing. Each of us felt the experience was seamless. There were no real frustrations. We were free to have total concentration and focus. Don't you think this is rare?
Every day Peter bought me a beautiful rose. When it was carefully wrapped in waxed tissue and crisp white paper and ribbon, another colorful rose was placed on the outside! Ah, our room became a garden. Spring was in full blossom in Paris, a refreshing cheer to the spirit after an exceptionally harsh winter. One particularly soft, romantic, light and happy evening, Peter and I were at a favorite café enjoying ourselves in what we thought was a private moment. When it came time to pay the bill, our waitress told us that the young couple seated next to us had already paid our check. I was so surprised! When I inquired, why? "Because we want to be happy like you when we grow old." Wow, I was feeling particularly young that night! We were both deeply touched.
While Peter and I were on this enchanted vacation, the devastating earthquake, tsunami and nuclear leak were wreaking havoc in Japan. Our hearts go out to all those people who are facing a triple disaster. This whole reality that has ripple effects around the globe has changed our outlook about so many things and especially what's important in our lives. The impact is very emotional and this whole incident will not only change our priorities and our outlook, but will alter the way we live and use our time. Many of us will choose to get back to basics and try to live more authentically.
I was happy to learn that Japan had three horses running in the Dubai World Cup, and while the world had potent reminders of the catastrophe back home, Victoire Pisa won the World Cup and another Japanese horse, Transcend, came in second by half a length. Tears flowed as fans of the winning horse heard the national anthem played. There was a dear picture of the jockey Mirco Dumuro kissing Victoire Pisa.
Just before we flew to Paris, I received a note from a good friend who sent me a Xerox clipping from a book that quoted me. "What we do today, right now, will have an accumulated effect on all of our tomorrows." Double thumbs up and thank you, Kerri. Below my quote was one by Lao Tzu, "The wise man does not lay up treasures. The more he gives to others, the more he has for his own."
Paris gave us rich treasures. Peter said Paris is the signal of love and joy, charm and grace, warmth and beauty. He finds Paris beautiful, clean, honorable, agreeable, masterful, with generous people. Why is it that when we truly embrace life, living mindfully, time goes by so quickly? Enjoy the month of April with all its glories.
Happy Birthday Peter!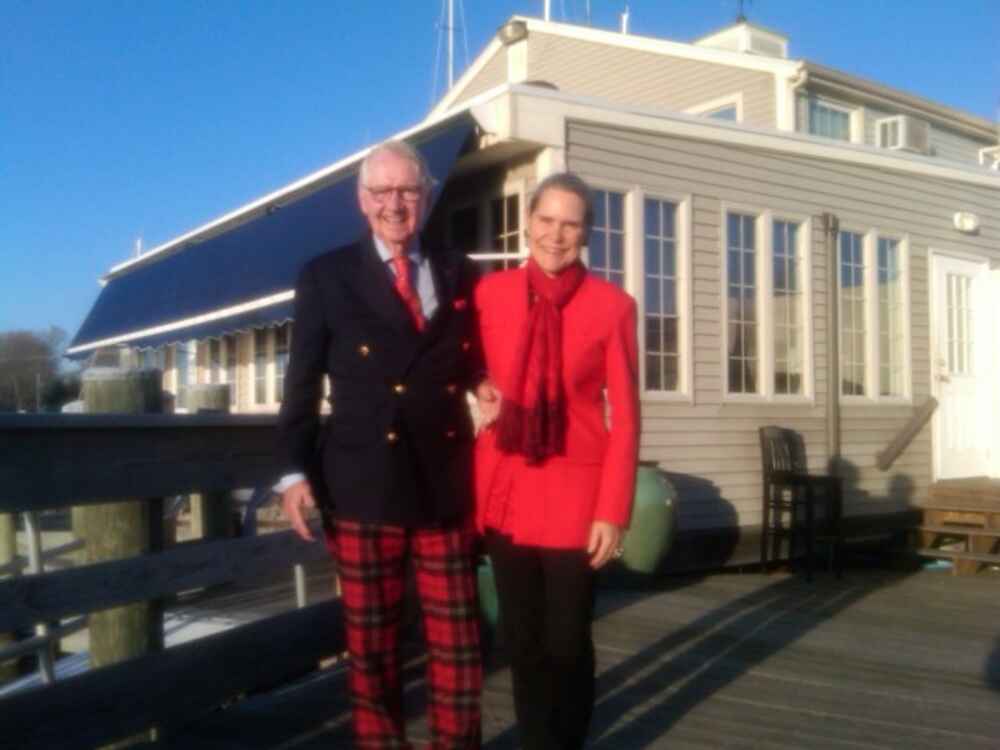 Have you taken photos at one of Alexandra's events that you'd like to share? If so, you can email them to AStoddardInc@aol.com. Please be sure to include the names of those in the photo and where and when it was taken! We will try to include them on the website in the future.
Frontier High School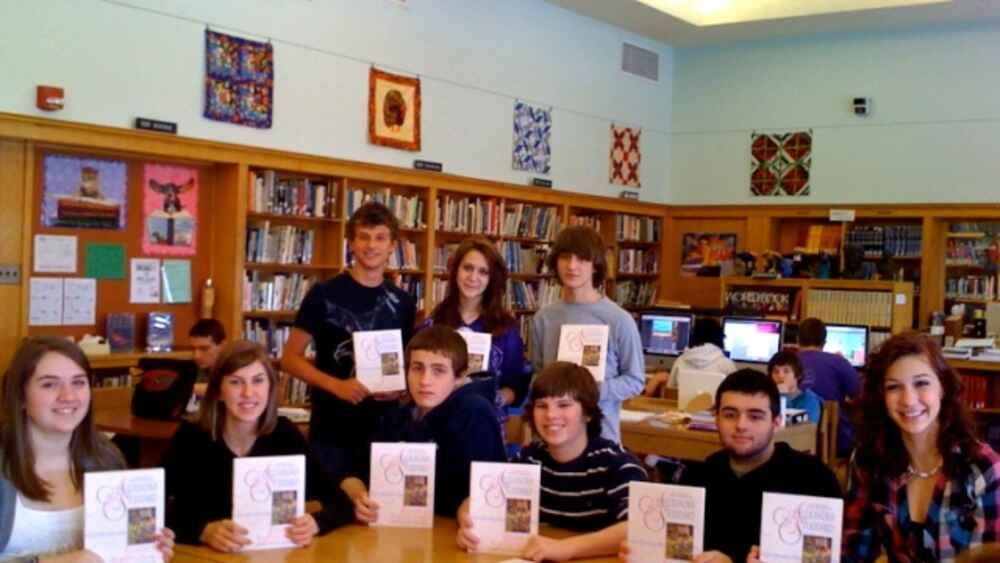 Mrs. Johnsen uses Alexandra's book in her Architecture/Interior
Decorating classes at Frontier High School in Hamburg New York.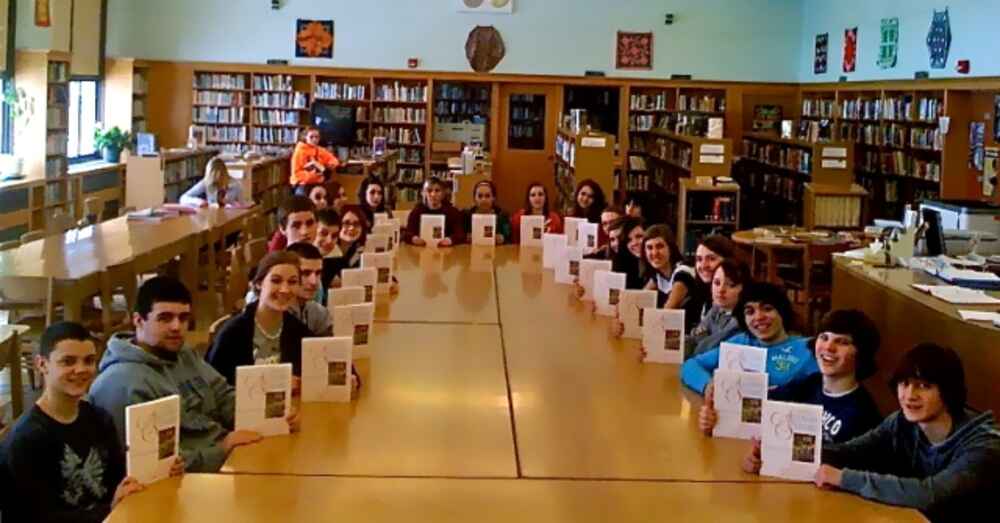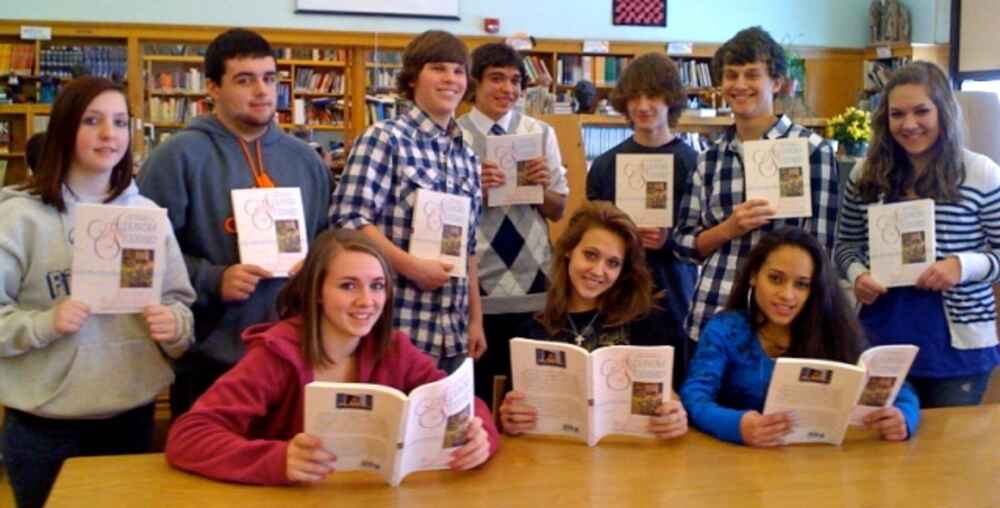 Mystic Rotary Luncheon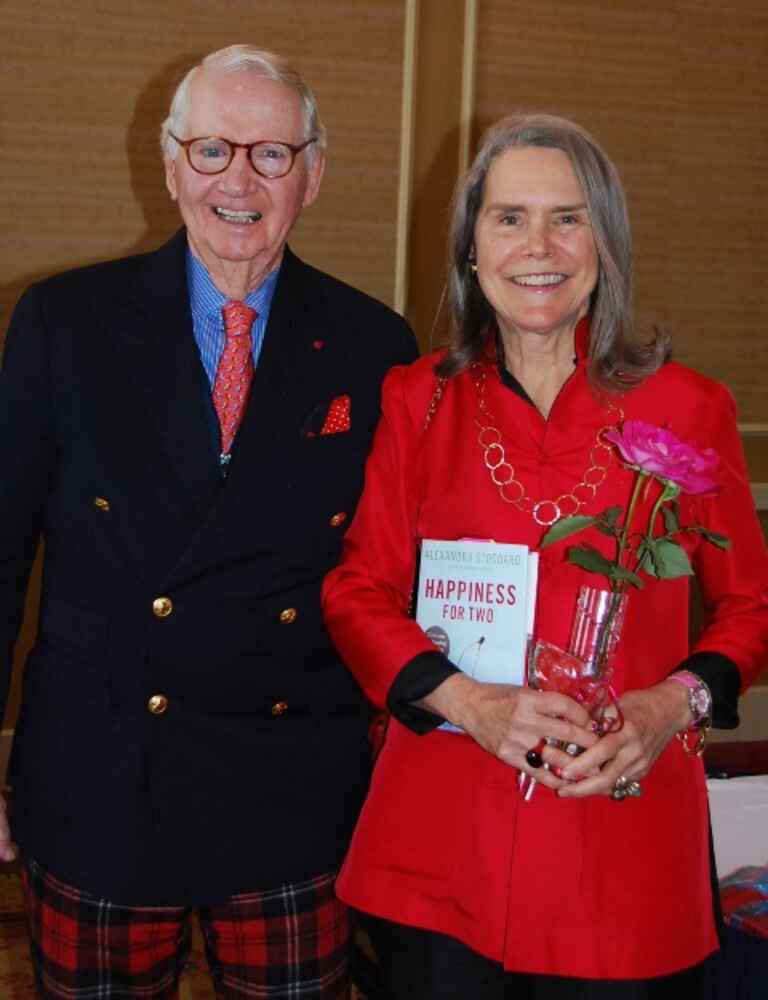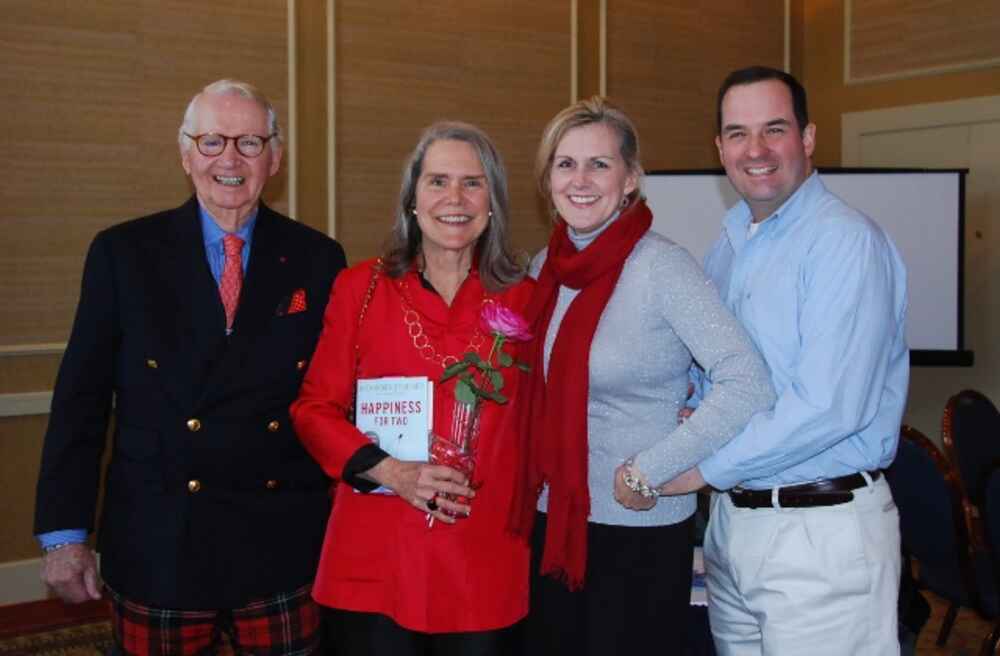 Peter & Alexandra, Kerri & Matt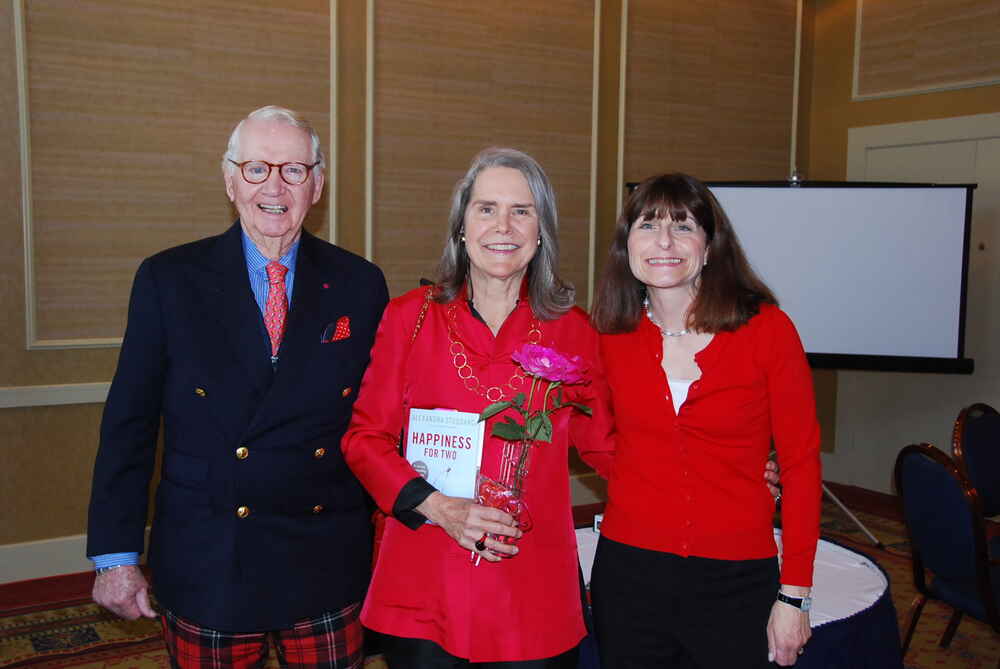 Peter & Alexandra & Sharon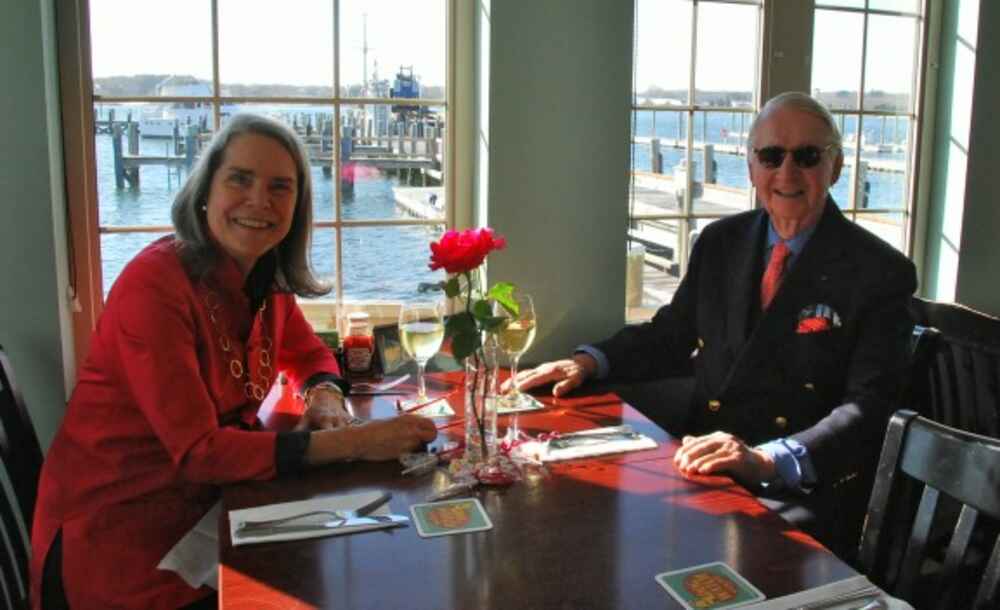 Alexandra and Peter at Dogwatch Cafe in Stonington
Figure It Out: A Guide to Wisdom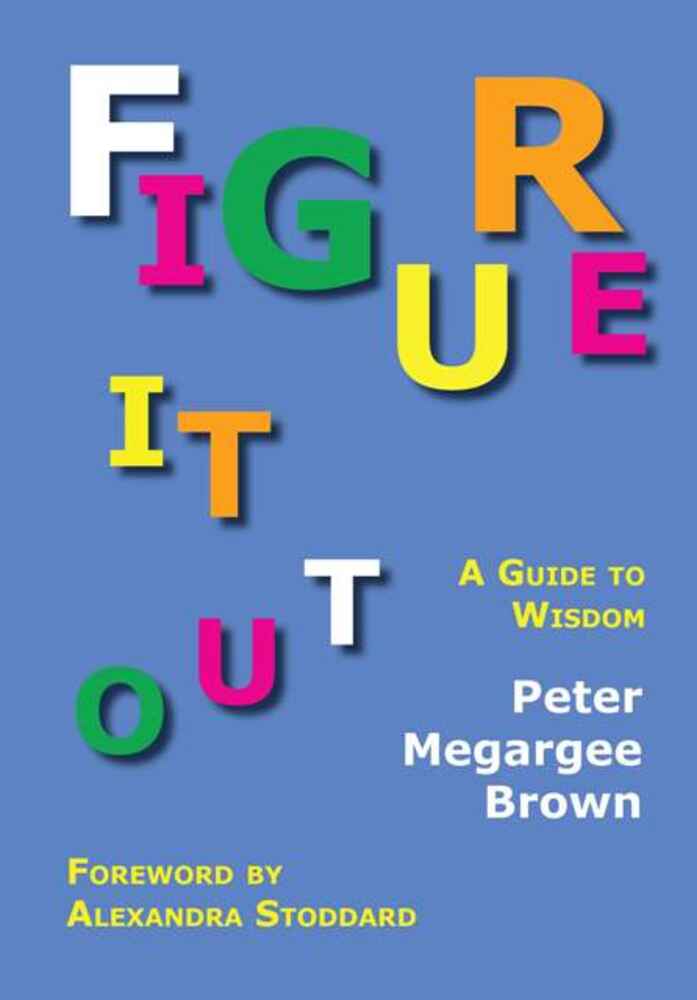 Please consider giving Peter's new book to family and friends for the holidays. Make checks for $25.00 per book to:
The Stonington Free Library
Send to:
Peter Megargee Brown
87 Water Street
Stonington, CT 06378
Peter will pay shipping. Your contribution is 100% tax deductible.

Grace Note
I think the universal language of the world is not English but a smile.
~~ Takahashi Yu