Dear Friend

Happy July! Summer is indeed upon us, bursting her glorious beauty in our gardens. On the rainy days I felt blessed our roses and hydrangea were being lovingly watered by Mother Nature. The entire month of June was celebrated in daily doses of beauty everywhere. Peter and I pinch ourselves to realize that we once had our precious cottage up for sale. Where would we be living now? Would we feel this joyful? Would we be healthy? "What if." July 4th will be our sixth year celebration when we left New York City behind, but we arrived by taxi, having taken the train, and the pink roses were never more effulgent as were the rainbow of blue tints and tones of the hydrangea forest in our tiny back yard. It was our daughter Brooke who told Peter and me to get rid of that "for sale" sign as I've told you before. And we did, and the rest is the happy history of our being here in residence year round.
We've really fallen in love with our cottage – I mean head-over-heels in love, and because of this fact, we find our time spent here joyful. I think it's safe to say that there isn't anything we would change. How many people do you know who can say that about their immediate environment? We feel enormously grateful and lucky to be living so abundantly happy in such a sweet home we treasure so dearly.
Last month we loaned some paintings to a dear friend, and this caused us to rearrange all or our other art. What a refreshing and uplifting move. I realized there were five of my favorite paintings in the privacy of my writing room. And now that our garden is so pretty in bloom, I'm writing at my fabulous 18th century French marble-top table in the corner of our living room. Spreading the wealth of beauty around new spaces is transcending. The rooms feel new and fresh and alive, and I see with more appreciative, sensitive eyes.
Being able to see the harbor from my writing table and the garden table make me more aware than ever how healing and mystically powerful the water is to our souls. Because we see water every day, I'm starved for even more, and we've found we're drawn to enjoy our lunch on a terrace in Watch Hill, Rhode Island, at the Ocean House, where we went regularly in the summer months several years ago when it first reopened. We went by sea in a renovated 50' lobster fishing boat, the Gansett. Sadly, nothing lasts, and while we have no regrets, we miss the experience of the fun boat rides.
The draw to go to the Ocean House is powerful and we now take a taxi, have our lunch under the shade of an umbrella on a bluff overlooking the Atlantic Ocean, mesmerized by the intoxicating sea air, breezes, and spectacular view. Carpe momentium. Seize the moment. This experience makes moments big as years, and we pretend we're in Bermuda, reliving all our memories of our favorite island where Peter first went with his parents when he was eight years old, and has gone back for vacations throughout the years, including going with me on the second leg of our honeymoon in 1974.
I'm glad to report my work is going well. I'm not going to publish now Sweet Pete, the love story I wrote in 1991 and edited this spring, because my literary agent Carl feels it is part of a bigger love story and should incorporate Peter's memoirs. Peter, Carl and I had a memorable lunch to discuss this and we're all on the same page. Peter is now enjoying working on his memoir with the help of several angels who enjoy digging through Peter's boxes full of photographs and memorabilia as I spend the same time working on my books.
The Art of No & The Joy of Yes went to my agent Carl the end of June and I'm interested to hear what he thinks. The subject of No has always been central to my lifestyle and philosophy and I believe we need this vitally important message more now than in 1992 when I sent the manuscript to Carl.
As a result of working on Sweet Pete and The Art of No & The Joy of Yes, my work on Joyful Living In the Real World has evolved into a really exciting book. I am loving writing and feel that changing the title from Living Well to Joyful Living has made all the difference in my voice as a writer. There is no hint of doom and gloom, and I clearly express my feelings about embracing life completely, and enjoying all the wondrous things that are possible for each of us, right at hand.
This summer's joy here, going on day trips to Watch Hill, seeing family and friends in the most relaxed, informal settings, confirms my faith in our ability to live joyfully in the circumstances we find ourselves. We don't have to invite the elephant in the room, and we can fully engage in our lives to find ways to love our own lives more fully and to be of help to others.
As I write, I think of all my friends and readers who are on the same path as I am, trying to find ways to live more consciously, paying closer attention to the really important values we all cherish and hold so dear. Cooper is here, going to sailing camp. The joy of having our four year old granddaughter love Stonington the way we do is thrilling.
Have a wonderful time in the heart of summer. I hope you will take time to savor the sights, sounds, scents and tastes, and tender touches of summer's magic.
I feel you are here with me as I work and it feels comforting and lovely.
Great love to you,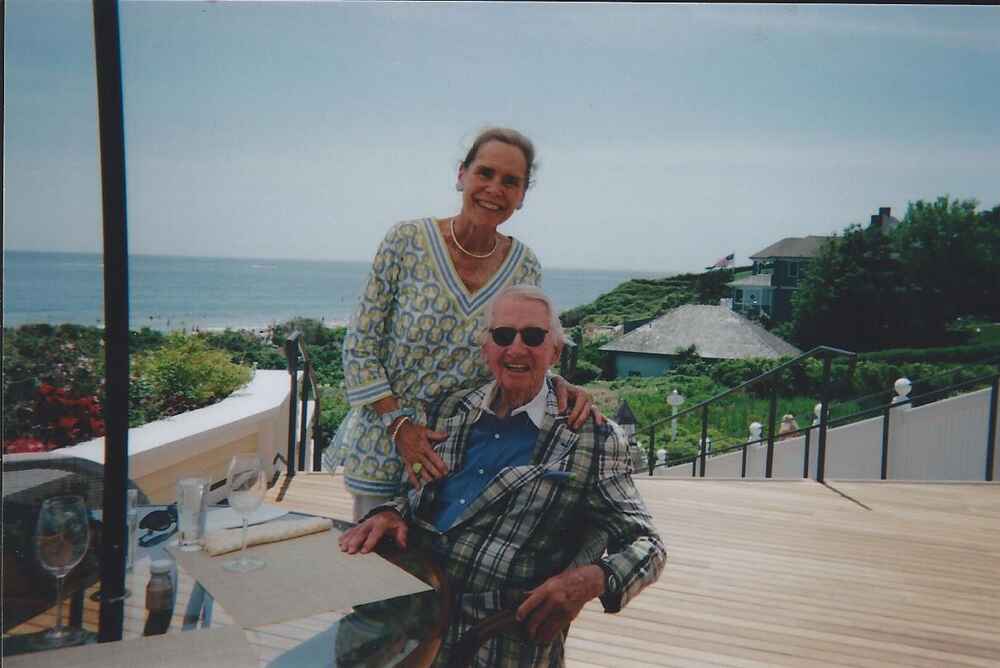 Lunch on the terrace at the Ocean House in Watch Hill, Rhode Island.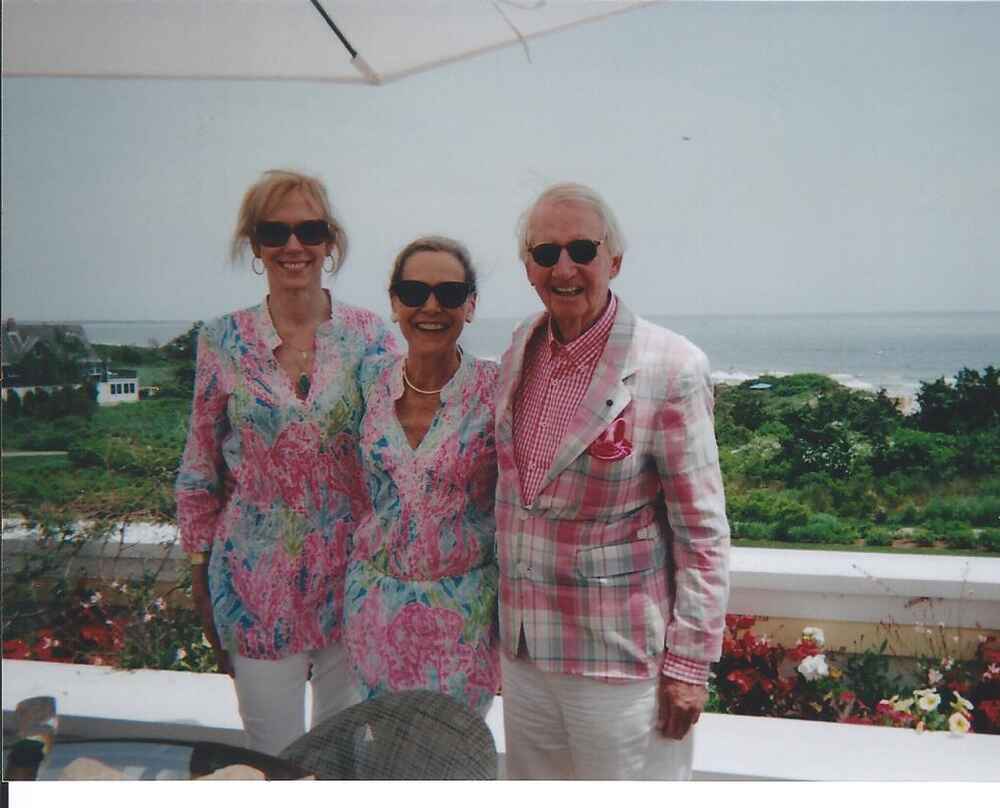 Oops! Another lady was wearing the same tunic as me! She was adorable.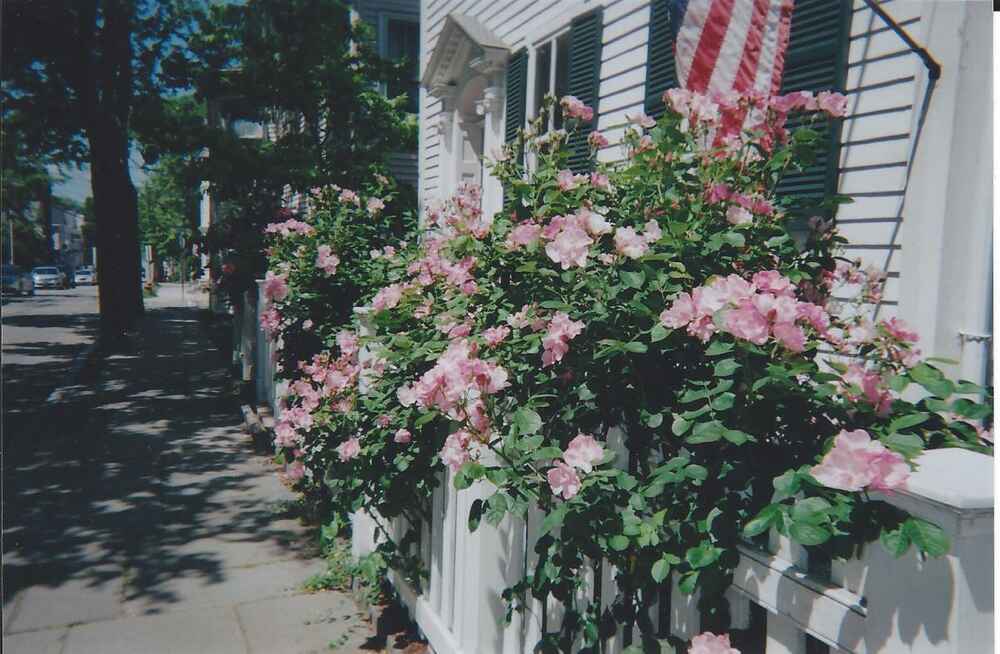 The joy of our June roses in bloom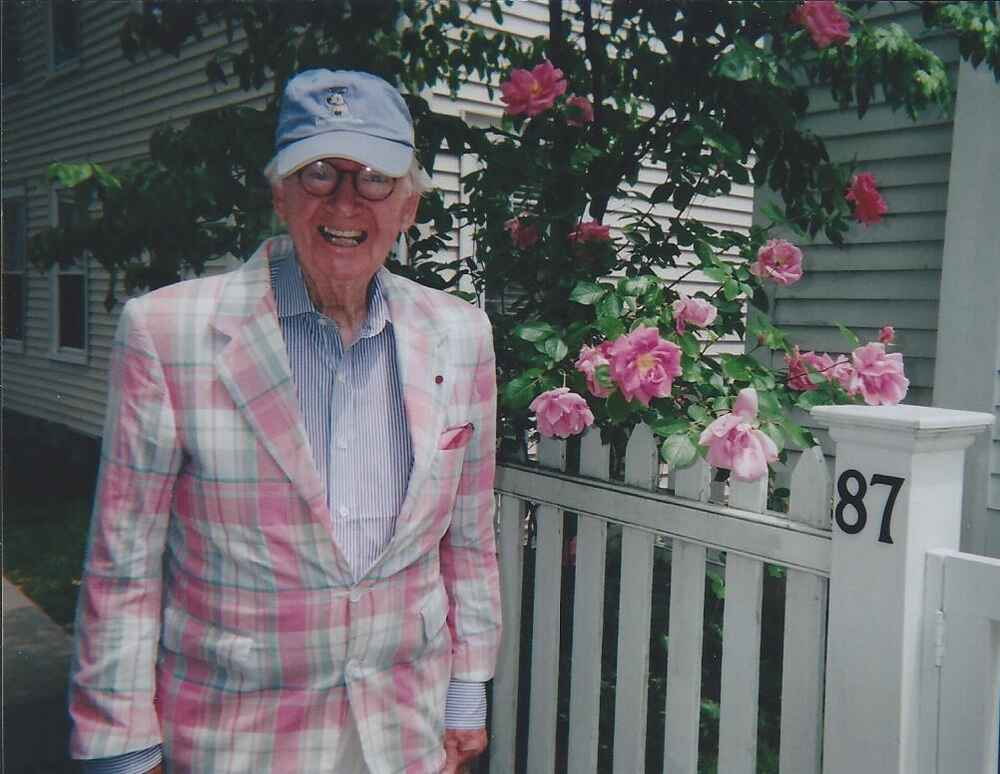 Brooke's rose bush we planted 8 years ago when she married.
Peter, the American flag, and the beauty of our roses.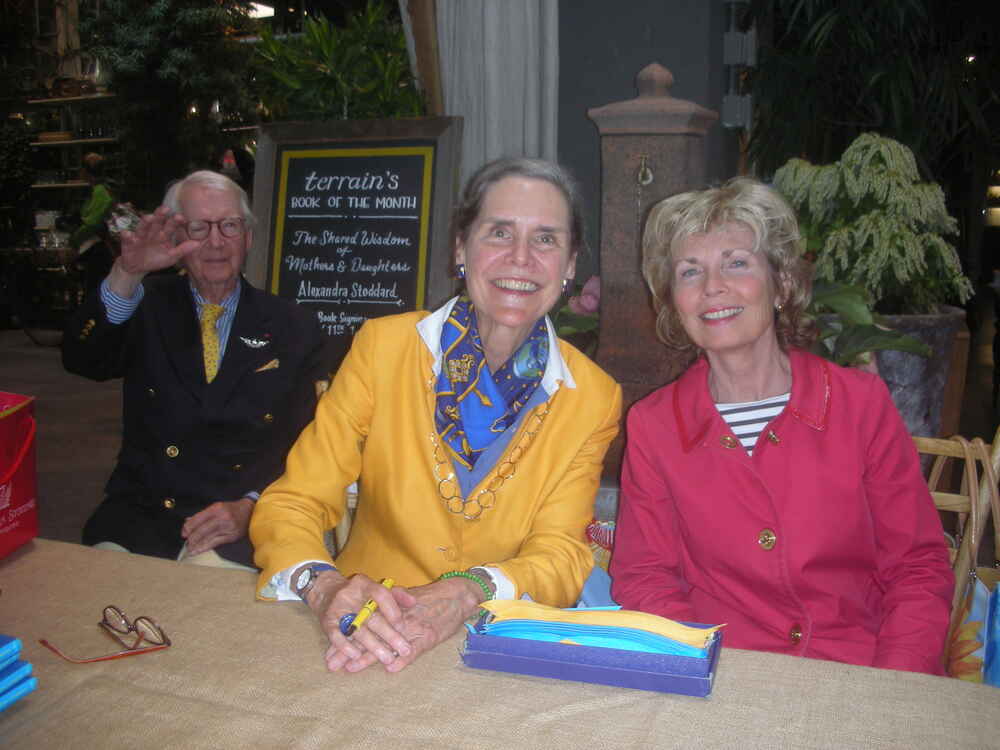 Alexandra and Joan at Terrain in Westport, CT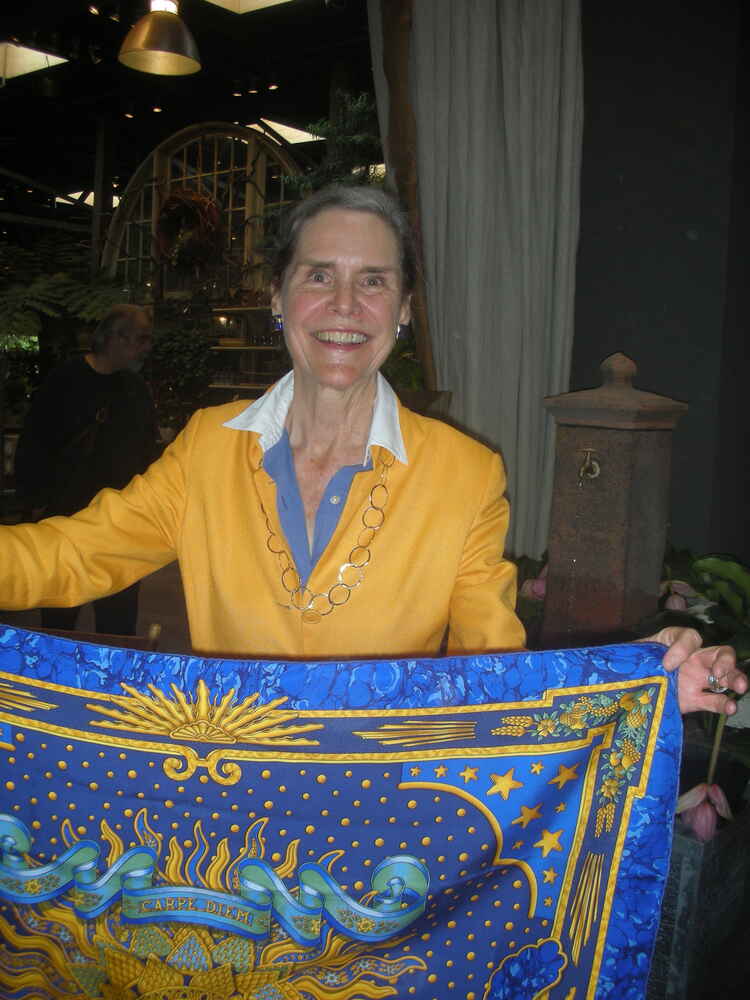 Alexandra at booksigning at Terrain in Westport, CT
Grace Note
"Right now a moment of time is passing by! We must become that moment."
Paul Cezanne