Dear Friend

It's safe to say, this March was the happiest month ever for Peter and me. Let me count the ways: The weather was punishing; the wind chill, ice cold. We marched on over in early March – and toward the end of the month because of two more threats of blizzard conditions, to the Marriott Hotel. Both times, not a drop of snow, but fierce wind gusts that rattled all of the old windows in our old cottage. But we escaped. We avoided the freezing drafts, turned up the heat in the hotel room, and enjoyed peaceful, happy hours in our private quiet space, alone, together—solitude for two. The last time we fled the expected Nor'easter, we had a host of garden daffodils in the cottage. At the last second, I went around to scoop up every one, and brought them in my lap in the taxi to the hotel. I have to be true to my core belief that no matter what is happening around me, I flower in the presence of flowers. A friend gave me a note card, "May Flowers Always Line Your Path"—an Irish blessing.
The entire month of March was a joyous celebration of Peter's long happy life so far. March 15th, Peter turned 92. Our friend James, the chef at the restaurant where we had Peter's birthday banquet, said, "Peter, you're now 92. May all your dreams come true." With a huge grin and a wink, Peter said, "They already have." When I asked Peter if he was happy to be going back to the cottage after our last hotel visit, he looked at me, "Alexandra, I'm always happy."
Pure joy. Pure pleasure. Pure contentment. What more can we ask for from life at 92? Peter is a fulfilled man and his richly lived experiences accumulate into deep wisdom, love and understanding. My research on happiness always—never fails—to increase my own happiness. It is well known, that whenever we try to make others happy, we increase our own joy. The more we give, the more love comes into our heart. When we smile, the world seems to smile back t us from all directions.
My March goal was simple, I wanted Peter to enjoy the happiest birthday ever. I succeeded in my desire, and in the process, my feelings of gratitude and deep satisfaction in my life increased in extraordinary ways. Its astonishing how powerful positive, loving energy is and how effective it is in spreading hope and joy. If I could be this successful for one long, bleak winter month, how exalted, mystical and magical will the future be?
We'd made a date for Valentine's Day with our dear friends, Kerri and Matt, but postponed their visit because of a big snowstorm. We went to the Marriott and they were buried under in 18" of snow in New Hampshire. They surprised us at the last minute and came to stay at the Inn at Stonington for two nights to be with us on the weekend of Peter's actual birthday. Their adorable, lively, fiercely funny college daughters Kathleen and Colleen were on spring break and came along to join in the fun. What an enormous addition their lively presence made to our festivities.
Our friend Dan who owns a favorite restaurant in Mystic, Oyster Club, opened another one on New Year's Day, the Engine Room. Dan made his first reservation for us at four PM. Within the first hour, there were over 100 people who poured in to celebrate the new fun restaurant and the New Year Day. What a wonderful way to celebrate a new, exciting year. Friends, acquaintances, and neighbors surrounded us. We couldn't have enjoyed ourselves more.
When Kerri and Matt came, we were happy to introduce them to the Engine Room for lunch, and then we'd have our official birthday party at Oyster Club for dinner. Dan told us we were in for a spectacular evening. Everyone would be there to help us mark Peter's important milestone. Our expectations were high, but we were not prepared for the amazing grace of the outpouring of tenderness and love. We arrived to the vision of glowing champagne glasses, with rosé champagne, a charming spring daffodil bouquet and a special menu of delicious treats. Cornbread out of the oven was in generous supply—Peter's favorite. Our evening was, quite literally, magical. There were presents and cards, toasts, and the laughter brought continuous tears of joy and affection. We couldn't have had a more joyful, meaningful, memorable birthday party.
The next day, Brooke and Cooper came on the train. We were having breakfast with Kerri and Matt, and they arrived to surprise us with joy. Cooper, also on spring break, went to sailing and science camp several hundred yards down Water Street the following week. Brooke could work, undisturbed, in the library, and we'd all meet up for dinner. Glorious. Delicious. Fun.
All our close friends showered Peter with attention—giving him notes, cards, cookies, small presents, and a great deal of attention. He ate it up. Everyone loves Peter's smile and double thumbs up. The most important discovery is—that the more I identify with Peter's feelings and longings—the happier I am. These golden days will sustain us in the years ahead.
Now that we have triumphantly acknowledged Peter's productive, accomplished, satisfying life, so far, and our soiree was such a triumphant experience, I'm looking forward to our days ahead as we spring forward toward more light and the miraculous spectacle of nature that reminds us to be patient. Spring always comes. For us in New England, it has indeed been a long relentless winter with damaging weather, but I'm a romantic and love the beauty of snow. I'm grateful we didn't slip and fall on ice and were safe. My heart goes out to all the families and friends of those lost in the tragic mudslides in Washington State.
As I think ahead, I've decided to continue to observe every day as a sacred celebration of love. Our 40th wedding anniversary is May 18th. I can't express in words how meaningful it is to share my life so intimately and beautifully with the true love of my life. For all of you who treasure Peter, thank you for reaching out to him in such kind, caring, thoughtful ways. His older sister Bebe, age 93, knit him some warm mittens. Friends framed a picture of me in our backyard forest of blue hydrangea. A friend gave Peter some glasses that reduce glare.
I learned so many lessons in March. I want to apply them to the months ahead. I made it my mantra to try to make Peter as comfortable and happy as possible. I tried to eliminate frustrations whenever possible. I allowed ample time for every ritual, each ceremony, every event. I wore bright colors that made me feel cheerful and brought pleasure to Peter. Everything was experienced as meditation. There were no rough edges. One Saturday morning Peter sat at the kitchen table with Cooper and they both began to paint. We'd bought Peter a watercolor set and a thick pad of watercolor paper. Brooke joined them with her own paint supplies. Cooper's father, Tony, came for the weekend, and he sat down and began to paint. I was standing at the sink making rainbow tulip bouquets for friends as I watched the birds come to the bird feeder Tony and Cooper bought at the hardware store earlier.
A reader from Jacksonville, Florida sent me a thoughtful letter and gift. Terry wrote that she's my number one Florida fan and has all my books. Her present to me is a key chain with a key that has one word painted on it, "Dreams." Terry wrote that she loved my book Choosing Happiness where I wrote about the fifty-four precious keys to finding happiness, and she was inspired to make a key chain of all the keys by turning each into a question. On her way to work she flips through the keys until she happens upon the right one, and then she uses that key throughout the day as needed. She then repeats this ritual on her way home so she can invoke her happiness on her family. This colorful laminated key chain is on my desk. A friend gave me a book, The Golden Formula. One of the keys in my book, Choosing Happiness is to live by the Golden Rule each day. Turn that into a question, "Do you live each day by the Golden Rule?" Thank you, Terry. When I wrote to thank my friend for the book, I said it is hard to beat the Golden Rule.
Happy April. No fooling! When it rains, bring along an umbrella. April showers do bring May flowers; I saw some crocus in front of the post office recently. After the rain, look for the rainbow. Try to be the rainbow for others. Happiness is infectious. Spread the joy.

Happy Birthday Peter!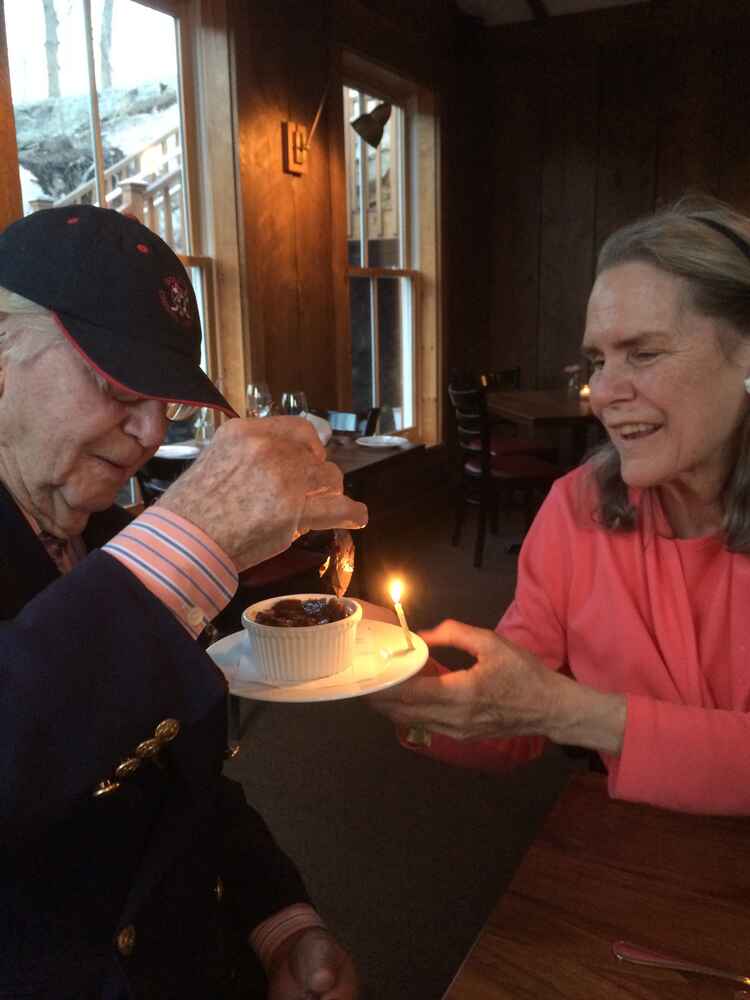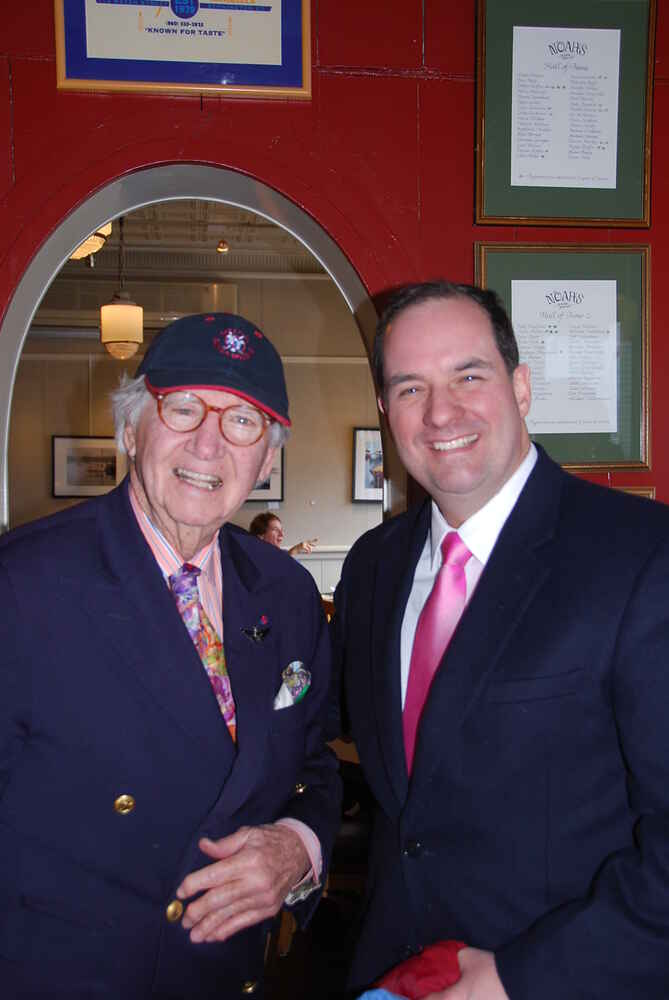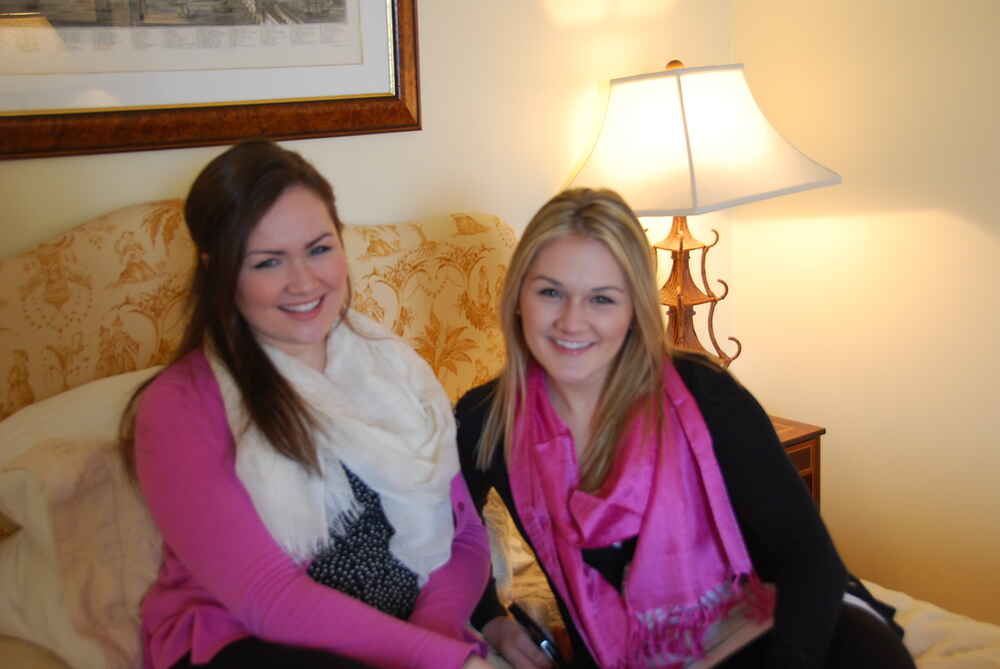 Friends Colleen and Kathleen share in Peter's birthday celebration.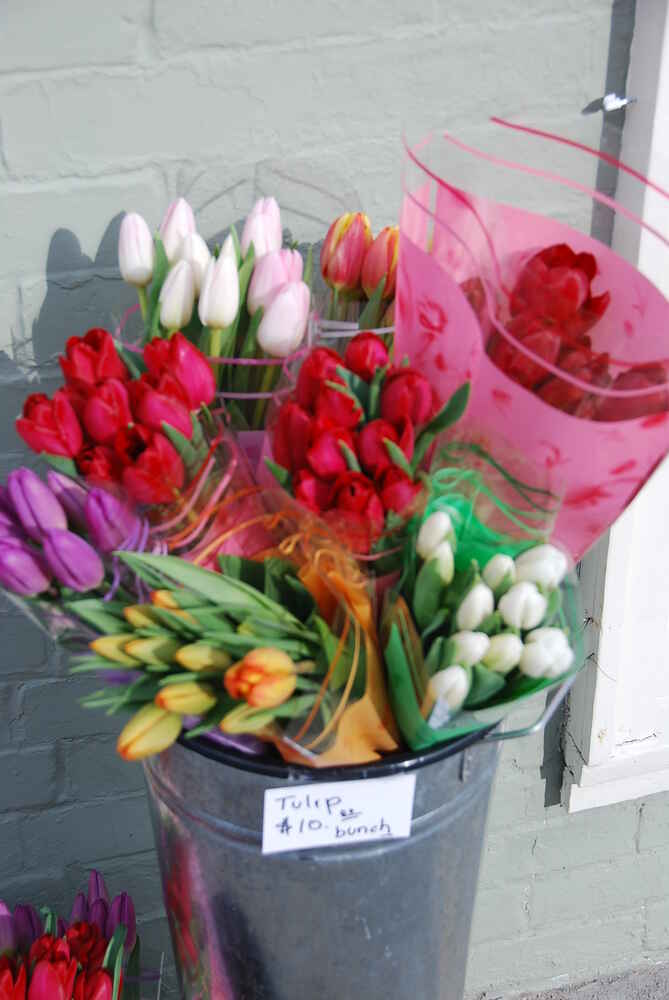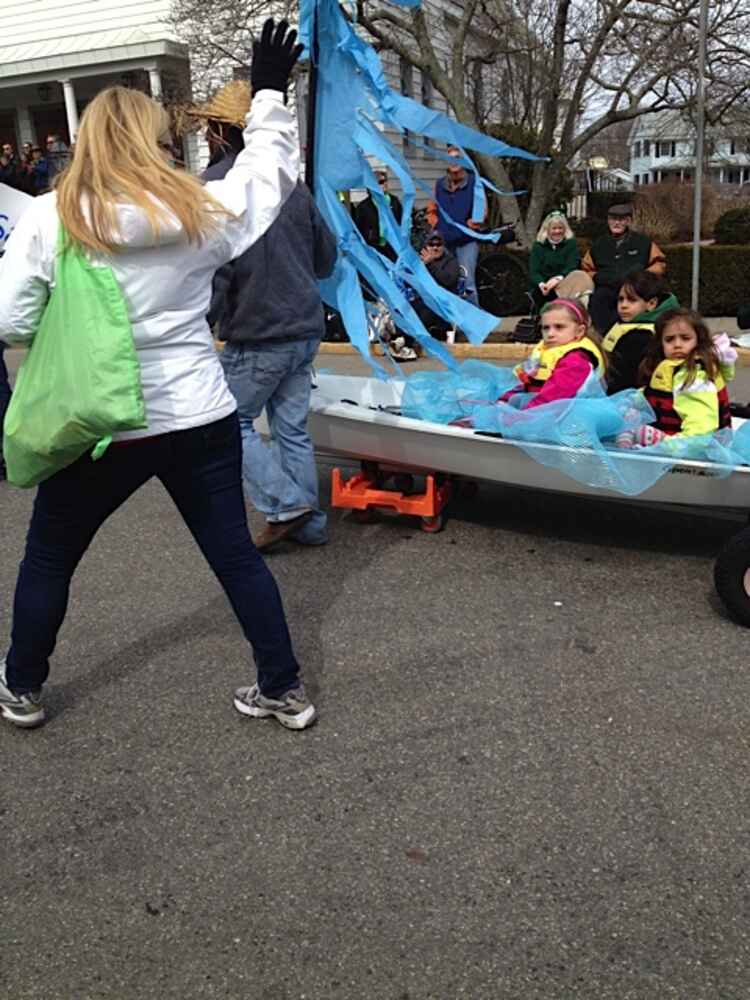 Cooper in the Mystic St Patrick's Day Parade!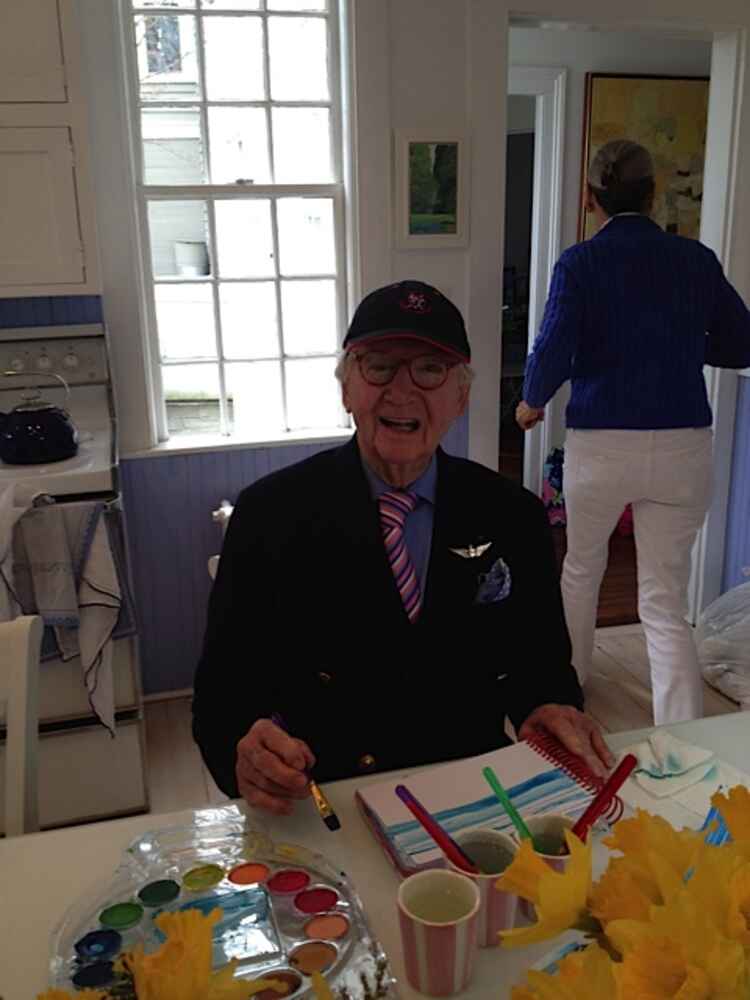 Lots of fun painting with Peter!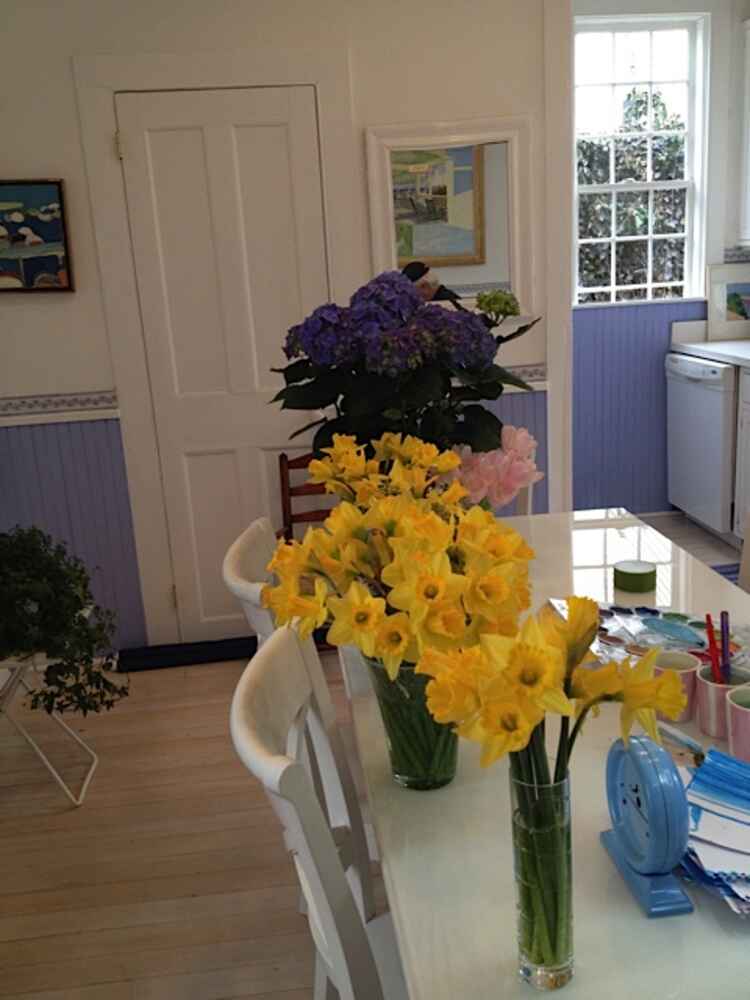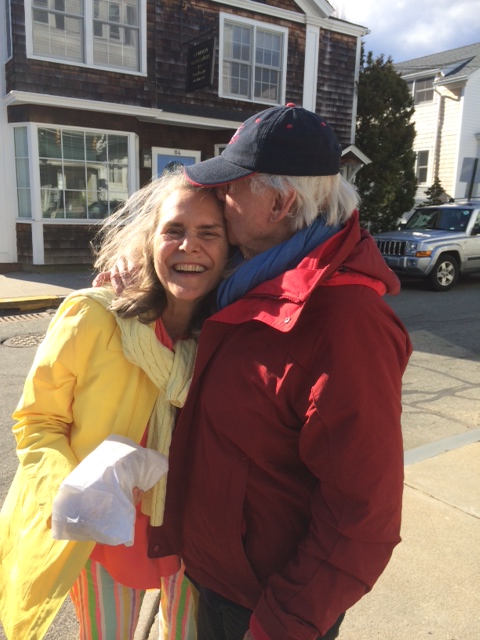 Peter & Alexandra celebrate the day!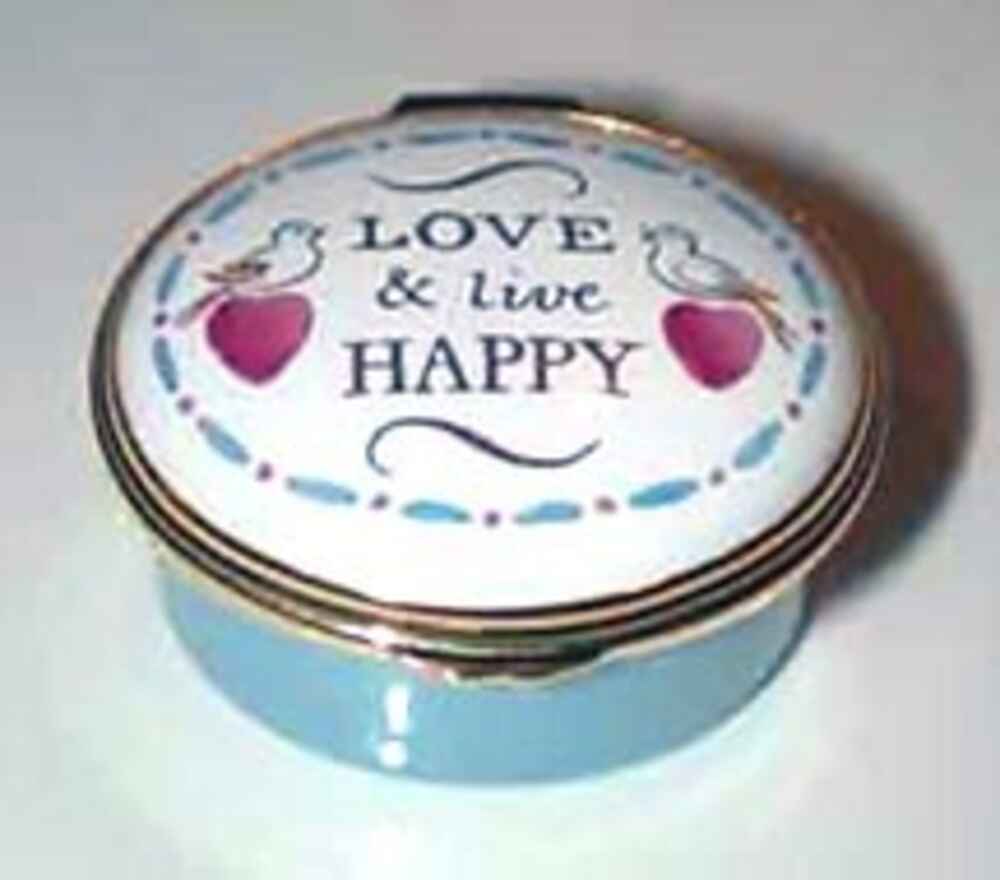 Grace Note
"There is no duty so much underrated as the duty of living happy. By being happy we sow anonymous benefits among the world."
~~Robert Louis Stevenson