Dear Friend

The entire month of July was sublime. Peter and I continue to thrive in these happy, gentle summer days in our charming walking seaside village.
Early one morning, looking out at the lovely harbor on a brilliantly clear day, the sea breeze moving the sailboats to and fro, I was moved almost to tears at the good fortune of our living here full time, remembering back seven years ago to the "For Sale" sign we had in front of our dear old cottage for fourteen months. When our daughter Brooke told me to remove the sign and take the house off the market, the real estate broker said, "Alexandra, I'm happy for you. I'll come pick up the sign right away. Your neighbor Charles has his house on the market and I'll put the sign next door."
How miraculous no one wanted to buy our houses! We're here. We love living here. We are friends. We pinch ourselves that we are enjoying all the abundant pleasures of living in this sweet community with caring, wonderful people.
Our neighbor, also friends, on the other side of water Street have spectacular views, but at a price in higher taxes. From the water, on a boat, you see that every house has been renovated to open up the spaces to bring the water scape into their living spaces. But I'm totally satisfied with our cottage. We are blessed with sea breezes. When the humidity is low, I throw open the windows. I see just enough of the harbor. It is framed by a garage and two houses, focusing my vision to the pretty vista. So many people take for granted what they have in the palm of their hand. I don't. And neither do my wise friends.
Another restaurant opened up in Mystic, 15 minutes drive, called Red 36, named after a mooring in a gorgeous marina. The bartender in the outdoor bar welcomes us to his "office." Imagine the joy of working in plain air. Peter and I have soaked in the beauty, each precious minute, enjoying fresh, delicious food, sharing good times with family and friends. I can't remember enjoying summer days more than this glorious summer. Every day we walk about, savoring the pretty scenes.
The end of July was the best of all when we had a family reunion with weather that held until everyone left and there was a downpour that made me laugh. We were fortunate and I'm well aware that sometimes, often, one is not lucky with the weather in New England.
It's wonderful when Cooper appreciates Stonington Village in the same ways her parents do, and being at the water is a gift not everyone shares. Having family here has been sacred. The cottage is too quiet, too neat, and yet it is brimming with amazing positive energy and memories that flood our minds and fill our hearts with joy.
Alexandra brought her two daughters—Anna and Lily—who rode their bikes around town and enjoyed being surrounded by water. There's something quite magical about Stonington. While it has changed a great deal since it was primarily an active Portuguese fishing village, it still is authentic, and the houses and gardens are beautifully maintained by the grateful, proud owners.
Another delightful surprise: A gardenia plant I nurtured all winter that only produced one blossom has burst into her glory and produced 24 fragrant, pretty blossoms. Cooper and I sprayed the leaves that were not flowering, we moved the plant to sunny spots and spoke to it in loving terms. It responded in kind, and enjoying the fragrant inside air, looking out into the riot of hydrangea in the back garden is a feast to the eye and soul.
My friend Jack Lenor Larsen, a famous textile designer and writer told me when we first bought the cottage in 1988, "Alexandra, you'll grow to love your garden as I love mine. I never leave home when my garden is in bloom."
Being home all summer long is refreshing. Where would we rather be? There are lingering thoughts about what to do in the harsh winter months, but we'll face that when we need to. For now I'm appreciating the simple life here, and I find great comfort and pleasure in the bliss that is so evident when friends and family comes to visit.
Peter continues to paint up a storm. Our head lifeguard, surfing boy, Mac, who so kindly drives us around, has come up with a grand design. His parents, Rob and MJ, have embarked on an exciting adventure—Stonington Sea Salt. They take turquoise clear sparkling water and through hard work and hot temperatures, transform it into crystal clear white sea salt.
MJ and Rob love Peter's seascapes and have chosen to use one for their packaging of SSS—Stonington Sea Salt. We're all trying to come up with a tag line—"Savor the Sea" might be IT. We'll see. Mac, in his usual creatively fertile mind came up with a different painting for each different product. People can actually collect and save several of Peter's paintings.
This is all happening soon and I'll keep you posted. This might be something we can enjoy using and giving for gifts in the months ahead. I'm terribly excited and deeply proud and happy—Peter has found something so engagingly that he embraces so joyfully.
MJ and Rob gleefully brought over some of their precious sea salt for us to taste. The fact that the sea water transformed itself alchemically into sea salt with the sweat of our friends' brows has seemingly magical power.
I hope the month of August brings you some happy, quiet moments of meditation and deep reflection on the joys available to us all.
Reading the New York Times Book Review had a full page ad for a new novel of Danielle Steel—"A Perfect Life." The copy said "A Perfect Life is an impossible dream—but real life can be whatever you make it."
We love our life. We continuously make adjustments to make everything more suitable—appropriate to the purposes or occasions that arise.
Great love to you!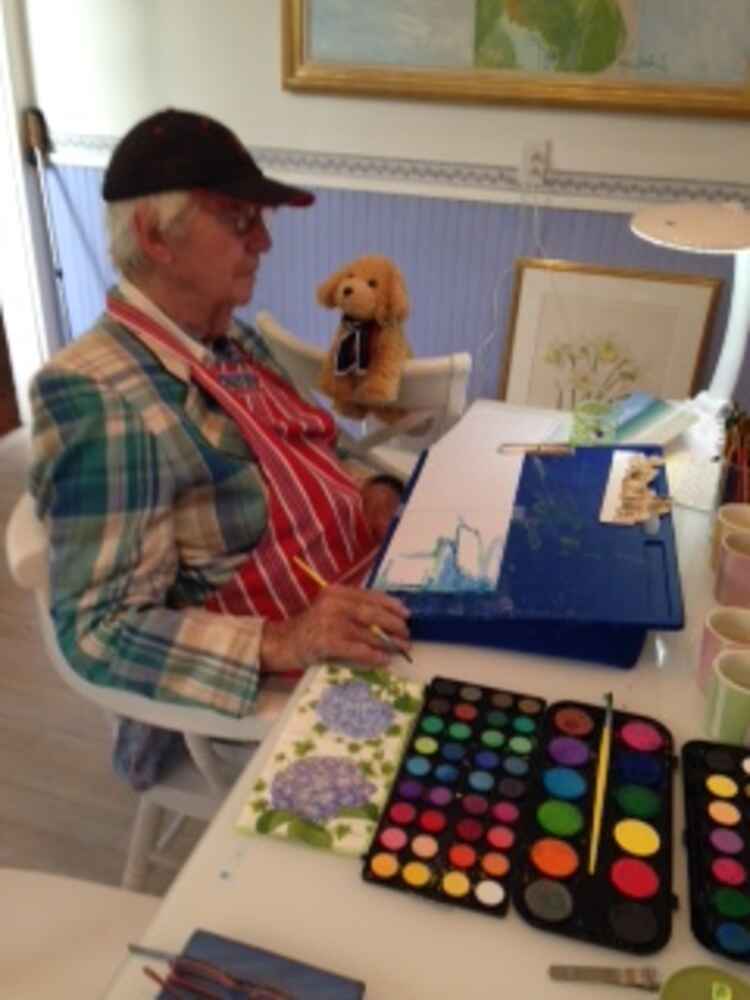 Peter's loves spending his time being creative, paint brush in hand.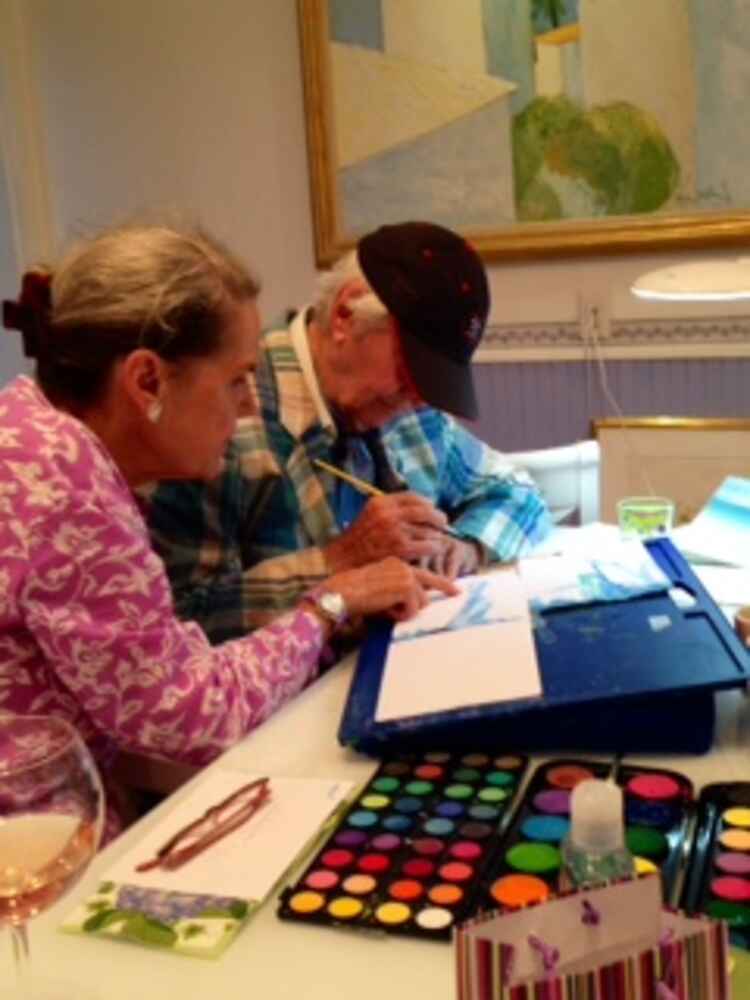 "The artist in the studio"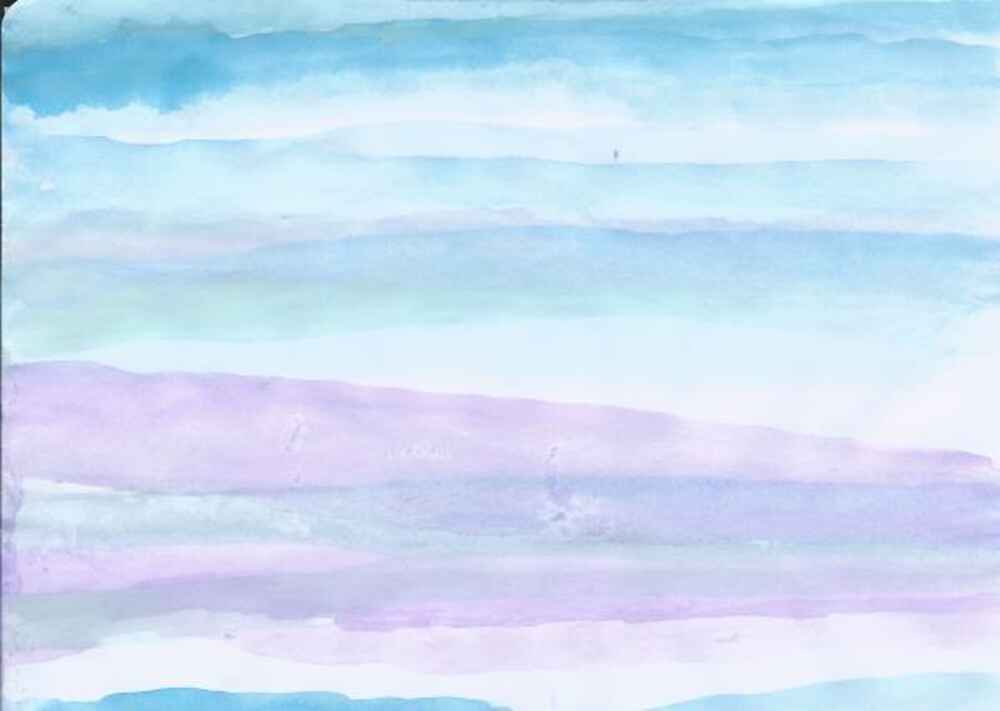 Two paintings of Peter's a month after he put a paint brush in his hand!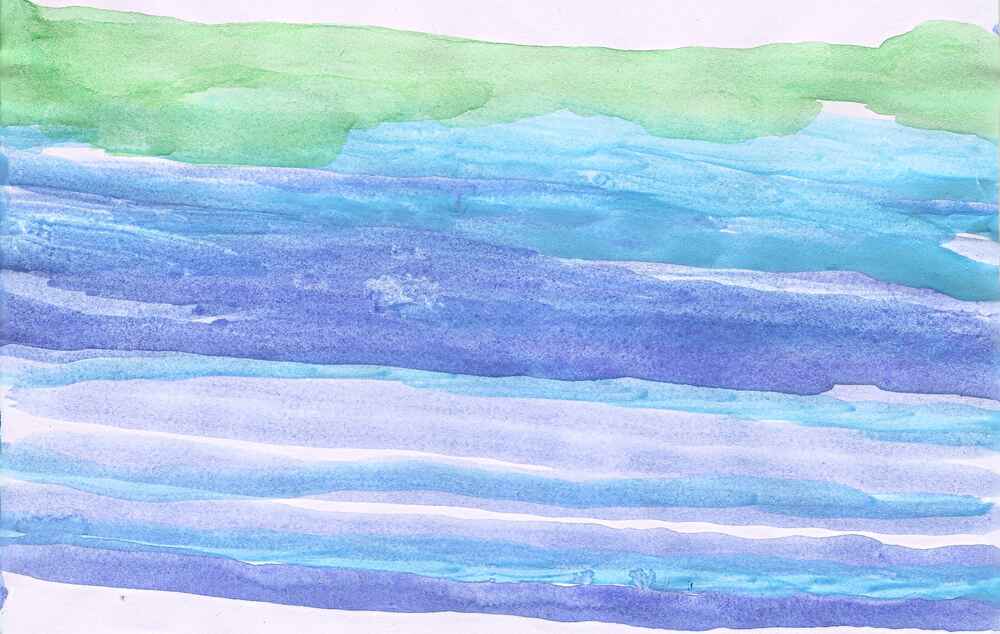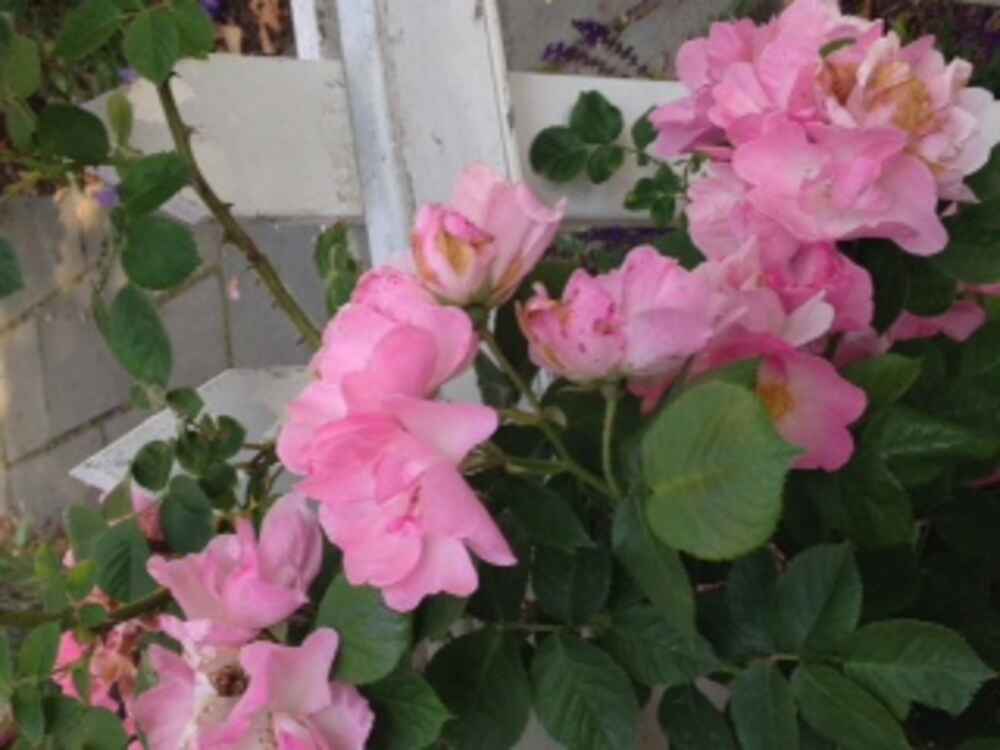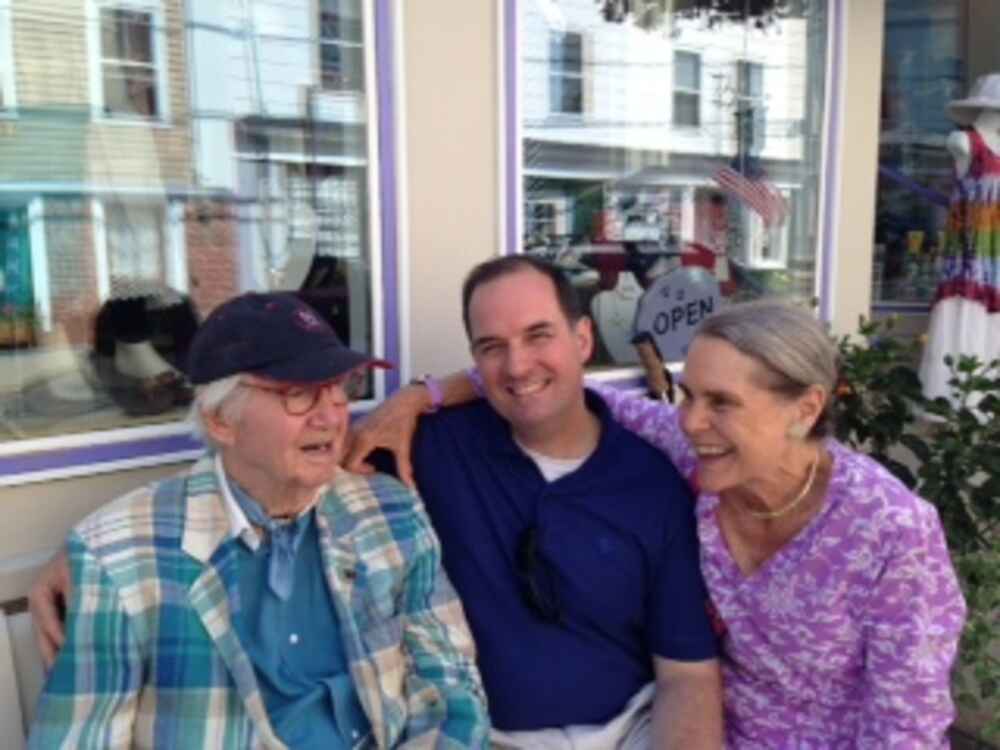 Peter and Alexandra enjoying a beautiful day in Stonington Village with dear friend Matt.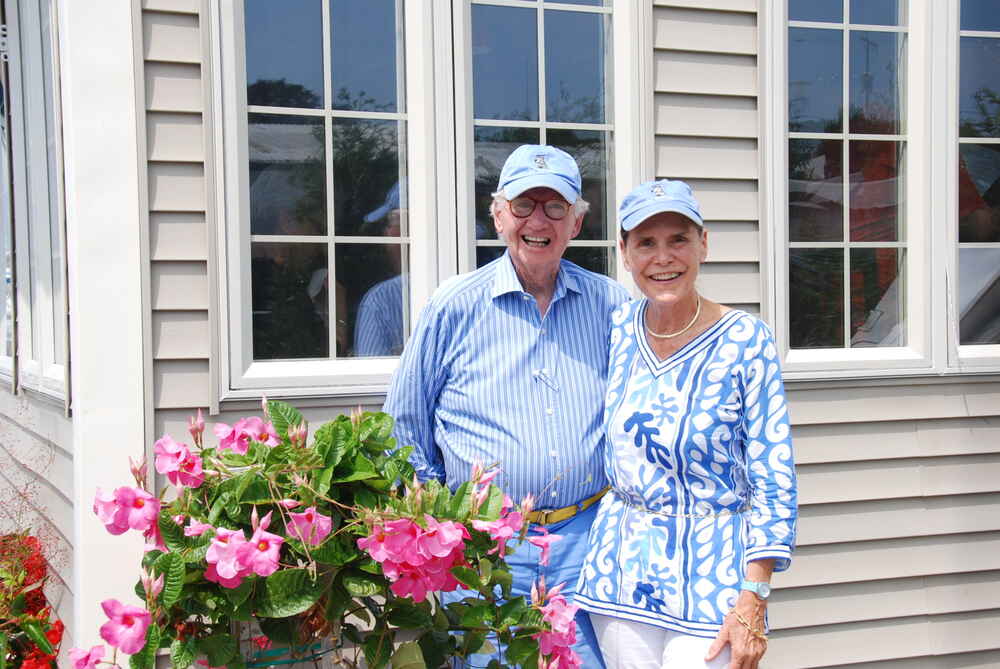 The beautiful blues of summer ...
Summer Reading
Several people have asked me what I'm reading. Ezra Pound believed, "Literature, is news that stays news." I've greatly enjoyed Why I Read: the serious Pleasures of Books by Wendy Lesser. I'm re-reading How To Live: Or A Life of Montaigne by Sarah Bakewell.
Grace Note
"Tell me, what is it you plan to do with your one wild and precious life?"
~~ Mary Oliver