Dear Friends,
My heart is expanding to transcendent places. As I reflect on the joy of July, I will bring the breathtakingly beautiful hydrangea, the tenderness of the love of family, friends, and community with me as I celebrate August. Before I move ahead, I am taking some invaluable time to muse, reflect on all the good things that are happening, the good people we choose to be close to us, and the good we can encourage each other to do to make the world a more peaceful, kind universe.
I believe in free will, firmly believing we are our choices, the subject of several of my books. We choose to be a good person. Only good people are happy. Henry David Thoreau was born 200 years ago. He was a naturalist believing he needed nature the way he needed oxygen, "In wilderness is the preservation of the world." When once asked why he was so externally curious about things, Thoreau asked, "What else is there in life?"
Ralph Waldo Emerson, the founder of Transcendentalism, is my favorite American philosopher. When Thoreau retuned to Concord from Harvard, he came under the sway of Emerson, who believed every individual contained a divine spark. Each of us are responsible to cultivate the highest aspects of our inborn nature. It was Emerson who urged Thoreau to seek solitude and keep a journal, becoming a pioneer in nature writing, writing more than two million words in diaries, books, reports, and articles.
It was Thoreau who urged us to "simplify, simplify." The other day I was writing in the garden, my summer living room. I sit on the wooden bench, with a table in front of me, with a view of the harbor. Being the height of summer, the sailboats and motorboats of all sizes were coming and going, there was also a lot of activity on the street and sidewalk. With the garden enveloping me—hydrangea behind me, reaching toward me on the bench, and pink roses climbing the picket fence, I was able to retreat to the quiet beauty of nature's powerful wonders, revealing greater truths than we always acknowledge. I want to absorb all the blooms, color, fragrance and beauty while this season has lavishly smiled on us.
We had our family reunion beginning July 1st when the garden was at its prime. In preparation for our July 4th cookout, I went to a farm stand as well as our wonderful farmer's market to feast on peaches, blueberries, strawberries, basil, baby tomatoes, sprouts, lettuces and beets.
What a treat to be able to have the table to write, and also prepare a beet salad. Somehow being in nature helps trigger the memories of my having my own garden when I was around six. There's nothing quite like having a garden where things grow, or being in a garden to remind us about the content and the process. There is something so wise about seizing the moments, as they are here, ripe for us to take pleasure in the abundance available to us when we cultivate our inner journey with all the wisdom of the ages available to us making us avid students of a lifelong love of learning. As I appreciate the sweet beets a nearby farmer grew, I feel so fortunate to be surrounded by real people, living authentic lives. I'm living in a seaside fishing port. Every end of July we have a blessing of the fleet with a ceremony to remind us of whom we are and our history.
One of the most endearing sights on July 4th was watching my grandchildren in the parade marching by our cottage. Afterwards, they had a lemonade stand to raise money, this year for a new Town dock (the present one has proven to be dangerous). Lots of young people have lemonade stands and bake cupcakes and cookies, but ever since this tradition began when they were quite young, they were always raising money for a good cause. I'm obviously speaking as a proud grandmother, but I'm also enormously pleased to experience their great enthusiasm making handmade artistic signs, posters they put around the village, but also to hear them talk about their vision to follow through to see that the dock gets built.
All four grandchildren had their July 4th lunch seated at a round table completely encircled by the riotous amount of enormously large hydrangea blossoms. Having the family here in Stonington Village is such a treat; the bonus was they also brought their golden retriever, Homer. The pleasure of being able to hang out with Homer while everyone leaves to explore, go to the beach, or go on a bike ride, I was able to love up Homer, who followed me around to my great joy.
My friends know, when my family is here, all my concentration is on these precious times together. One afternoon a friend took all of us to Watch Hill, Rhode Island on his new boat, an invitation that was a highlight of our vacation together. That was a time we got a sitter for Homer so he wouldn't feel abandoned, because it is rare when he is alone because everyone in the family always wants to either take him for a walk or have him next to them to play with and enjoy.
Deepak Chopra's younger brother Dr. Sanjiv gave a talk at the Ocean House, "An Invitation to Good Health and Lasting Happiness." What perfect timing to become inspired by a Professor of medicine at Harvard Medical School talking about the intimate connection between health and happiness. I've read many of his brother's books, listened to his teachings on tapes in the eighties, and Peter and I'd heard him speak on several occasions. Having his brother was no disappointment. Sanjiv has a twinkle; he radiated a love of life, and told me at the book signing he's always felt he's been blessed with an extra happiness gene or two. In his talk he was full of stories about the secrets of happiness—when asked, he quickly told us that money can't buy happiness, but it can buy chocolate, saying chocolate is kind of like happiness.
His information-packed, fun lecture was highly interactive, teaching us five simple habits he suggests we adopt for the rest of our life – "The Big Five." He suggests we count them on our fingers. Drink a lot of coffee, eat lots of nuts, exercise, and move about. He had us all stand and do squats. "I'm not going to join you; I've just had back surgery." We all laughed, glad to have the energy boost. "Meditate." If you are too busy to meditate once a day, meditate twice a day. On our pinky finger, he told us to ease up on sunblock. People in Florida use so much sunscreen they are depriving themselves of vitamin D, requiring supplementation.
At the book signing he asked my granddaughter, Cooper, how old she is. When she told him "eight-and-a-half," Dr. Chopra told her she will be able to do anything she wants with her life. "Cooper, what is happiness?" "Happiness is a feeling inside me." The two hugged. Witnessed a beautiful exchange as he autographed a copy of his book to her mother, Brooke, and her. While I was savoring the lecture, they were having ice cream in town. Ice cream first, then peanut butter and jelly on the veranda. How great is that. I joined them for the ocean waves and sea breezes dining inside a dream.
When I wasn't enjoying my family, I had fun events with friends after putting in a day's work on my book. My two older granddaughters, Anna and Lily, wanted to come back to visit a few weeks after they drove to Maryland with their family. Brooke and Cooper came from New York on the train. Anna and Lily flew, and for the next few days the five of us were blessed with perfect beach weather, relaxed time together, and laughter. I'm still in a trance, remembering all the sweet moments of loving connections. After Anna and Lily flew home, Brooke and Cooper took a train from Westerly, Rhode Island back to New York. I went to a great book store, Savoy, owned by friends who also own Bank Square Books, ordering some books for my grandchildren.
The cottage was quiet that Sunday night, but I felt their loving energy profoundly. Just as you can pluck a violin string, similar strings in another violin in the same room will resonate with corresponding movement on their own, the same vibration is felt when we feel loved. The reason my heart is about to burst beyond its real size is because I worked long, patient hours to complete my book, "Joyful Living in the Real World." My typist has finished transcribing my cursive writing into type-set pages. I'm now no longer out of the grid, where I had to find an angel who would commit to taking up the challenge. July moved us both vibrating together. I feel a bit lightheaded knowing I now wear a different hat as I edit thirty one essays, feeling the whole from beginning to end. There were a few teary readings. Unable to end the last essay without writing a letter to Peter, I've added an "Afterward." I will keep you informed as I move forward with this exciting book adventure.
I feel Carl, my literary agent, and Peter, my eternal beloved life partner, lifting me up higher and wider and deeper on this amazingly exciting journey. Thank you for being so much a part of our mutual happiness.
I'm thrilled to think of the fun celebration at the Inn at Stonington, November 8th and 9th.
Great love to you

Breaking Good News!
Save the Date!
Please come celebrate Alexandra's 76th birthday, Wednesday, November 8, 2017 at a Happiness Retreat at the Inn at Stonington. This exciting event is for two nights, Wednesday and Thursday.
Please call Aubrey at the Inn at 860-535-2000 or email innkeeper@innatstonington.com to make reservations. So exciting!!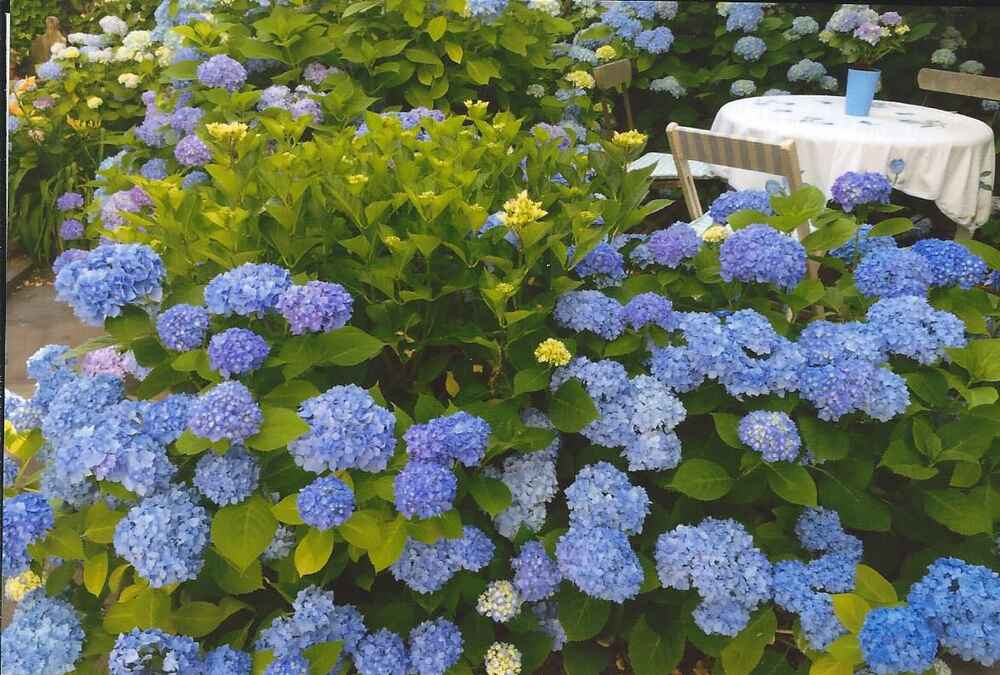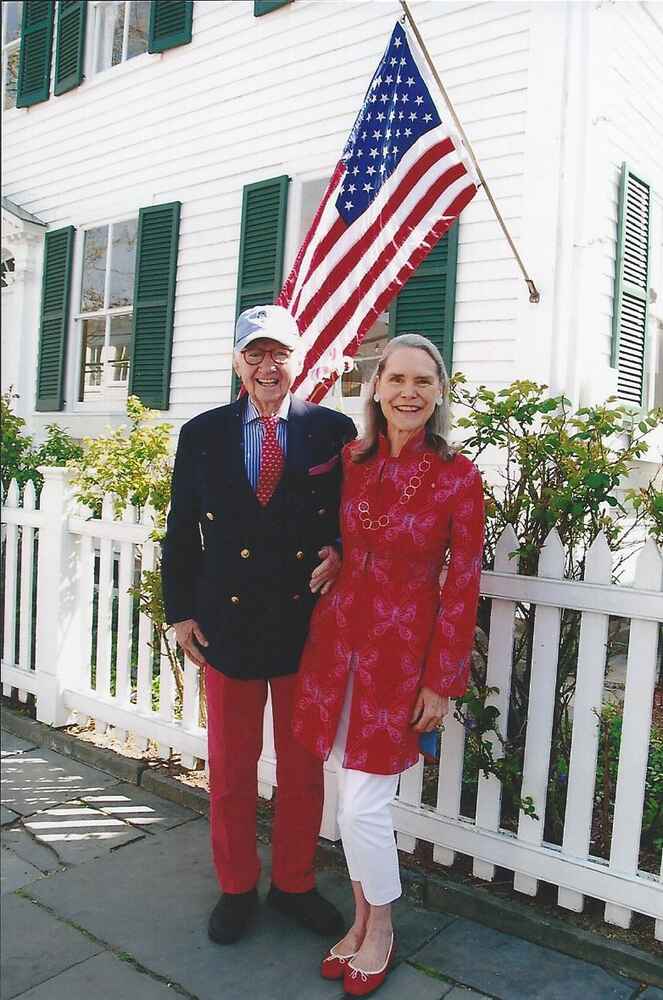 Peter and Alexandra a few years ago waiting for the 4th of July Parade to march past. This was one of Peter's favorite patriotic events!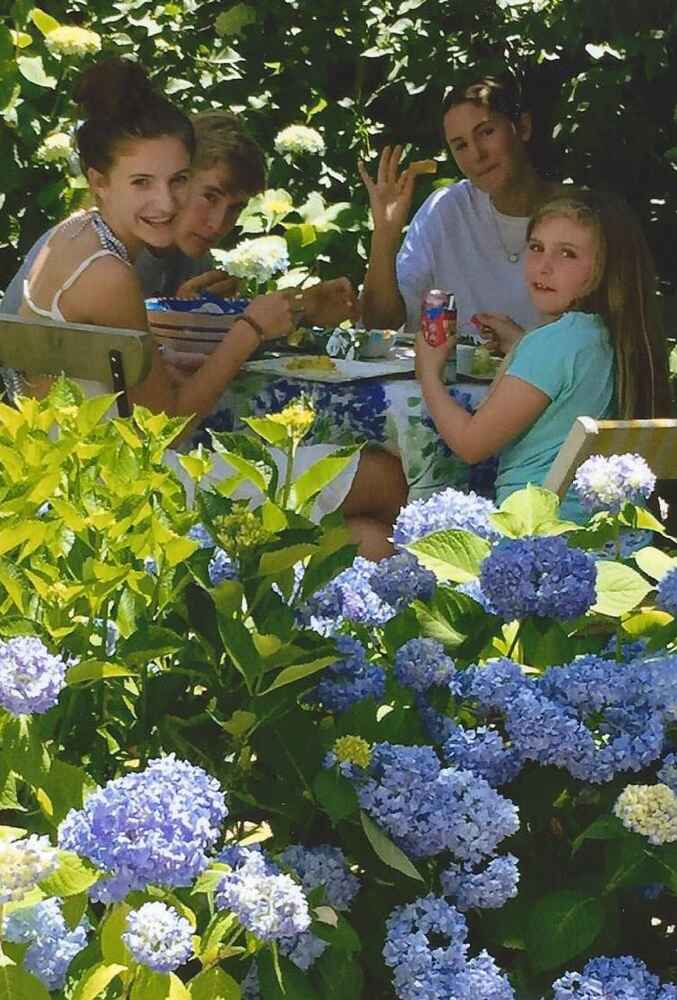 The "grands" in the garden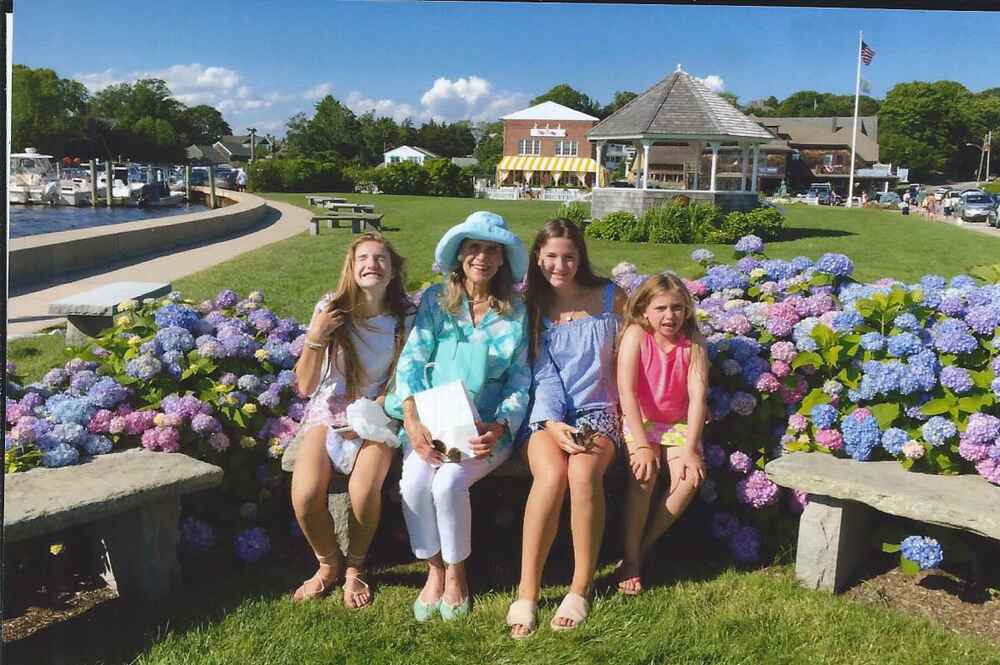 Brooke took this photo of Cooper, Anna and Lily with "Grandmommy" in Watch Hill.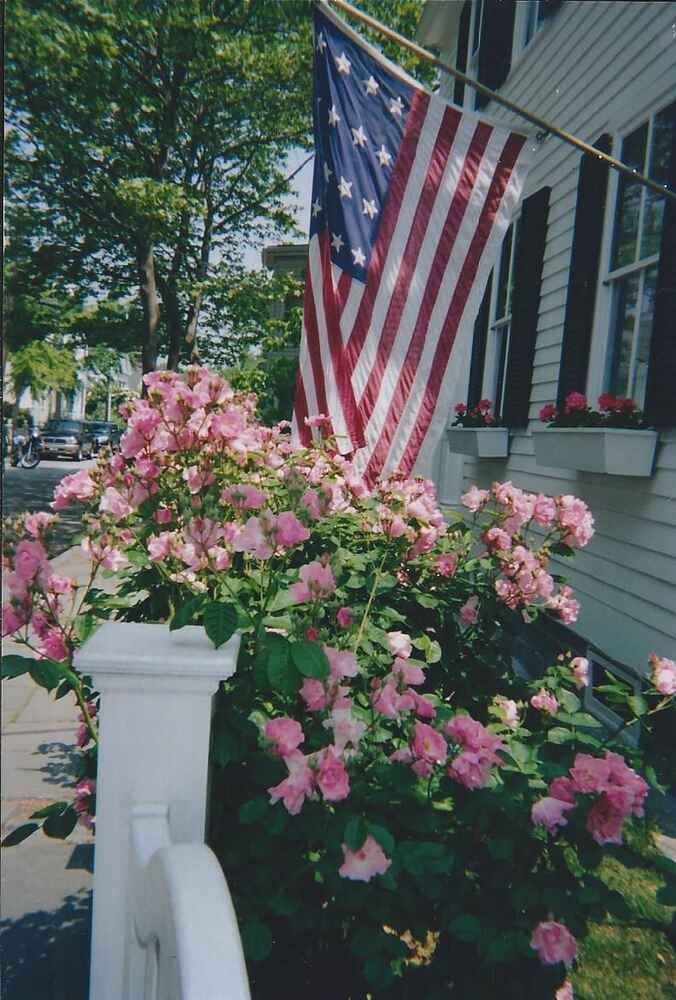 The 1775 cottage on July 4th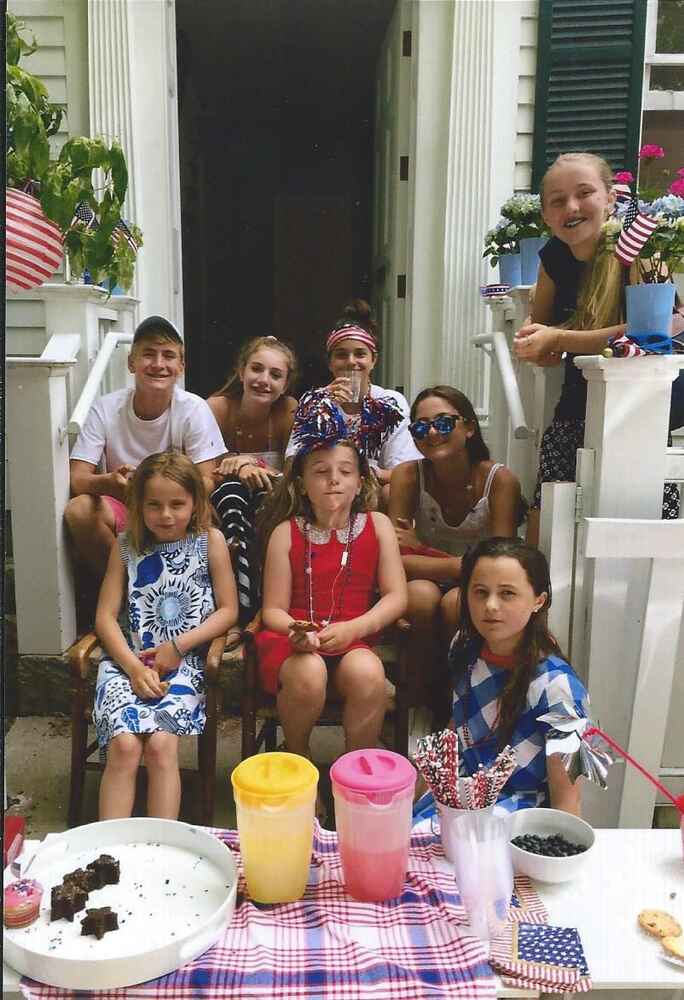 The gang! Lemonade stand after the parade
The young sailors in the Stonington harbor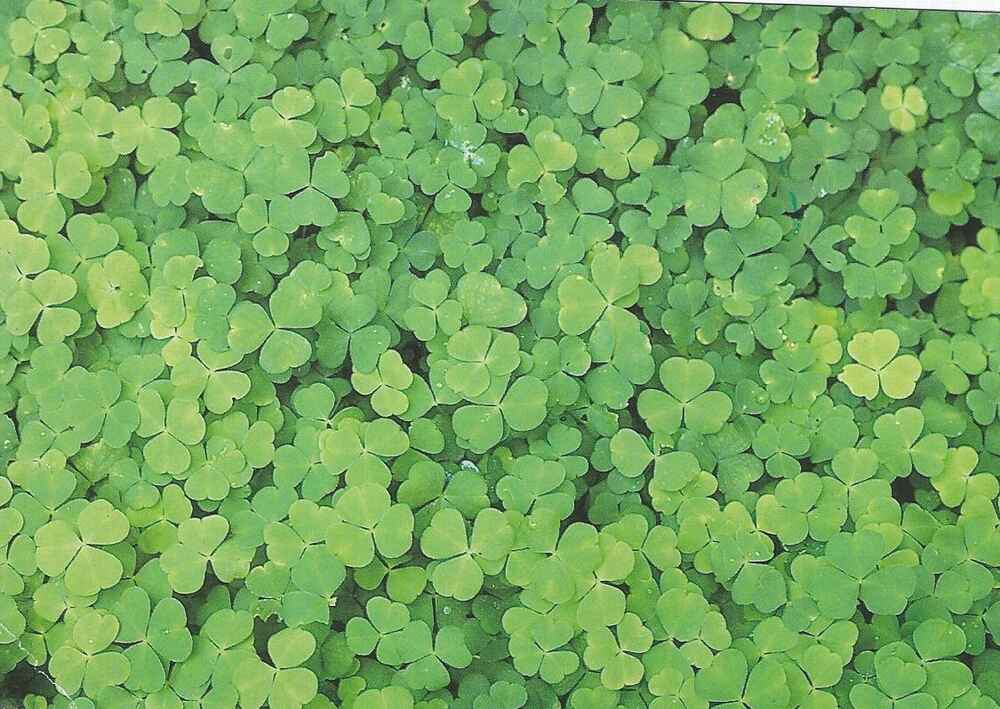 Rather than searching for a four leaf clover, I love three leaf clovers!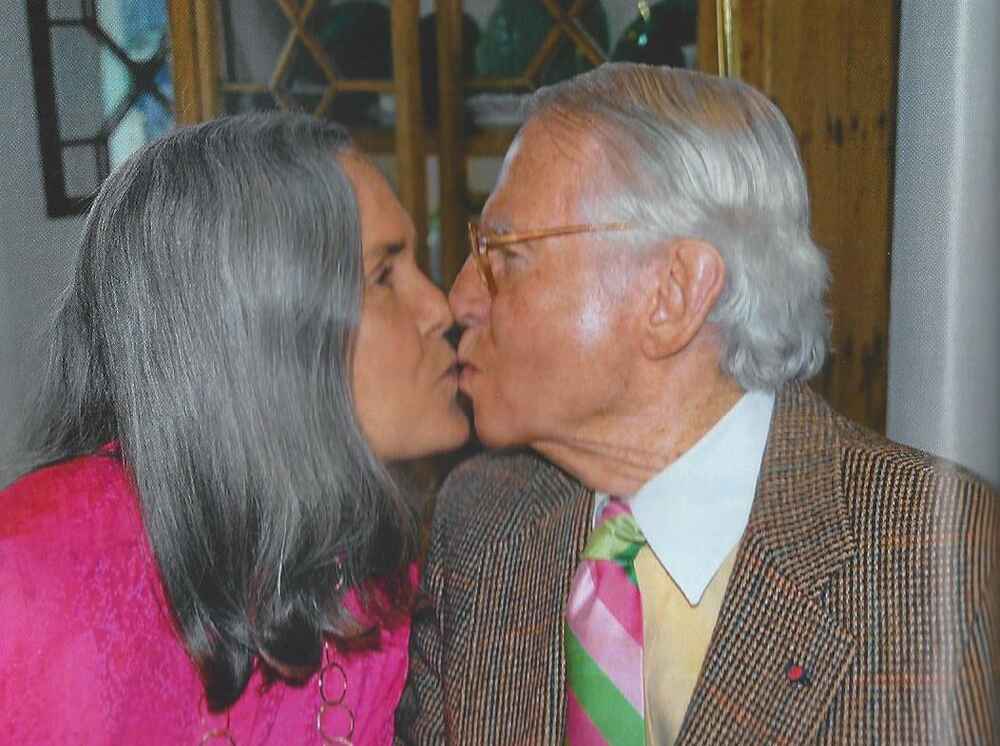 Nose to nose, lips to lips, "Sweet Pete" and me forever.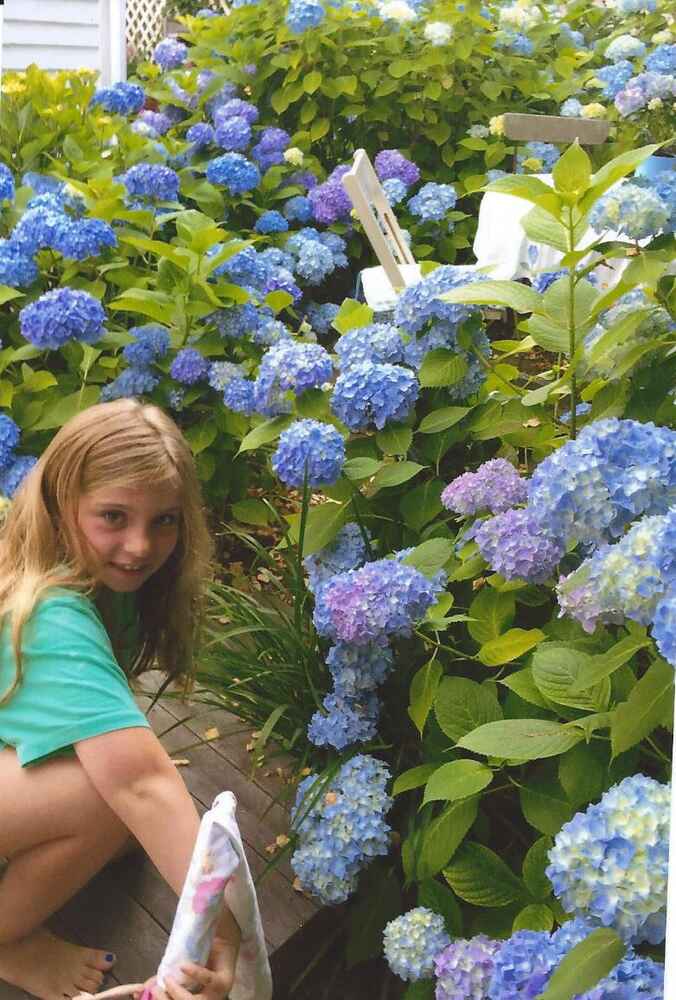 Grace Note
"Surely joy is the condition of life."
~~ Henry David Thoreau